Dynamic Mounting's Down and Out Swivel Mount Review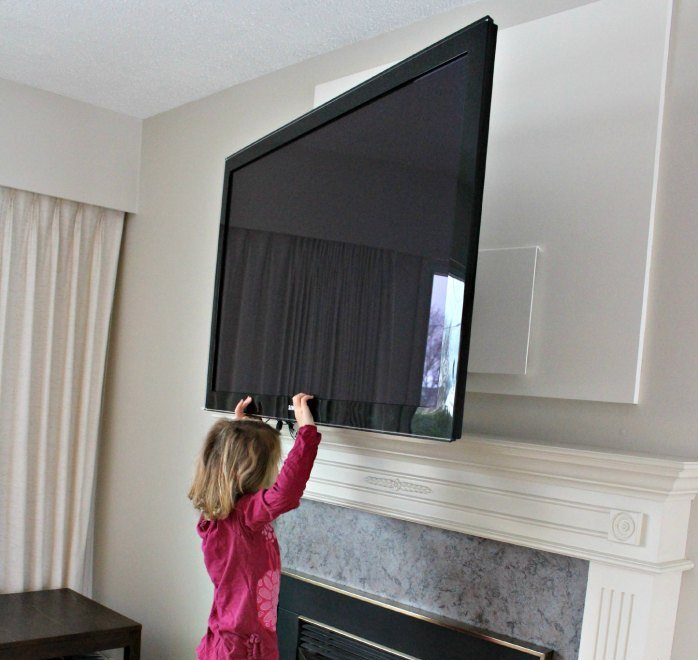 Welcome to our review of the Dynamic Mounting's Down and Out Swivel Mount for televisions.
Now that we've moved into our new house, we've been busy painting walls, replacing carpets, changing lights and all the fun things that come with modernizing an older home. It's also meant that we've had to think about how we plan to use each room.
The problem with traditional TV mounts
Tip! We love our Dynamic Mount Down and Out Swivel Mount, but we've since found some more affordable options on Amazon that have great ratings like the MantelMount MM340 Pull Down Fireplace TV Mount.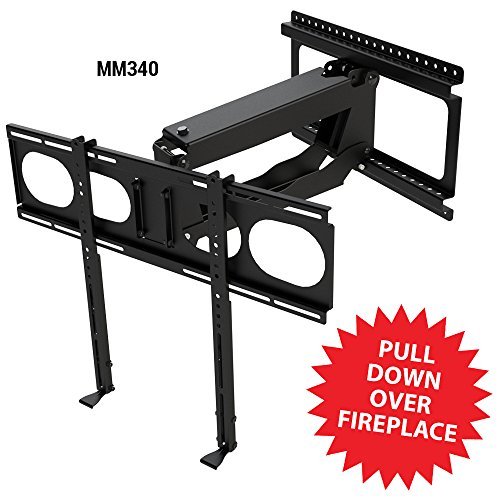 We're big home entertainment fans, and love the idea of having a TV in our main living room. The problem is that we have a big fireplace in our living room, and very little floor space for a TV stand. Putting the TV beside the fireplace on a stand and above the fireplace both had pros and cons.
Beside the fireplace
Mounting the TV beside the fireplace would have given us the height we liked and easier access to power and cables, however it would have been awkwardly placed in regards to our couches and the layout of the room in general. It also would have severely limited us in going up to a larger television in the future. On top of that, in order to get the angle we needed we'd have to place the TV in such a way that it would stick too far into the room and we would be stuck looking at its backside and all the cables from our dining room.
Above the fireplace
Mounting the television above the fireplace had its own negatives. Unless you have a newer home or are doing major renovations, getting both power and your cables hidden out of sight can be extra tough when dealing with a fireplace. This is especially true if you have a brick or stone fireplace. For us, the biggest problem with a TV above the mantel is that it sits much too high for comfortable couch viewing and constant neck strain isn't high on my list of things we want for ourselves or our kids.
Other options
Not content with the local options out there for either scenario, we searched online for something that would work for our needs. We found tons of horizontal swivel mounts, tilting swivel mounts and even a few people explaining how they converted their horizontal mount to go up and down (scary) but non of them properly addressed our needs.
The solution
That's when we stumbled on Dynamic Mounting's Down and Out Swivel Mount.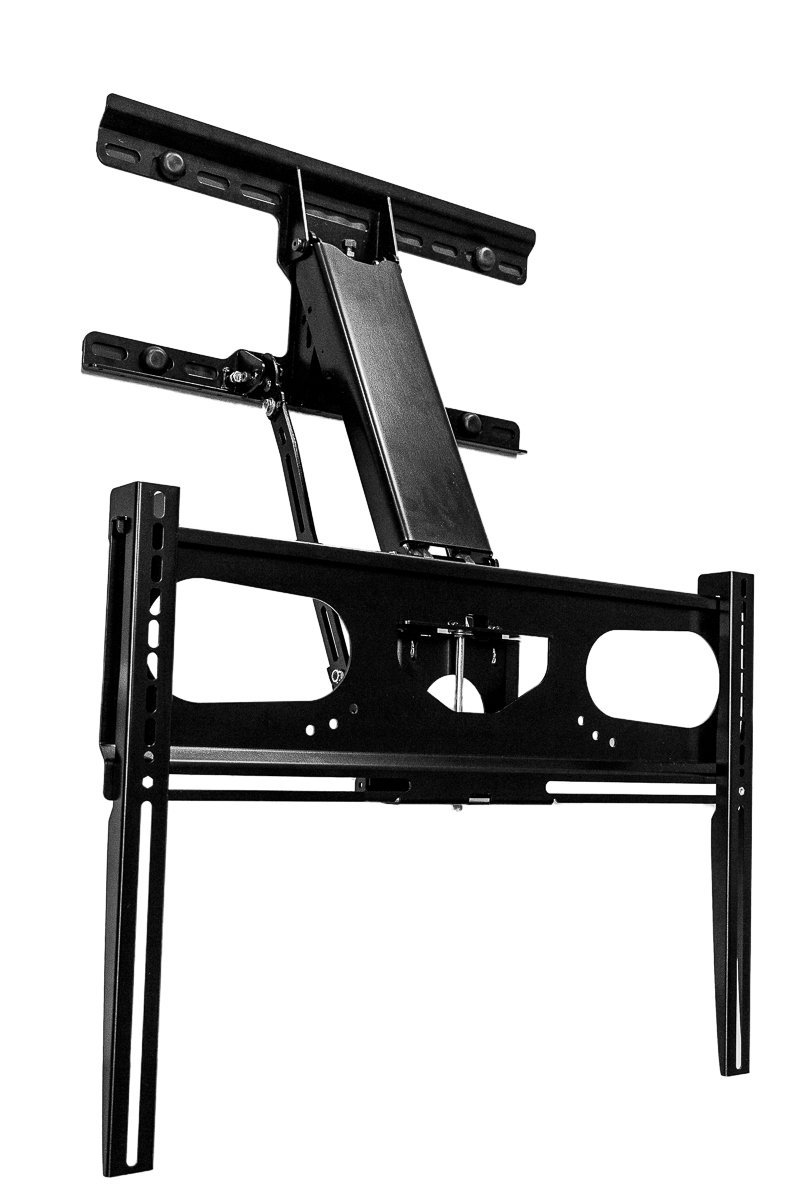 Designed for flat screens 40″ and up and for televisions 20 to 120 pounds it was the perfect solution.
It would allow us to leave the television out of the way above the fireplace mantel when it wasn't in use and then bring it down to a comfortable height when we were using it. As quick as that our options opened up. Not only would we get the benefit of keeping the focus on the fireplace when guests were over, we would also be able to bring it down to a more reasonable eye level and get rid of any neck strain when we did use it.
It was exactly what we needed! We contacted Dynamic Mounting the next day and put in an order. We were more than excited to get it since it had received glowing reviews on Amazon and on their homepage.
Here's a little sneak video preview of how the Down and Out Swivel Mount works before we get into the details. It's easy enough to use the we got our nine year old son to demonstrate!
(Movie done thanks to my wife and kids)
 Shipping
Shipping to Canada wasn't cheap however these mounts are made in the USA so there aren't any extra border or customs fees which is a huge plus in my opinion.
We dealt directly with the company and they got back to us fairly quickly and we made the arrangements to get it shipped to us as soon as possible. Less than a week later the all steel mount cleared customs and arrived at our doorstep. I'd love to say that we installed it quick as a whip and were enjoying the mount the next day but that wasn't the case.
In regards to heat above the fireplace: You'll find more than a few people online that tell you never to install a television over a fireplace. One of their main reasons being that a fireplace generates too much heat and smoke for  televisions and electronics.

For one thing, a good portion of today's fireplaces use natural gas heat so smoke isn't an issue for a lot of them and if you have that much smoke in your house trust me you have other more pressing concerns.

Secondly, for hundreds of years people have been placing expensive family portraits, priceless art and more on or above their mantels without worrying about them.With the price of big screens dropping all the time, even if the heat a fireplace generates reduces the lifespan of your TV it will likely only be a fraction of its life and there's a good chance you'll replace your TV by then anyway.

Thirdly, I put a thermometer above my mantel to see how hot it got after an hour of running the fireplace on full and to my amazement, it was less than the heat above my baseboard heater. The reason being that the fan in our fireplace pushes the heat into the room while the baseboard heat goes straight up. In our room, our TV would have gotten hotter mounted on the wall beside the fireplace than over the mantel with the fireplace on.

Finally, I have no intention (nor should anyone) of running our fireplace with the TV in the down position. This isn't a problem during the warmer months when our fireplace is never used anyway and to be honest, we don't plan on using our fireplace that much to begin with so for us it's a complete non-issue.

The bottom line is, if your fireplace throws a lot of heat directly upwards or you want to be using the fireplace with the TV in the down position all the time, you might want to find another place to put your TV. Otherwise, I say go for it.

A slight problem
One of the biggest issues with mounting a large screen TV to any wall is finding the proper support.
Unlike a normal wall with 2×4 studs every 16″ inches, most fireplaces (especially older traditional wood fireplaces) have brick or stone behind them which makes them a little trickier to hang. Luckily for us, the previous owners converted our wood fireplace to gas and covered the brick with drywall.
Unfortunately, for whatever reason, the wood stud placement was less that ideal. There happened to be a horizontal stud running at the perfect level for the top bracket however there was nothing even remotely close for the bottom bracket.
We only had 2 options if we wanted to safely use the mount, cut open the wall and beef up the support with more studs attaching to the brick or cover the wall with a stronger backing. After hemming and hawing for a few days we decided to create a picture frame on the wall behind with a sheet of 3/4″ one side sanded plywood. A quick trip to Home Depot with the exact measurements we needed (they'll cut it to size for you while you wait) and we had a nice piece of wood to attach to the wall.
A quick coat of primer and paint and we were ready to install the mount. (We're planning on painting the entire wall in the next few months so the color we chose is only temporary.)
Installing the Down and Out Swivel Mount
Installing a vertical mount as opposed to a horizontal, tilting or fixed mount takes a few extra calculations.
If you don't have a mantel and your studs are within a few inches of your placement, it's as easy as drilling out 4 holes and putting in the included lag bolts however if you have a mantel or something a few inches or larger below it you need to calculate the downward travel distance as well. Dynamic Mounting makes this easy with a nice chart listing the distance needed for travel depending on your mantel depth and the height you install the mount. It may seem backward but the higher the mount is installed over the mantel, the more downward travel the TV will have.
If that doesn't make sense to you, try this. Put one hand under your other arm halfway between your wrist and your elbow. Now try to make your hand go lower than your imaginary mantel (the hand under your arm). You'll notice the lower your hand goes, the higher your elbow lifts.  At first glance the lengthy instructions will intimidate you and might even confuse you a bit however if you read it all first then follow the instructions while looking closely at the mount everything will become apparent as you go.
Measuring
The first thing you need to do is measure your TV so you know where you want it to sit above your mantel.
The easiest way to figure that out is to install the bracket arms onto the back of your TV as per the instructions using the included bolts and figure the distance between the bottom of the TV and the bottom of the brackets. This will let you know how much farther down the TV will sit in relation to the mount.
Next, you need to decide on how much swivel you want. We chose the 15 degree option since that's the perfect amount of swivel we'd ever need and when fully extended downward it won't smack into our 8″ mantel if the kids push the TV too far one way or the other.
Once we figured out our ideal placement (which in our case was around 7.25″ from the top of the 8″ mantel leaving the bottom of our TV about 4″ higher than it), I grabbed my level and tape measure and pre-drilled two top holes 16″ apart where the mount was attached to the studs (you can print this template if your studs are off center).
Once that was done I got my wife to give me a hand holding the 30 pound mount as I as installed the included lag bolts. Right before fully tightening them I grabbed my level and placed it over the top of the mount to ensure it was exactly level.
After the bolts were tight (that was enough to hold the mount for the time being) I could then take my time and drill out the rest of the bolts ensuring they were exactly where they needed to be. Because I was putting the mount directly onto plywood, I bought a few more shorter lag bolts and washers while I was at Home Depot and installed them as well.
Tip: Every mounting situation is unique so you might need to contact Dynamic Mounting or a professional installer if you're situation warrants it. Obviously, installing a mount directly into wood studs is the easiest option however it's not much harder to install into brick or concrete as well. It just needs the right fastener. Please ensure whatever you're mounting it to has enough strength the hold the 30 pound mount and the TV you're mounting on it. It's better to err on the side of caution since this fully articulating vertical mount places more strain on the wall than a fixed or simple tilting mount.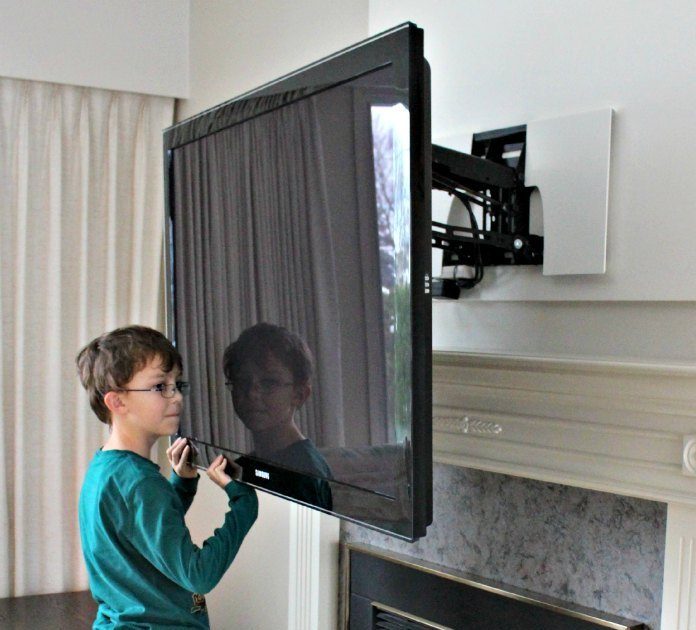 Adjusting the Down and Out Swivel Mount
Once the mount was fully hung, I changed the weight resistance bolt to more closely match my 70 pound TV. After that, I got my wife to help lift the TV onto the mount and then tightened up the two screws that lock it into place.
Next, I stuck the two included pads under the arms so that if the mount came down too fast or hard that it wouldn't damage the mantel. I was glad I did that since I had under set the weight resistance and the first time my daughter tried to bring it down she panicked and let go at its highest point and it came down faster than she expected. Needless to say, I tightened the bolt a little more so it was more evenly balanced.
From there, I played with the movement of the TV and ensured the other screws were tightened according to how much tilt I liked and how I wanted it to sit when in the up position.
Due to how much the mount sticks out when it's between the top and bottom positions, making the adjustments at that height was pretty easy and I was able to get behind the TV to attach all the wires then as well. There's plenty of places to attach the wires onto the mount with the included ties to keep them out of the way.
Tip: If you want to run the wires for your television through your walls (using appropriate graded materials only) I suggest you do it before hanging the TV. To give you a rough idea of how much wire you'll need to leave hanging, the HDMI wires going from my TV to the center of the mount on the wall is around 4 feet and my power cord is 4.5 feet. Every TV will vary of course due to their size and connector placement.
I then installed the 2 included covers I had previously painted to match the backing so that the mounting brackets can't be seen when the mount was in the down position. Finally, I lowered the mount, sat down on the couch and for the first time enjoyed watching TV in the living room with our TV exactly where it needed to be!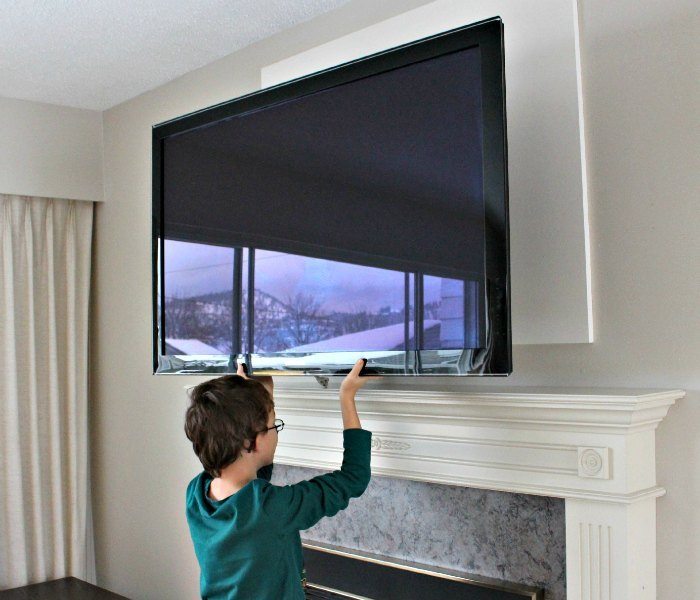 Down and Out Swivel Mount Review
Pros
Lots of maneuverability
Nothing quite like it out there
Great for installing over a fireplace, mantel, window or any place that you need varying vertical heights
Swivel function gives you more viewing options than the identical, cheaper non swivel version
Fast shipping
Extensive instructions
Sturdy all steel mount
Comes with all the hardware needed to attach to 2 wood studs
Made in the USA (means no extra duty or customs charges if bought in North America)
3 Year Warranty
 Cons
More expensive than typical fixed, tilting or horizontal swivel mounts (but since it serves more than one purpose, it's a good value)
Instructions seem complicated at first, though they quickly make sense
Sticks out farther than fixed or tilting mounts when in the up position
Needs a stronger backing than traditional mounts
Final Thoughts
Tip! We love our Dynamic Mount Down and Out Swivel Mount, but we've since found some more affordable options on Amazon that have great ratings like the MantelMount MM340 Pull Down Fireplace TV Mount.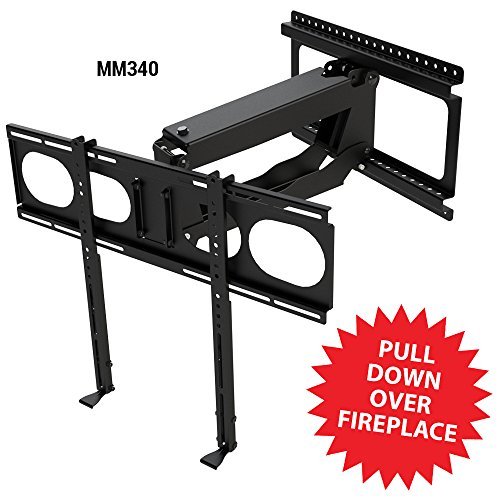 Everyone in the family (including our friends) love our new mount.
Both our kids can move it from the up to the down position quite easily and it tucks away above the fireplace nicely when guests are over or if we want to have the fireplace on. With the swivel option we can turn the TV towards the dining room or more towards the far couch. It's the perfect height for cuddling in with the kids and watching a movie.
We also have an Xbox connected to it and the kids like that they can still sit on the floor in front of it to play whereas above the mantel would be too high to do so.
It works perfect for our needs and we're glad we got it. Any worries about neck strain are gone the moment we drop it down and it looks great up when company is over.
Due to it' weight and design, it's more work to install than a traditional mount, however any mount we installed over our fireplace would have required that we beef up the wall anyway so in our case it really wasn't a whole lot of extra work. We also like that we can still keep items on the mantle and the TV doesn't touch them whether it's in the up or down position.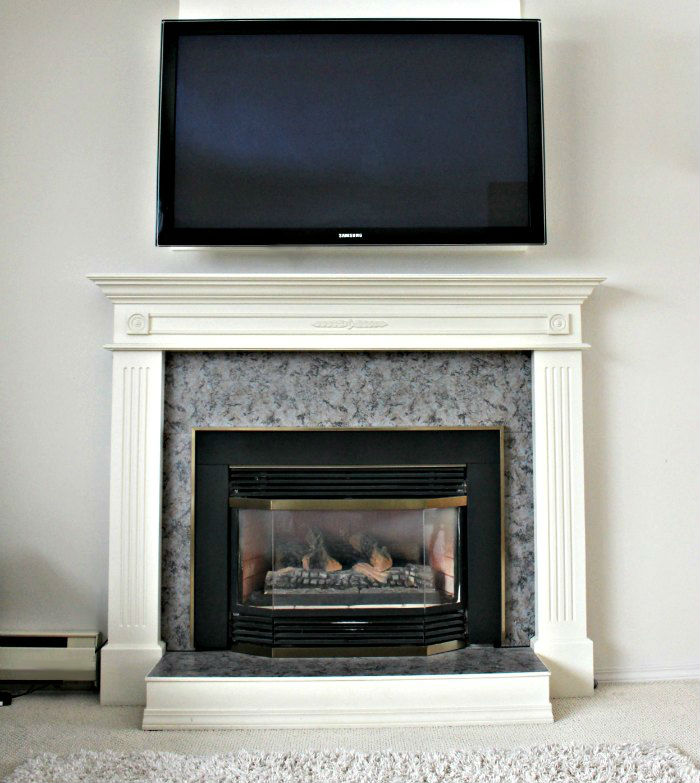 Want more info?
You can see Dynamic Mounting's full line of mounts on the Dynamic Mounting website, via Amazon or check them out on YouTube, Facebook or Twitter. 
Note: If you want to save some cash and you're willing to help promote them, you can save up to $100 by posting online and saving them the cost of advertising! Check out their site for more information.