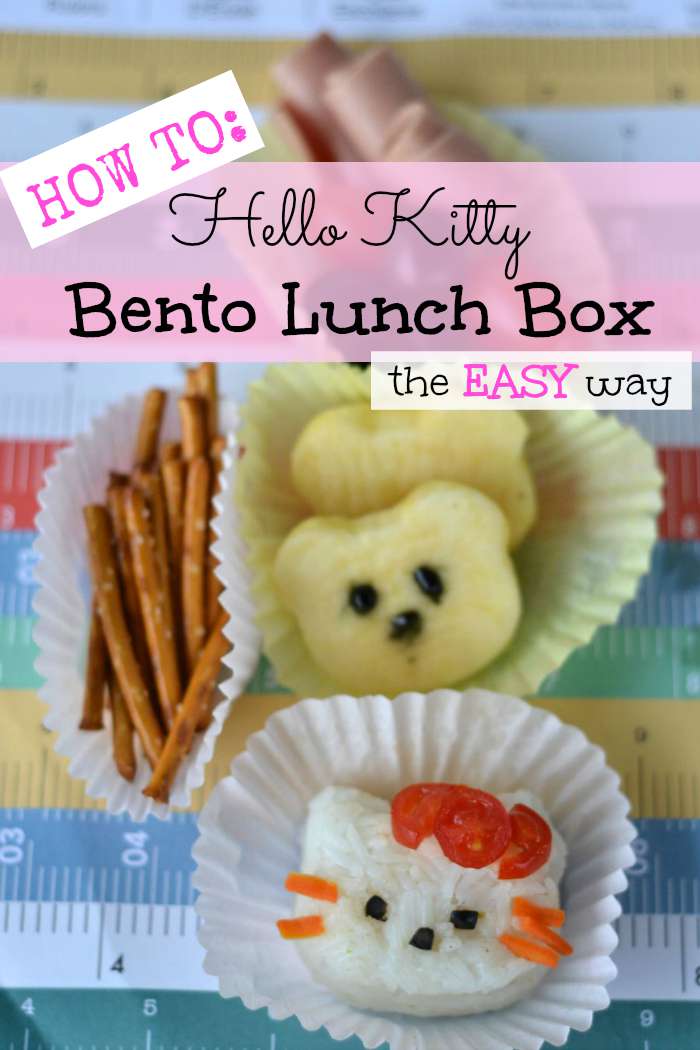 I'm the first person to admit that I don't like fussing over school lunches. But I did fall in love with this Hello Kitty bento lunch box, mostly because it's so darn easy to make.
So check it out – find out how to make a Hello Kitty bento box the easy way.
What you'll need
cupcake holders (we used paper cupcake cups, but reusable silicone baking cups work well also)
2 sliced apples
½ cup of cooked white rice
3 black olives (for eyes)Hello Kitty Rice Mold – you can find the mold we used on Amazon here
10 pretzel sticks
1 slice of cheese
1 slice of lunch meat rolled up (optional)
3 grape tomatos
3 drops of black icing
How to Make Your Hello Kitty Bento Lunch Box
Now for the next part: how to assemble.
First, make the Hello Kitty rice figure. To do this, just fill the Hello Kitty mold (found on Amazon)with rice and press down. Next, cut three tiny pieces from the black olive for eyes. Slice a piece of the grape tomato and cut the slice in half for the sides of the bow. Cut another small slice for the center of the bow. Place on your rice and put in the cupcake holder.
Next, you're ready to cut the cheese into the bunny shape. With the bunny cutter, cut your cheese in the shape of a bunny. Place the pretzel stick in a cupcake holder with your cut out cheese on top.
With the bear cookie cutter, then cut apple slices into the bear shape and use black icing for the eyes. Place in a seperate cupcake holder.
Place left over veggies in another cupcake holder.
Place all in a small lunch box.
That's it – you're done! This is a great bento box to make the day after you've had rice for dinner.
Find it on Amazon:
Reusable Silicone Baking Cups
Hello Kitty Bento Lunch Box Set

Green Direct Standard Size White Cupcake Paper/Baking Cup/Cup Liners