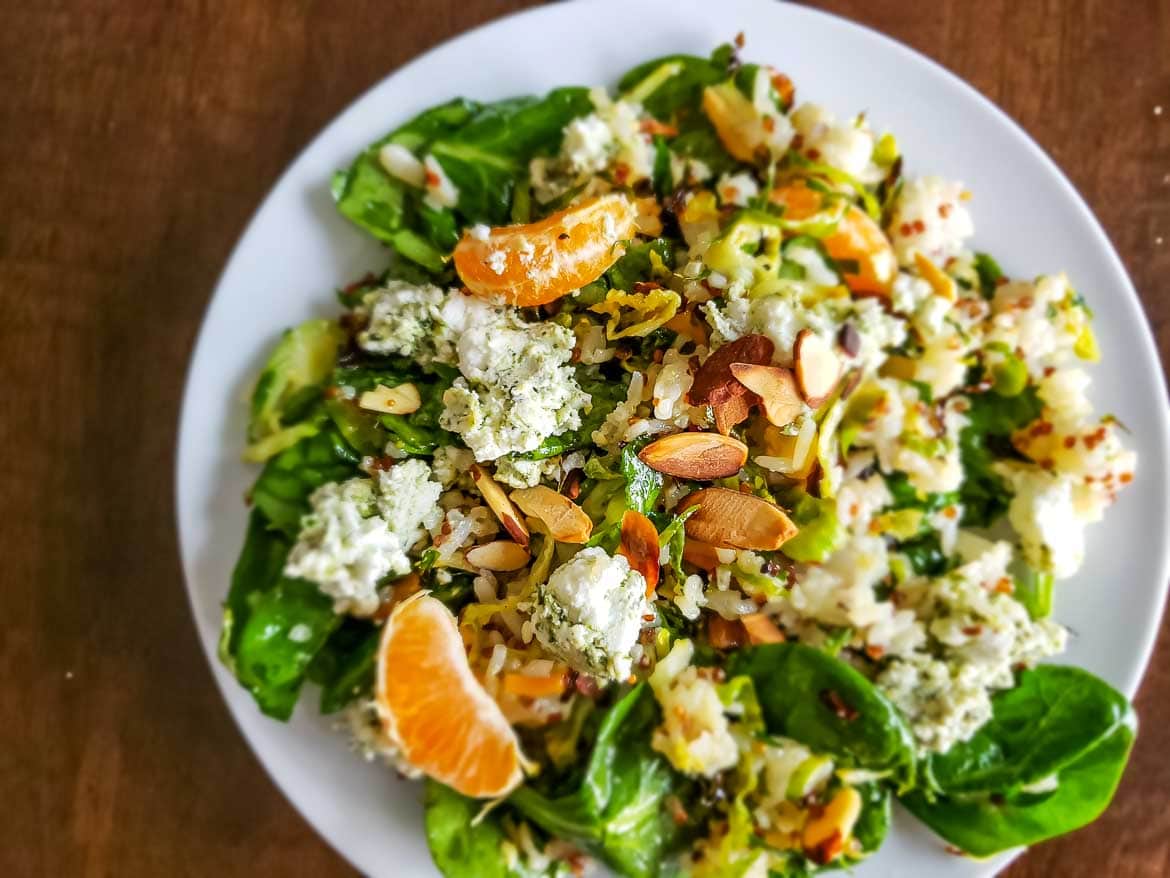 Curious about Chefs Plate vegetarian meal kits? Want to try some vegetarian meals, but not sure where to start? In this Chefs Plate vegetarian review, we rate the meals we tried, and the Chefs Plate delivery service too.
Chefs Plate Vegetarian Meal Kit Review
I love the idea of trying new recipes, and get really tired of shopping and meal planning every single meal, so meal kits are definitely my jam. Since I'm vegetarian, I originally thought that would be a problem, but it turns out that most meal kit services, including Chefs Plate, offer vegetarian meal kits. Veggie for the win!
Want to check prices? Click here to get 50% off Chefs Plate right now!
What is Chefs Plate?
Chefs Plate is a Canadian meal kit delivery service that delivers ingredients and recipes to your door every week. You then cook the recipes at home, providing kitchen staples like oil, salt, pepper, and pots and pans.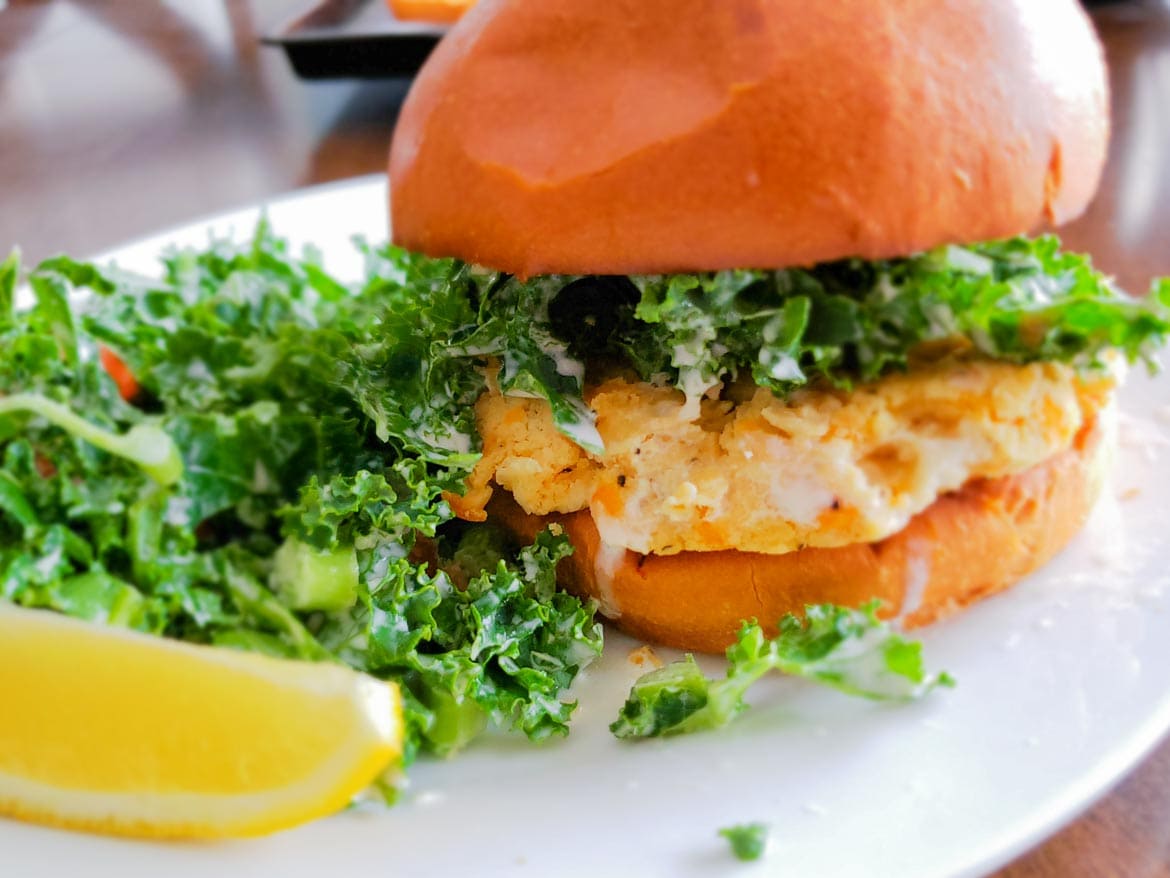 Who are vegetarian meal kits good for?
Chefs Plate vegetarian meal kits might be good for you if you're:
tired of making the same old suppers over and over again, meal kits are an easy way to get out of your meal rut.
sick of meal planning and shopping, getting a meal kit delivered to your door saves a lot of time and hassle.
learning to cook, since meal kits have detailed instructions, and ingredients already portioned out.
interested in trying healthy, flavorful vegetarian meals.
Who won't like Chefs Plate vegetarian meal kits?
Meal kits might not work for you if you're:
on a strict budget. Meal kits definitely cost more than budget meals, likely since they contain a lot of premium ingredients
in a huge hurry. It takes about 15 to 30 minutes to prepare the meals, plus you'll need to unpack and refrigerate ingredients ahead of time. Ordering takeout through Skip the Dishes can definitely be faster. (Click here to get $7 off your first Skip the dishes order!).
not a veggie fan. We found our Chefs Plate veggie meals packed with all sorts of nutritious and delicious veggies like yams, zucchini, and even kale.
How does the Chefs Plate Vegetarian plan work?
Chefs Plate offers 3 plans:
Vegetarian. The Vegetarian plan comes as 2 servings only. If you want 4 servings (like we need, as a family of four people), then choose vegetarian recipes on the Classic plan.
Classic. The Classic plan comes in 2 or 4 servings, and offers both meat and vegetarian options.
Family. The family plan comes with 4 servings, and a mix of easy kid-friendly recipes, including 15 minute meals. Many of the recipes here are vegetarian as well.
What I like is that there are vegetarian recipes in the Classic and Family plans as well. If you're trying out eating meatless a few days a week, you can get a Classic or Family Plan with a mix of vegetarian and non-vegetarian meals.
For each plan, you can choose 2, 3 or 4 recipes per week.
Tip! Something I like about Chefs Plate is they help you customize your box based on the Taste Preferences you choose. You can select not include dishes with ingredients such as pork, shellfish, beef, and so on.
Click here to get 50% off right now!
Where does Chefs Plate deliver?
Chefs Plate delivers in Canada! They currently deliver to Ontario, British Columbia, Alberta, Saskatchewan, Quebec, Prince Edward Island, New Brunswick, Nova Scotia and Manitoba. However, they're growing quickly and adding new cities all the time.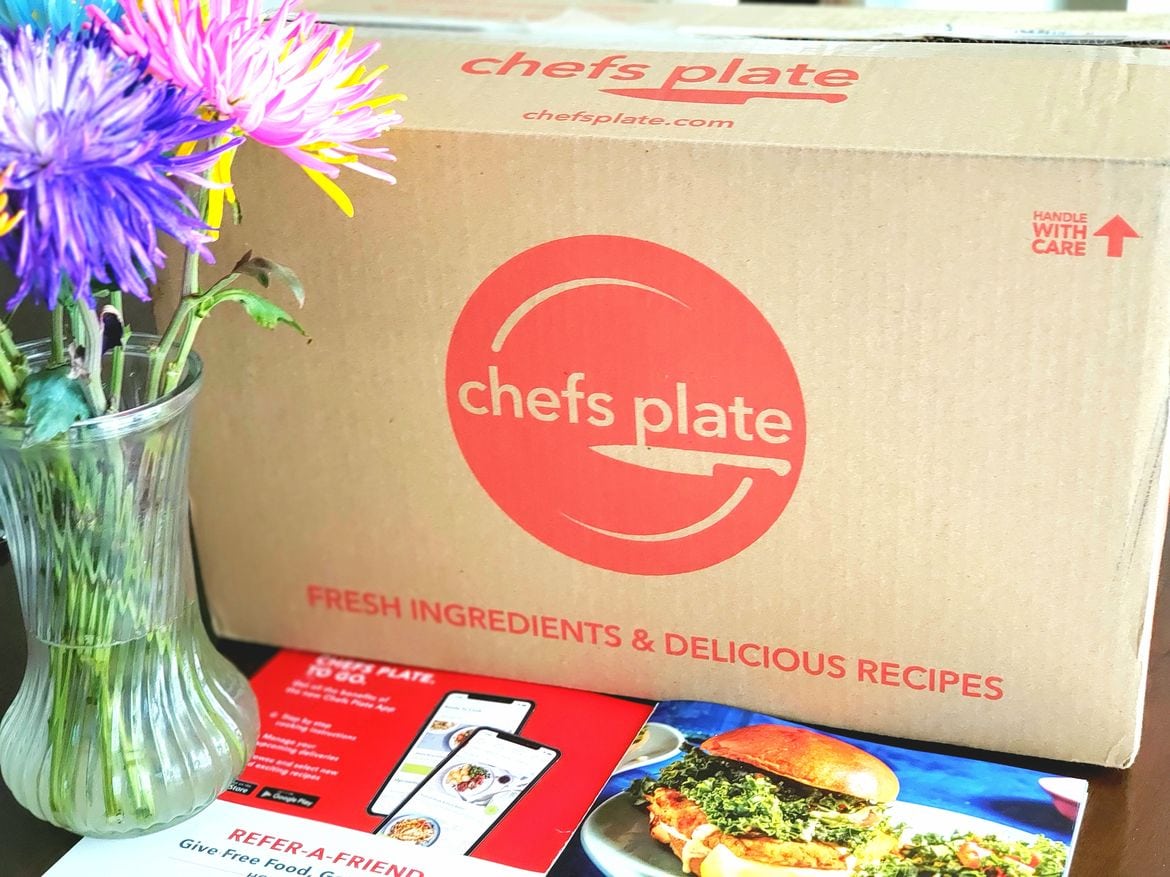 How much is Chefs Plate?
With the 50% discount you can get here, the Vegetarian Plan costs $29.97 for 3 recipes, of 2 servings each. That comes to $4.99 per serving.
Delivery is free with 3 recipes or more.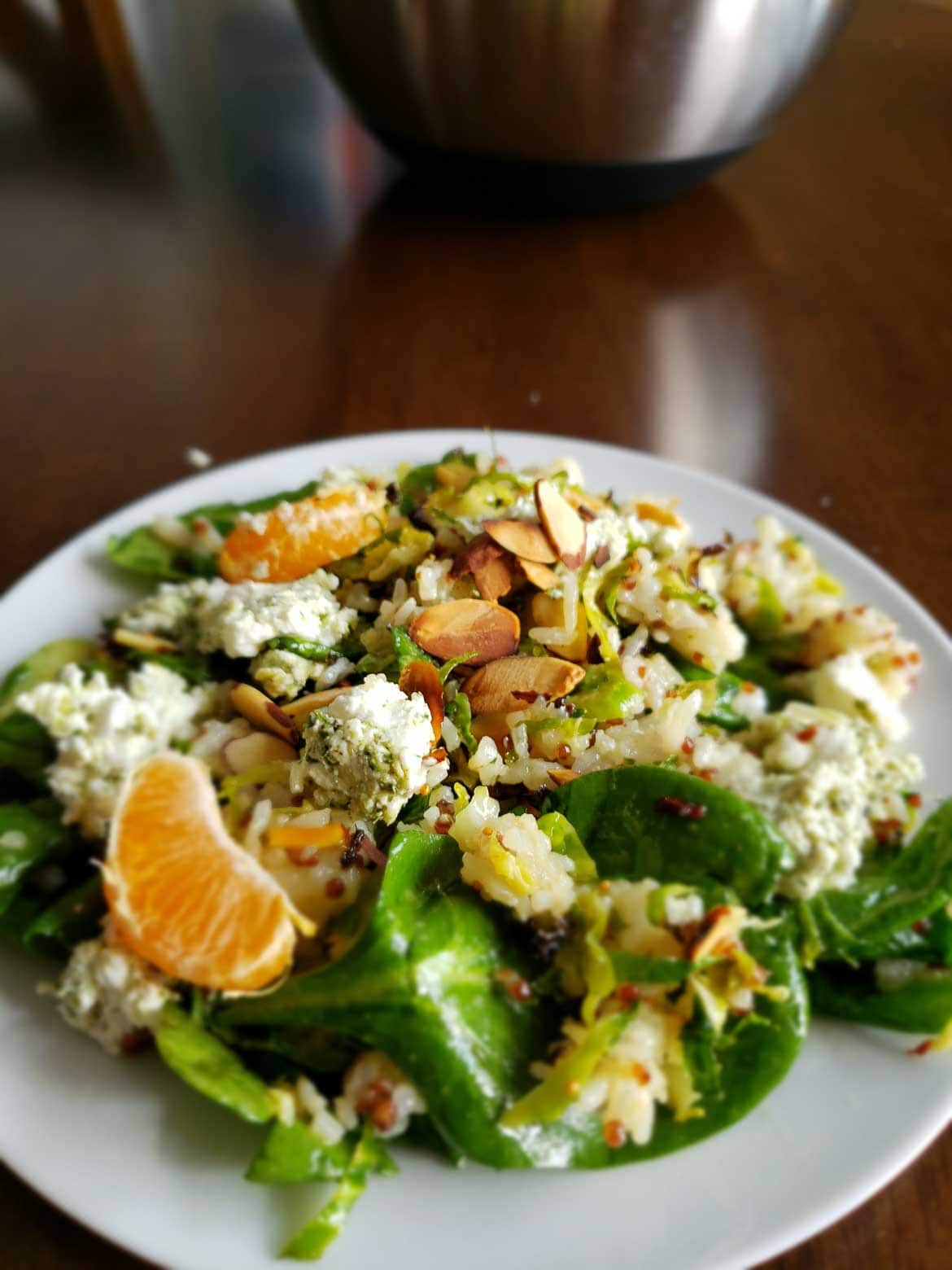 So, how does Chef's Plate work?
The in-house chefs create weekly menus. You decide how many recipes and servings per week you'd like. Then, a box of fresh ingredients, in the exact amount you need, is shipped to your front door. Easy peasy.
Each box has all the ingredients the meals you chose, but you provide kitchen staples like oil, salt, pepper, and pots and pans.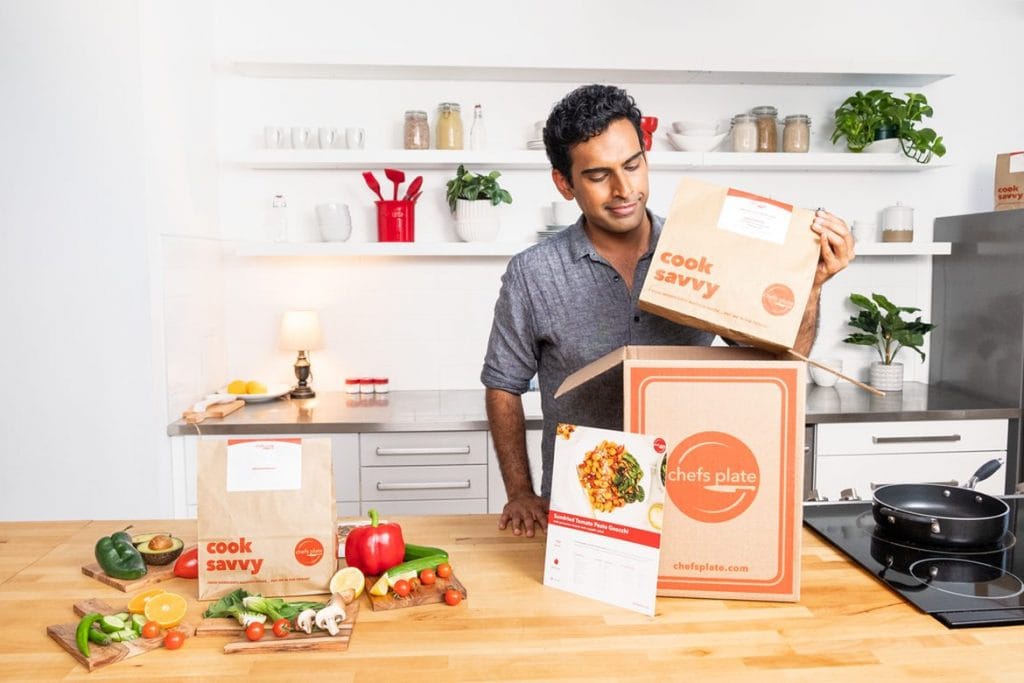 What kinds of meals will I get?
I really like that the meals are inventive and interesting. As a long time vegetarian, I love creating something new and delicious for my family.
There are plenty of delicious vegetarian recipe options, like veggie calzones, loaded chipotle bean tacos, cauliflower and lentil daal, southwest tofu chili, harissa spiced chickpeas (with tabbouleh salad and baked feta), and a baked halloumi shwarma bowl.
I'm really excited to try the eggplant parmigiana sandwiches that I see in the menu in a few weeks. I love my eggplant parm!
Is Chefs Plate vegan?
Chefs plate doesn't offer specific vegan meals.
They do offer dairy free options (and gluten free options), but these might not be available every week.
What I really like is that the website lists ingredient details, so you can easily tell if a recipe fits your needs.
You can also edit your Taste Preferences in your profile, so if you're using the auto deliver option, you can automatically exclude any meals that have ingredients like shellfish or pork, and so on.
Looking for a something healthy and easy to make, and up for some delicious vegetarian meals?
Click here to get 50% off right now! They discount's automatically applied.
Chefs Plate Vegetarian Kits – The Bottom Line
Chef's Plate is one of our very favorite vegetarian meal kit delivery services.
As a vegetarian for over 30 years (yes, that long!), I know something about good vegetarian meals, and these kits are the read deal. Check out our full Chefs Plate review here.
We adore the fact that Chefs plate is Canada only, too!
Get 50% off your first vegetarian box now!
Have you tried Chefs Plate veggie box? What did you think? Let us know!