HelloFresh Canada is a meal kit delivery service. This is our family's HelloFresh Canada review, updated in 2023!
I'm pretty tired of eating the same old thing for dinner, so I've been looking for interesting new recipes to try.
The problem is, I'm busy (aren't we all!), so searching for new recipes my family likes, shopping for ingredients, and putting it all together is just a headache.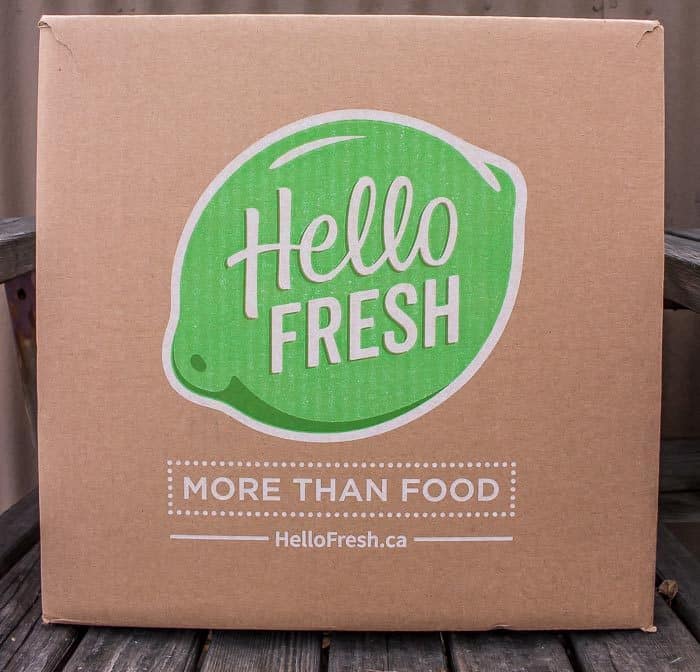 So I decided to give myself a break and give HelloFresh a try. It's an online weekly meal delivery service that delivers recipes and fresh ingredients to your door that you cook at home.
Want to try HelloFresh?
Check HelloFresh prices now.
Read on to learn more about how it works, how to order, to see the three dinners we made with our Hello Fresh kit this week, and more!
HelloFresh Canada Review 2023
I've keep hearing from friends who've tried Hello Fresh and rave about how tasty and easy it is, and I've wanted to try their meal plans for a while now.
So, I was thrilled when they reached out and asked us to try one of their meal plans.
For this review, we tried HelloFresh for a week.
What I liked most: As a busy Mom, I really loved having ingredients for a fresh and healthy meal delivered to my door. No planning, no shopping, no picking a menu – just convenient and easy!
What I liked least: On the downside, I found that there was a lot of packaging. That said, all of the packaging is recyclable, which I love, and I'm not sure how they could reduce the packaging, but still make sure that the ingredients stay fresh.
A quick look at our meals
First, I'll start with photos of the meals we made. For details of what comes in the HelloFresh box every week, plus more, scroll down.
These aren't professional photos – these are photos I took of what the meals actually looked like when they were made in our kitchen!
Yum!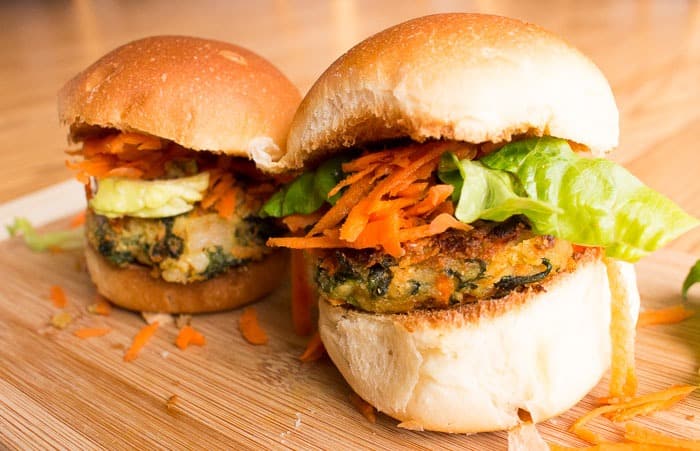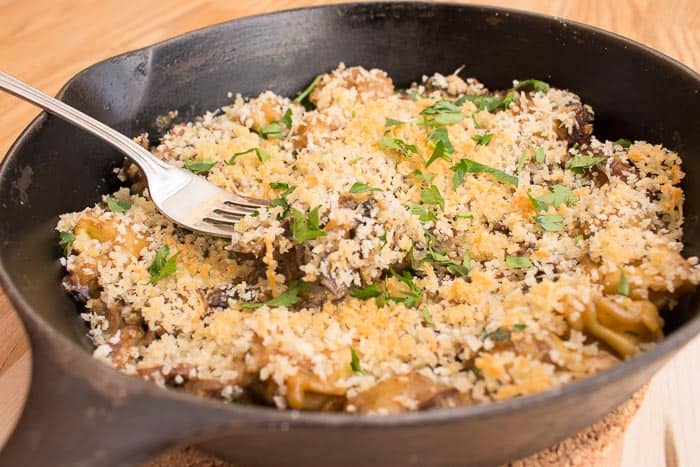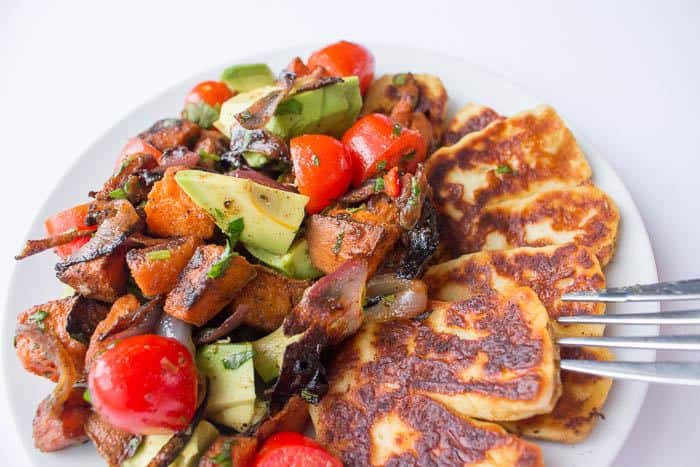 What kind of plans do they offer?
HelloFresh Canada offers four plans: Meat & Veggies, Family Friendly, Vegetarian and the Smart Meals plan. 
Here are the plans:
Meat & Veggies (a wide variety of meat, fish and produce that you can make in 30 minutes or less)
Family Friendly (picky eater approved, with 20 minute meal options included)
Smart Meals (carb- and calorie-smart options containing less than 650 kcal or 50g of carbs per serving)
Vegetarian (meat free with fresh, seasonal ingredients)
All plans come with a choice of three or four recipes per week, and you can choose a plan for two or four people.
We tried the Veggie Plan (because I love my veggies!). This is the perfect plan if you'd like to try some Meatless Mondays and don't know where to start! The Veggie Plan comes with recipes for two or four people.
Their main plan, the Meat & Veggies is mostly made of meals that take less than 30 minutes to make, with plenty of interesting exciting flavours to help break your mealtime rut. You can choose the Meat & Veggie Plan for two or four people.
They also have a Family Plan for two or four people, which is designed with family friendly recipes that even picky eaters will love.
There's a big variety in the meals, and they include Teriyaki beef, smoky BBQ beef, garlic shrimp and tomatoes, pesto chicken, pork schnitzel, Tandoori chicken, and much more. Veggie lovers can try things like lentil bolognese, crispy tofu stir fry, and one pot tortilla soup.
The Smart Meals plan comes for two or four people, and includes recipes with 50 g of carbs (or less) per serving.
Can you cancel?
Yes! You can cancel anytime, with no fee. Wondering how to cancel HelloFresh? Just login and cancel online.
You can also put your plan on hold if you're going away on vacation.
Can you choose your recipes?
Yes! Each week, the Pronto and Family Plans have several meal choices from which you can choose.
If you're like us and don't like seafood, you can set Meal Preferences online or in the app to make automatic selections like No Seafood Meals, and you can also choose No Shellfish Meals, No Beef Meals, No Fish Meals, or No Pork Meals.
What's the selection like? Do they repeat the same meals over and over?
I've been watching the menu selection for a couple of months now, and I've rarely seen a meal repeated.
This is fantastic, because a variety of meals means we get to try all sorts of new things – no more boring suppers!
What does HelloFresh cost?
The meal plans cost about $10 per serving for the Family Plan, about $13 per serving for the Pronto Plan, and $12 per serving for the Veggie Plan. Delivery is free for all orders.
You can cut that cost with a coupon to try it out, like a HelloFresh 3 free meals coupon.
Get Up To 20 Free Meals from HelloFresh Today!
Is there a delivery charge?
No, delivery is included in the plan cost. There's no extra charge.
How long will the food stay fresh?
We got our box on a Tuesday in the late afternoon. I popped the ingredients in the fridge, anticipating making the meal later that night.
Life, unfortunately, had other plans.
My sweet daughter tripped on the end of the bed, and hurt her arm, so she and I spent that evening in emergency at the hospital. Luckily, no bones were broken, and she was fine, but that meant I didn't get to try my HelloFresh that night.
The next night, we had parent teacher interviews, and then a pre-planned supper with friends.
Sigh, so on night three I finally got a chance to open the HelloFresh kit. Three days after getting the kit, the produce was still perfectly fresh and looked perfect.
HelloFresh says that the ingredients will stay fresh for week, and from my experience that's definitely true!
Where does HelloFresh deliver? HelloFresh locations
HelloFresh in Canada delivers to Ontario, Manitoba, Saskatchewan, Alberta, British Columbia, Newfoundland, and the Maritimes.
You can get HelloFresh in pretty much every major Canadian city in those provinces, including Toronto, Ottawa, Winnipeg, Vancouver, Regina, Saskatoon, Edmonton, Calgary, St. John's and even our smaller city of Kelowna, BC!
They're expanding pretty quickly, so check to see if they're now delivering to your area!
How do I order, and what comes in the HelloFresh box?
Online ordering is pretty easy. You can order online here, or with the HelloFresh app (available on iOS or Google Play).
With a few clicks of the mouse, there was a HelloFresh box on my doorstep in a few days.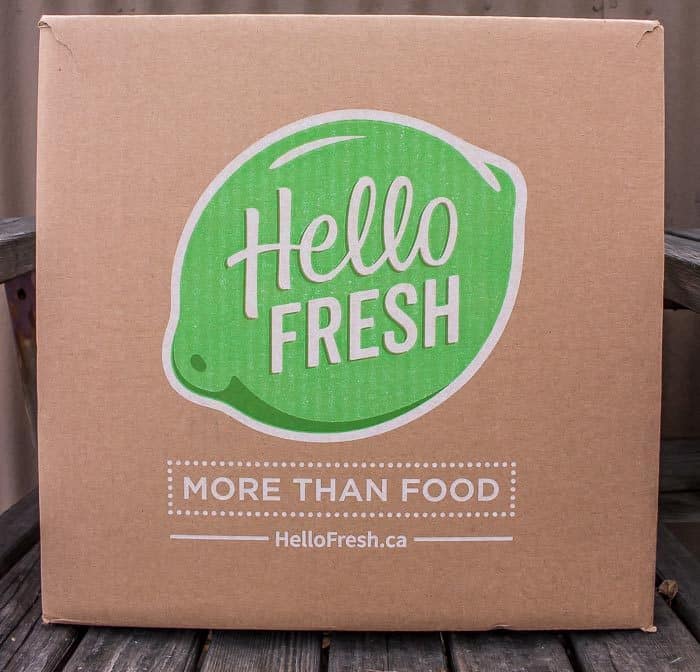 So, what's inside?
The box is fully insulated, with recipes for the week on the top, the meal kits in the middle, and ice packs plus a few additional ingredients on the bottom next to the ice pack.
Inside, I found my three meal kits individually packaged.
The week I ordered, the recipes were for seared halloumi cheese with roasted veggies, one pan mushroom tortellini gratin, and cannellini bean veggie burgers (spoiler alert: so good!).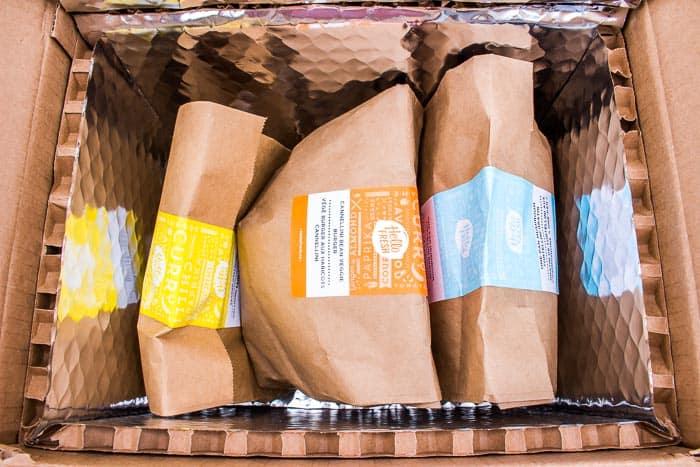 The recipe book has the week's colorful, easy to follow recipes, complete with nutritional information, and guidelines for how long each recipe will take.
All of the packaging inside is recyclable, and I was happy to see they used unbleached paper bags to hold the kits.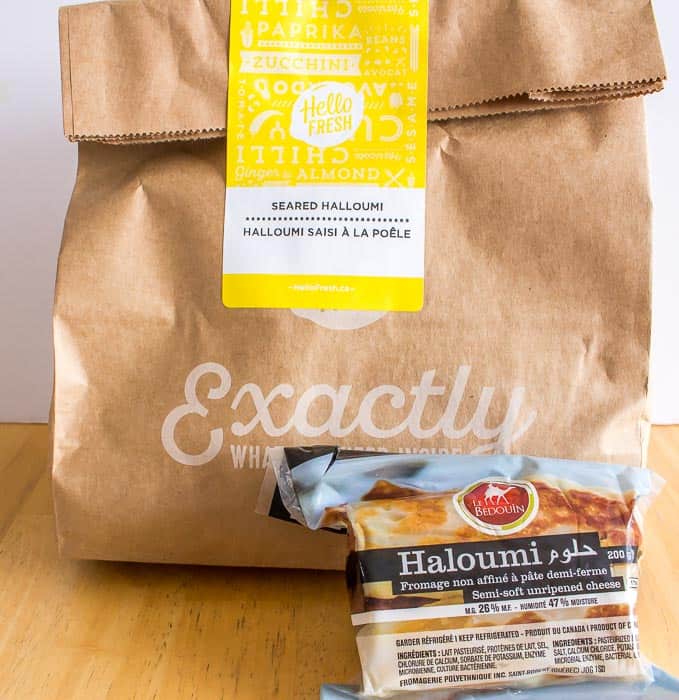 Inside, you'll find the ingredients. Some items, like the sweet potatoes, are pre-cut.
Others, that have a shorter shelf life when cut, like avocados or cilantro, aren't pre-cut.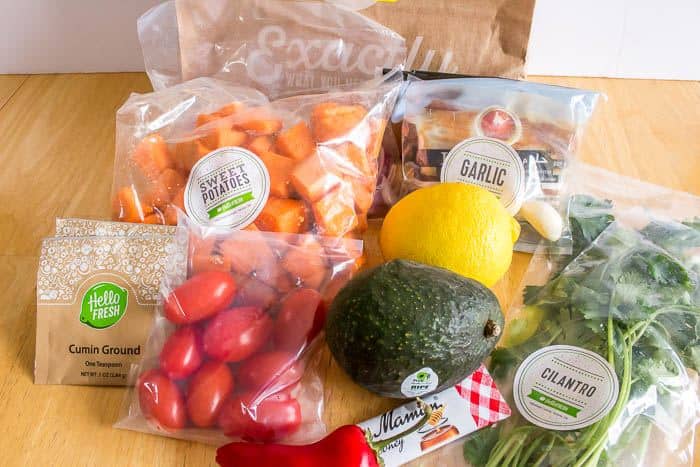 Here's what the ingredients look like unpackaged.
Yum! They all arrived perfectly fresh and ready to eat. These are ingredients for the seared halloumi cheese, roasted veggies and sauce.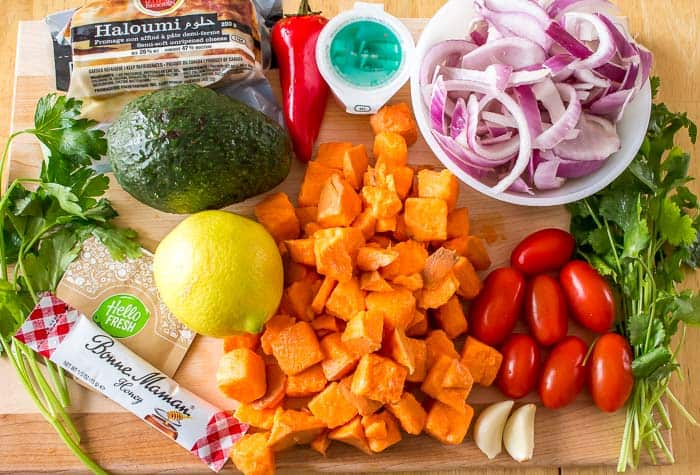 The ingredients HelloFresh sends don't include salt and pepper, sugar, milk, butter or cooking oil, as they assume you have the basics where you're cooking.
Here's a video of the whole HelloFresh process for cooking the halloumi cheese, roasted veggies and sauce recipe!
So, here an important question: does what you make end up looking like their pretty, edited photos?
Yes, I think ours turned out pretty well. I'm definitely not a professional food stylist, and I managed to make a dish that looked just about as tasty and delicious as their menu photo.
Here's a photo of the dish we made (bottom), with the photo from HelloFresh's menu on top.
Pretty impressive!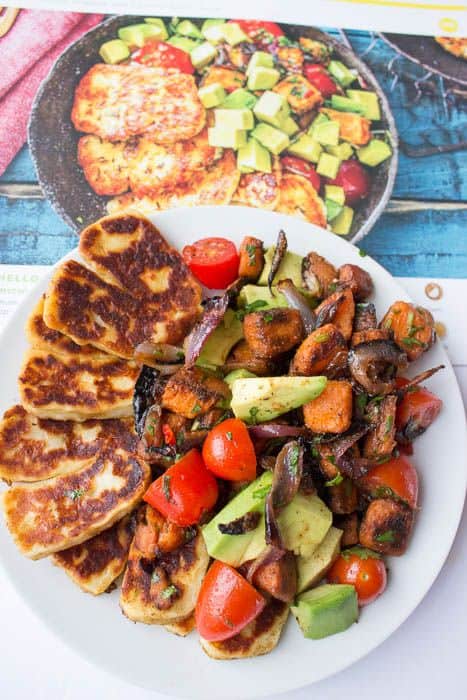 The other two recipes in the box (one pan mushroom tortellini gratin, and cannellini bean veggie burgers) were both tasty.
Cannellini bean veggie burgers
These cannellini bean veggie burgers were a huge hit with both our kids and my husband, which is saying quite a lot as they can be pretty darn picky.
The recipe took me a little less than the 35 minutes they suggested, and we ended up with these delicious little burgers.
My only criticism would be that the buns were a little small for the three inch wide bean patties they said to make. We ended up making the patties half the size they suggested, and created a double burger, with two patties instead of one.
That said, the buns were fresh and tasty, and we'd give this recipe a solid five out of five. My kids have even asked for it again!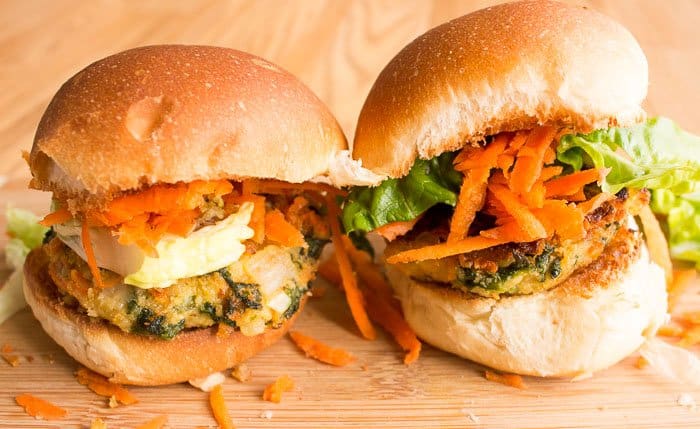 One pan mushroom tortellini gratin
This is a super fast dish to make.
The recipe book said it would take 30 minutes to prepare, but I timed myself and I had it done in a few minutes less.
Now, to be honest, I'm not a huge mushroom fan, so I probably would have been better substituting this for a non-mushroom dish. That said, the mushrooms that came in the kit were fresh and high quality, and the food was definitely tasty.
If you love mushrooms, you'll adore this dish!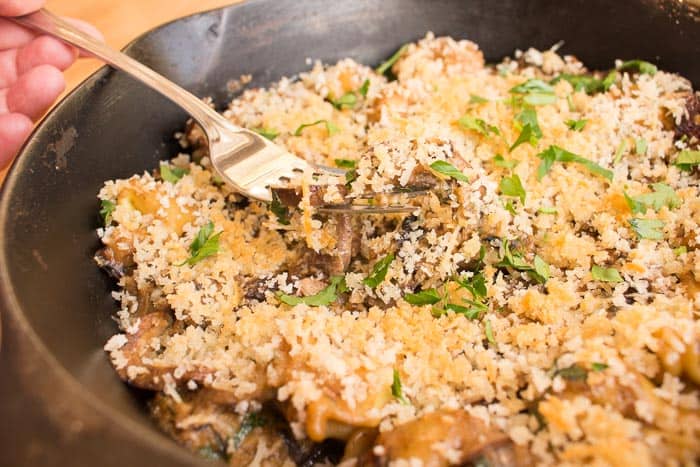 HelloFresh Coupon code / HelloFresh promo code Canada
The code's applied automatically! Interested in trying HelloFresh more than once?
Check prices now!
Here's the bottom line
Our family loved the Hello Fresh meals! You get three yummy meals delivered to your door with fresh ingredients and no waste at all.
Have you tried HelloFresh? Do you have a HelloFresh Canada review? Let us know what you thought in the comments below!