If we're not taking the kids to school, or heading to the beach or for a hike, we're running errands around town or heading out on a family road trip. That means a lot of snacks in the car, and a lot of mess.
If anyone needs some help getting our car organized and clean, it's our family!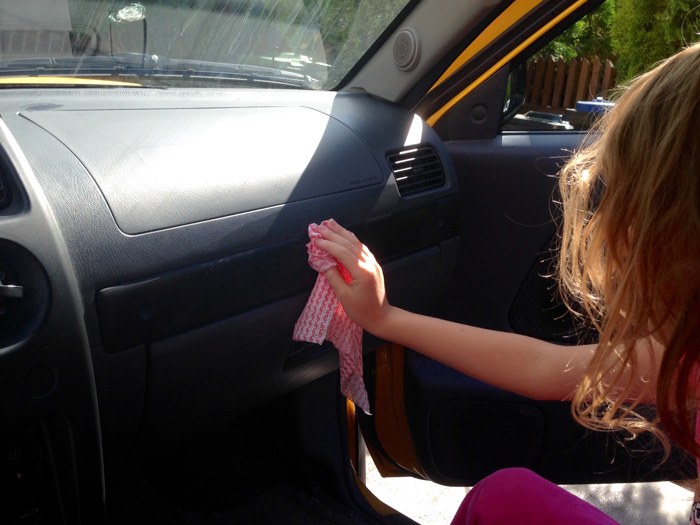 So, I enlisted the help of my son, who's nine, and my daughter, six, to help clean.
I spent some time on Pinterest looking for tips for cleaning your car. Don't do this, unless you want to feel perpetually inferior to uber-organized parents who create filing systems (filing systems!) for their vacation paperwork, and who label perfectly matched, stacking bins in the trunk. Wow, I'm in awe of them, but I just don't have that kind of time to invest in my car.
How to Clean and Organize your Car at Home with Kids
So I got to work with my kiddos to create some simple, easy to follow tips for organizing your car, with kids helping out.
Cleaning and organizing a car is a perfect chore for most ages of kids. When our kids were toddlers, I would just give them a damp cloth, and let them wipe down the back seat. As they've gotten older, they've graduated to spraying down the outside of the car, wiping the dash, and gathering garbage.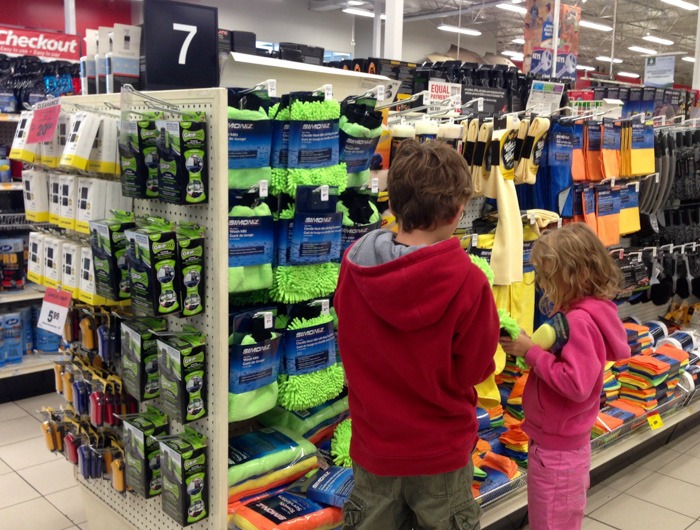 First, it was off to get supplies.
Now, down to the business of organizing and cleaning our family car.
What you'll need:
bags (for garbage and to hold contents of the glove box, etc). I used plastic grocery bags, but you could easily use reusable grocery bags.
vacuum cleaner (Shark vacuums has some great accessories for cars)
rags
pail of water with non-toxic, gentle cleaning solution
the kids! My kiddos love to help out cleaning. I give them a rag and a bucket of water, and let them help out. In all honesty, I probably end up doing most of the work, but it's nice to have their company, and it's good to help them develop skills they'll use later in life.
Step 1: Sort the mess, and throw out the garbage
Before you get down to cleaning, the first step is to get rid of any clutter and garbage.
We used a three bag system: one bag for garbage, one for items that you'll put back in the car, and a bag for items that needed to be relocated inside the house.
Sort what's in your glove boxes and consoles
First, take everything out of the glove box, and sort. You'll end up with three bags: one for garbage, one for items that will go back in the glove box, and one for things that will go back into the house.
Follow the same three bag system to sort your console, and any other storage compartments.
Our teeny, tiny glove box now contains:
registration papers
car manual
napkins
What's in the console:
change for parking meters and shopping carts
hand sanitizer
gas station reward cards
receipts
extra cell phone chargers
sunglasses
baby wipes for cleaning up messes
Tackle the kids' mess in the backseat
For the kids' mess, you'll need an industrial size leaf blower and a blow torch. Just kidding (sort of).
We eat a lot in the car, so it's especially bad back there.
Follow the same system for the back seat: sort items by what will go in the garbage, what needs to be relocated into the house, and what stays in the back seat.
In the back seat, this is what was left:
toys and activity books
barf bags. We have one kiddo who gets queasy on twisty roads, and we've learned the hard way that we need a good supply of leak proof plastic bags. Enough said.
In the tickle trunk (we still love you, Mr. Dressup)
For the trunk, it's the same story. Since we had so many items in the trunk, I didn't bother using a bag to store things that would remain – I just left them in the trunk and removed a bag of garbage, and one full of things in the house.
Here's what we ended up with in the trunk:
blanket (for picnics and for emergencies in the winter)
reusable shopping bags
tool kit
a hitch
emergency kit
first aid kit
Our emergency kit contains:
candles and a lighter
bottled water and food (granola or protein bars)
flashlight
first aid kit
Step 3: Clean
This is pretty self explanatory, and you can do as much or as little here as you want.
Take a damp rag, and wipe down the interiors of storage compartments, the dash and doors. You can go all out, and dust the dash vents with a foam paintbrush, but we didn't bother.
Clean the windows. Windex or a mixture of vinegar and water work well. It's also non-toxic for the little ones.
Vacuum the carpets, car seats, floor, and trunk. Don't forget recline seats back and forward to get all the crevasses. We even remove our bench back seat to clean underneath.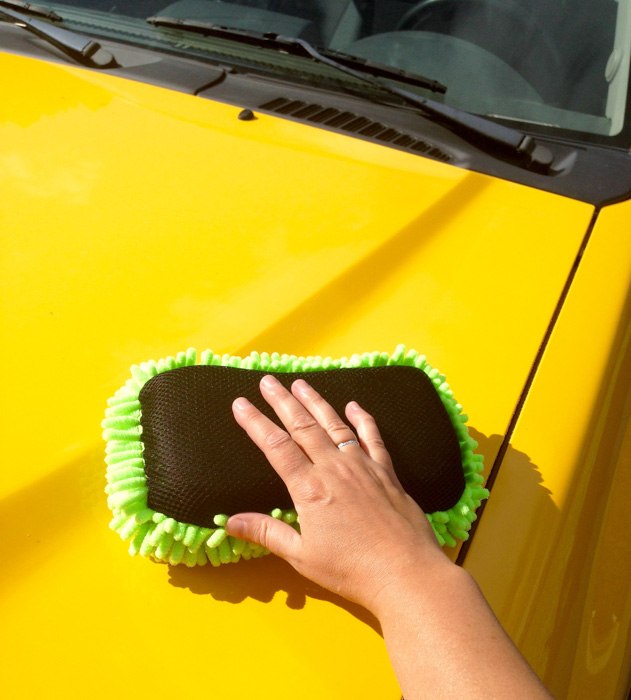 Wash the floor mats. You spray them in a car wash, or even spot treat with stain remover and throw them in the washing machine (assuming your washer is heavy duty enough to handle them).
If you're feeling ambitious, you can even shampoo fabric seats and carpets. We're renting a carpet shampooer next month, so we'll shampoo the car then.
Wash the outside of the car. You can head over to the car wash, or go old school and spray it down in your driveway.
Step 3: Get organized
Organizing is the key to keeping your car neat and tidy from now on. Spending a few minutes setting up systems for storage and garbage collection can pay big dividends.
Put things away
We've been storing our emergency supplies in a plastic grocery bag. It looks messy, plus I keep bringing them in by mistake when I bring in the groceries. I just switched them to a black cloth bag. It allows room to add more items, and no more mixing it up
Get an in-car garbage
If there's no garbage bag, it'll just end up all over the floor and seats.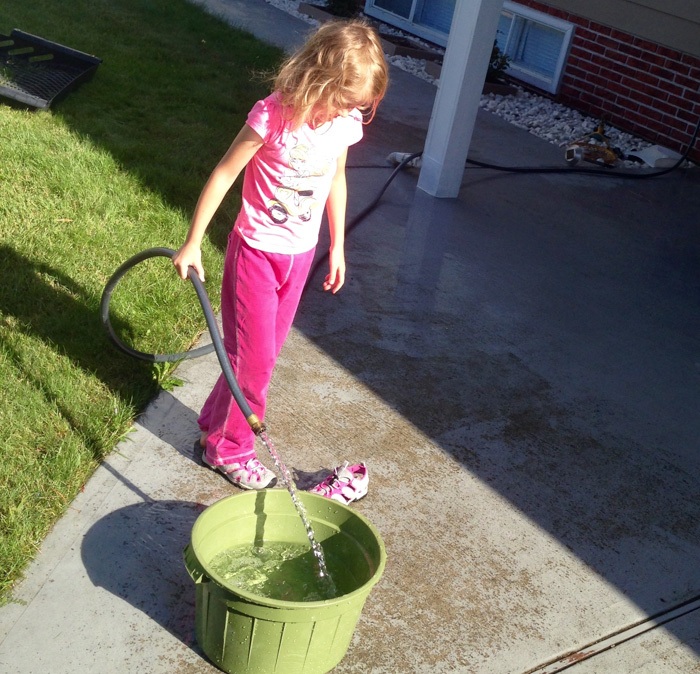 Create a kid zone
We joke that it's 1987 in our car. We don't have a back seat DVD player, so we make sure there are lots of toys and activities for them on road trips. We do give the kiddos a tablet to watch a movie on especially long stretches (hello, 1,926.8 km BOTH WAYS on the TransCanada from BC to Winnipeg every summer).
So, we got a back seat organizer that fit between the two seats to hold toys, books, snacks and even cup holders!
Add more storage
We really love the visor storage systems we found at Canadian Tire, that will store sunglasses, pens and small documents.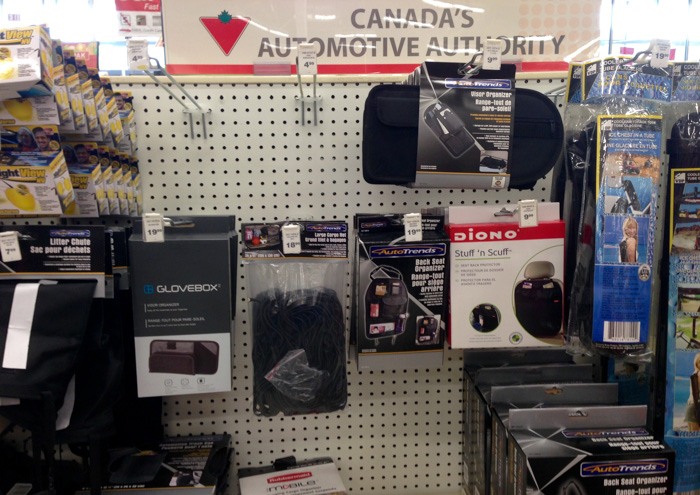 Step 4: Keep your car organized and clean
Now, I have to admit that a love of cleaning does not come naturally to me. That said, I've learned that following a few simple rules helps keep the car clean, meaning that I actually spend LESS time cleaning overall.
Here are our tips for keeping your car organized and clean:
Keep a garbage bag in the back seat and get kids (and yourself!) used to using it.
When the kids leave the car, they grab the garbage in the back seat and take it with them.
Wipe as you go. Use baby wipes to get rid of small messes as soon as they happen.
Limit how much you eat in the car. This one's almost impossible for us, as we always seem to be snacking on the go, but it does cut down on mess.
If you do eat in the car, try to pick foods that don't leave a lot of mess and crumbs.
While you're at it, check out our tips for DIY for how to change your own oil, and our fun road trip tips, our East Coast Australia road trip itinerary, and our Australia's big things road trip ideas.
Do you have any tips for how to clean and organize your car at home? Let us know!