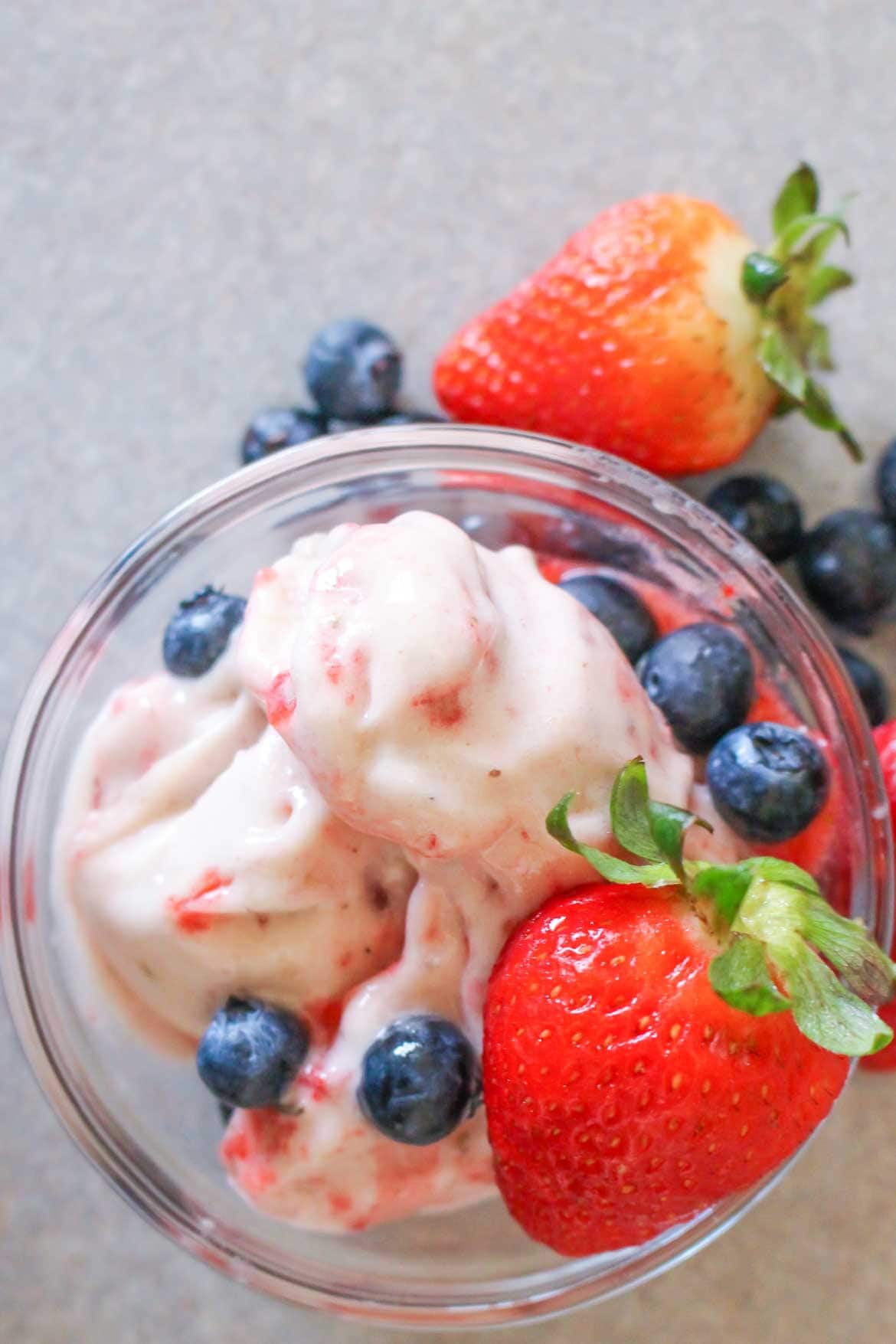 I've been on a mission to create creamy, rich 3 ingredient ice cream that's vegan, and it almost stumped me!
My first attempt was too runny. The second attempt wasn't sweet enough, and the third attempt just wasn't creamy enough.
My fourth attempt, though, that was the winner! Turns out, that the trick is to keep it incredibly simple!
I'm a real lover of ice cream, and one of my absolute favorites is ice cream packed with fresh strawberries and blueberries. So, I wanted to make a delicious, creamy no dairy ice cream that was vegan, but with all of that berry freshness and creamy goodness that I love in ice cream.
3 Ingredient Ice Cream with Strawberry Banana and Blueberries
This is a special recipe for of ice cream made for our friends who are either vegan or lactose intolerant or health conscious, and want a treat that's as good for them as it is yummy. What I love is that it's just so good that I serve it to friends and family all the time, even if they're not vegetarian or vegan or dairy free.
It's that good!
When I create a recipe for the blog, I always ask myself "Is this something that I would make at home for the people I care about? Is it easy enough that I'd make it over and over again?" This recipe is definitely one of those incredibly easy recipes that I love to make for family.
You know that moment after a huge summer supper where you're absolutely stuffed with tasty barbecue, beans, and fresh watermelon slices? When you're so full and think you'll burst, but you just want a nice, sweet treat without all of the guilt of pigging out on something that's not healthy? When you'd just love to reach into the freezer and make something fresh, cool and delicious? This recipe is absolutely perfect for that.
You grab this three ingredient ice cream recipe and make a low-calorie but delicious ice cream, that's what you do. Your family and friends will love you for it.
I swear that they won't believe it's made with fruit and nothing else, it's that good!
This recipe requires just 3 ingredients and simple methods. If you can freeze berries and run a food processor, you can master this easy recipe.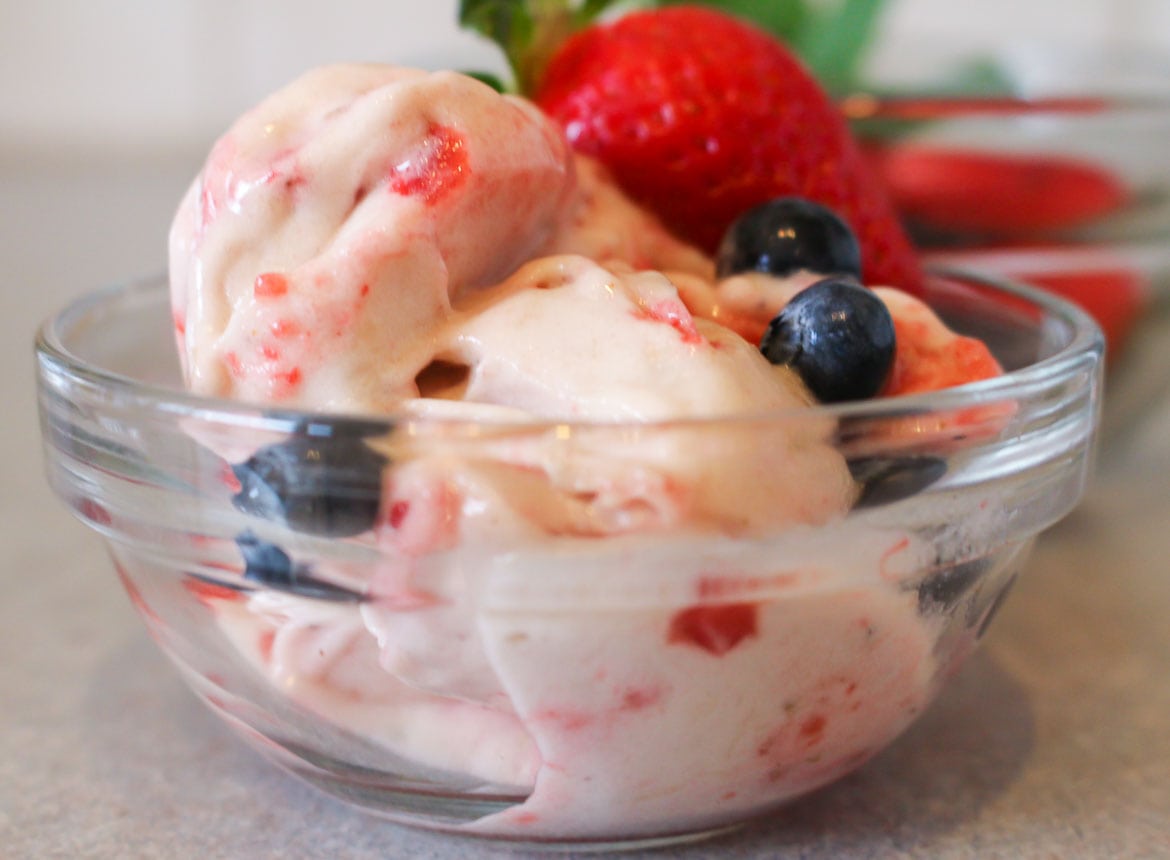 How to make ice cream with 3 ingredients
This ice cream is made with only bananas, strawberry, and blueberries. The trick here is how it's made: with frozen berries that are just starting to defrost.
We made this batch of ice cream in our food processor! You can use a blender, and that will work fine if you have one with enough power, but you'll just need to spend a fair bit of time scraping the sides and pushing the banana mixture down. You can also use a Yonanas ice cream maker, which is amazing, and will give you an even creamier texture than the food processor.
I love that it's perfect if you're vegan, vegetarian, gluten free, or on a sugar free or dairy free diet! If you're following the whole foods plant based (wfpb) diet, this is even wfpb compliant!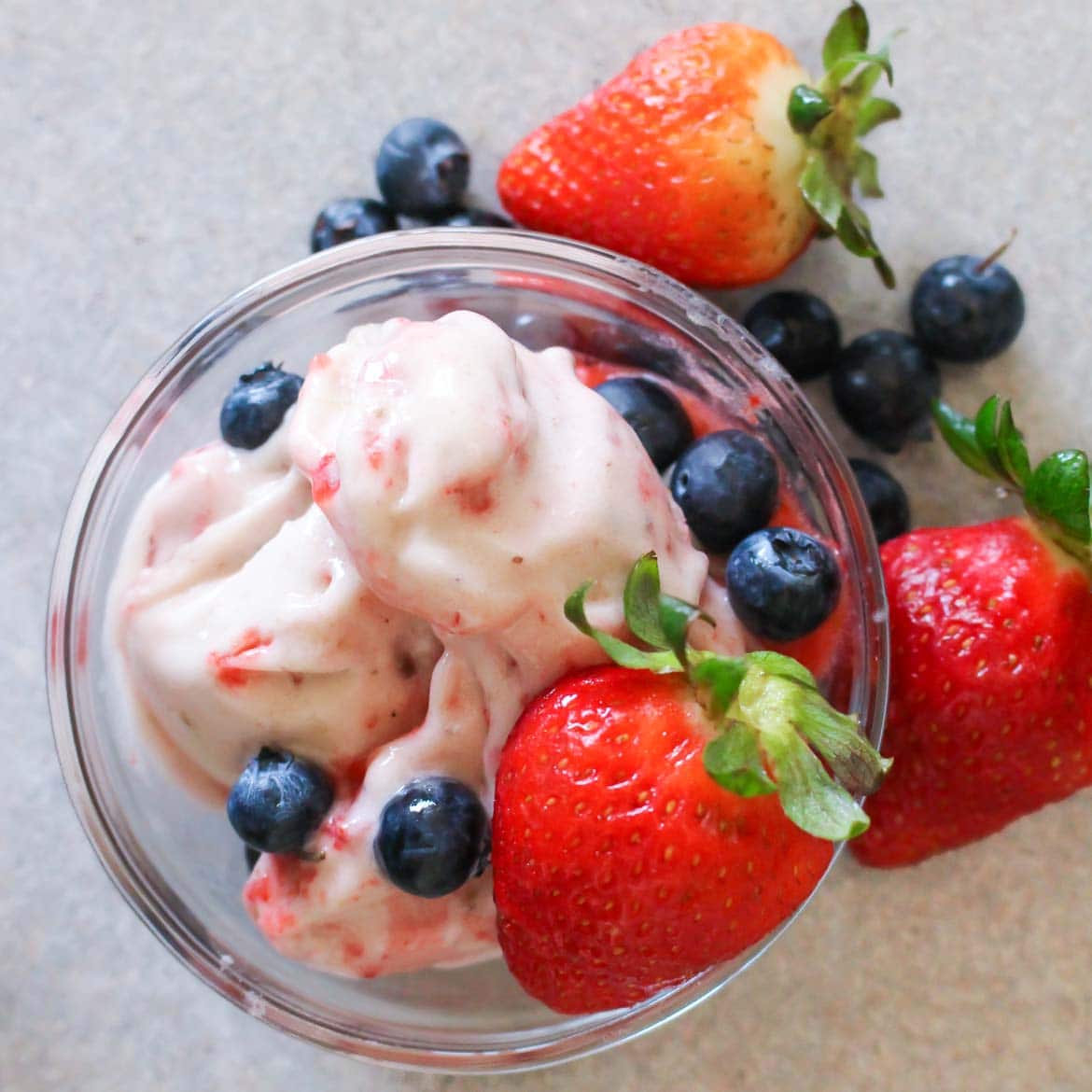 Want the best flavor? Use ripe, flavorful berries and bananas and freeze them yourself
If you want the sweetest flavor, try to freeze only the ripest, freshest strawberries for this recipe!
Use ripe strawberries. If you can, pick up some strawberries at a farmer's market, and pop them in the freezer for later. If not, grab fresh strawberries from the produce isle at your local store and freeze them yourself. You can use berries from a bag of pre-frozen strawberries, but I've found that they're usually packed before they're fully ripe, so your ice cream won't be as sweet or as good.
Use frozen blueberries. Luckily, blueberries from a bag of pre-frozen blueberries seem to be pretty good, so we've had good luck using them in this recipe. If you want, you can take fresh blueberries and freeze them for an extra pop of flavor!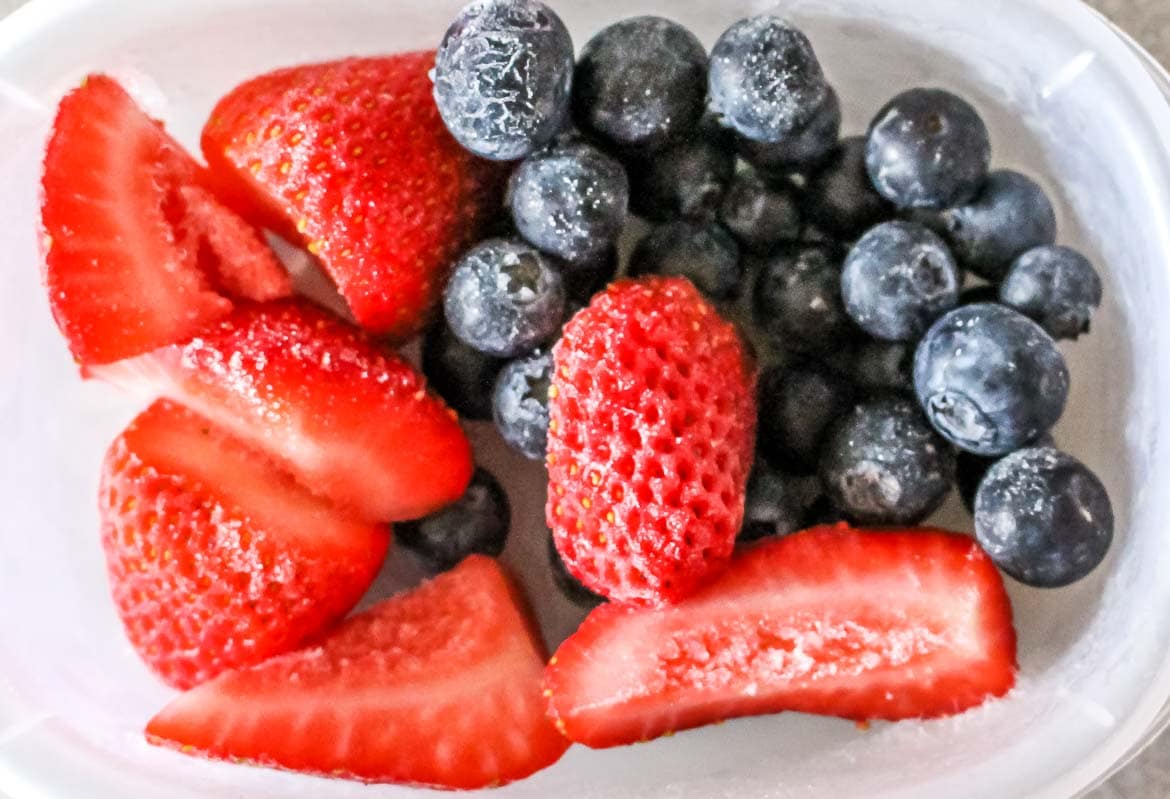 Use bananas with cheetah spots. The trick to making the creamiest, sweetest 3 ingredient ice cream is to choose bananas at the perfect ripeness. You want to freeze bananas that have little brown spots (we call them cheetah spots). Just cut them in 1 inch pieces, peel them and throw them in the freezer.
If you choose bananas that are too unripe or green, this vegan ice cream will have a sort of gummy texture. If the bananas are too ripe, the ice cream will have that overripe banana taste (you know the one!).
Instead, wait until your bananas develop these little spots, and freeze right then!
The texture of the frozen bananas is ridiculously creamy and sweet.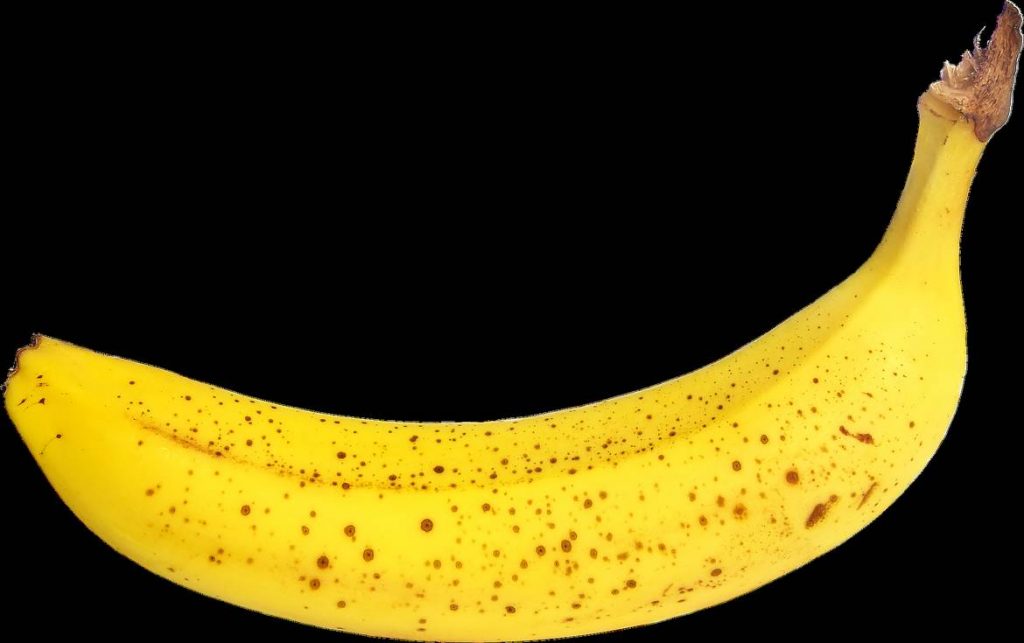 If you try this recipe, let us know! Leave a comment, and rate it so we can see what you come up with. Thanks, friends!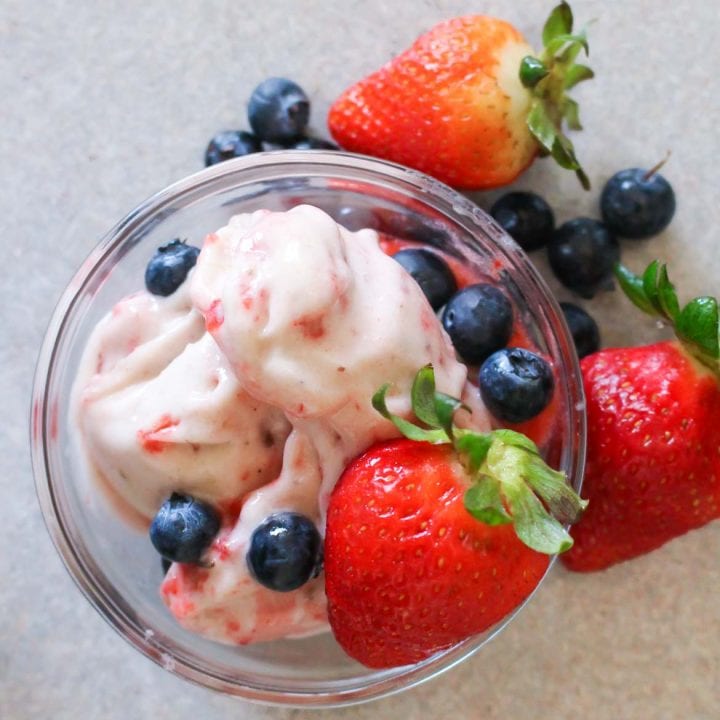 3 Ingredient Ice Cream with Strawberry Banana and Blueberries
This vegan three ingredient ice cream is deliciously smooth, and made with only banana, blueberries, and strawberries.
Ingredients
2 ripe bananas, with brown cheetah spots
1/2 cup fresh strawberries
1/4 cup blueberries
Instructions
Cut bananas into 1/2 inch pieces and freeze. Cut strawberries into 1/2 inch pieces and freeze. Freeze 1/2 cup fresh blueberries.
Take bananas and strawberries out of freezer, and let sit for five minutes to thaw slightly. Take blueberries out of freezer.
Place bananas and strawberries in food processor and pulse for one minute on low.
Add blueberries, and mix on high for one minute. Continue to mix on high, scraping down sides, until fruit is blended into an ice cream like texture.
Enjoy!
Nutrition Information:
Yield:

4
Serving Size:

1
Amount Per Serving:
Calories:

65
Total Fat:

0g
Saturated Fat:

0g
Trans Fat:

0g
Unsaturated Fat:

0g
Cholesterol:

0mg
Sodium:

1mg
Carbohydrates:

16g
Fiber:

2g
Sugar:

9g
Protein:

1g
All information and tools presented and written within this site are intended for informational purposes only. I am not a certified nutritionist and any nutritional information should only be used as a general guideline.