This post was sponsored by Amarula Cream Liqueur.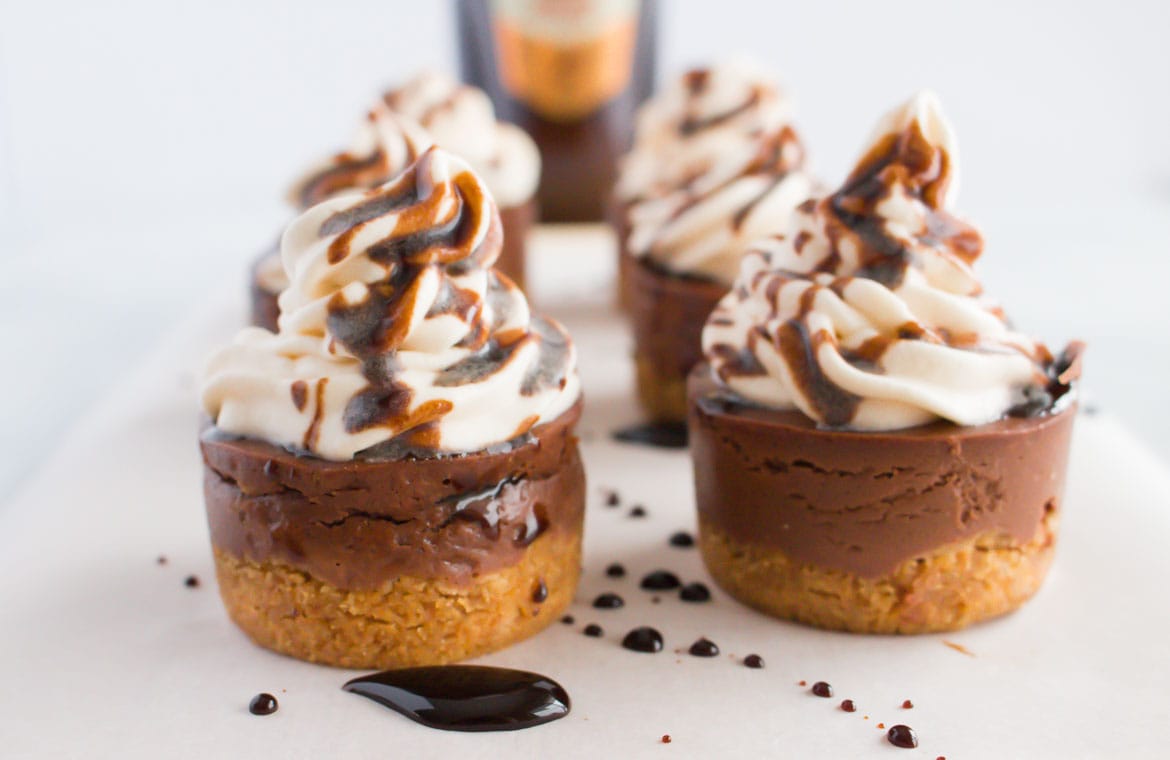 These decadent Amarula Cream Liqueur and chocolate mini cheesecake bites are rich, creamy and delicious. They're perfect for holiday entertaining or a special treat any time of the year.
They're made extra special with just the right amount of Amarula Cream Liqueur.
I first tried Amarula Cream Liqueur only a couple of months ago. My mother in law visited Africa last year, and had the most amazing adventures; including camping in the heart of Africa, and seeing Africa's majestic animals in person. She has great taste, so when she suggested I try Amarula Cream Liqueur (made from the fruit of the African marula tree!), I jumped at the chance.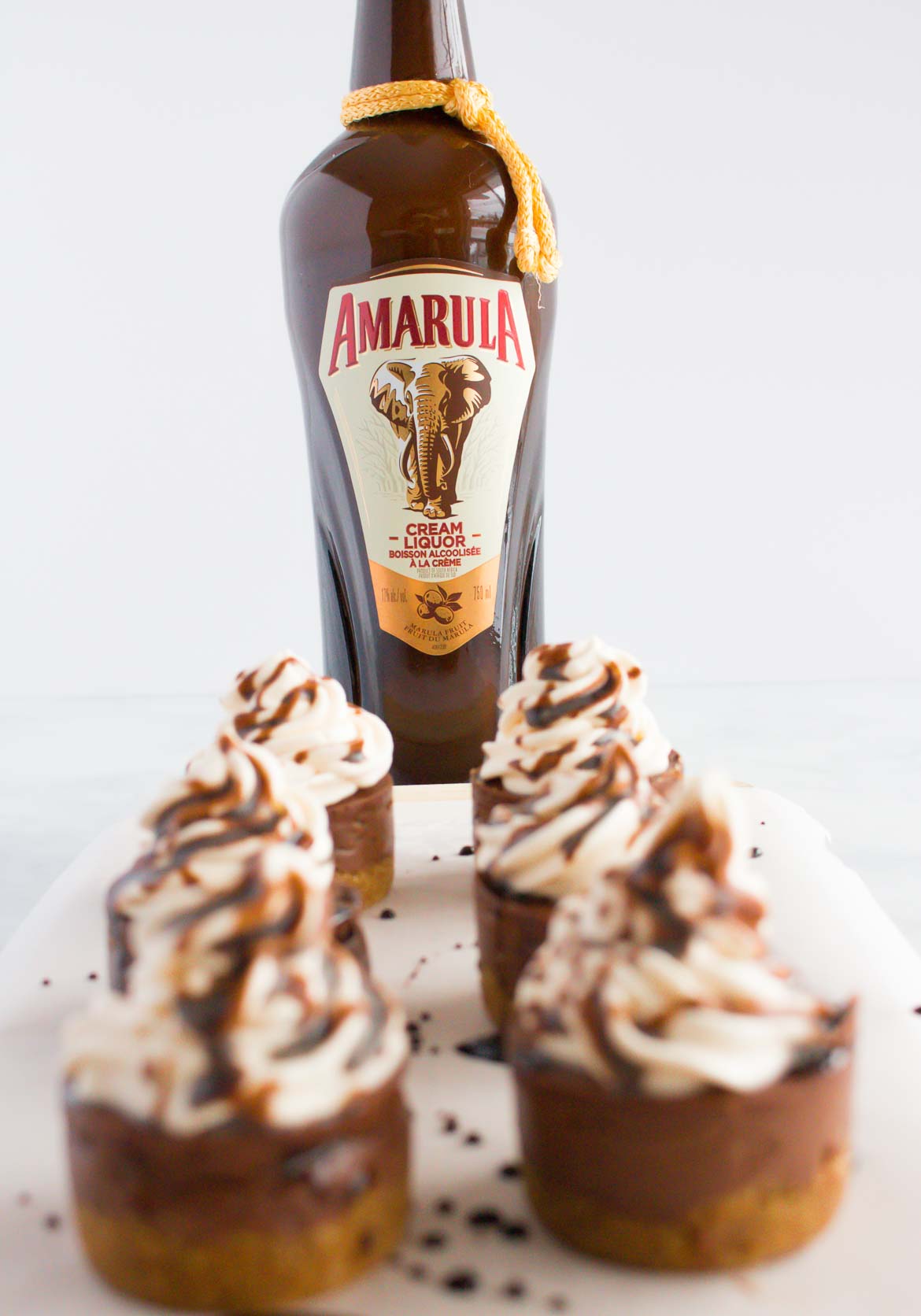 And oh my gosh, I'm so glad I did!
The first thing I noticed was the light caramel color. It has a velvety smooth and rich taste, with hints of vanilla and caramel. There's also a light, lingering hint of nuttiness from the natural marula fruit.
She first discovered Amarula in Africa because it's made from the uncultivated, sun-ripened, handpicked, organic fruit
of the marula tree that only grows in Africa.
Amarula Cream Liqueur is perfect for mixing, because of its well rounded, distinctive taste and creamy texture. I like to enjoy it neat or with ice for the most part, but it's also yummy in cocktails.
I'm really looking forward to trying Amarula Cream Liqueur in hot drinks like hot chocolate, tea and coffee this winter!
It's perfect in any Amarula recipe, and especially in an Amarula dessert! The smooth, unique flavor lends itself perfectly to Amarula cheesecake!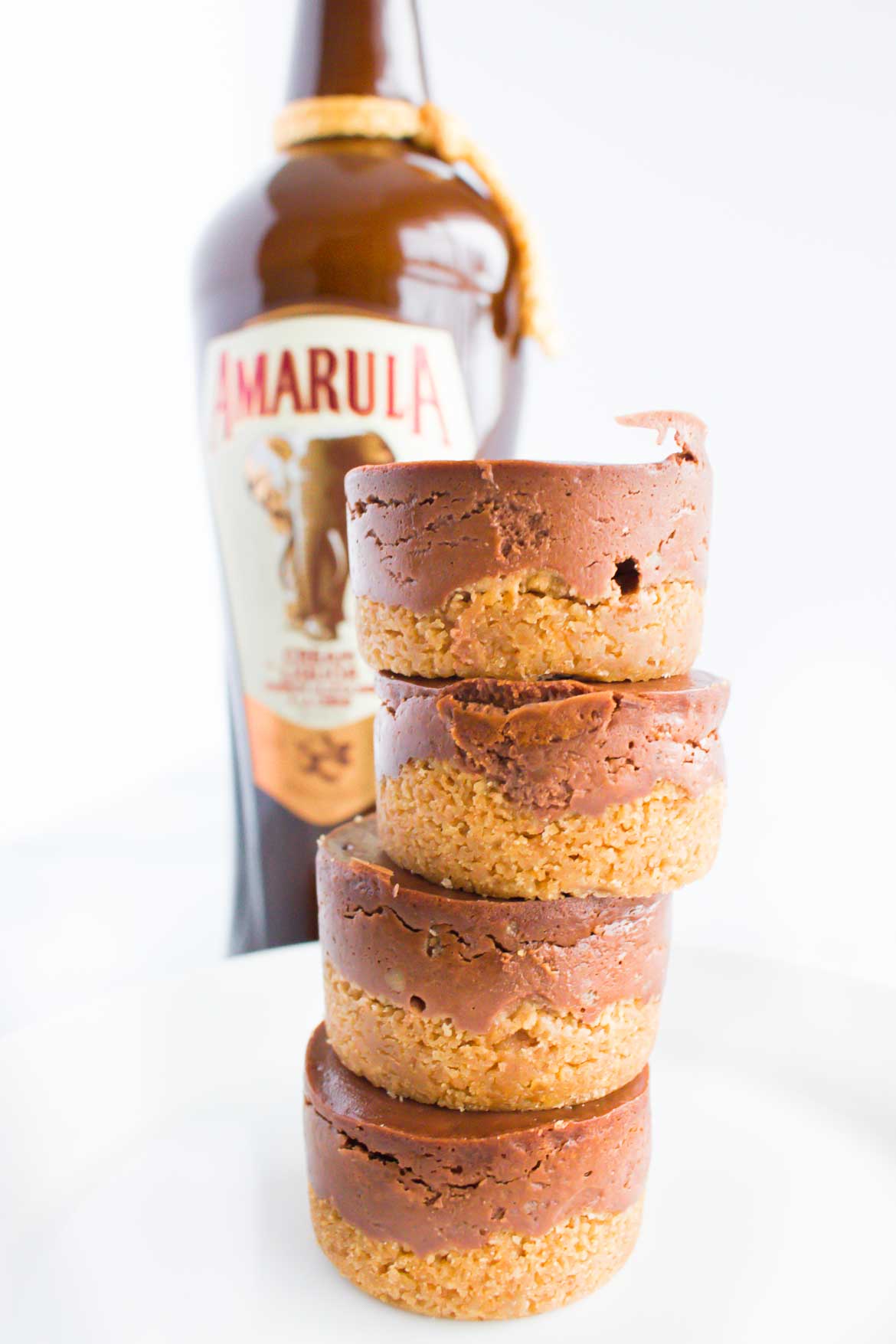 The marula trees bear fruit just once a year at the end of Africa's summer. The sweet scent of the marula fruit attracts elephants from the surrounding areas, who are known to walk for miles just to taste the ripe marula fruit.
I'd love to go to Africa to see where the marula fruit grows, but the next best thing I've found was cuddling up on the couch and watching Holiday in the Wild on Netflix with my favorite Amarula treat.
What's really cool is that Holiday in Wild was was filmed at the Elephant Sanctuary at the Amarula Brand Home in Hoedspruit, South Africa. The scenery is absolutely stunning, and the rescued baby elephants will steal your heart.
If you're a Rob Lowe fan, you'll love this one. He stars with the awesome Kristin Davis (from Sex in the City).
Check out the trailer.
About the Amarula Trust
The Amarula Trust was created in 2002 to safeguard African elephants.
In 2016, the Amarula Trust formed a partnership with Dr Paula Kahumbu, CEO of Wild Life Direct, with the shared vision to drive conservation through education.
Less than 400,000 elephants are left in the world, and their numbers are decreasing at an alarming rate. To put that in perspective, it's estimated that there were over 10 million wild African elephants as recently as 1930. Together, the Amarula Trust and Wild Life Direct work together to help protect elephants.
Where can I buy Amarula?
You can buy Amarula at your local liquor retailer.
If you're a British Columbia resident, you can pick up Amarula at your local BC Liquor store.
Enjoy and drink responsibly!
Do I need to keep Amarula Cream Liqueur in the fridge?
No! You can store Amarula at 25°C (41°F – 77°F) for 24 months.
Amarula and Chocolate Mini Cheesecake Bites
This is a rich, creamy chocolate cheesecake with the unique smooth taste of Amarula Cream Liqueur. It makes 24 mini cheesecake bites, so it's a great choice to bring to a holiday party!
To make the perfect little mini cheesecake bite, we made these in a special 12 count mini cheesecake pan. Since this recipe makes 24 mini cheesecakes, you'll either need 2 pans, or you'll need to bake 12, let them cool and remove them from the pan, and bake the other 12.
If you don't have a special mini cheesecake pan, you can use a regular muffin pan. Use paper liners, and split the crust and cheesecake filling between the 12 muffin spots. Cook for 15 minutes.
We've made these mini cheesecakes using both the mini cheesecake pan and the muffin pan, and they turned out perfectly both ways!
I love to top these with the Amarula infused whipped cream. So good!
These take less than 15 minutes to bake, and they're super easy, since they don't need an annoying water bath (like some other cheesecakes).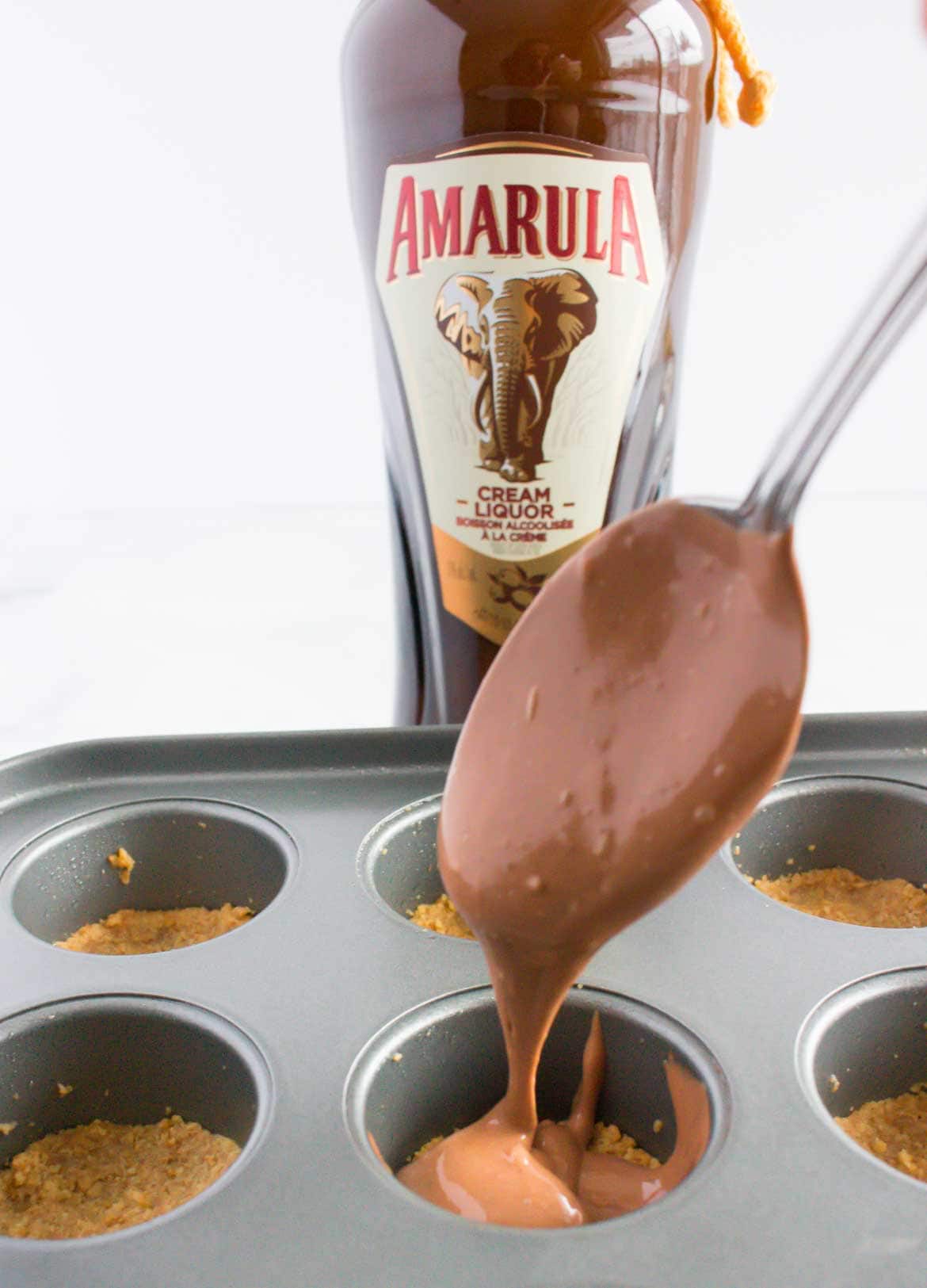 You'll need to cool these mini cheesecakes slowly to help prevent from cracking before putting in the fridge to cool completely.
When they're ready, top the cheesecakes with some Amarula Cream Liqueur infused whipped cream!
They're absolutely delicious just like this, topped with whipped cream only.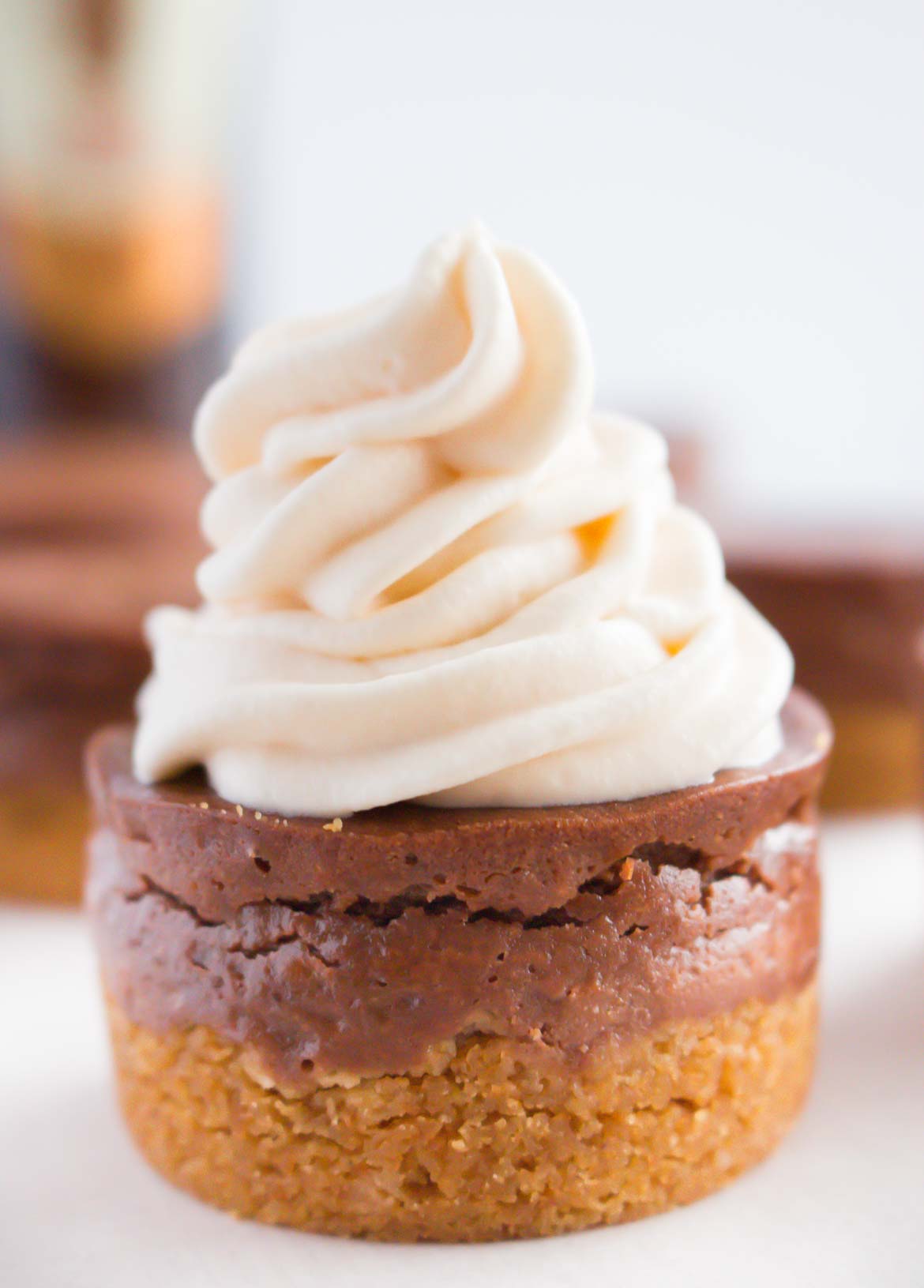 If you want to make them really pop, just drizzle with a bit of chocolate sauce!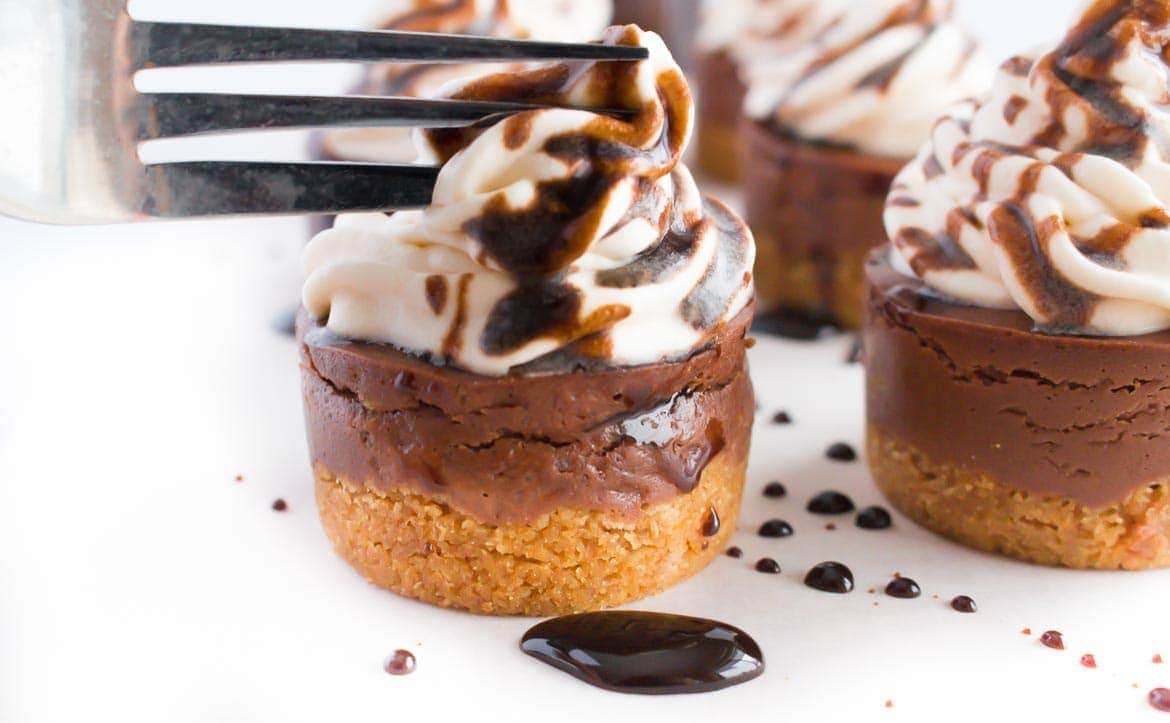 Enjoy!
Looking for some more amazing desserts? Try our chocolate Greek Yogurt dip, or our holiday favorite – strawberry jam thumbprint cookies or our chocolate chunk thumbprint cookies!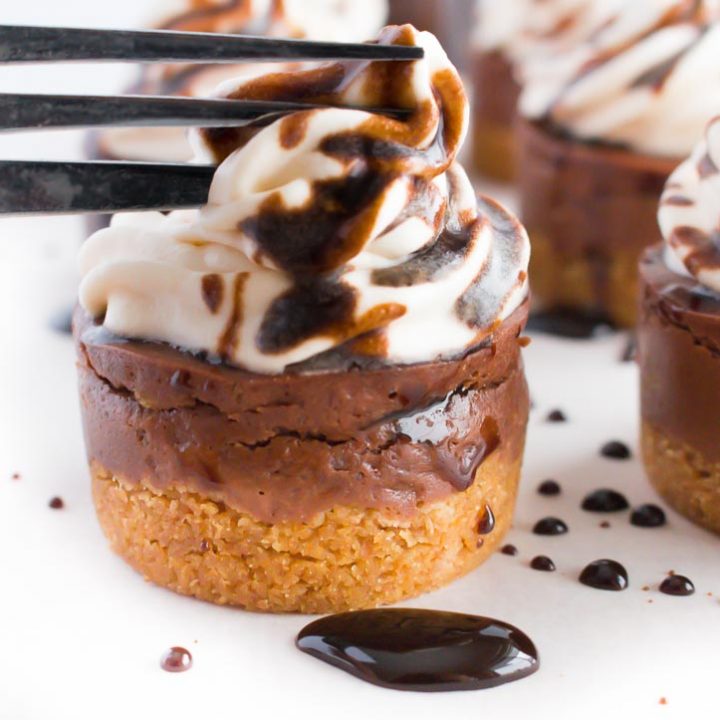 Amarula and Chocolate Mini Cheesecake Bites
These decadent Amarula mini cheesecakes are perfect for holiday entertaining or any time!
Ingredients
Crust
1 cup graham cracker crumbs
2 tablespoons butter
Filling
12 ounces cream cheese, room temperature
1/2 cup white sugar
6 tablespoons cocoa powder
1/2 cup sour cream
1/2 teaspoon vanilla extract
1/4 cup Amarula Cream Liquer
2 eggs, room temperature
Whipped Cream Topping
3/4 cup whipping cream
4 tablespoons icing sugar
2 tablespoons Amarula Cream Liqueur 
chocolate syrup
Instructions
Preheat the oven to 325 degrees Fahrenheit. Spray mini cheesecake pan lightly with cooking spray.
Crust
Mix graham cracker crumbs and melted butter. Divide the mixture evenly between the 24 min cupcakes, and press into the bottoms.
Bake crusts for 5 minutes and remove from oven. Let cool.
Filling
Reduce oven to 325 degrees Fahrenheit.
Using a hand mixer on low speed, mix the cream cheese, sugar, and cocoa until combined. Using a spatula, scrape down the sides of the bowl.
Add sour cream, Amarula Cream Liqueur, and vanilla extract. Beat on low speed until combined. Scrape down the sides of the bowl.
Add eggs, one at a time, and mix on low speed. Scrape down the sides of the bowl.
Divide the batter between the mini cheesecake tins. They should be almost full.
Bake the mini cheesecake bites for 14 minutes. Remove from the oven, and set on counter top to cool for 15 minutes. Move to refrigerator to finish cooling.
Whipped Cream Topping
While cheesecake bites are cooling, make the whipped cream topping.
Beat whipping cream on high until soft peaks form. Add icing sugar and Amarula Cream Liqueur. Beat on high until stiff peaks form.
Using an icing bag, pipe whipped cream on top of cheesecake bites.
Drizzle with chocolate sauce.
Store in the fridge until ready to serve.
Enjoy!
Notes
If you don't have a special mini cheesecake pan, you can use a muffin pan. Use paper liners, and split the crust and cheesecake filling between the 12 muffin tins. Bake for 15 minutes.
Nutrition Information:
Yield:

24
Serving Size:

1
Amount Per Serving:
Calories:

148
Total Fat:

10g
Saturated Fat:

6g
Trans Fat:

0g
Unsaturated Fat:

3g
Cholesterol:

44mg
Sodium:

79mg
Carbohydrates:

11g
Fiber:

0g
Sugar:

8g
Protein:

2g
All information and tools presented and written within this site are intended for informational purposes only. I am not a certified nutritionist and any nutritional information should only be used as a general guideline.