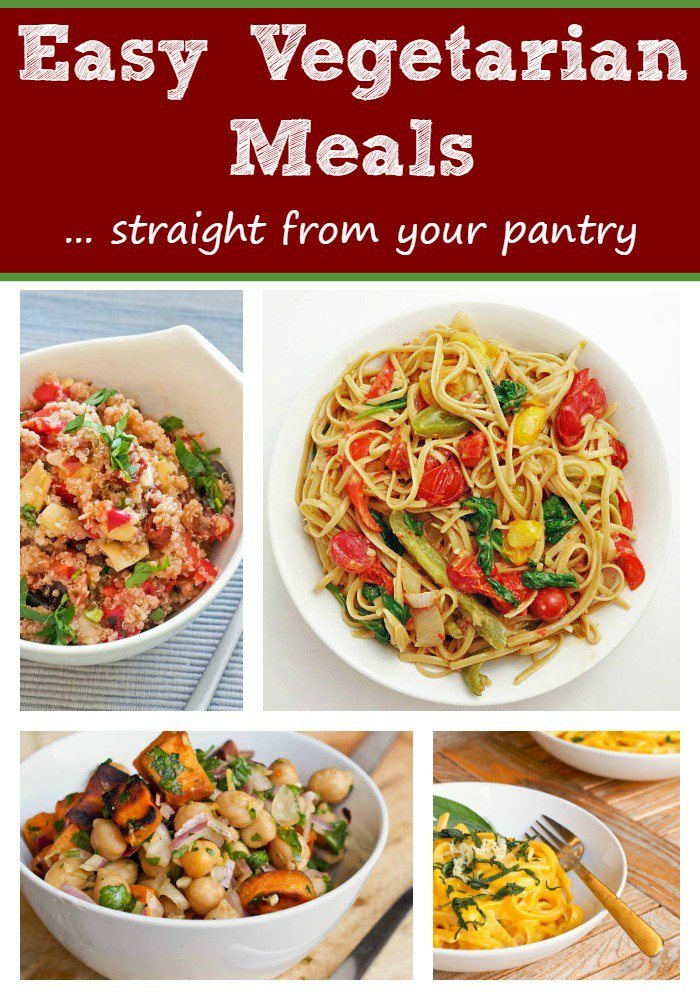 I've been a vegetarian for what seems like forever. And still, one of my greatest frustrations is looking for a great last minute vegetarian recipe, and finding a bunch of recipes that call for ingredients that aren't normally in my pantry. You know, things like seitan and tempeh.
So, I searched for some delicious vegetarian meals that you can make with items that are probably already in your pantry.
Whether you have a vegetarian diet, or simply want to add some meatless meals to your menu plan this list of Tasty Vegetarian Dishes is sure to add variety to meal time.
There are tons of great soup recipes in this list, but even more hearty meals that are sure to satisfy even the biggest meat eater in your family.
The best thing about many of these is that you don't have to buy special vegetarian meat substitutes!
These recipes may include some or your favorite comfort food flavors, along with some great unique fusion cuisine concepts.
Thai, Mediterranean, classic American and of course some yummy pasta make this list a great place for anyone to go for a different dish on their menu plan.
Including hearty vegetable based meals in your diet is not only great for your health, but excellent for your budget. Skipping the meat purchases can go a long way toward shaving hundreds of dollars from you grocery budget each year.
These tasty vegetarian dishes are sure to please everyone in your family with their vibrant rich flavors.