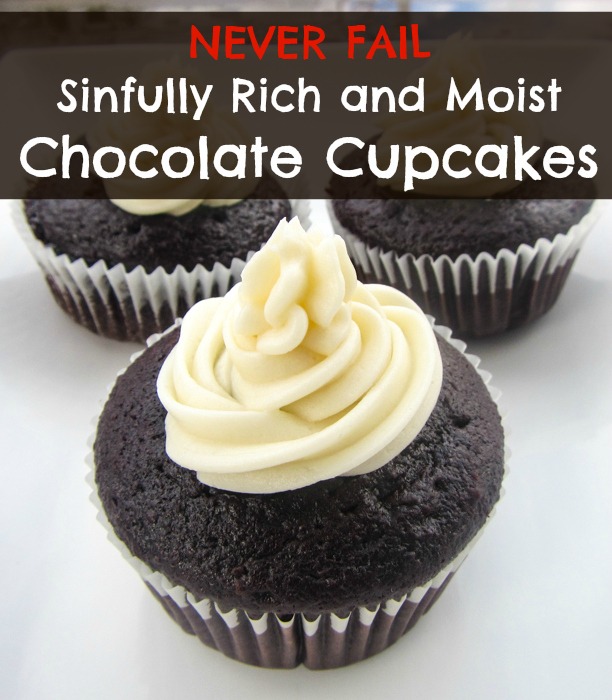 You know those times that you want something delicious, home made and chocolatey, but you don't want to sweat for hours in the kitchen?
In our house that's almost every day. We love great food, but I honestly don't love spending hours in the kitchen.
That's why I'm in love with anything that can be made in a single bowl! There's so much less cleaning and fuss!
This is the perfect no fail chocolate cupcake recipe.
We make it in our house every time (yes EVERY time) we're craving chocolate cupcakes. Once in a while I try another recipe, and always kick my self because it's never as good, or as easy, as this one.
Never Fail Rich and Moist Chocolate Cupcake recipe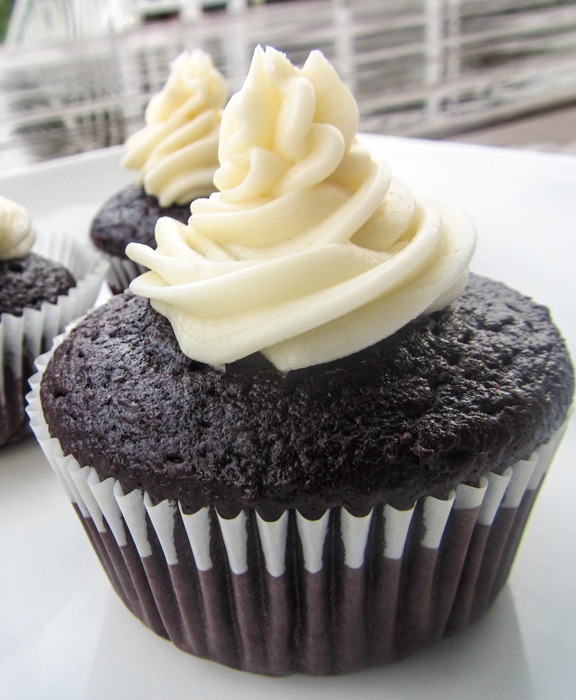 Serves 24
These cupcakes have it all. They're rich, moist and chocolatey, easy to whip up in a single bowl, and best of all – they're almost impossible to screw up.
Prep Time: 15 min
Cook Time: 30 min
Total Time: 45 min
Ingredients
Here's what you'll need. The ingredients are pretty simple, and you should have most, if not all of these in your pantry already.
2 1/4 cups white sugar
1 3/4 cups all-purpose flour. Note, you cannot substitute cake flour – use all-purpose flour. Cake flour will make these cupcakes rise too much.
5/8 cup unsweetened cocoa powder. We LOVE Hersey's cocoa powder (click here to buy now on Amazon) for the richest, chocolatiest flavor. OK, chocolatiest isn't a word, but you know what I mean – that rich, creamy, delicious chocolate taste!
1 1/2 teaspoons baking powder
1 1/2 teaspoons baking soda
3/4 teaspoon salt
2 medium or large eggs
1 cup milk
1/2 cup vegetable oil
1 teaspoon vanilla extract
1 cup boiling water
Instructions
Preheat oven to 350 degrees F (175 degrees C).
Flour and grease 24 cupcake tins or just use cupcake liners. Click here to see prices.
Using a mixer, stir together the sugar, flour, cocoa, baking soda, baking power and and salt.
Add the eggs, milk, oil and vanilla into the same bowl.
Mix for three minutes on medium speed.
Stir in the boiling water last. IMPORTANT: Batter will be very thin. Pour into the prepared tins, filling each tin or liner about about 2/3 full. Do not overfill, or they may flow out of the tins as they cook
Bake 30 to 35 minutes, until a toothpick comes out clean, or the top of the cake springs back if you touch it gently with your finger.
IMPORTANT: This batter is very, very thin. It's almost the consistency of a can of paint. Don't let this worry you – the cupcakes will still turn out great!
The picture below shows the consistency of these cupcakes – it's very thin! In fact, it often comes out thinner than the photo shows.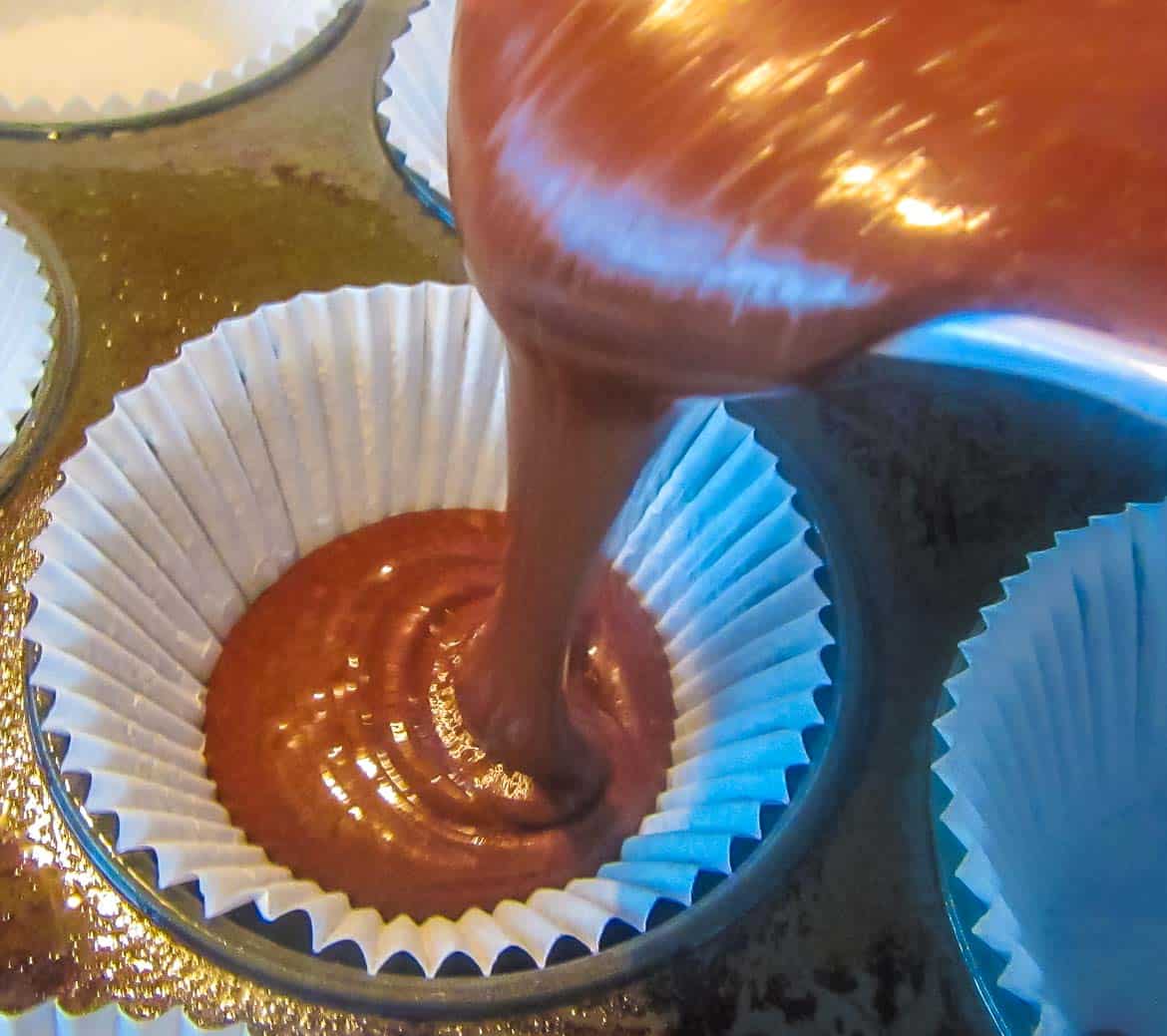 Helpful tips!
We like to use paper liners, and spray them with PAM or another vegetable oil before cooking. Spraying the liners helps the cupcakes come neatly out of the liners – they're less likely to stick.
This is an easy recipe to change. Just add a few drops of mint flavoring to make mint cupcakes, or a couple of tablespoons of espresso to make mocha cupcakes.
You can even add half a cup of mini chocolate chips to make an extra tasty chocolate chip cupcake!
Want to make better cupcakes?
We love this Wilton 4-Tier Stacked Cupcake and Dessert Tower. It's the perfect way to show off your cupcake creations. See prices on Amazon here.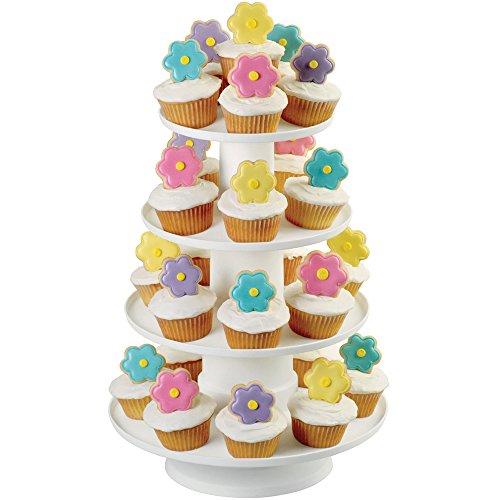 This Wilton regular cupcake pan is the perfect size, cooks evenly, and cleans up easily. See it on Amazon here.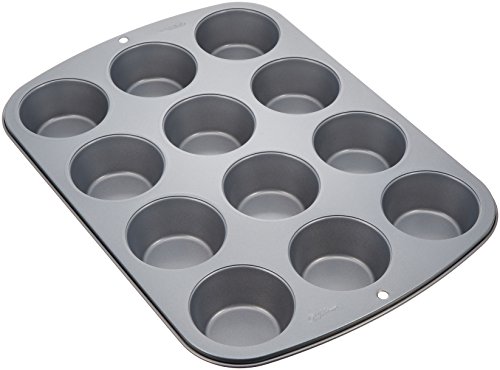 1,000 Ideas for Decorating Cupcakes, Cookies & Cakes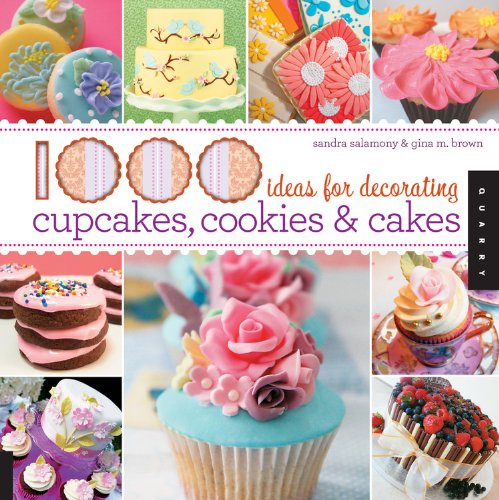 Did you make this cupcake recipe?
How did it turn out?
Let us know in the comments below!