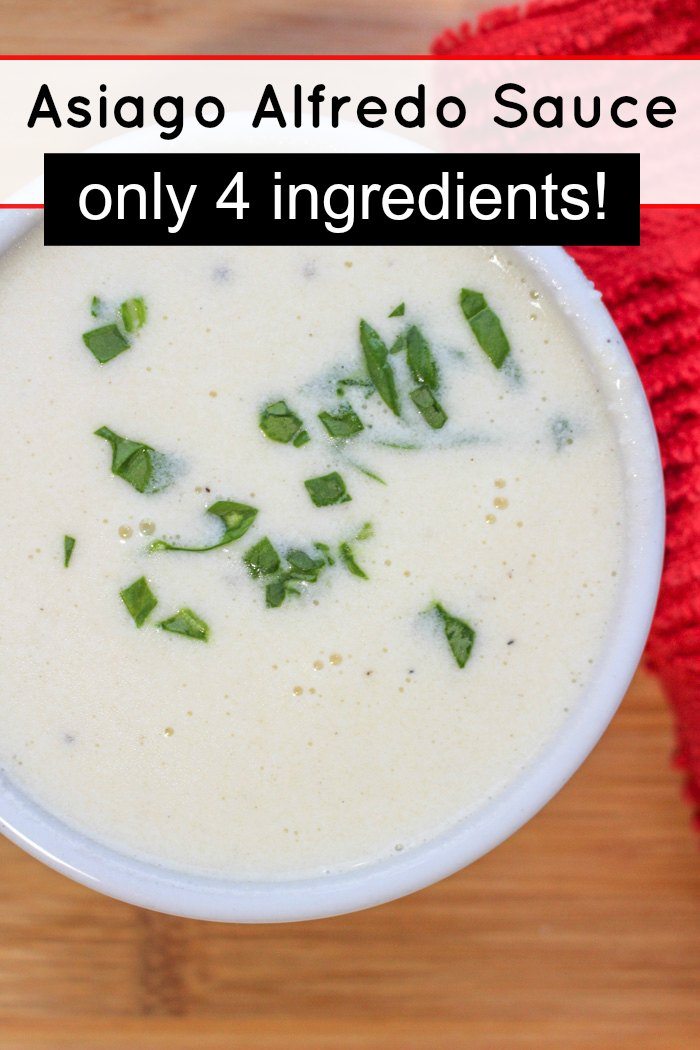 So many people are intimidated by Alfredo sauce, but in reality this 4 ingredient Asiago Alfredo sauce is one of the easiest pasta sauces I make.
From start to finish, it takes about 10 minutes, and it's ready by the time the pasta's done boiling.
Can you make Alfredo sauce with Asiago cheese?
Absolutely! Asiago melts beautifully, plus it has a milder flavor that many people (especially kids!) prefer to Parmesan.
Here's the secret to never ruining your sauce: NEVER let the sauce boil or bubble. If it gets too hot, the sauce will start to separate, and be a clumpy mess.
Asiago Alfredo Sauce Recipe
What you'll need:
1/4 cup salted butter
2 cups shredded Asiago cheese. Important! Use a fresh Asiago, do not use the kind that comes as granules in a can (as this won't melt properly).
1 cup half and half cream OR whipping cream
1/4 tsp cracked black pepper corns (like these from Amazon)
How to make:
Melt butter on low heat. DO NOT let bubble or boil.
When butter is melted, add 1 cup half-and-half cream and whisk together do not let cream bubble or boil. Keep on low heat.
Add 1 cup of cheese, and whisk until almost melted. Add last 1 cup of cheese and whisk. Add pepper.
Be careful to keep heat on low and never let mixture bubble or boil. If he gets too high Alfredo sauce will separate and will be almost ruined.
Tip: If sauce is not thick enough for your liking, you can add 1 tsp of cornstarch after cheese is melted, and whisk in. Keep heat on low and whisk until thickened to your desired consistency. Be careful adding cornstarch, as too much can make a thick, gloppy mess of your Alfredo!
What do we use?
We LOVE cast iron skillets here at The Parent Spot, like this gorgeous Lodge L8SK3 Pre-Seasoned Cast-Iron Skillet. Check it out 4.5 out of 5 stars with almost 5,000 reviews on Amazon