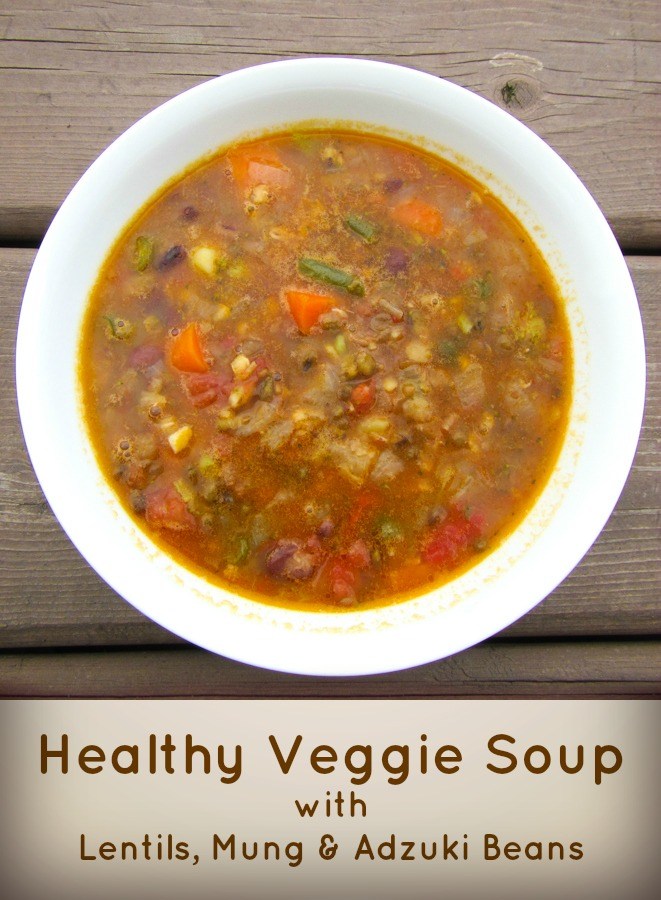 I'm always trying to find ways to make our food healthier without sacrificing taste. I've even been known to sneak a little quinoa into my kids' favorite creamy mac and cheese.
So when I came across a package of Organic Tru Roots Sprouted Bean Trio mixture in our local Costco, my first thought was to add it into one of my favorite vegetable soup recipes.
The Organic truRoots Sprouted Bean Trio has a mixture of sprouted lentils, mung and adzuki beans. While I'm pretty familiar with using lentils, mung and adzuki beans are something else all together.
Click here to see TruRoots organic sprouted Mung Beans.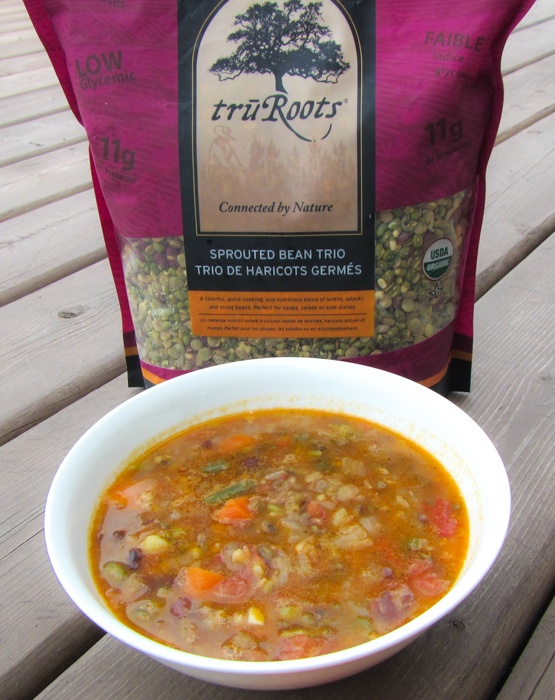 Happily, they all taste wonderful in this rich vegetarian soup, brimming with colorful carrots, peppers and hearty potatoes.
This soup is especially delicious served with piping hot homemade bread.
Healthy Veggie Bean Soup with Organic Tru Roots Sprouted Bean Trio
A hearty, healthy vegetarian soup featuring sprouted beans, fresh veggies and a rich broth.
Ingredients
1 yellow onion
4 large carrots
2 medium tomatoes
2 stalks celery
1 red pepper
1 green pepper
2 potatoes
3 tablespoons olive oil
1 cup truRoots Organic Sprouted Bean Trio, uncooked
6 cups water
2 organic vegetarian soup stock cubes (make sure they're a gluten free variety if you're making a gluten free variation)
Directions
Chop veggies into pieces about 1/4 of an inch large.
Add olive oil to a large soup pot. Saute the onions and carrots on medium heat until onions are lightly golden. Don't skip this step: lightly caramelizing and browning the carrots and onions adds extra depth and flavor to the broth.
Add the rest of the veggies and cook for 5 minutes.
Add 6 cups of water and bring to a slow boil.
Add vegetarian stock cubes.
Add 1 cup of uncooked Tru Roots Sprouted Bean Trio.
Cover, and simmer 15 minutes.
Serve topped with a dollop of sour cream or plain Greek yogurt. Check to make sure the yogurt and sour cream don't contain starch if you're making a gluten free variation.
Gluten Free.
Vegetarian.
TruRoots Organic Sprouted Mung Beans — 10 oz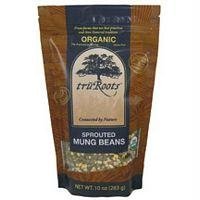 Truroots Sprouted Lentil Trio, Organic, 8-Ounce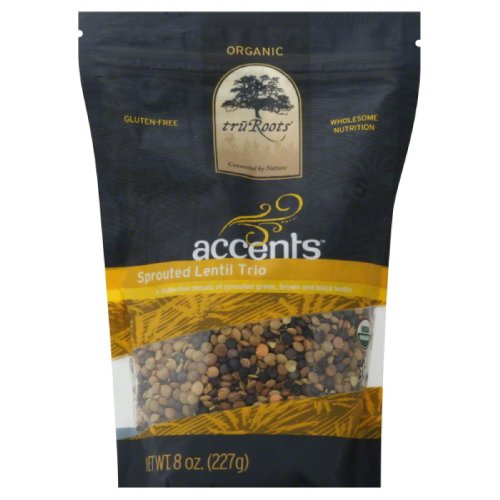 Hunza Organic Adzuki Beans (2 lbs)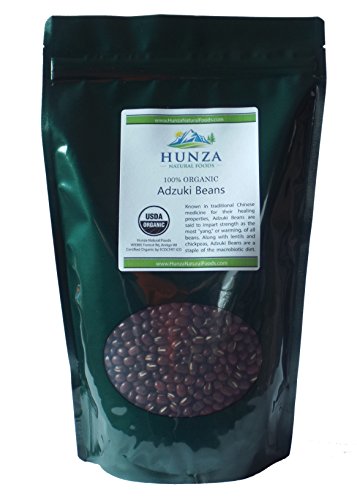 truRoots Organic Quinoa 100% Whole Grain Premium Quality, 4 lbs.