Looking for a HelloFresh vegetarian review? My family tried HelloFresh vegetarian recipes, and I share what I think of this popular meal kit delivery service.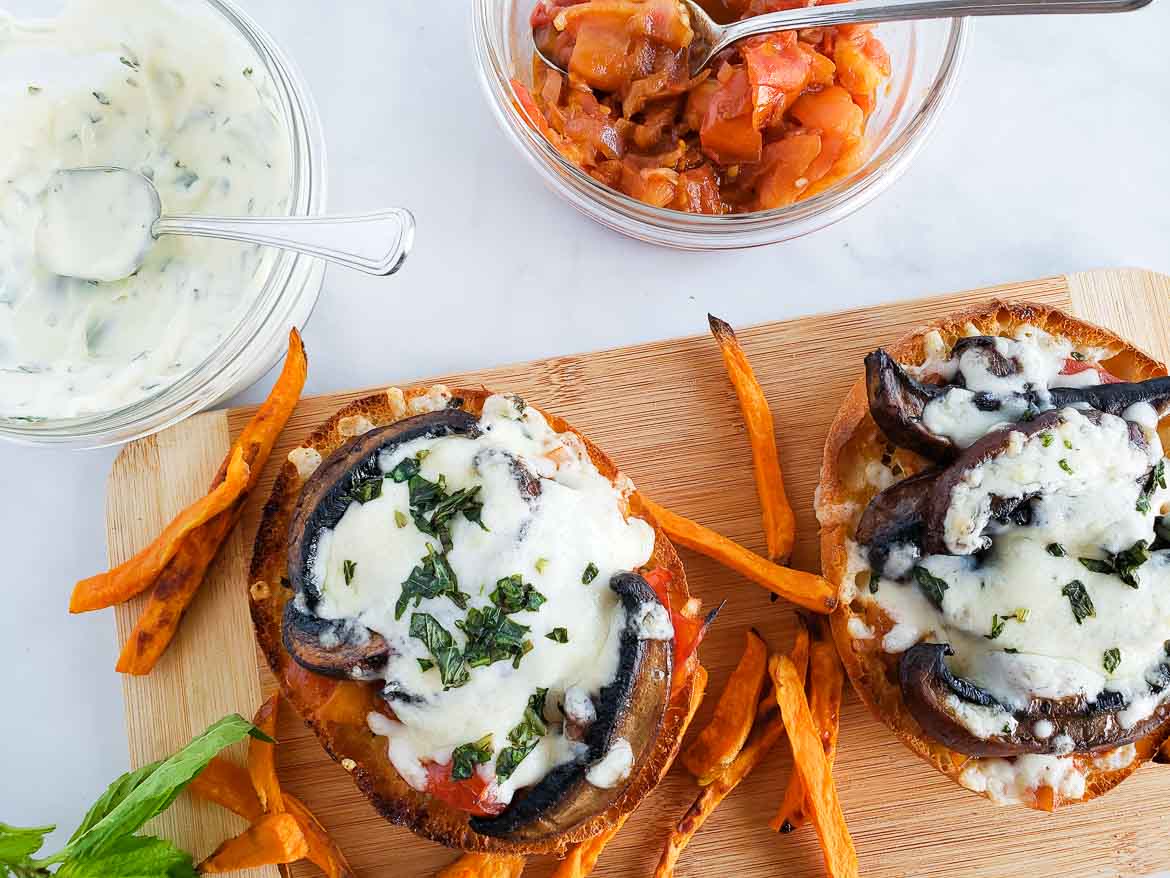 I love to cook, but I don't always love grocery shopping. Between the kids, work, and well … life, things can get pretty hectic. Plus, there are plenty of nights we're tired of the same old meals, and I just can't anything new to make.
That's exactly why I was so excited to try HelloFresh. Having fresh food delivered to me, with tasty recipes telling me how to prepare the meals, was definitely appealing.
HelloFresh Vegetarian Review
I review six HelloFresh vegetarian meals we've made for taste, how easy they are to make, variety. Plus, I'll tell you what I think of the price and value of the HelloFresh meal delivery service itself.
What is HelloFresh?
HelloFresh is a weekly meal kit delivery service that delivers fresh ingredients to your door. You can choose the recipes you want every week.
Get 16 Free Meals + First Box Ships Free + 3 Surprise Gifts
How do HelloFresh Vegetarian plans work?
You can get Hello Fresh vegetarian meals as part of the Pronto, Vegetarian and Family plans. The Pronto and Vegetarian plans offer a choice of meals for 2 or 4 people, while the Family plan is for 4 people only. You choose the number of recipes you want each week. The Pronto plan usually offers 3 vegetarian recipe options, making it an option for vegetarians looking for especially quick recipes. The Family plan generally offers only one vegetarian meal option, but it might work if you're sharing meals with non-vegetarians.
The Veggie Plan offers meals for either 2 or 4 people per week, with three recipes in total.
With all plans, you can customize what recipes you get each week, so you can chose your favorites and refuse the rest.
Spoiler alert here: We liked our first HelloFresh vegetarian box so much that we've ordered it again and again.
Getting your HelloFresh Meal Kit
On the same day every week, you'll receive a box on your doorstep with the exact amount of ingredients you'll need for your recipes, and a recipe card. The box is insulated, with several ice packs to keep everything cold.
When you open the box, you'll find each recipe's ingredients in a separate brown bag. In the bag, ingredients are separated and labelled. Some ingredients, like cheese or tofu, are packed separately next to the ice packs to stay extra cold.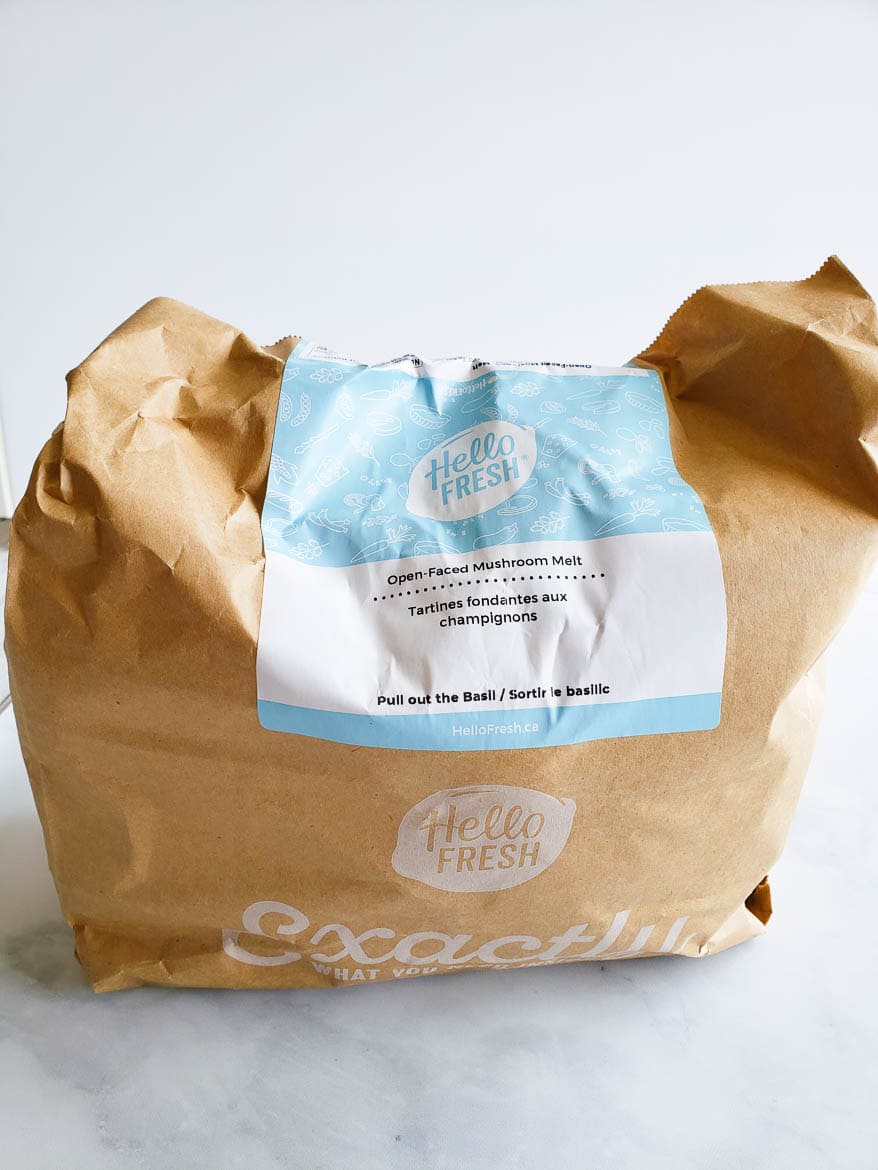 All you need to do is take the bags and separate ingredients out of the cooler and store them in the fridge until you're ready to cook.
When you make the recipes, the recipe card has photos and step-by-step instructions, plus a list of ingredients. All in all, we've found the recipe cards to be helpful and complete.
Who is HelloFresh good for?
HelloFresh is great for people like me who want to try new recipes without the hassle of meal planning or grocery shopping. It's also great for people who want to learn to cook. Personally, I love to cook and love HelloFresh because it gives me interesting new recipes to try. I've found that recipes are also fresh and healthy, and high quality.
Who Won't Like HelloFresh
HelloFresh isn't perfect if you're in a huge time crunch. Meals take about 30 minutes to make (15 if you're on the Pronto plan), plus a few minutes to order. If time is a major issue, ordering takeout or through something like Skip the Dishes is faster.
How Much do Hellofresh vegetarian meals cost?
Here are HelloFresh's prices:
Before the discount, the Family Plan costs around $10.80 a serving.
Before the discount (use the link below), the Pronto plan costs about 11.60 a serving.
Before our discount, the Veggie plan costs 12.33/serving for 2 people, and 10.67 for 4 people.
Click here to get a great deal with HelloFresh!
What we liked about HelloFresh vegetarian recipes
Above all, the six HelloFresh vegetarian recipes we made were all delicious, fresh, and really pretty on the plate.
Recipes were easy to follow, and took approximately the time HelloFresh said they would.
There's a good variety of meals. There are plenty of rotating HelloFresh meals each week. In fact, we haven't tried the same recipe twice yet.
We found all of the produce and ingredients to be very fresh.
The meals were filling. For every meal, we were stuffed, and had a little left over. That said, we aren't huge eaters, so if you're a big eater, you may want more food.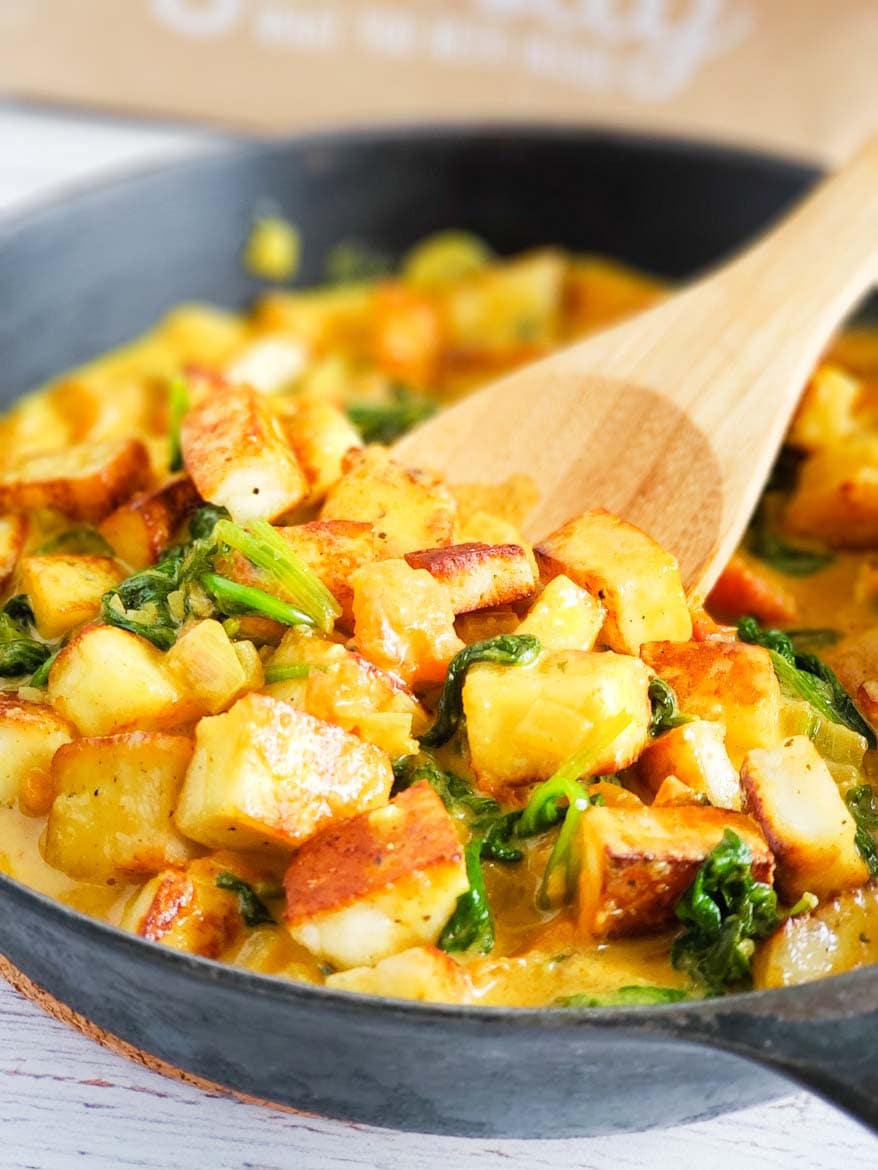 What we didn't love
There's a two person minimum. If you live by yourself, you'll need to order two servings for each meal.
Some preparation is required. Recipes still required some prep, like chopping vegetables or nuts. I'd love it if more of the prep work was done ahead of time.
While we found produce and ingredients to be fresh, some of the produce was a bit green. For example, the tomatoes we got were a typical supermarket tomatoes – a little green and woody.
It's not cheap
At 12.33/serving for 2 people, and 10.67 for 4 people for the vegetarian plan, HelloFresh isn't cheap.
Save on your first box with HelloFresh!
That said, I found the quality of the ingredients and recipes to be very high. The meals included plenty of more expensive ingredients, like halloumi cheese.
HelloFresh Vegetarian Recipes
Here are some examples of HelloFresh vegetarian meals, and what we thought of their taste, freshness, and value.
Other veggie recipes from HelloFresh includemeals like fig and brie grilled cheese with kale salad, Beyond Meat roasted veggie linguine, roasted portobello mushroom stuffed with cheese, cheese tortellini with multicolored tomatoes.
HelloFresh open faced mushroom melt with yam fries recipe (vegetarian)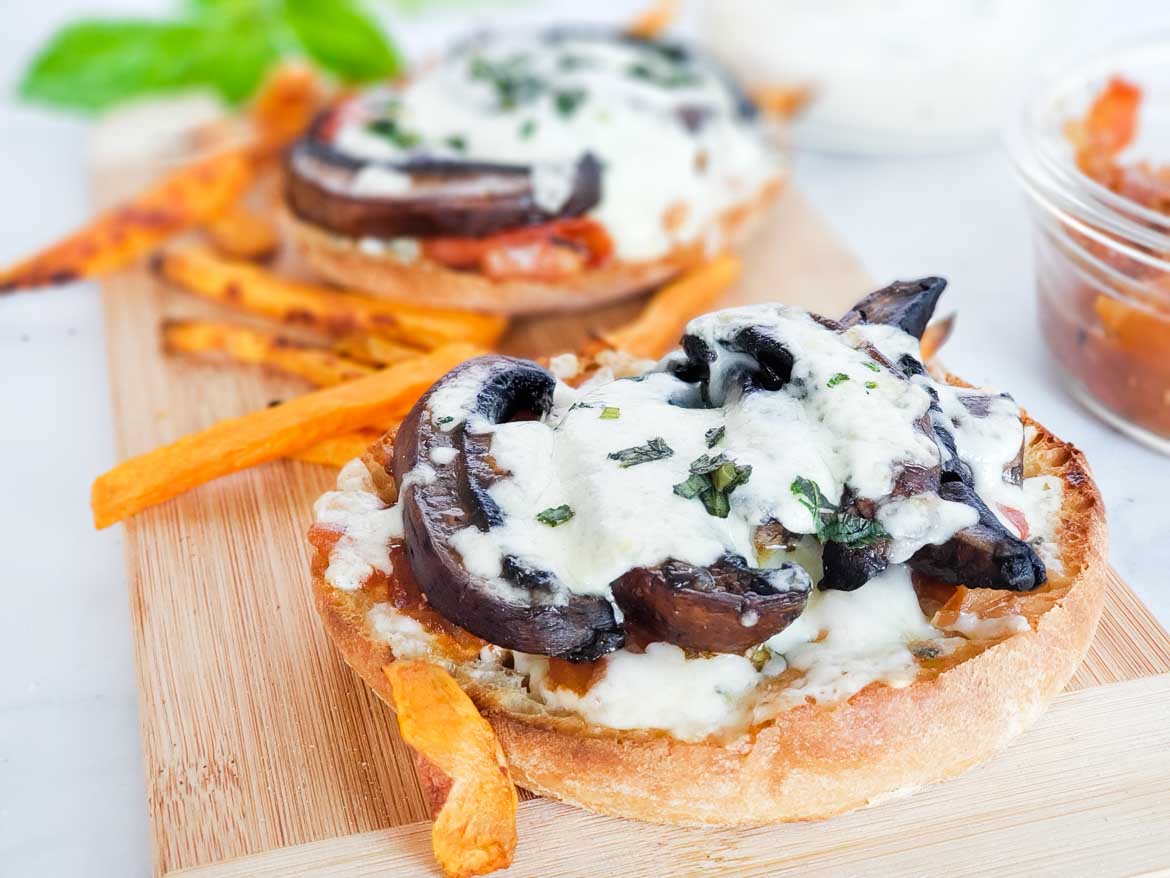 Oh my gosh it's so good 10 out of 10 would make again. Even my 14 year old son loved it.
All of the produce and other ingredients were perfectly fresh and looked gorgeous.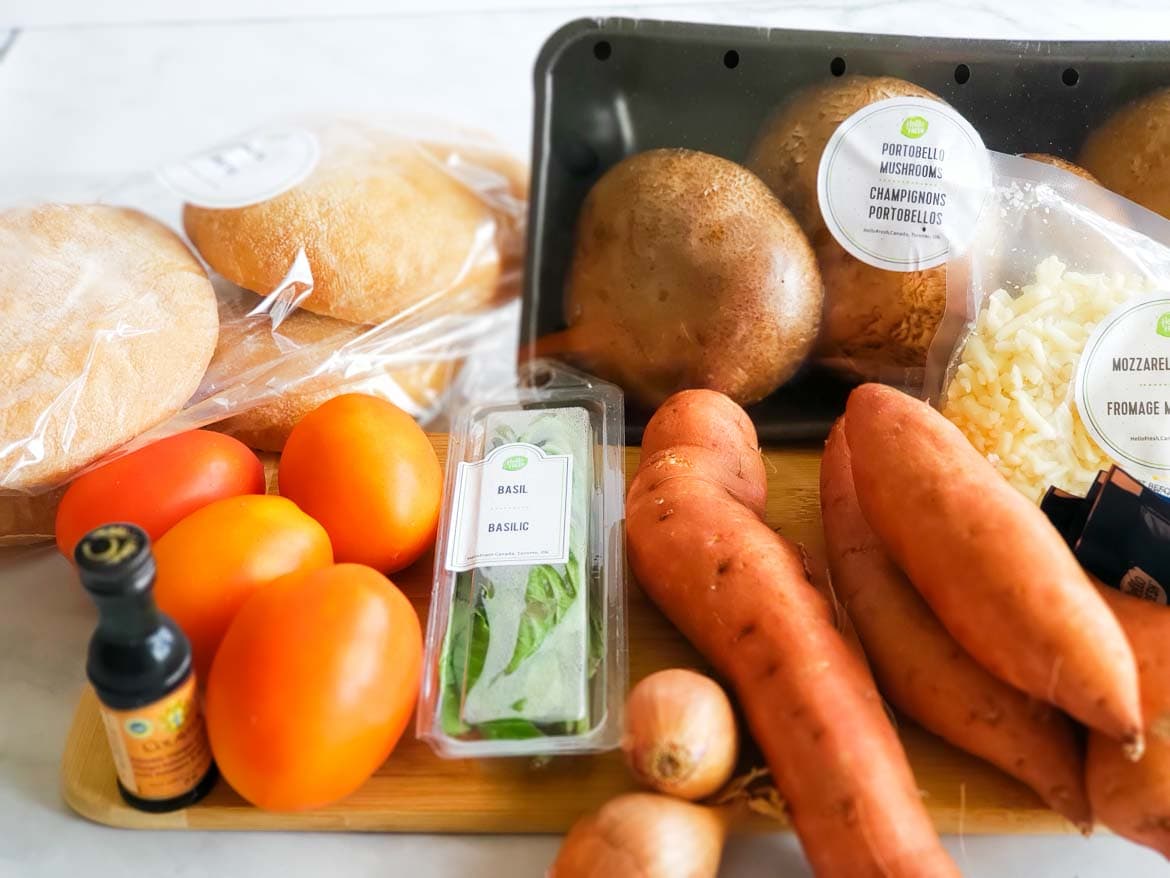 One thing I found in the recipe cards is that they're often not specific with the oven temperature. For example, the recipe card said to roast the yams for 22 to 24 minutes until golden brown, but the recipe card didn't give a temperature.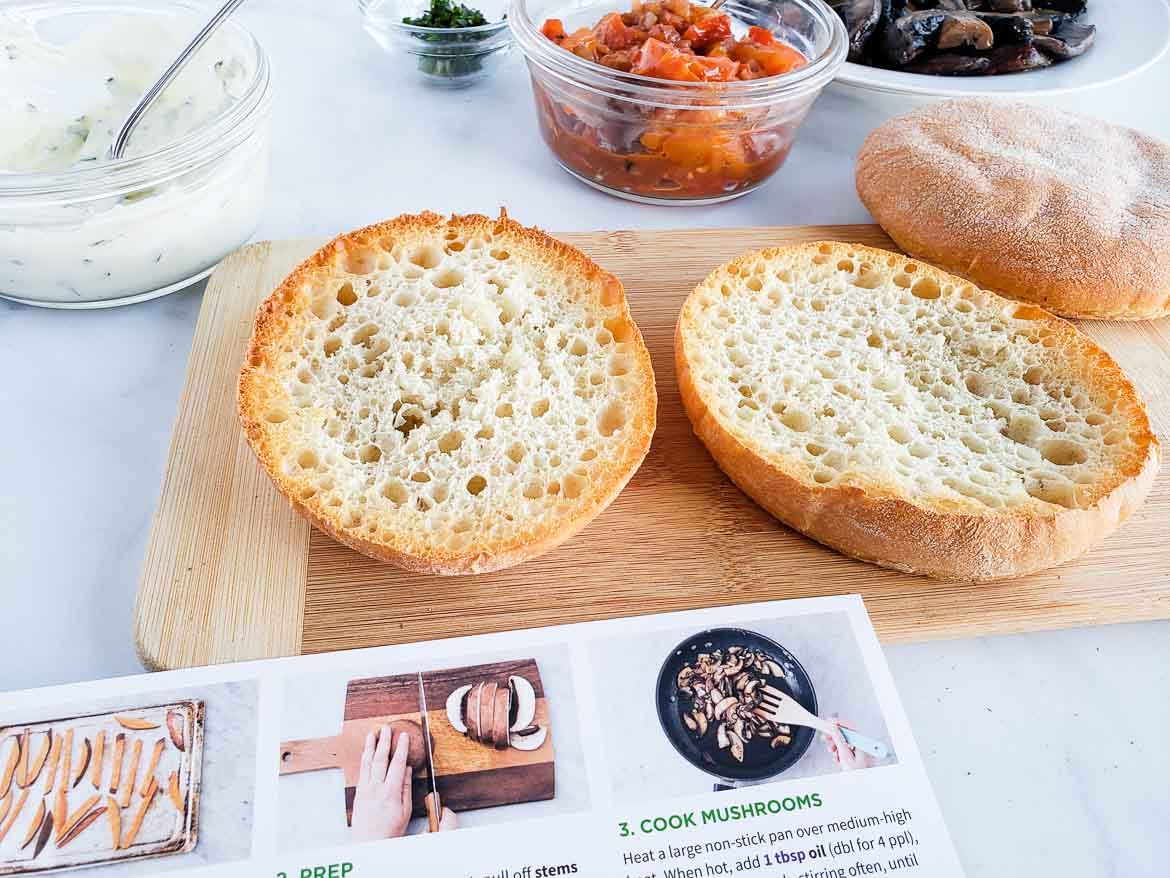 That means it's up to you to figure out the temperature, which may be hard for a novice cook. If you slow roast at degrees Fahrenheit, it's gonna take a heck of a lot longer to cook, than if you roast at 400 degrees.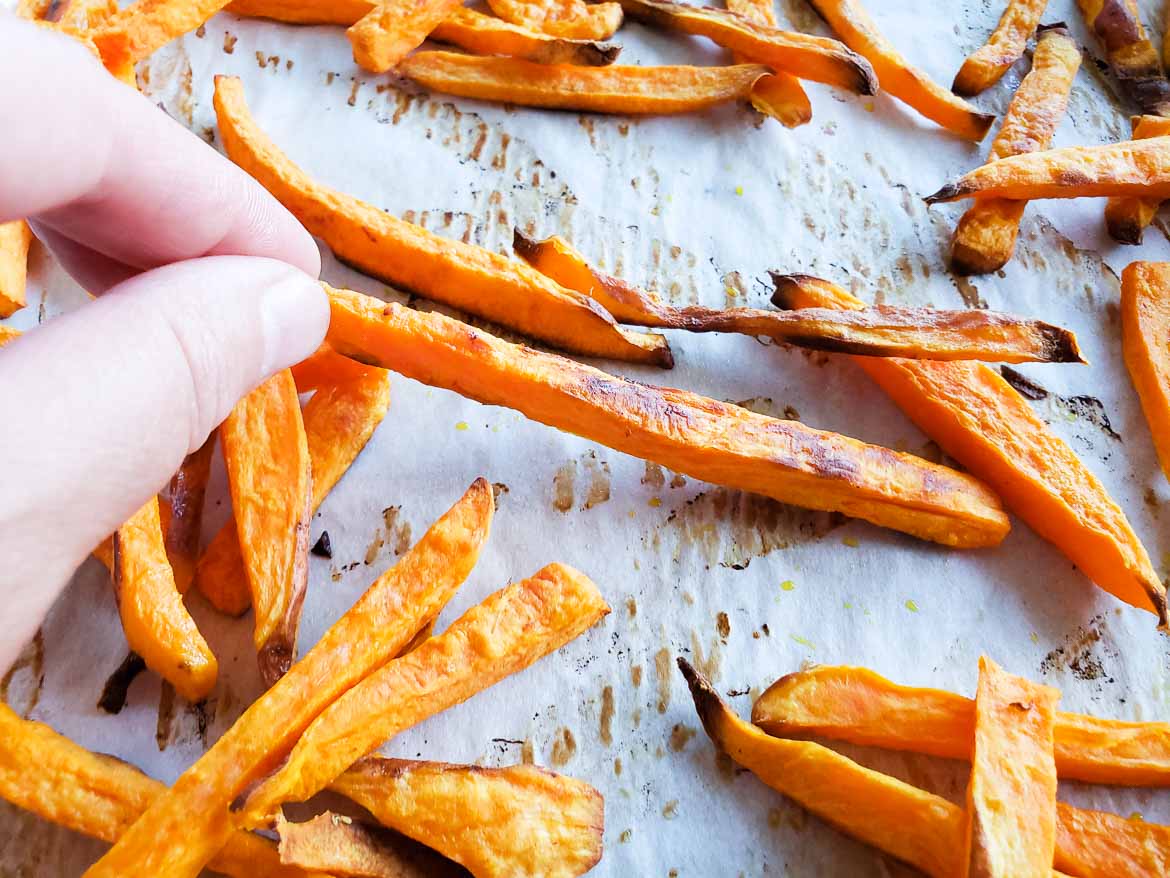 HelloFresh Recipe: Spinach and paneer with fragrant cilantro basmati rice vegetarian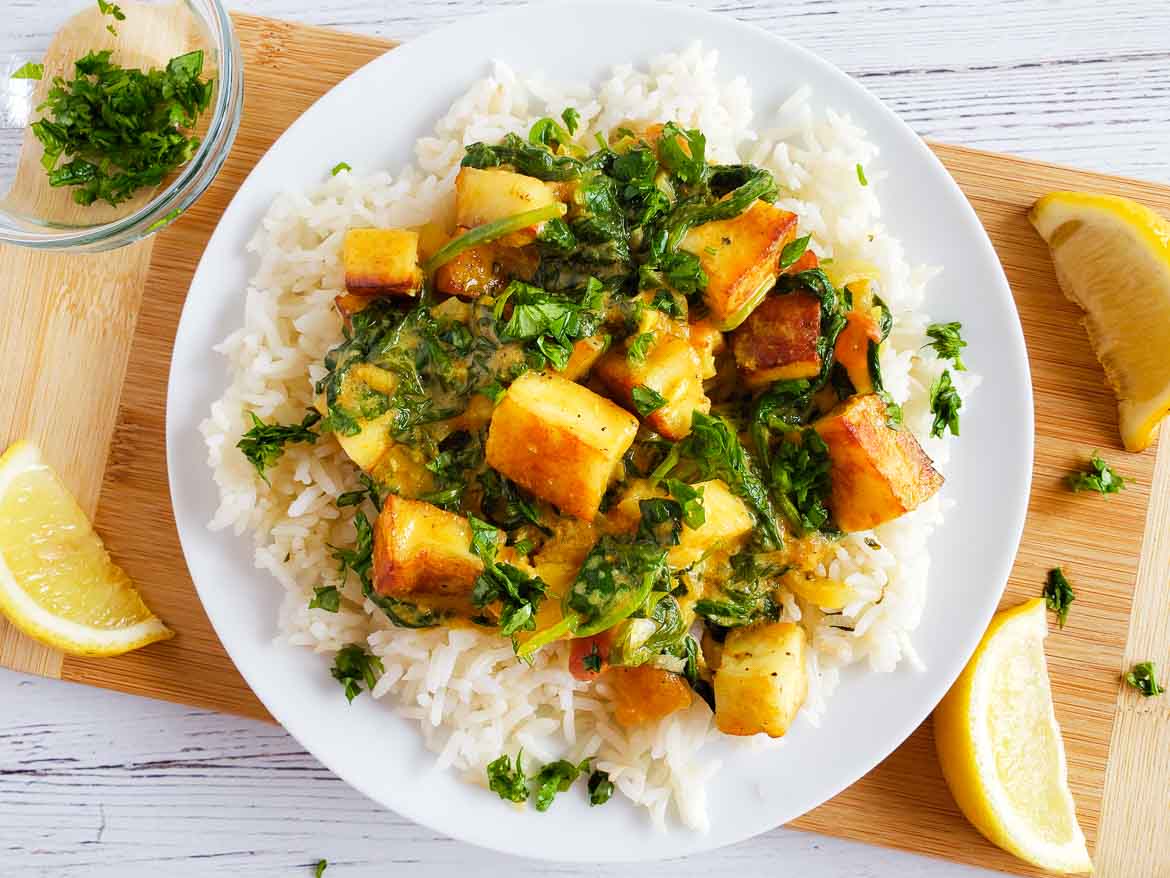 8 out of 10., would make again.
Since I'm really busy, I managed to make this recipe four days after I got the HelloFresh kit.
Oops! I was worried the produce would be getting wilted or bad, but everything looked really fresh in at which is nice.
Only one or two of the cilantro stems were a tiny bit yellowish, but I cut those off. The cilantro was good to use and not at all any sign of spoilage.
All the ingredients in the recipe bag were fresh and in the correct amounts.
For this recipe, the HelloFress directions say to do all the prep at once in the beginning. It's a fair amount of chopping, and took me about 15 minutes beginning to end. After that, you start cooking the rice and paneer.
For me, it would have been faster to start cooking the rice when chopping the veggies.
There's a little waiting time with this recipe. For example, at the end when you're waiting for the rice to finish cooking. I just used those few minutes to unload the dishwasher.
I do have to say that 1 nice thing is that I never feel stressed or rushed when making these recipes they seemed to give you lots of time.
The sauce is beautifully fragrant and smells so good with the dahl spice and ginger and garlic.
Final verdict 8 out of 10. This recipe looks really pretty plated, and it smells absolutely wonderful. There's a lot of food here, and it's really filling.
That said, it's good, but not my favorite HelloFresh dish. I found it not to be super flavorful, even when I seasoned with extra salt and pepper.
HelloFresh vegetarian Spicy Korean barbecue tofu bowl recipe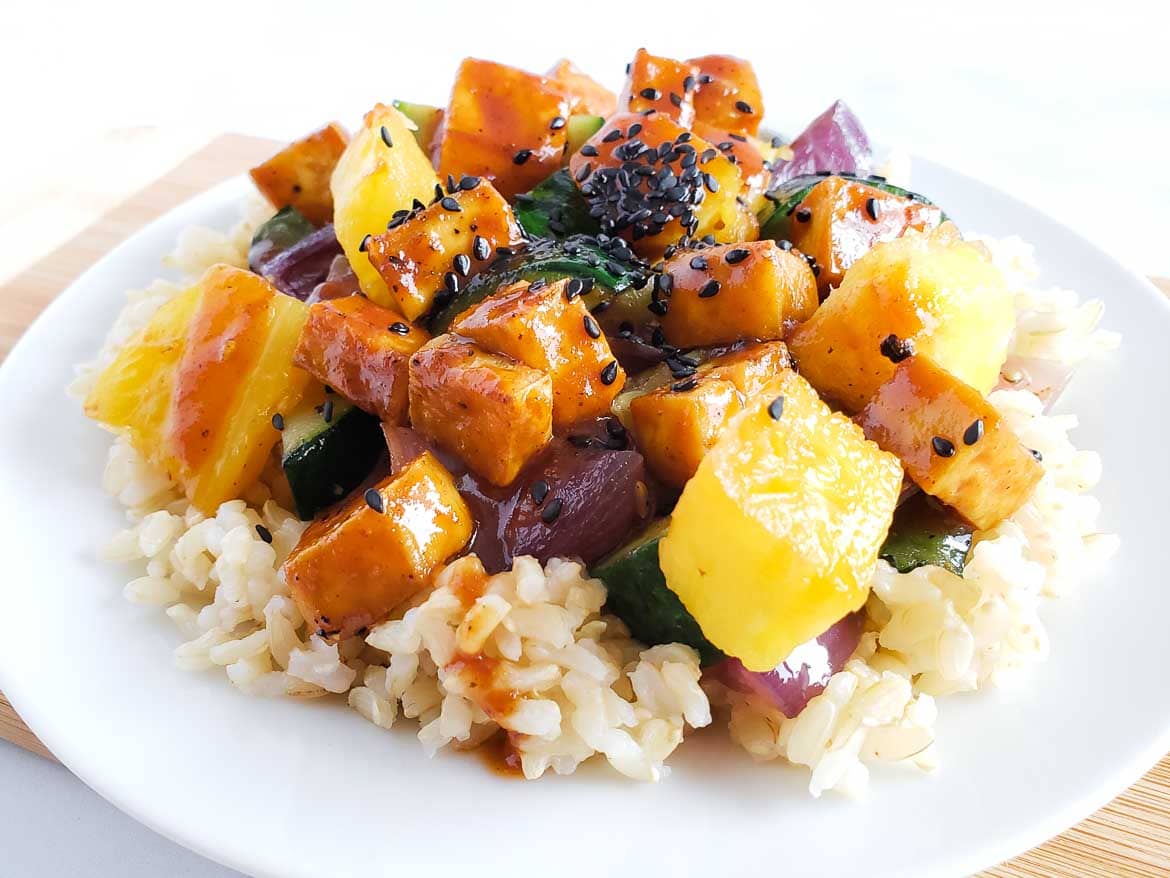 7 out of 10 would make again.
This was my only recipe (out of six) that had a missing ingredient. We were missing a gochujang pepper. For us, that was just fine, because we didn't an extra spicy recipe since the kids were eating it was well.
The veggies and ingredients were fresh. I like that they used Brown rice which is a little healthier alternative than white.
The sauce in this recipe was sauce was really delicious, and had a mild spicky kick, even without the gochujang pepper.
HelloFresh cannellini veggie burger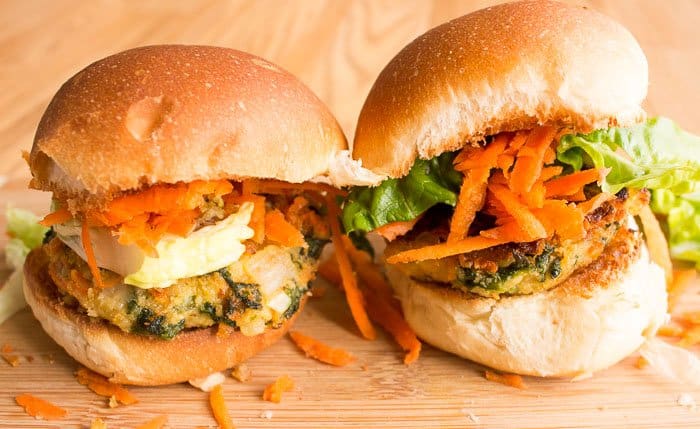 10 out of 10.
This recipe was a huge hit with our two kids, and my meat eating husband.
The buns were crispy, but soft inside, and the cannellini bean burgers were perfectly seasoned.
Yum!
Mushroom tortellini from HelloFresh
8 out of 10. but only if you really, really, really, love mushrooms.
This recipe was a bit controversial in our family. I love mushrooms, so I really liked it.
That said, since the recipe was packed with a few types of mushrooms, so my mushroom hating husband wanted nothing to do with it. My kids also rejected it because of all the mushrooms.
That said, I should have been a little more on the ball and just modified my HelloFresh menu to exclude this dish, since 3 of the 4 of us aren't mushroom fans.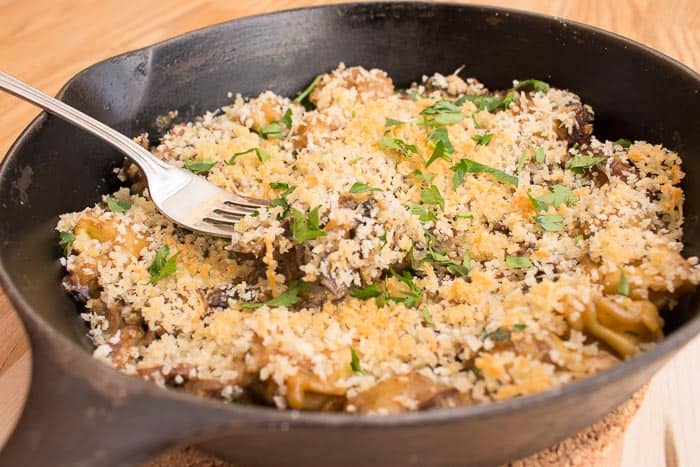 Seared halloumi cheese and avocado tomato salad recipe from HelloFresh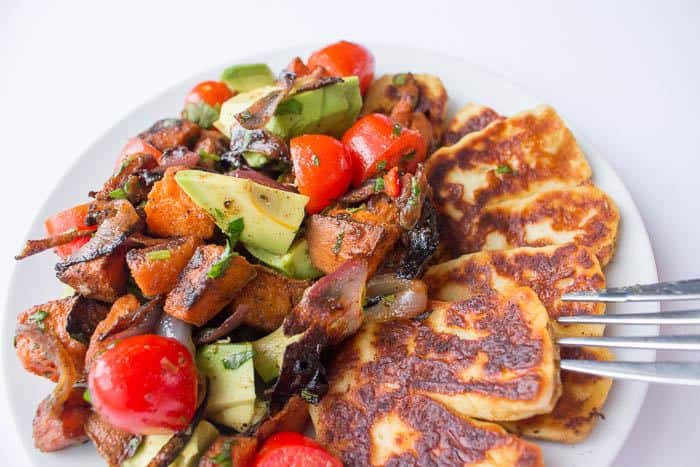 10 out of 10
I love, love, love this recipe! The halloumi cheese was perfectly crisp and salty, and the avocado tomato salad was fresh, and perfectly seasoned. So good!
I found this to be one of the most time consuming recipes I made with HelloFresh. It probably took me 40 minutes, so that's 10 minutes longer than the 30 minute recipe card said.
That said, it was totally worth it. I could eat this every day.
I'm also forever grateful to HelloFresh for introducing me to halloumi cheese. It's salty, firm and delicious (a tiny bit like hard feta, but milder, I find). What's amazing about it is that halloumi cheese is one of those rare cheeses that doesn't melt, so you fry it or bake it!
Since I first tried this recipe months ago, halloumi has become one of our staples.
What I like about the HelloFresh recipes is that they always turn out looking really pretty. I'm definitely not a professional food stylist, and I managed to make a dish that looked just about as tasty and delicious as HelloFresh's recipe card photo.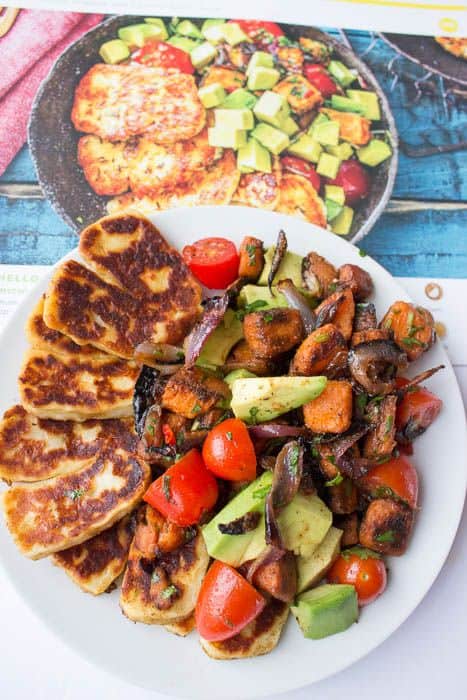 Is HelloFresh Vegan?
Well, essentially no. HelloFresh doesn't offer a vegan plan, so currently there's no HelloFresh vegan box. They do offer a vegetarian plan, but you can't choose to leave out ingredients to make vegetarian meals vegan.
Is HelloFresh recyclable?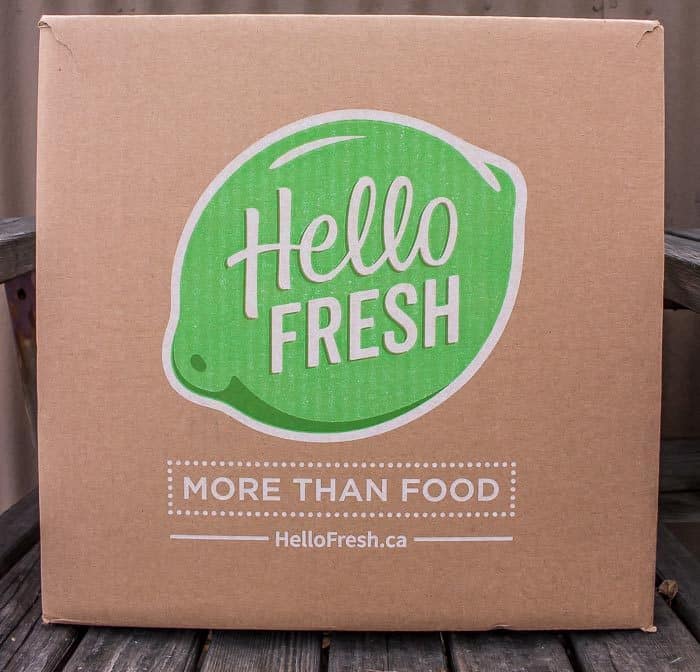 There was a pretty good sized Styrofoam container holding the really large portobello mushrooms, which I didn't love. On top of that, many of the veggies were packed in plastic bags, and sauces were in tiny plastic bottles.
HelloFresh says their packaging is all recyclable, including the cardboard cooler box, and ice packs, if you have recycling facilities.
I found there was no food waste, which was great, because each recipe had exactly the amount of food required.
All in all, whether meal kits are better, or worse, for the environment is an ongoing discussion.
Get this deal now! 16 Free Meals + First Box Ships Free + 3 Surprise Gifts
Looking for something a little different? Check out our ChefsPlate review.
Canadian? Check out our HelloFresh Canada review.
Have you tried HelloFresh vegetarian recipes? What did you think? Share your HelloFresh vegetarian review here!
Save on your first box with HelloFresh!
I received a complimentary box from HelloFresh in exchange for an honest review.