I've canned ever since I was knee high to my Mom in her kitchen on the farm.
I'd help pick tomatoes ripe from the garden, and I'd watch as she transformed them into delicious tomato salsa or canned tomatoes. Months later, I'd pull those jars of salsa from the shelf, and with one bite they'd transport me back to those sun drenched days of summer.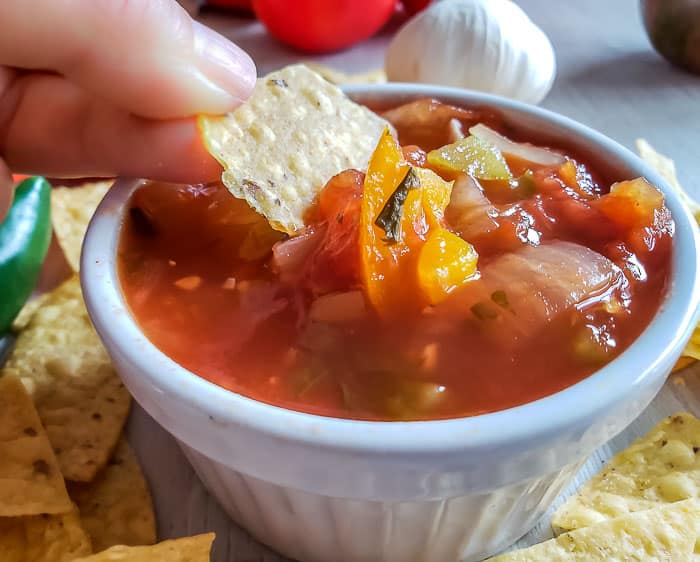 For me, canning is the most fun to do as a group. It's a way to bring the family together by sharing our love of great food, and good times.
I learned to can in my Mom's farmhouse, and now my husband and I are teaching our son and daughter how to can home grown tomatoes from our garden.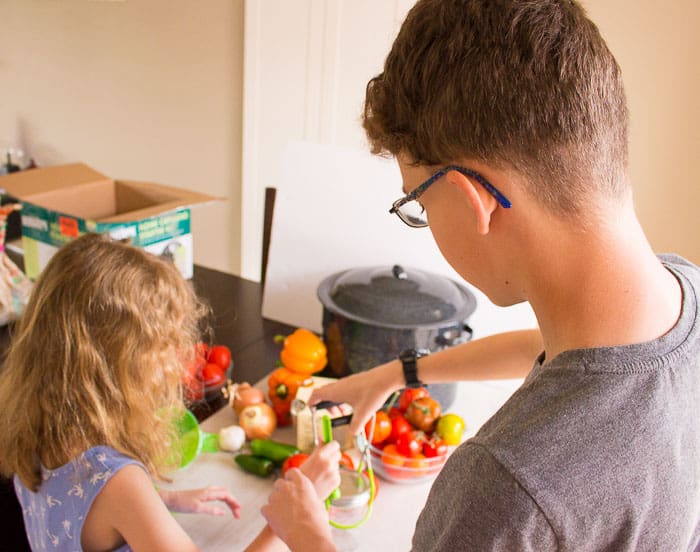 At 12, our son is a fantastic help, and our daughter, who's nine, is pretty close behind.
We get them to help with everything from harvesting home grown tomatoes fresh from the vine, to peeling tomatoes, to filling jars with farm fresh homemade salsa.
The secret to this homemade salsa recipe for canning with fresh tomatoes is to start with the freshest ripe tomatoes you can get. Choose tomatoes with no blemishes or rotten spots.
If they're grown in your own garden, so much the better, but a great second choice are tomatoes fresh from a local farm. Home grown peppers, onions, and garlic are a nice touch too, but the main ingredient that makes or breaks the taste in this recipe are the tomatoes. Also make sure you pick up a good quality tomato paste, as cheap tomato paste can taste acidic or even have a metallic, tinny flavor.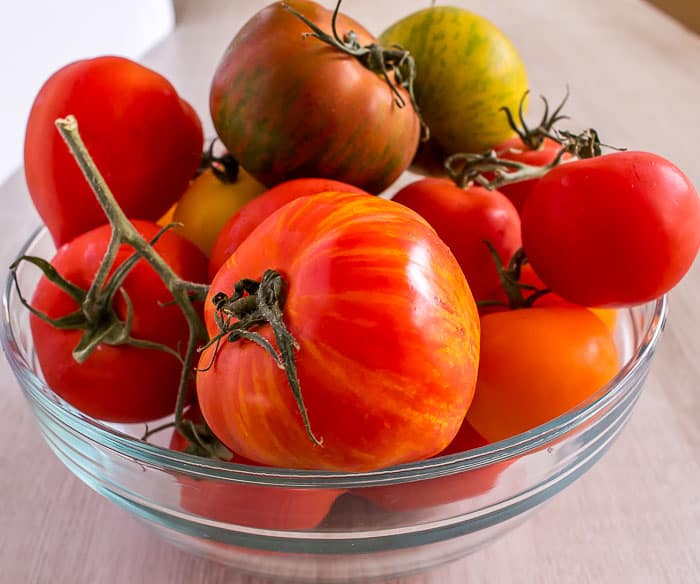 We use Roma tomatoes, since they're more meaty, meaning this cooked salsa recipe will be thicker and less watery. That said, you can use any type of tomato you want, but the salsa will be a less thick than with Roma tomatoes.
Homemade Chunky Salsa Recipe for Canning
This chunky salsa recipe for canning is made from big, juicy chunks of tomatoes, onions and peppers, but you can chop them more finely if you prefer. It will still turn out great!
Since our youngest doesn't love spicy salsa, we've only added two jalapeno peppers, so this is a mild salsa recipe for canning, but adding six jalapenos will give it a nice medium spicy kick. Ten or more jalapenos  will make it hot and spicy. This is a tasty homemade salsa with sweet peppers and a touch of vinegar and sugar and lemon juice for flavor and acidity.
This is a fairly small batch, making five 500 ml (16 oz) jars. Just double or triple the batch if you want to make more.
While we've been making this homemade salsa for years, it's similar to the Fresh Veggie Salsa recipe on Bernardin's website. Check out the Bernardin for more yummy canning recipe ideas, plus everything you'll need to start canning, including helpful instructions, education (canning safety is so important!), and great canning products and tools.
You can find all the Bernardin products and anything else you'll need at Canadian Tire or Walmart.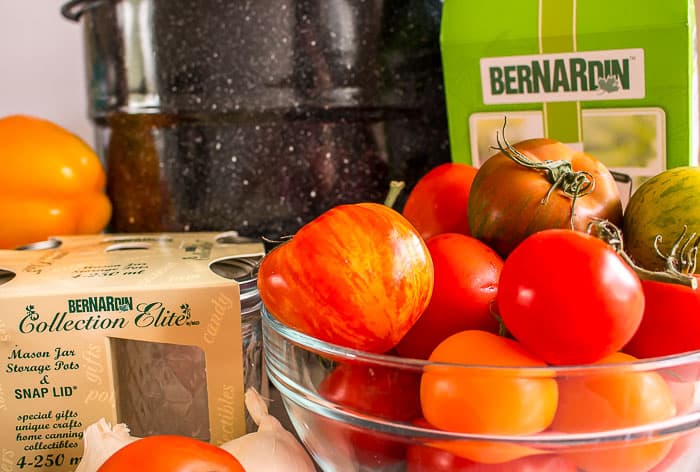 Ingredients
Don't let the list of ingredients scare you! This is an easy salsa recipe – the most time consuming part is the chopping, and you can speed that up with a food processor.
7 cups (1750 ml) chopped tomatoes (about 10 Roma tomatoes)
2 cups (500 ml) coarsely chopped onions
1 cup (250 ml) coarsely chopped bell pepper. We used 1/2 cup of yellow bell pepper, and 1/2 cup of green bell pepper to add color.
2 jalapeno peppers, finely chopped
3 cloves garlic, minced
1 can (156 ml) tomato paste
3/4 cup (175 ml) white vinegar
2 tbsp commercial lemon juice
1/2 cup (125 ml) chopped cilantro, lightly packed
1/3 cup white sugar
Canning equipment you'll need
If you're just starting out, consider picking up a home canning starter kit, which will have everything you need!
5 x 500 ml (16 oz) mason jars
5x SNAP LID® sealing discs
5x screw bands
canner and canning rack
nonmetallic utensil (to remove air bubbles)
jar lifter, canning funnel, and magnetic wand (for putting hot sealing discs on jars). These are all optional, but helpful, and you can get them, plus a helpful nonmetallic bubble remover/headspace gauge in the Bernardin home canning utensil tool kit.
Instructions for this homemade chunky salsa recipe
First, you need to sterilize the mason jars. To do this, put the five clean 500 ml mason jars on a rack in a water canner, and then cover jars with water and heat to a simmer (180°F/82°C).
Heat the SNAP LID® sealing discs. You don't need to boil them, but keep them in hot water at around 180°F/82° Celsius instead. Keep jars and sealing discs hot until ready to use. You don't need to heat screw bands.
Add cool water until the canner is about 1/2 full, and place rack inside. Place on stove, but don't turn on the heat yet!
Now, get the ingredients ready.
First, remove the tomato peels. We remove the peels by dipping the tomatoes into boiling hot water until skins begin to loosen, and then dunking them in cold water, and then removing the peels.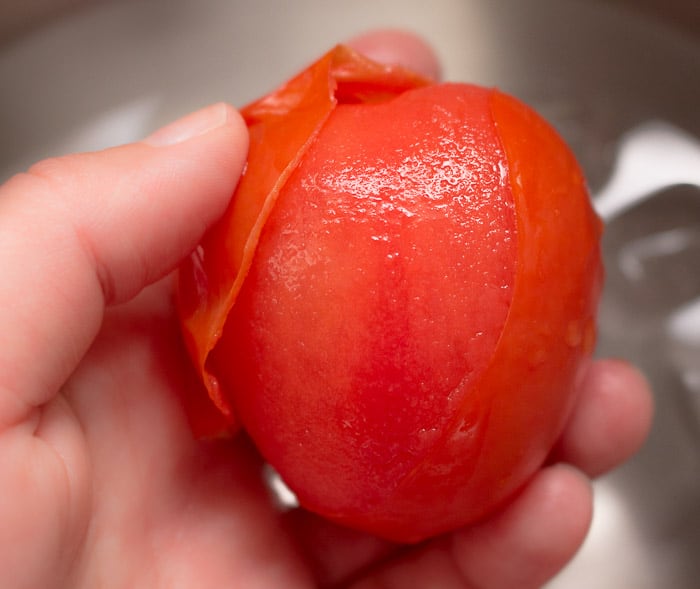 Chop the tomatoes into coarse chunks. I don't remove the seeds, but you can if you wish. This is a chunky recipe, so you'll get big, tasty chunks of tomato in every bite of this canned salsa recipe with fresh tomatoes.
Next, chop the bell peppers in coarse chunks, and chop the garlic, jalapeno peppers and cilantro. If you have sensitive eyes or skin, use rubber gloves to remove seeds and finely chop jalapeno peppers.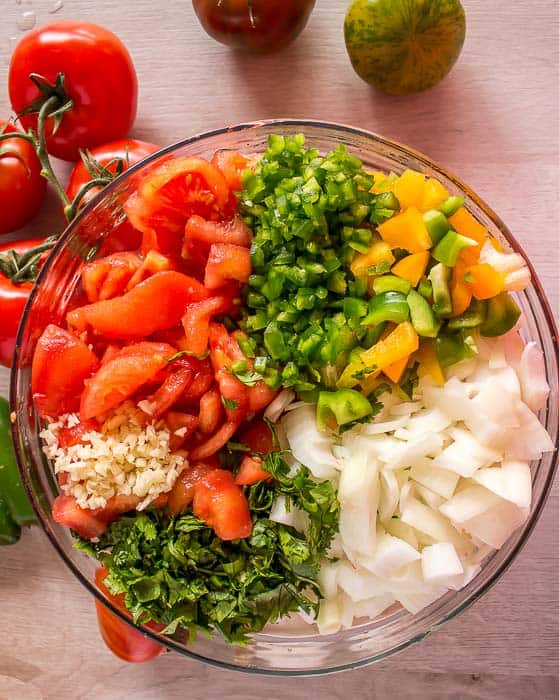 Add tomatoes, onions, green pepper, jalapeno pepper, garlic, tomato paste, vinegar, and cilantro in a large stainless steel saucepan and bring to a boil. Stir until salsa is the desired thickness (about 30 minutes).
Now, you're ready to add the salsa to the canning jars.
Ladle the salsa into a hot jar to within 1 cm (1/2 inch) of the top rim. Use a nonmetallic utensil to remove air bubbles. Add more salsa once air bubbles are removed, if needed.
Tip! Using a canning funnel can make this a lot less messy!
Using a clean, damp cloth, wipe the rim of the jar to remove excess salsa.
Now, you're ready to put on the sealing discs.
Center a sealing disk on top of a clean jar. Gently screw the  screw bands until you get some resistance. Continue screwing down the screw bands until fingertip tight. Repeat with all the jars.
Next, add the jars to the canner.
Now, add the filled and sealed jars to the canner rack.
Tip! If you have two people handy (canning is more fun as a group anyway!), it's helpful to have one person hold the canning rack to prevent slips, and another place the jars carefully into the rack.
Lower the canner rack into the water. At this point, the water is cool.
Important! Ensure that all jars are covered by at least one inch (2.5 cm) of water.
Now, you're ready to cook the salsa.
Put the cover on the canner, and turn on heat to high, bringing the water to a full rolling boil before starting to count processing time.
Boil the jars for 20 minutes (at up to 1000 feet or 305 m in altitude).
When the 20 minutes are done, turn off the heat, remove the lid, and wait five minutes.
Next, remove the jars. Do not tilt the jars, and put them upright on a heat resistant surface.
Tip: A jar lifter can make this much easier!
Stand upright, undisturbed until cool. Don't re-tighten the screw bands, as this may break the seal.
Now, it's time to check if the jars are sealed.
After the jars are fully cooled, check the jar seals.
If the sealing discs are sealed to the glass jar, the sealing discs will curve downward and will not move when pressed with your finger.
Lucky you! Your homemade chunky salsa recipe for canning is ready to eat!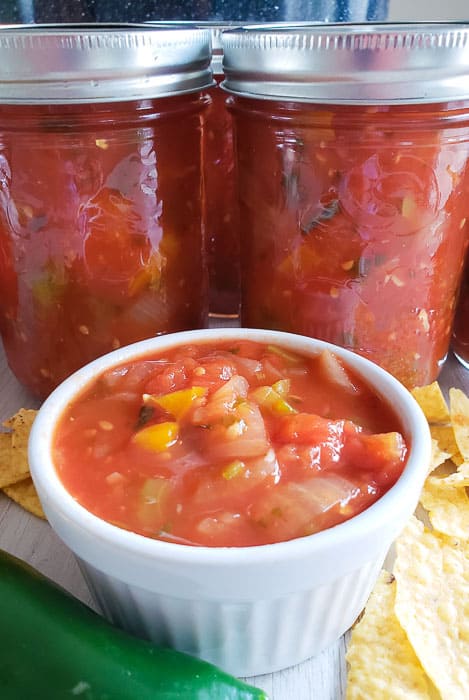 For jars that are sealed, remove screw bands, and then use a damp cloth to wipe the dry bands and jars. Store screw bands separately or replace loosely on jars.
Label your delicious home canned chunky tomato salsa and store the jars in a cool, dark place.
Important: Jars that are not sealed should be popped into the fridge and used within a few days.
Want to learn more?
Check out the Bernardin website here for great recipes, canning tips and products, or follow Bernardin on Facebook, Instagram and Twitter.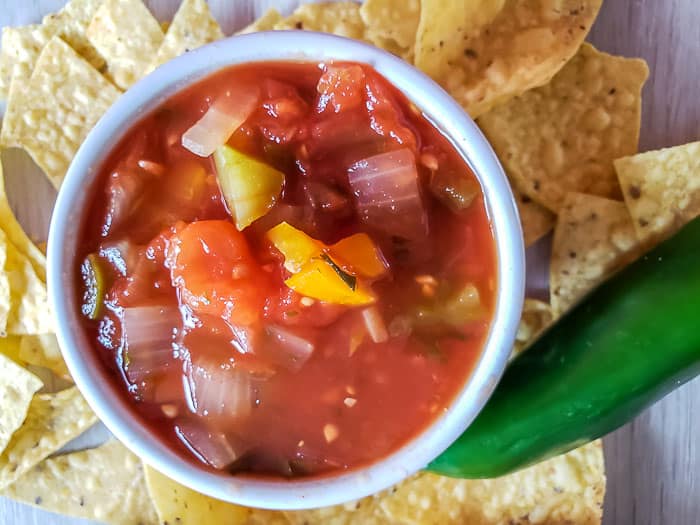 About Bernardin
"Bernardin® loves canning and preserving just as much as you, and they want to make it fun and easy for anyone to share great tasting, homemade food by providing industry-leading tools,  solutions and resources that simplify food preservation and preparation.
A trusted leader in home canning, Bernardin fresh preserving packs over 130 years of research, testing and advancing the art of fresh preserving with their scientifically tested and  approved canning jars and lids for superior quality and sealing performance."
Have you canned before? What's your best salsa recipe for canning? Tell us in the comments – we'd love to know!
Looking for some more savory goodness? Check out our taco dip recipe!