Want to find the best vegetarian dips to take to your next potluck or party? Or maybe you just want something different to make for yourself!
This list of amazing dips ranges from warm and savory to sweet and delectable. The hardest part of this list of dips is deciding which one to make first. Be prepared for your friends and family to devour every last drop of the best vegetarian dips we could find.
There's everything here, from the best vegan dips, to dips oozing with cheesy goodness, to fruity and sweet dips as well. Enjoy!
The Best Vegetarian Dips
If you adore a tasty savory vegetarian dip, these next recipes are for you. Here are our favorites, from a yummy avocado ranch to chili con queso to a tasty vegan spinach-and-artichoke.
The best savory vegetarian dips
Six Ingredient Oh So Easy Taco Dip Recipe from right here at The Parent Spot. Just combine six ingredients and you a fresh and insanely easy dip that is sure to please a crowd. Over 85,000 folks on Pinterest love it too!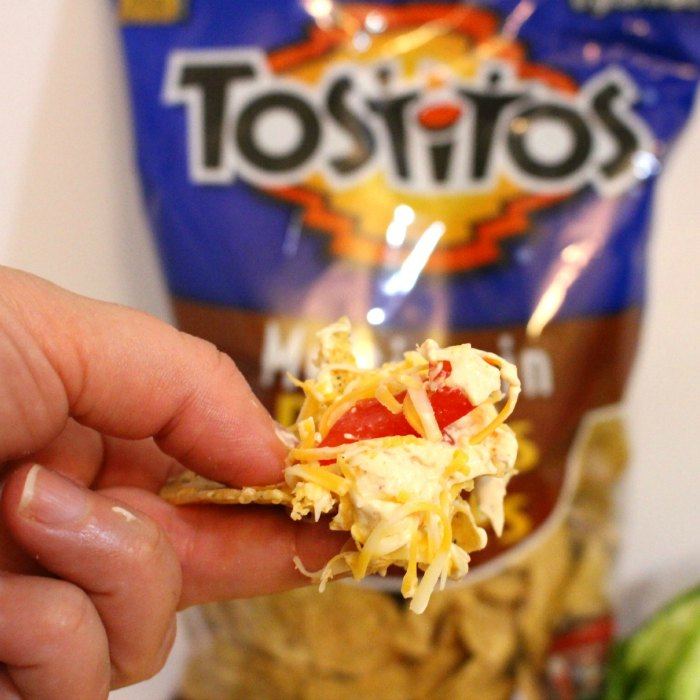 Creamy Spicy Hot Corn Dip from Trial and Eater. Only 15 minutes to a delicious corn dip that has a little kick of spice. It looks truly mouthwatering.
Homemade Queso Dip from The Rising Spoon. Throw out that overly processed cheese and make your own homemade queso. You won't be disappointed with this delicious dip!
Chilled Veggie Dip In A Bread Bowl from Peas and Crayons. The fresh ingredients in this dip give you an explosion of flavor you are sure to love.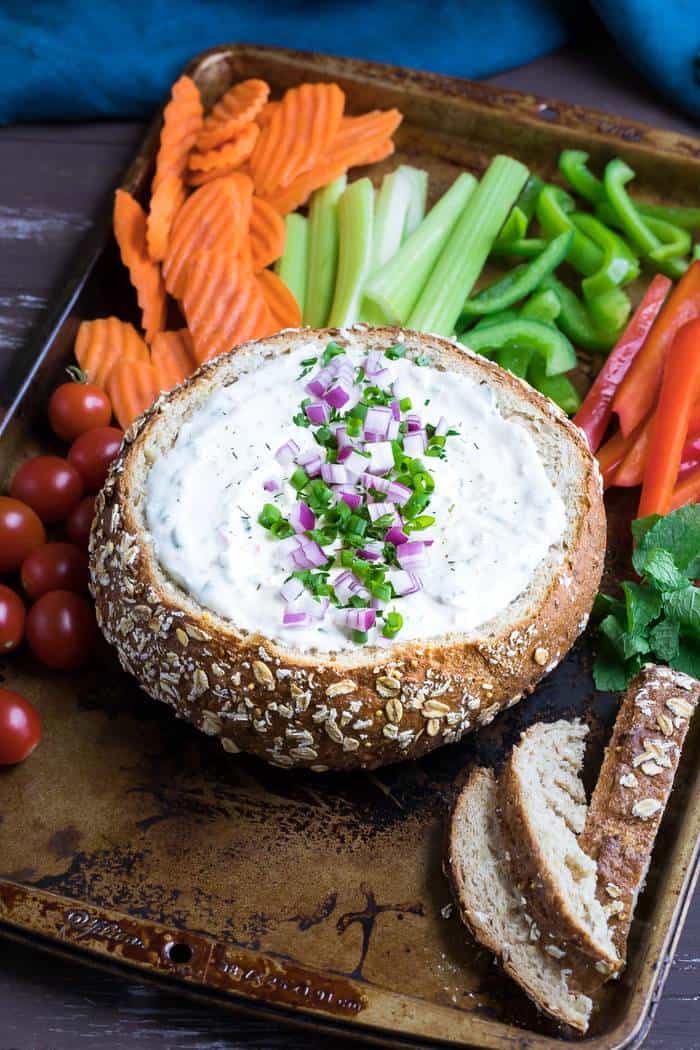 White Bean Hummus from Pinch and Swirl. Beans, garlic, parsley and a few other ingredients come together to make this tasty dip you can eat anytime.
5-Minute Avocado Ranch Dip With Greek Yogurt from Two Healthy Kitchens. Anything with avocado is bound to be amazing! Try this easy and fresh dip.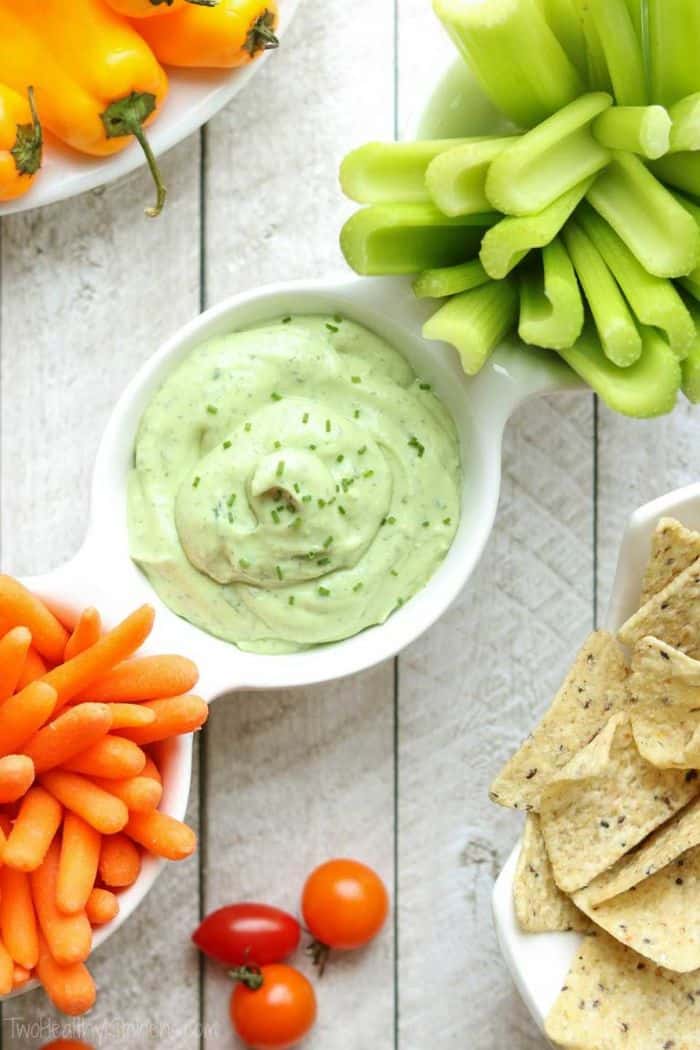 Chipotle Corn Dip Recipe from Snappy Gourmet. This corn dip is a perfect dip for backyard barbecues or any other event you can think of! Corn and chipotle are a delicious combination that will leave your guests reaching for another dip.
Vegan White Bean Queso (GF) from Rhian's Recipes. This yummy dip is super easy and inexpensive. It's a bonus that it is gluten-free and vegan.
Vegan Spinach Artichoke Dip from Yummy Mummy Kitchen. Anything with gooey cheese and spinach is for sure to taste amazing!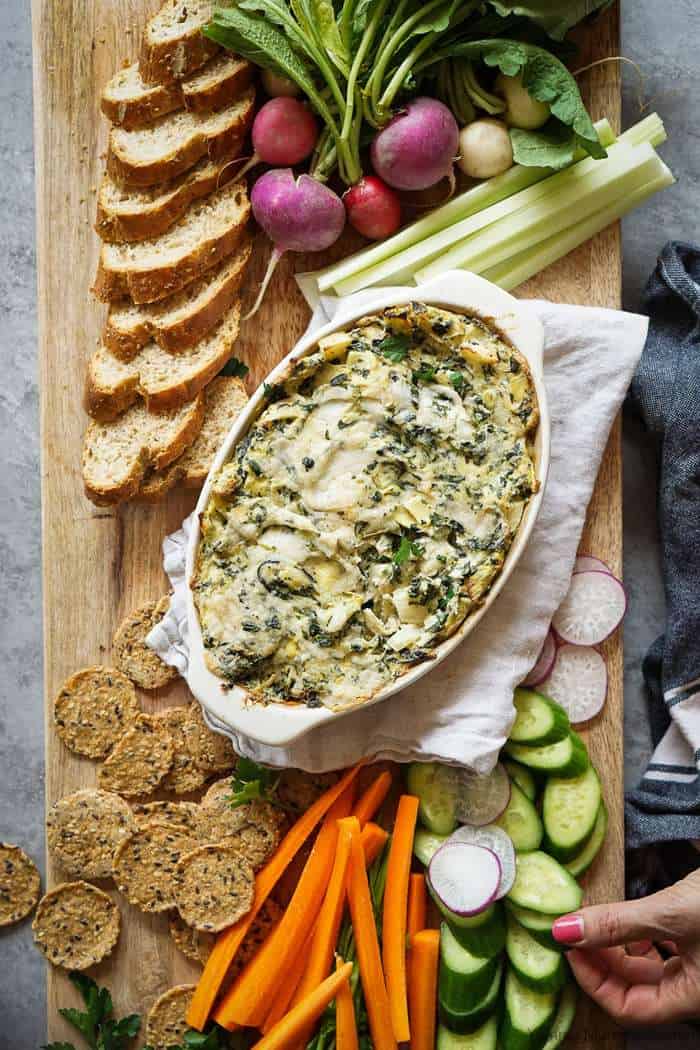 Green Goddess Dip (or Dressing) from Delicious on a Dime. Eating healthy and fresh ingredients doesn't have to be expensive. Plus, look how beautiful this dip is.
Easy Taziki Dip from You Brew My Tea. Made with cucumber, lemon, greek yogurt, and seasonings. Refreshing, light and is so simple and fresh.
Vegan cashew queso from The Parent Spot. This vegan cashew queso is cheesy, creamy, and the perfect dip. Healthy, delicious and dairy free!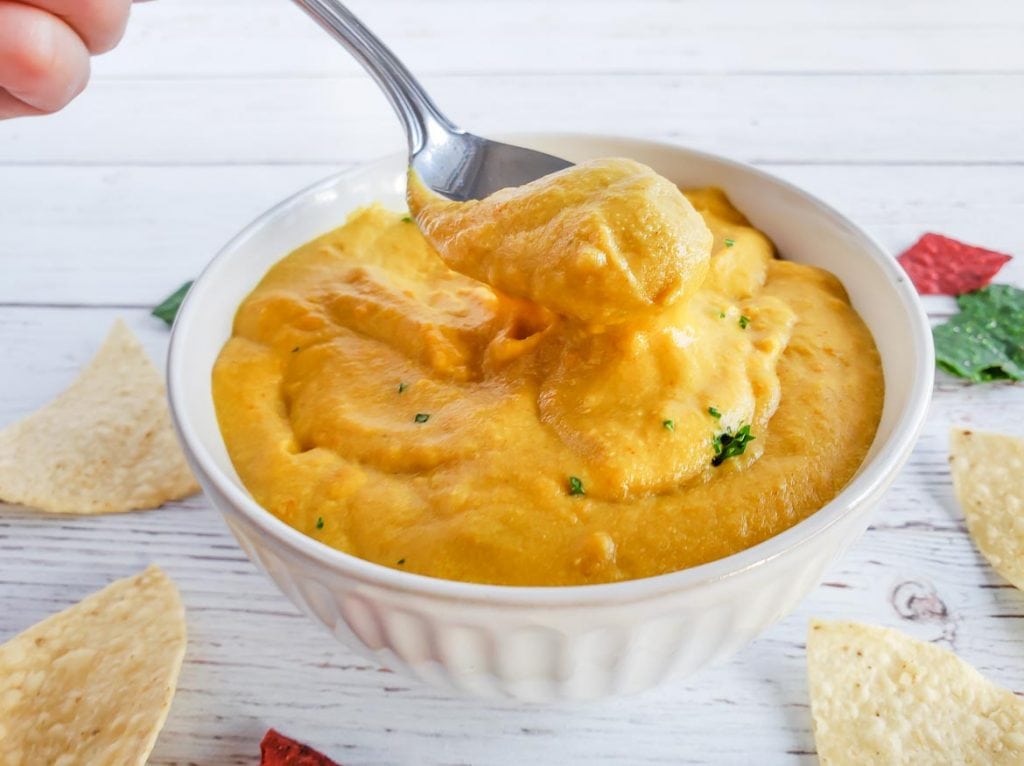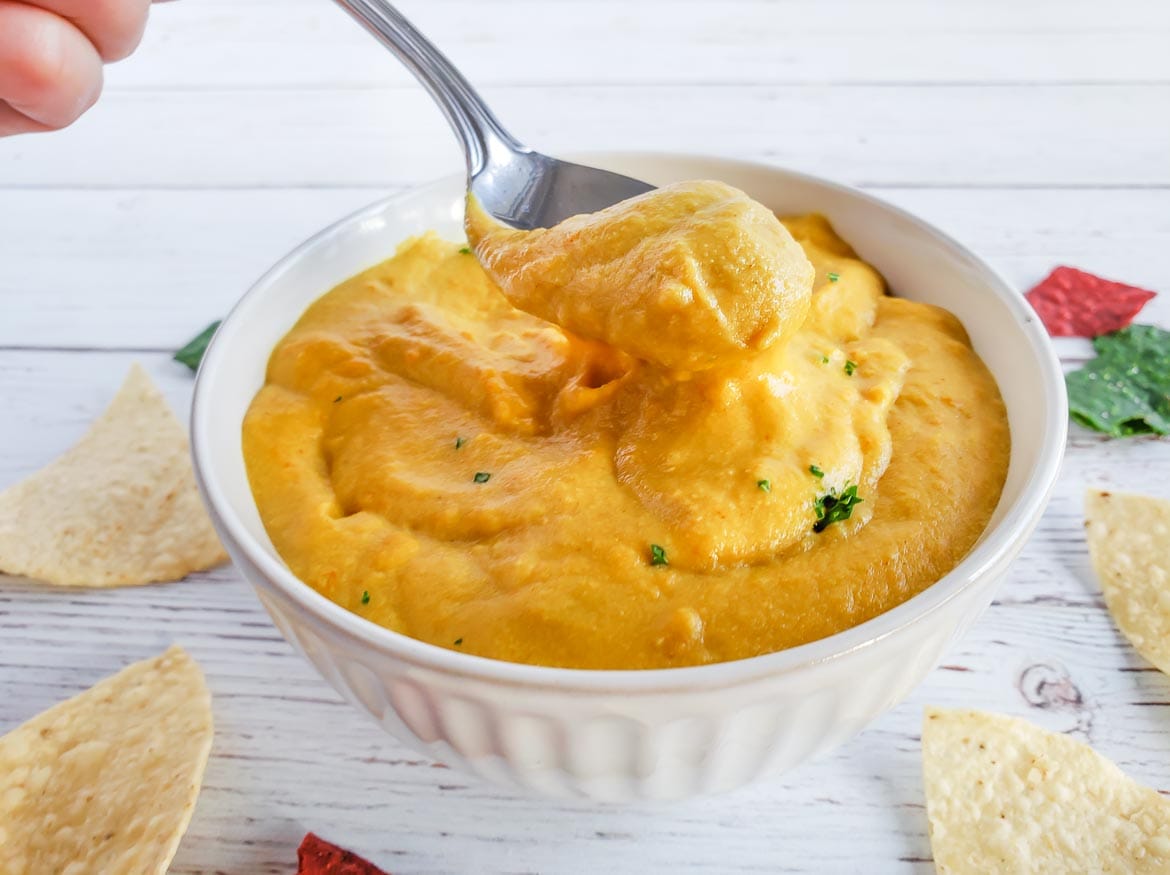 3 Ingredient Hot Artichoke Dip from Diary of a Debutante. This warm dip is easy and delicious. The creaminess is sure to be a crowd pleaser.
Mediterranean Seven Layer Dip With Hummus from Cooking LSL. Red peppers, olives, cucumber, and tomato are of few of the gorgeous ingredients. This dip is so pretty and tasty.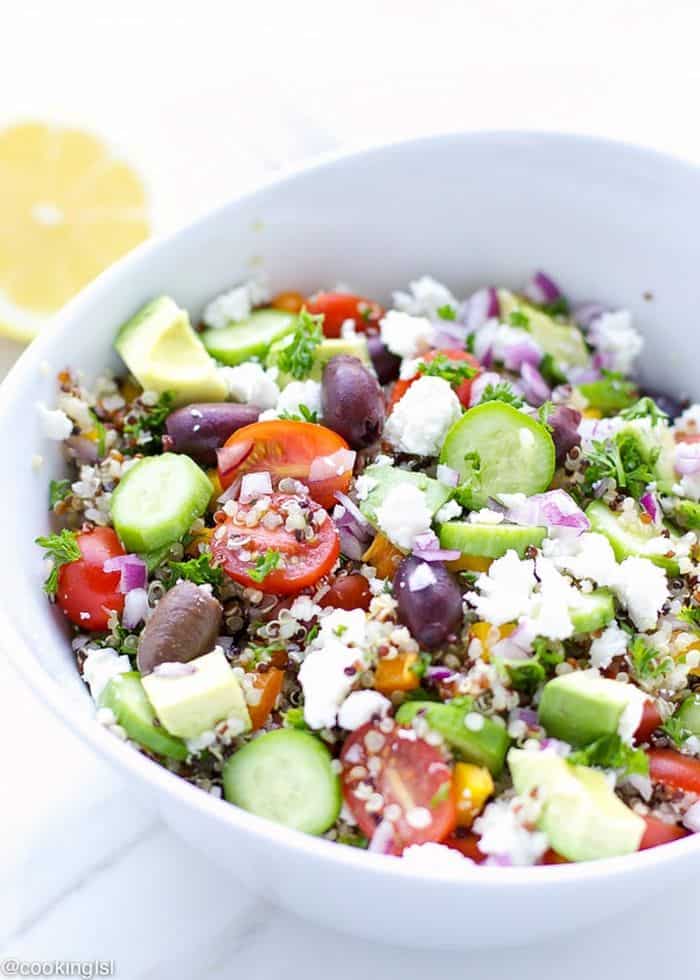 Everyone's Favorite Homemade Guacamole from Home Made Lovely. The perfect dip for any party or gathering. Fresh avocado, tomatoes, and a few other ingredients make this delicious dip.
Chili Lime Mayo from Home Made Lovely. In 5 minutes and only 3 ingredients, you will have this fantastic dip! This dip is a nice change from ketchup for fries.
Lebanese Hummus and Baba Ghanoush from Occasionally Eggs. A twist the the classic hummus you buy in stores. Fresh and full of rich and creamy flavors. Grab some crisp veggies or pita chips and serve it up.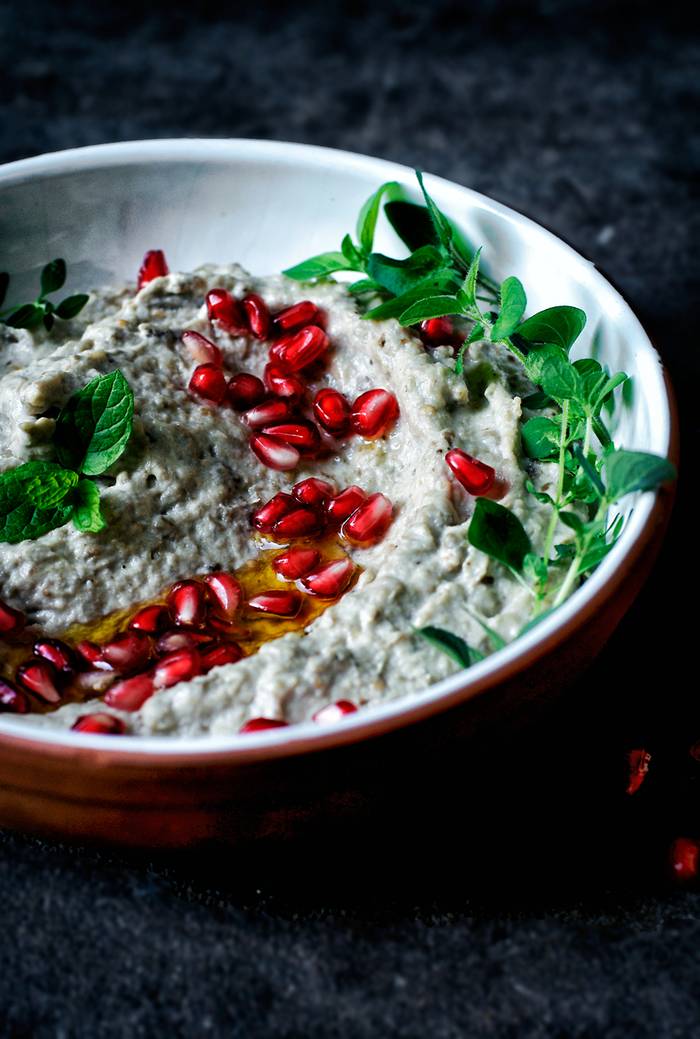 Cowboy Caviar from To Simply Inspire. This dip is made with tomatoes, beans, corn and a few other yummy ingredients. It's simply delicious.
Healthy Garden Veggie Dip from Peas and Crayons. Enjoy this dip with a wide variety of vegetables, pretzels or pita chips.
Chili Con Queso Dip from Baking Beauty. Irresistible chili con queso is perfect for any party. Everyone loves a warm and cheesy dip that tastes amazing.
The best sweet vegetarian dessert dips
Looking for a sweet vegetarian dip? Check these out – there's everything from a berry fruit salsa (yum!) to a peanut buttery fruit dip. Yum!
Greek Yogurt Dip with Peanut Butter from here at The Parent Spot. This is so good, and incredibly creamy and also much higher in protein than a normal dessert dip!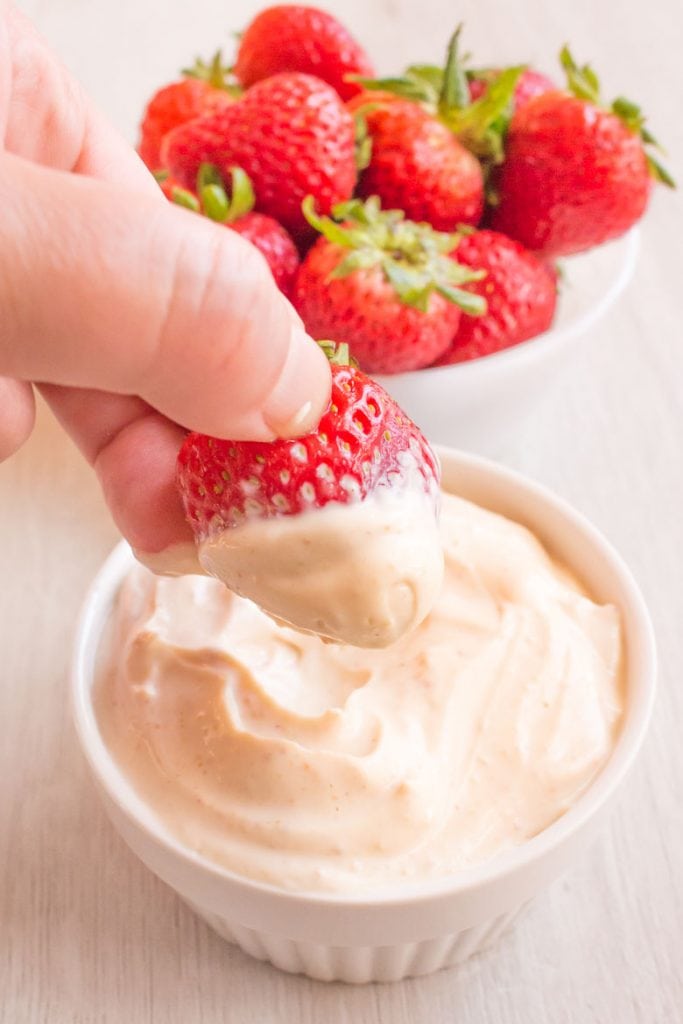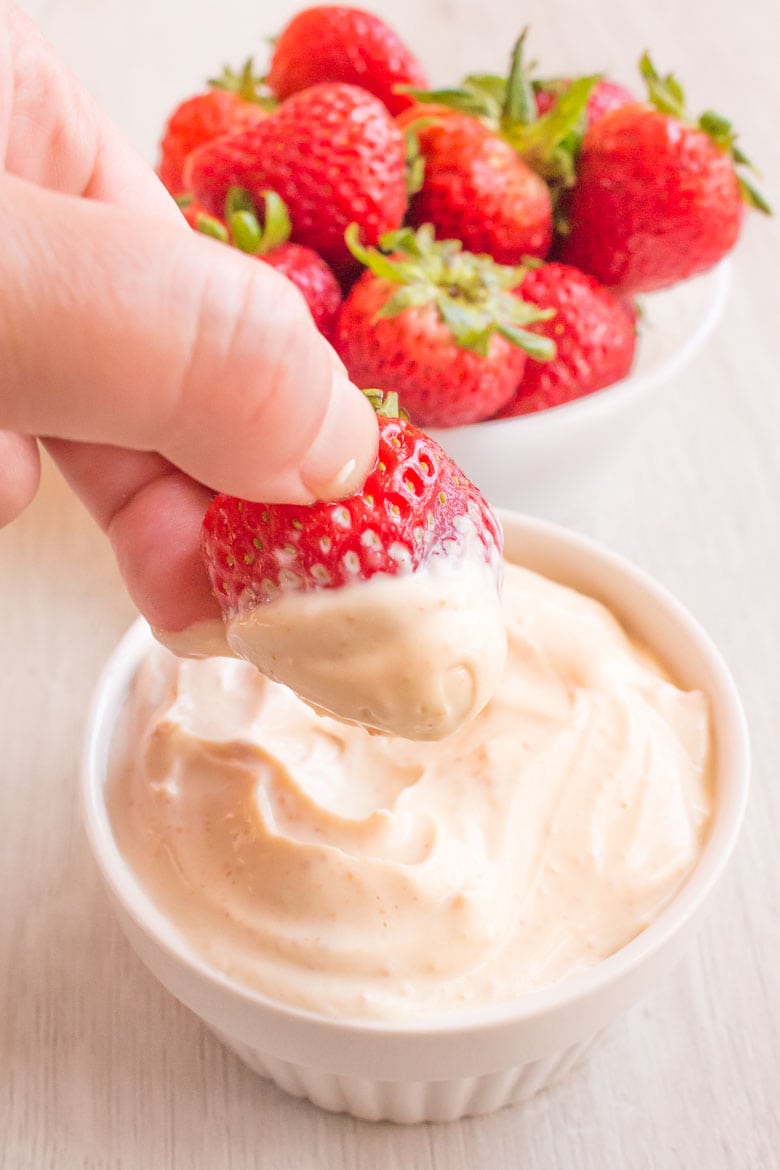 Very Berry Fruit Salsa With Sopapilla Chips from Evolving Table. Finely chopped fresh fruit is the main ingredient. You can make it year round, but it is even better when the fruit is in season.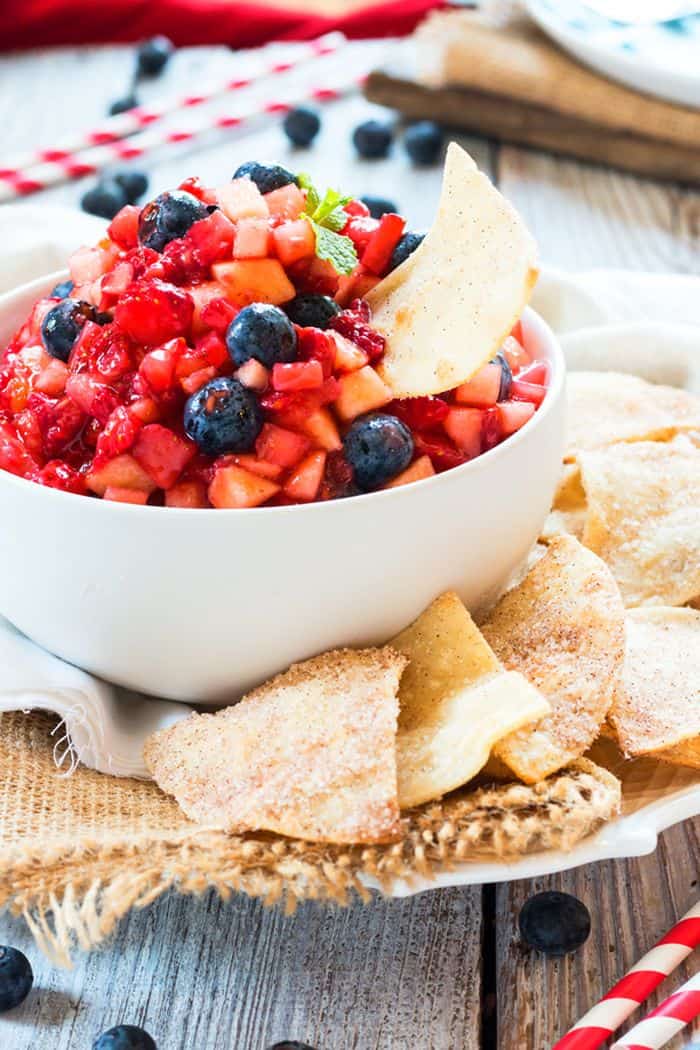 Lime Ball Dip: An Easy Appetizer Or Dessert Dip from Rock-A-Bye Parents. The zestiness from the lime in this dip makes your mouth water and leaves you craving more.
Caramel Pumpkin Cream Cheese Dip from Spaceships and Laser Beams. A tasty crowd pleasing dip that is sure to make your taste buds beg for more.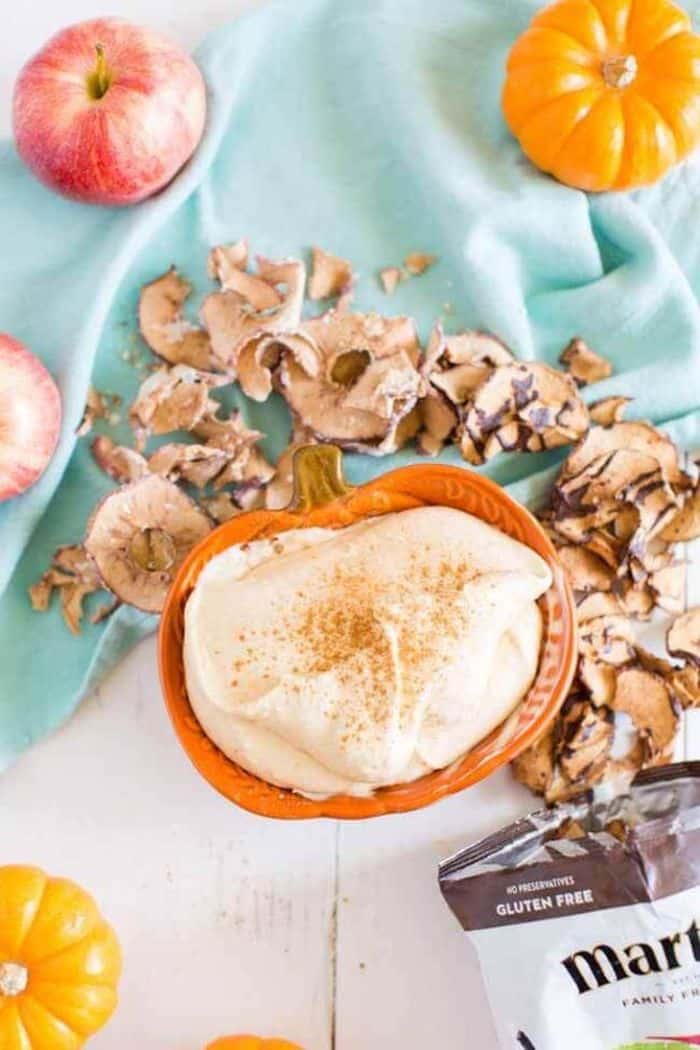 Easy Peanut Butter Dip Recipe from Organized 31. Sweet and simple peanut butter fruit dip is perfect for any gathering. Be prepared to fall in love with this yummy dip!
Healthy chocolate fruit dip. This is so delicious, it's easily one of our favorites, and we love that it's lower calories and not overwhelmingly sweet.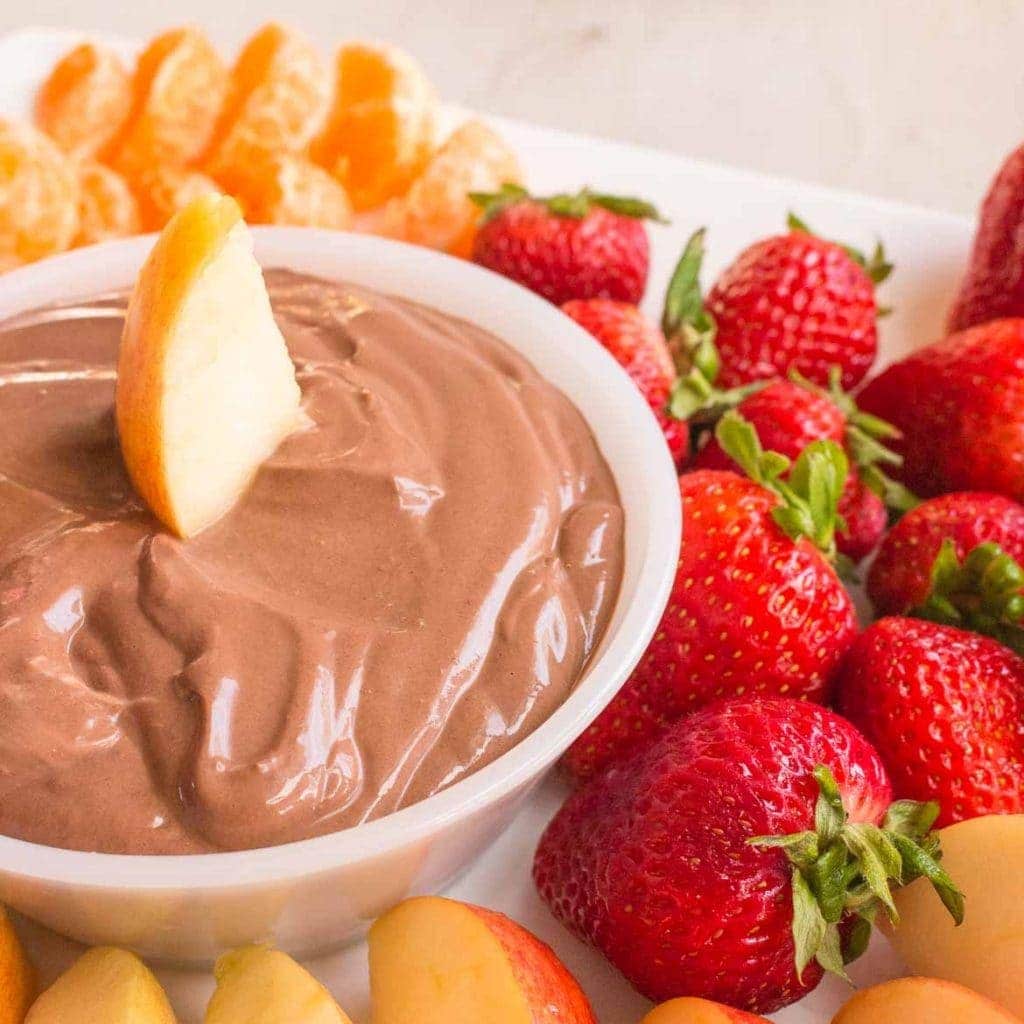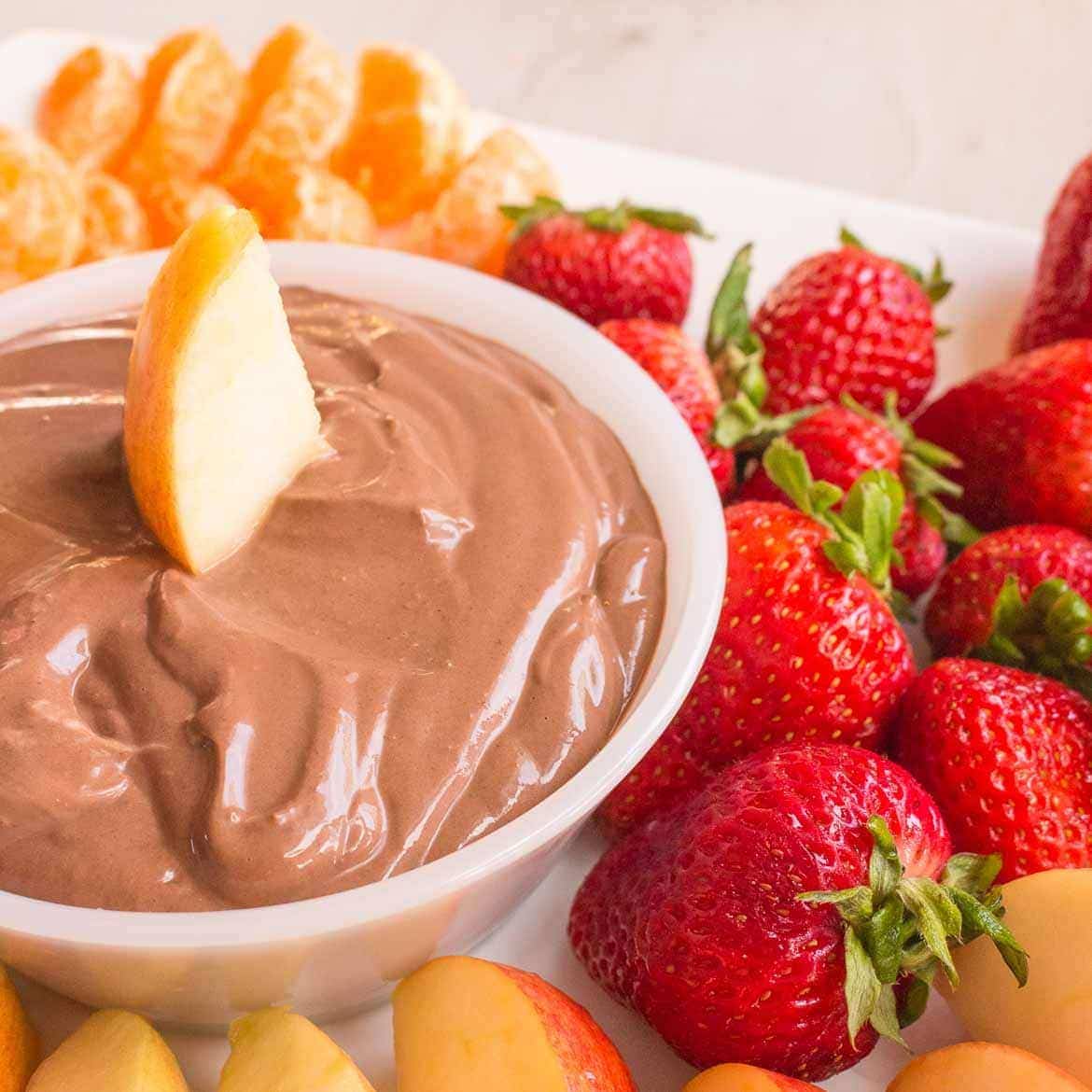 3-Ingredient Chocolate Lava Dip from Two Healthy Kitchens. Dress up your fruit with this delicious and creamy chocolate lava dip. Can you ever have too much chocolate?
Easy Lemon Curd Dip from Happy Foods Tube. This easy recipe only takes 15 minutes to make. It is so versatile and partners well with most fruits.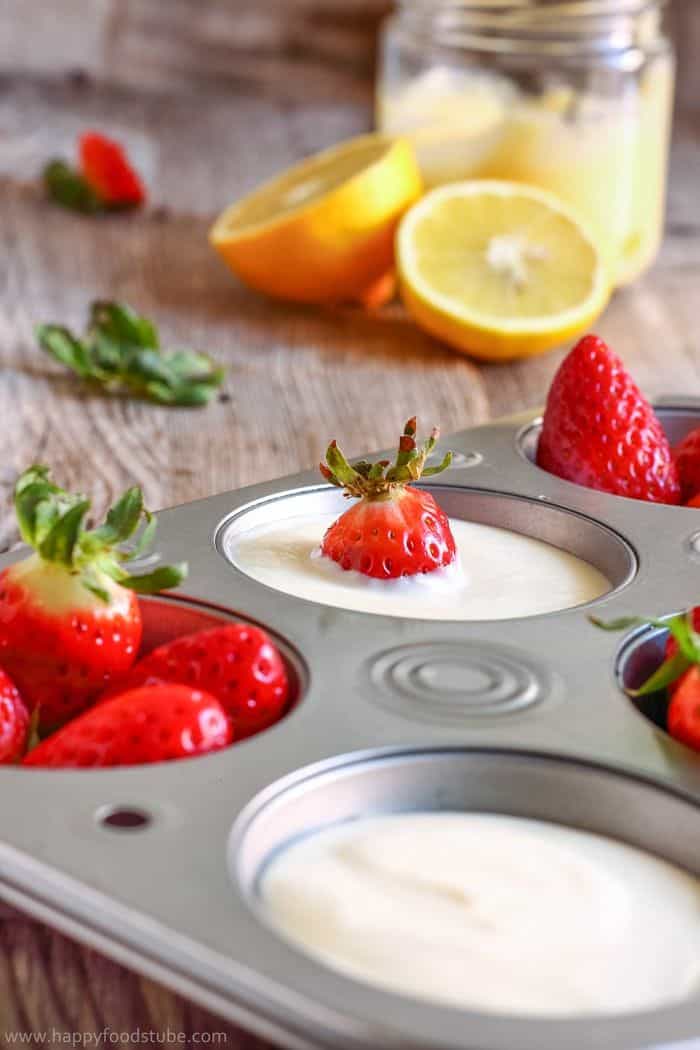 Do you have any favorite dips for our best vegetarian dips list? Let us know!