A few years back, when I was still living in central Canada, every year for a week in May a great group of other guys and I would go fly-in-fishing. It was up to a remote location in Northern Ontario and the only way in was by air in the warmer months or by snowmobile in the winter.
To say the fishing was good would be an understatement. It was insane and the old fishing joke that the fishing was so good you had to bait your hook behind a tree was a nightly statement.
I miss those days so when I saw that the renowned and historic Waterfall Resort up in Alaska was giving away a free airline ticket with every booking I just had to look into it.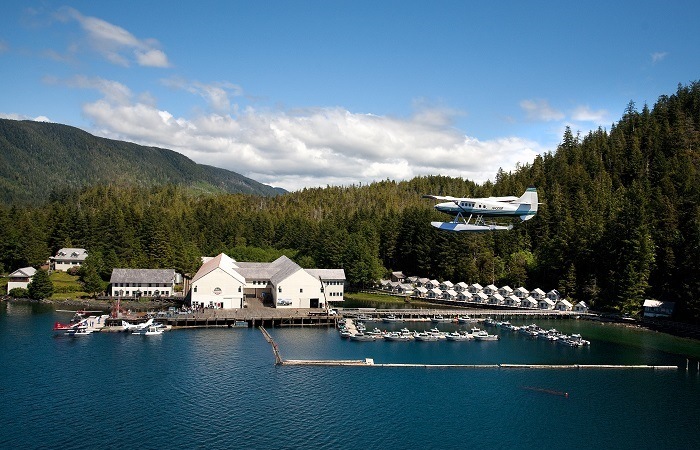 While we were content with traditional lake sport fish (Walleye, Lake Trout and Northern Pike), guests at the oceanside Waterfall Resort are after the big ones like 50 pounder King Salmon (Chinook Salmon), 200 pounder Halibut, fun and lively Silver or Coho Salmon, tasty Ling Cod, colorful Red Snapper (Yelloweye Rockfish) and a whole lot more.
I can already feel the tug of the line when reeling in a monster Halibut or the thrill of watching a Coho Salmon breach the surface while dancing on the water.
Not only are remote fly in fishing lodges some of the best places to fish, they're usually also the best place to do it in style and comfort. Who doesn't want to have all the conveniences of home in an oceanfront cabin with daily housekeeping, free WiFi hot spots and a modern resort to come back to after a long day of reeling in the trophy's on a gorgeous section of ocean renowned for their trophy salmon?
The remote Waterfall Resort offers hearty, freshly made that morning, all-you-can-eat Alaskan fare from fresh breads and pastries to 5 star fish delicacies. You can relax at night in the Lagoon Saloon and see everything from whales and bald eagles to black bears from the comforts of the panoramic dining room overlooking the calm Ulloa Channel.
They offer full service, 25 foot heated boats with Coast Guard licensed guides complete with full use of their high end equipment and all weather gear so you can leave your stuff behind if you don't feel like lugging it all with you.
Only a 90 minute flight from Seattle to Ketchikan, Alaska and then a short sea plane ride to the resort and you'll be reeling in monsters that you can  bring home in vacuum-packed bags. Did I forget to mention that they have professional fish cleaners and cutters right at the resort? Well they do and I have to say that I wish they had those when I went fly-in-fishing. It would have allowed me to spend a little more time relaxing after a long day on the water.