There is nothing more satisfying than sitting down to a warm bowl of soup.
These 25 Healthy and Delicious Soup Recipes are perfect for expanding your menu plan while staying healthy. There are healthy versions of classics, copycat versions of popular restaurant soups and of course some fun new twists on soup that we are sure you will love. Be prepared to mix up these soups and enjoy the smell of them simmering on the back of your stove.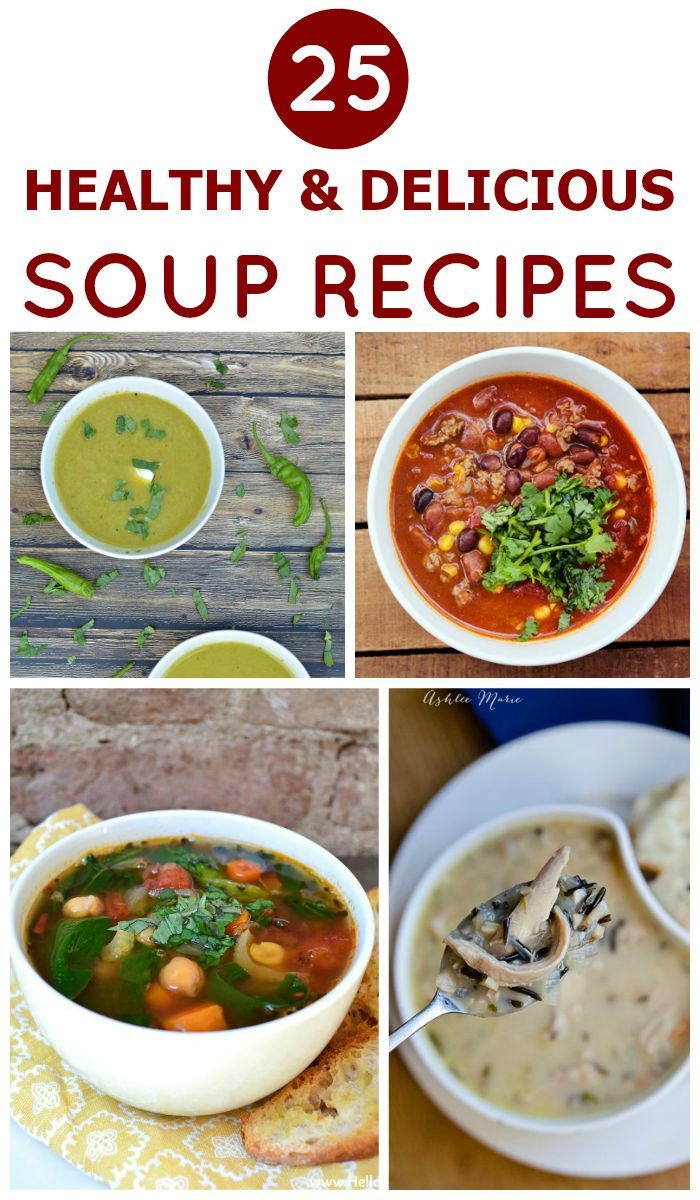 25 HEALTHY AND DELICIOUS SOUP RECIPES
Healthy soup recipes can be one of the best choices for meals to keep you in your diet. They are hearty and filling, and so easy to make healthy. Combining your favorite bright flavors with delicious broth, vegetables and pasta can create a lovely soup like we have included here.
There super low fat and low calorie recipes, there are recipes that are chock full of some of the best healthy foods. Antioxidant rich foods, low fat broths and great lean meats recreate classic recipes to become a healthy option for lunches and dinner.
Here they are, 25 healthy and delicious soup recipes to help keep you warm and full!
Vegetarian Bean Soup
Paleo Chicken Soup
10 Minute Roasted Red Pepper And Hummus Soup
Chicken And Sausage Gumbo
Chunky Vegetable Soup
Chilled Shisito Pepper Soup
Egg Drop Soup Recipe
Butternut Squash Soup With Lump Crab And Rosemary Mushrooms
Green Chicken Soup Recipe
Mexican Lime Soup with Chicken
Creamy Mushroom Soup
Taco Soup Recipe
Curried Carrot Tofu Soup
Gluten Free Fresh Tomato Soup
Slow Cooker Stuffed Pepper Soup
French Farmhouse Soup
Crockpot Chicken Posole
Turkey Gemelli Soup
Creamy Turkey And Wild Rice Soup
Chicken And Dumplings Recipe
Clam Chowder Recipe
Kitchen Sink Vegetable Soup
Vegetable Soup with Chickpeas And Kale
Butternut Squash Soup
Chicken Noodle Soup
Add these favorite healthy soup recipes to your menu plan this week to please not only your families taste buds, but your own dietary needs.