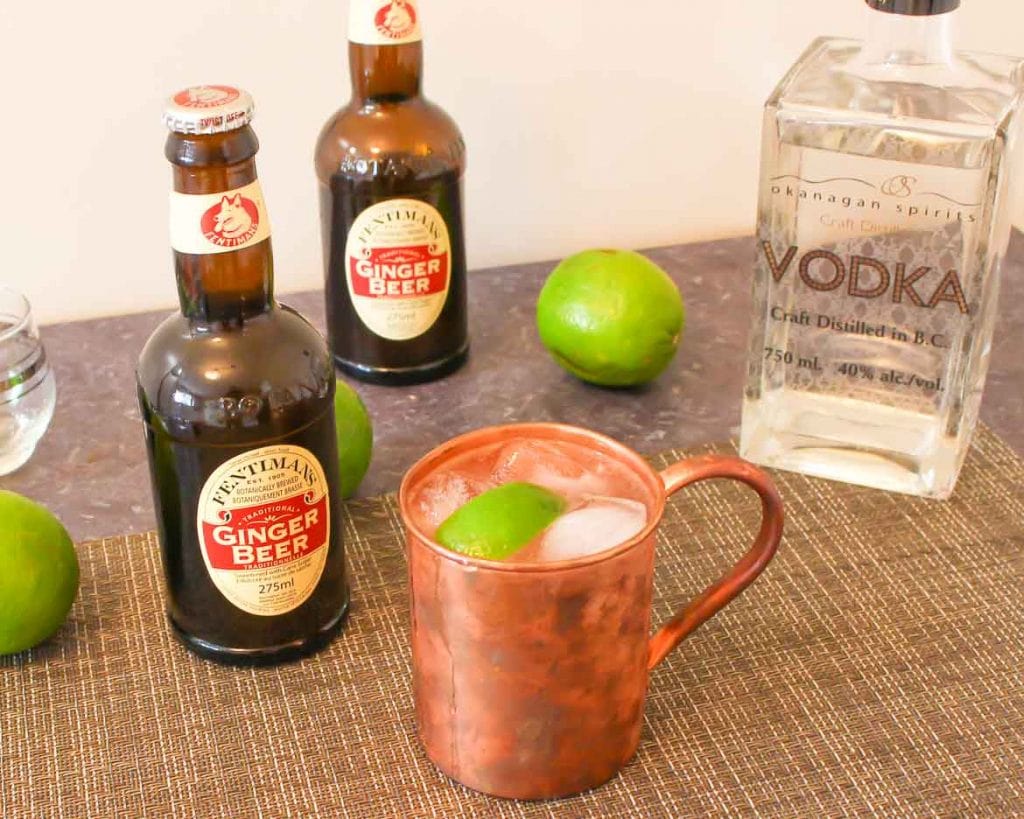 We love a simple cocktail made extra special, like this Moscow Mule with bitters!
A Moscow Mule is one of the simplest cocktails we make. It's made with only three ingredients most of the time, vodka, lime juice, and ginger beer.
We like to make ours a little special with a splash of bitters. Because a Moscow Mule is such a sweet drink normally, a dash of bitters helps to balance out that sweetness, and make that flavor a little more complex.
We love to use a high quality bitters, like Angostura Aromatic Bitters in this version of the classic Moscow Mule.
A great bitters like Angostura Aromatic makes all the difference!
This is one of our favorite cocktails, up right there with a traditional vodka and sprite with cranberry cocktail or a fresh, summery cherry and blueberry sangria!
Why does a Moscow Mule have to be in a copper cup?
A copper cup definitely makes a Moscow Mule look pretty, and it does a good job of keeping the drink cool as well.
A copper cup is also traditionally the way a Moscow Mule is served. The cup makes the simple mixture of vodka, ginger beer and lime a little more special.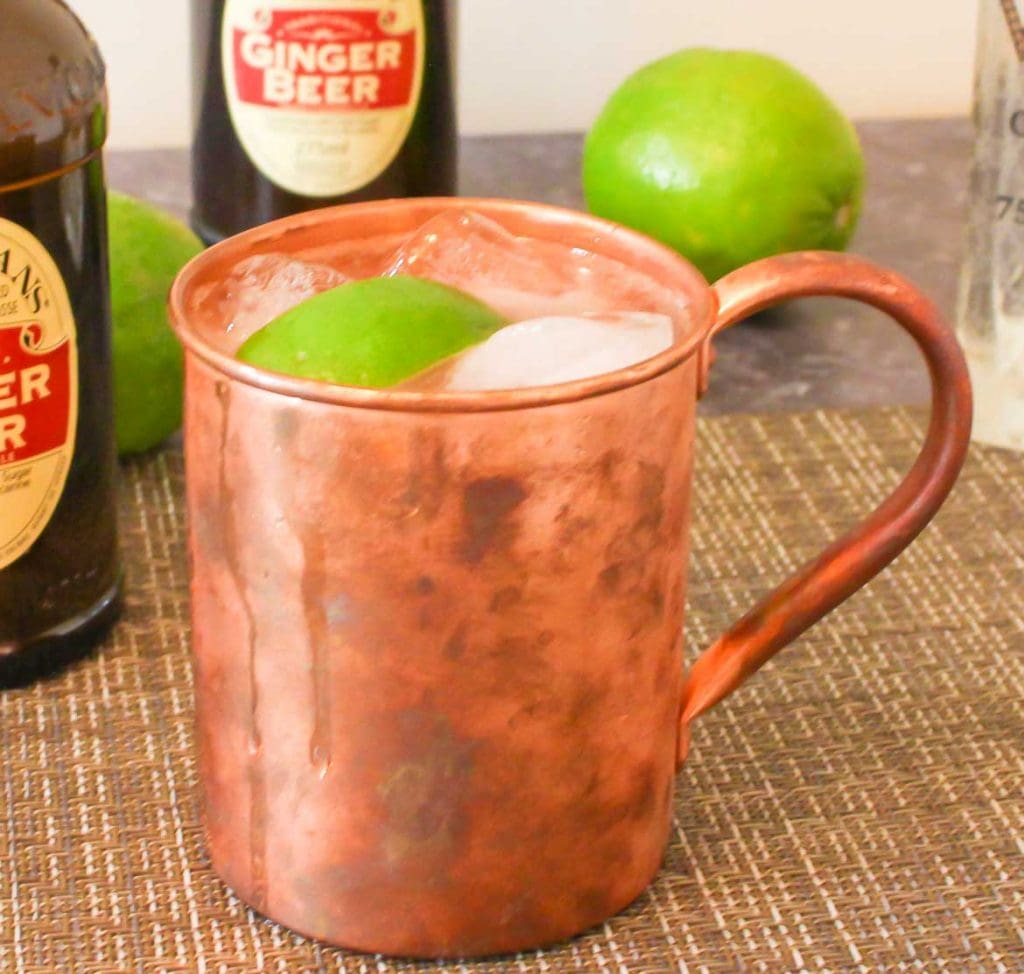 Why is it called Moscow Mule?
The Russian Mule was created in the 1940's. At the time, vodka wasn't a popular drink, and it was generally considered to be a Russian Spirit.
The story goes that one day a somewhat unsuccessful vodka seller met up with a bartender who wasn't able to sell much ginger beer. The two came up with idea to combine vodka and ginger beer.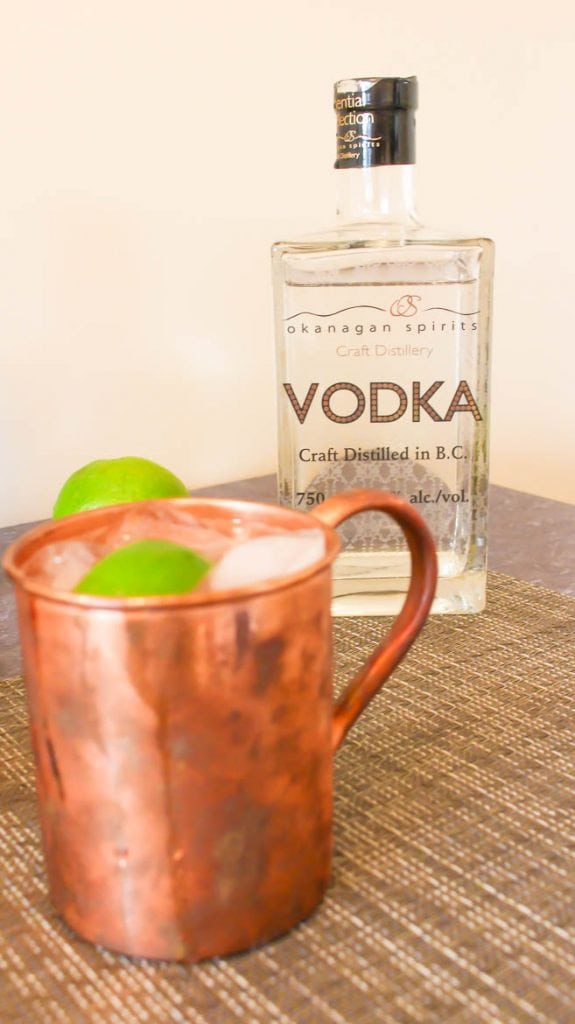 They named their new vodka and ginger beer drink the Moscow Mule because of the association of vodka with Russia, and Mule was added because it was said the ginger beer added a kick of flavor.
A Moscow Mule is sometimes called a vodka buck.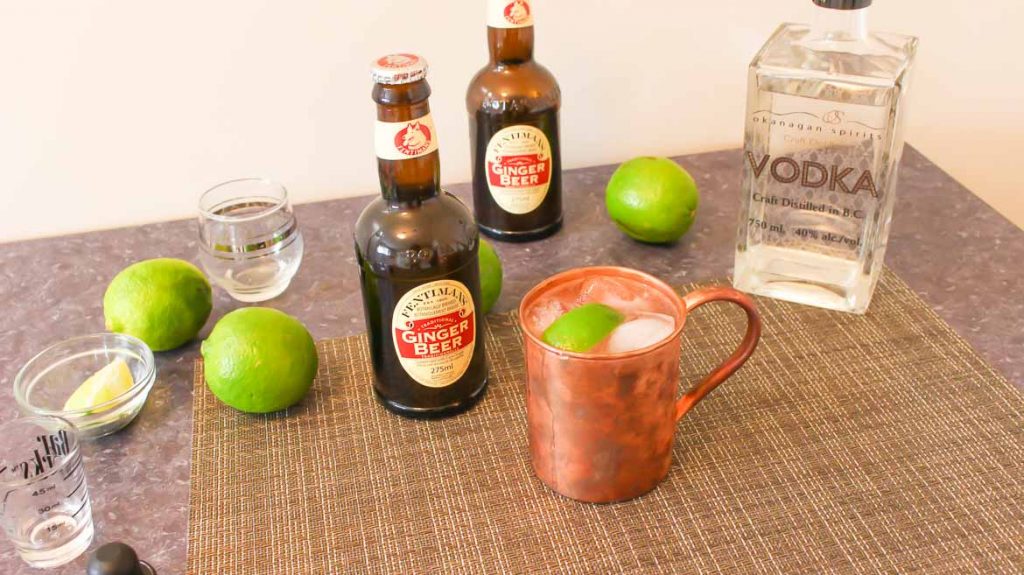 Can you use ginger ale for Moscow Mule?
Yes, you can substitute ginger ale for ginger beer in a a Moscow Mule. However, you might find that the already sweet Moscow Mule becomes overly cloyingly sweet with ginger ale.
Here's what you'll need to make a Moscow Mule
How to make a Moscow Mule
To make a Moscow Mule, file a copper mug with ice. Add lime and vodka. Top with ginger beer, swirl to stir, and garnish with lime. So simple!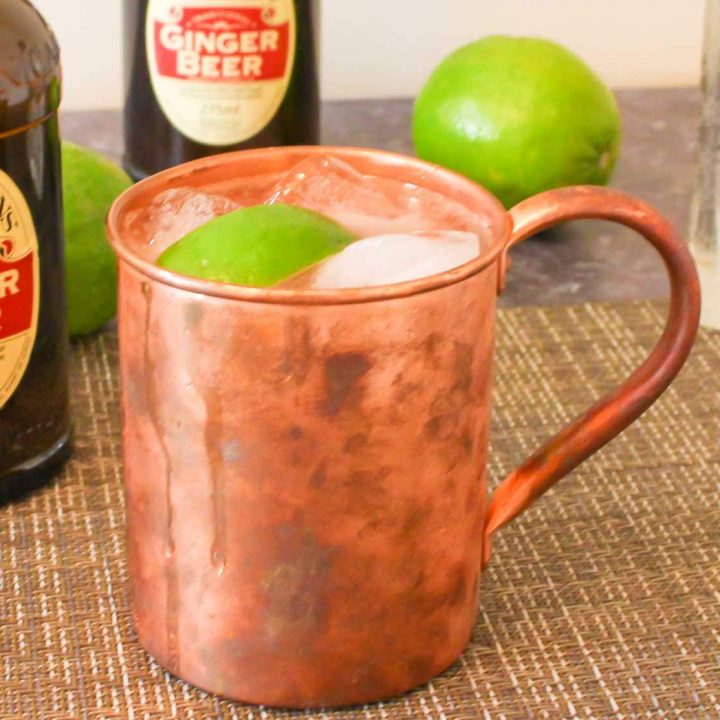 Moscow Mule with Bitters
This special version of the Moscow Mule is made a little unusual with bitters!
Ingredients
ice
2 oz vodka
1/2 fresh squeezed lime
1/2 cup ginger beer
1 lime wedge, for garnish
splash of quality bitters
Instructions
Squeeze 1/2 lime.
Fill copper mug with ice.
Add vodka and lime.
Fill to top with ginger beer.
Add a splash of bitters.
Mix to stir.
Garnish with a wedge of lime
Nutrition Information:
Yield:

1
Serving Size:

1
Amount Per Serving:
Calories:

221
Total Fat:

0g
Saturated Fat:

0g
Trans Fat:

0g
Unsaturated Fat:

0g
Cholesterol:

0mg
Sodium:

11mg
Carbohydrates:

27g
Fiber:

3g
Sugar:

18g
Protein:

1g
All information and tools presented and written within this site are intended for informational purposes only. I am not a certified nutritionist and any nutritional information should only be used as a general guideline.