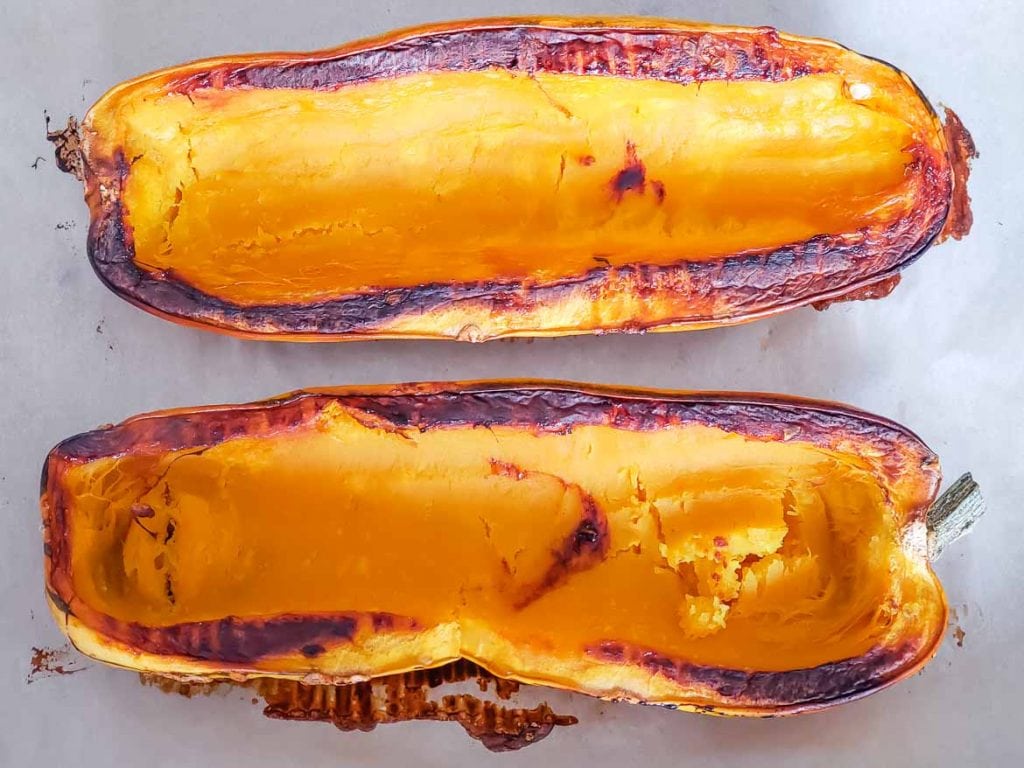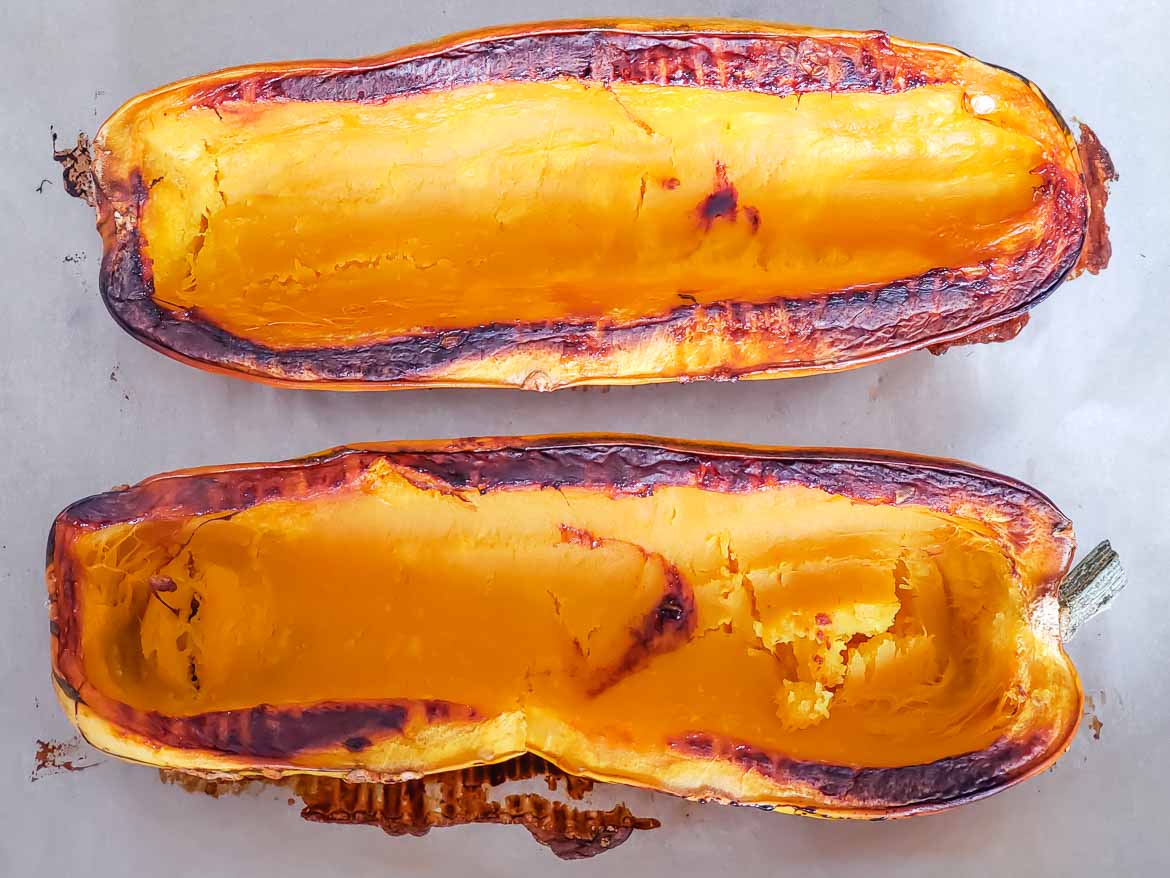 This oven roasted delicata squash is one of my favorite ways to cook delicata squash.
Baked delicata squash halves are deliciously sweet, creamy and perfect. They're perfect to eat on their own as a side dish, or delicious when incorporated in a savory delicata squash recipe like delicata squash soup.
This winter, we're trying to eat more winter squash. They're so much fun to grow in our vegetable garden in the summer, and they keep beautifully for months in the winter. If you buy them in the store, winter squash are packed with nutrients, and an affordable choice in the supermarket.
One of my very favorite types of squash is delicata.
What is Delicata squash good for?
Delicata squash is perfect baked eaten as a side dish with butter, salt and pepper. It's also delicious in almost any recipe where you'd use another squash, like a ravioli filing or soup.
Can you eat the skin of delicata squash?
Yes, you can eat the skin of delicata squash, as it's much thinner than other squash varieties. I'm really not a fan of the skin, so I only eat the yellow/orange flesh of the squash.
What does a Delicata squash taste like?
Delicata squash is one of the sweetest squashes that I've ever tasted. It's sometimes called sweet potato squash, and it tastes a little like a combination of butternut squash and sweet potato.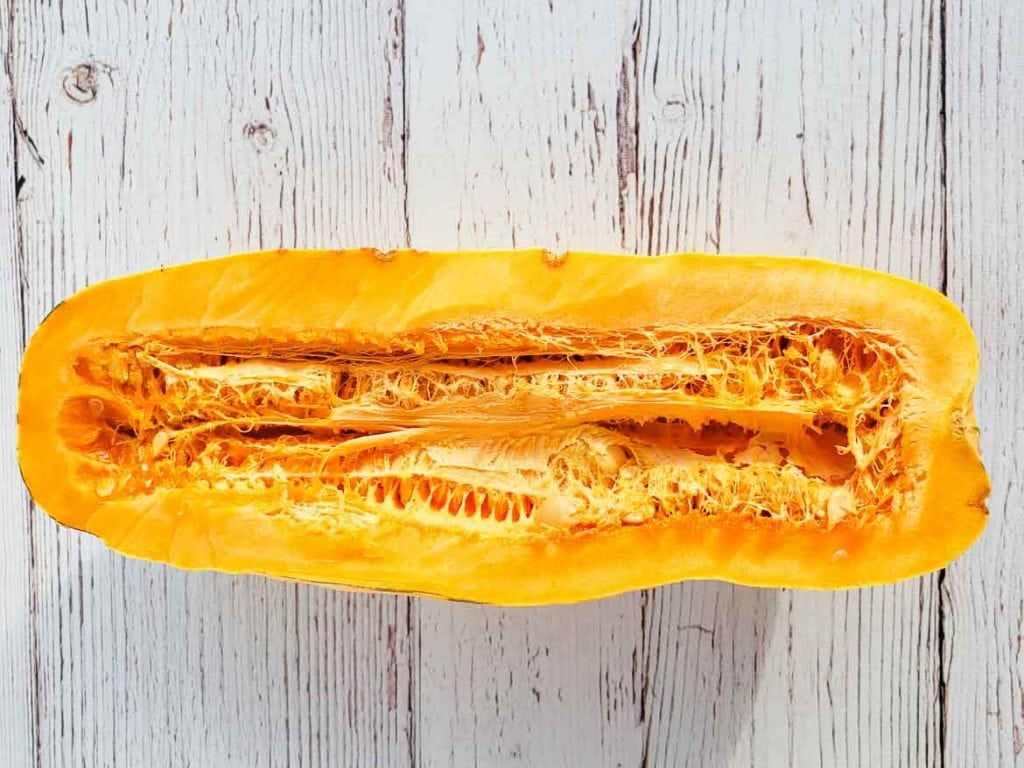 What is a substitute for Delicata squash?
You can substitute butternut squash, sweet potatoes, buttercup squash, or acorn squash for delicata squash. My favorite substitute when I'm cooking delicata squash is butternut squash.
When can I buy Delicata squash?
I've never seen delicata squash in our neighborhood supermarket, unfortunately, but you may have better luck. I've picked up my delicata squash through my local organic grocer, but you may also be able to find it at farmer's markets. Delicata squash is in season from late summer through fall, into early winter.
Because delicata squash has a thinner skin than some other winter squash, so it doesn't last as long as thicker-skinned winter squash varieties like acorn squash. Because of this, you may not be able to find it in late winter, spring, or early summer.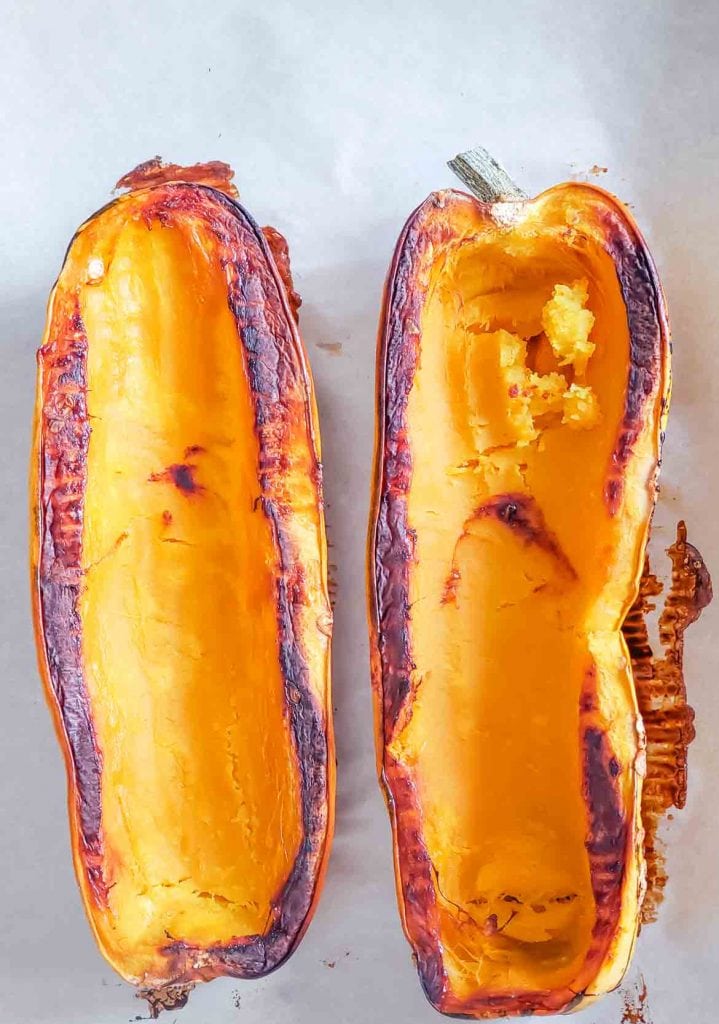 How do you cut open a delicata squash?
To cut a delicata squash, slice in half lengthwise. To make cutting a bit easier, trim the ends before cutting. Remove the seeds with a spoon.
Baked Delicata Squash Recipe
This is such an easy delicata squash recipe!
Pan roasted delicata squash is a simple, and easy way to enjoy this special vegetable. It brings out the richness of the yellow squash, and the roasting really compliments the sweetness of the squash.
Here's what you'll need for this recipe to roast a delicata squash:
1 delicata squash
baking sheet
parchment paper
There's no need to use oil in this recipe, as the parchment paper keeps the delicata squash from sticking to the baking sheet. No oil makes this a whole food plant based no oil no salt side dish recipe (as long as you don't use the optional butter or salt in the recipe)!
How to cook delicata squash
Preparing delicata squash is so simple, too! Just wash the delicata squash, and cut in half lengthwise.
Scoop out the seeds, using a spoon.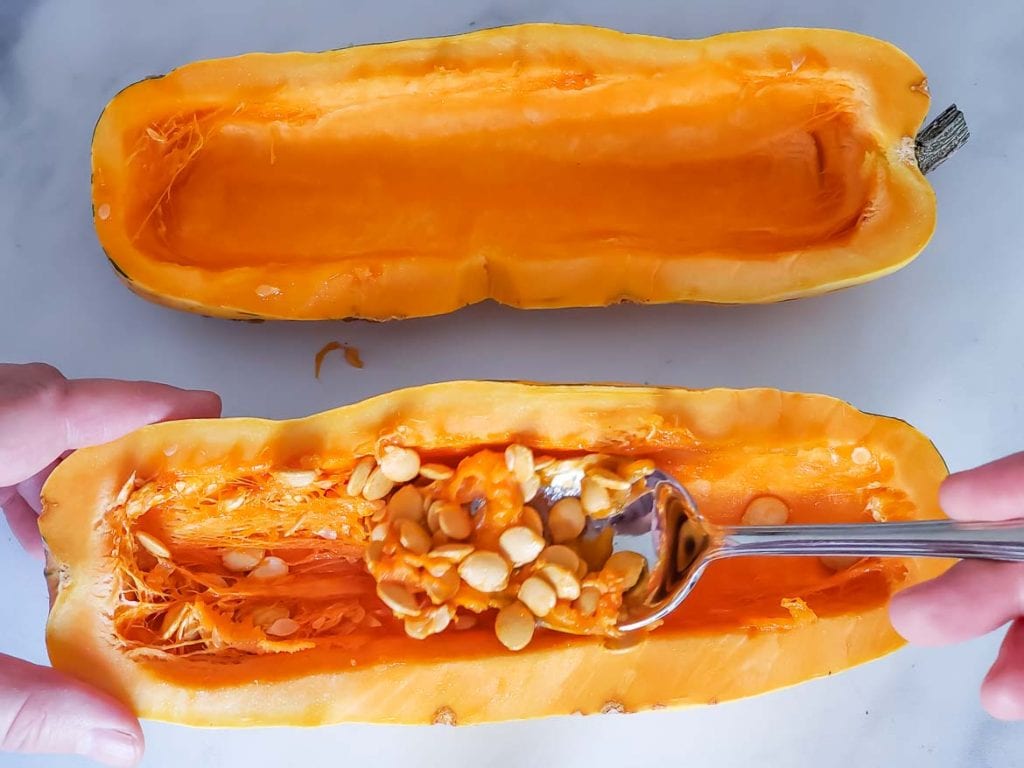 Place the squash, cut side down, on parchment paper on a baking sheet.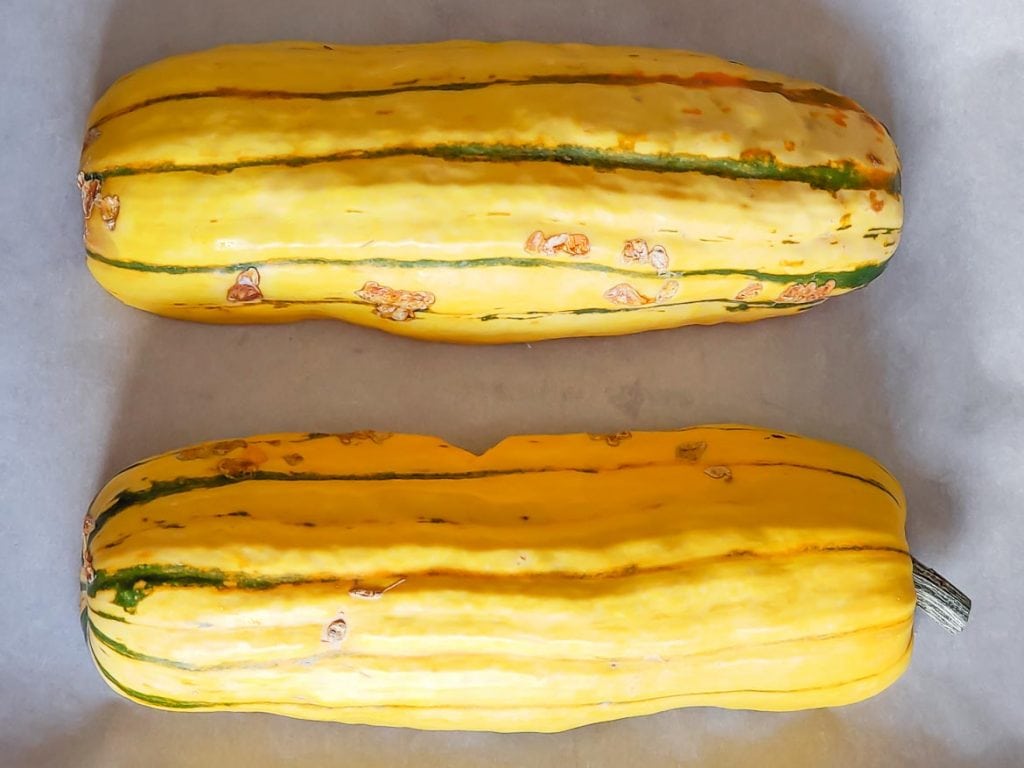 When roasting halves, the delicata squash cooking time is about 40 minutes.
Bake for 35 to 45 minutes at 375 F until done, or until it's soft when pierced with a fork.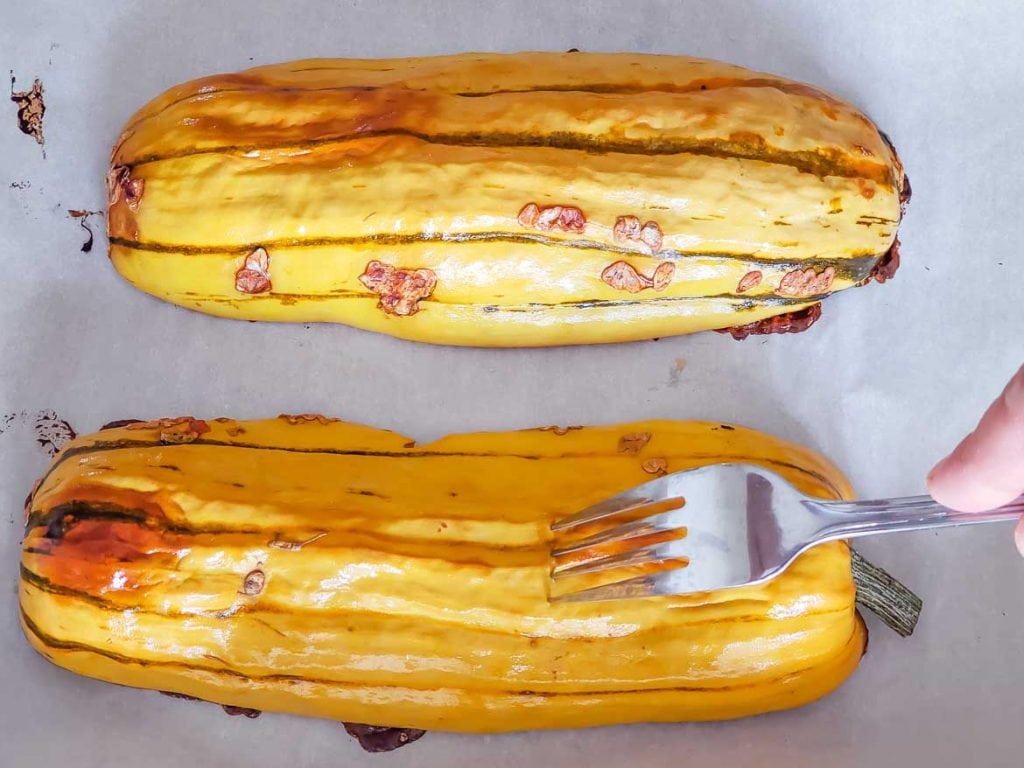 Enjoy!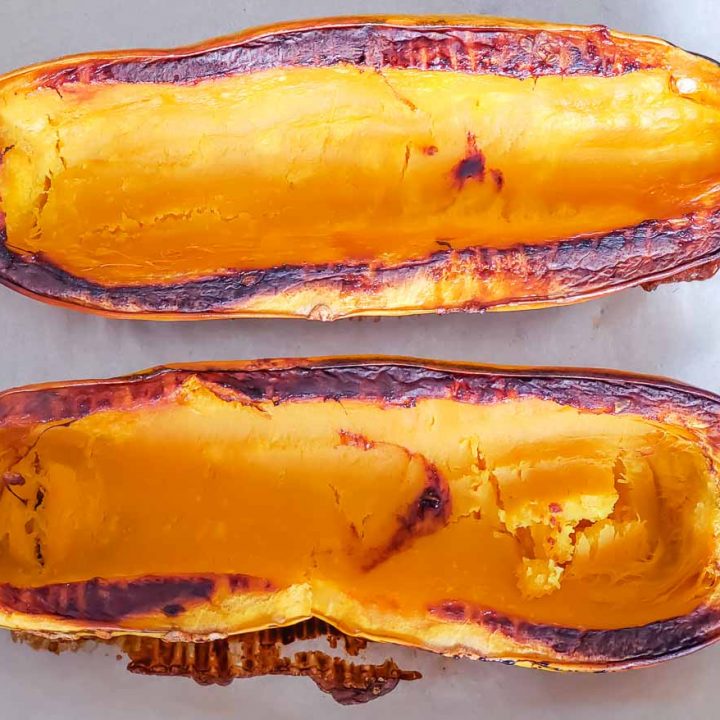 Oven Roasted Delicata Squash
This easy baked delicata squash is roasted in the oven for a perfectly caramelized, sweet and creamy taste.
Ingredients
1 delicata squash
salt and pepper, to taste (optional)
Instructions
Preheat oven to 375 degrees F.
Wash the squash.
Cut the squash in half lengthwise. If the squash is hard to cut, trim the ends first.
Scoop out the seeds and string with a spoon. Discard.
Place the squash, cut side down, on a parchment covered baking sheet.
Bake 35 to 45 minutes, or until the squash is tender when pierced with a fork.
Remove from oven, and cool for five minutes.
Serve as is, or scoop out flesh.
Sprinkle with salt and pepper, to taste.
Add 1 tbsp butter to each half, if desired.
Nutrition Information:
Yield:

4
Serving Size:

1
Amount Per Serving:
Calories:

19
Total Fat:

0g
Saturated Fat:

0g
Trans Fat:

0g
Unsaturated Fat:

0g
Cholesterol:

0mg
Sodium:

74mg
Carbohydrates:

5g
Fiber:

1g
Sugar:

2g
Protein:

0g
All information and tools presented and written within this site are intended for informational purposes only. I am not a certified nutritionist and any nutritional information should only be used as a general guideline.