This post is brought to you by the fun folks with California Pizza Kitchen CPK .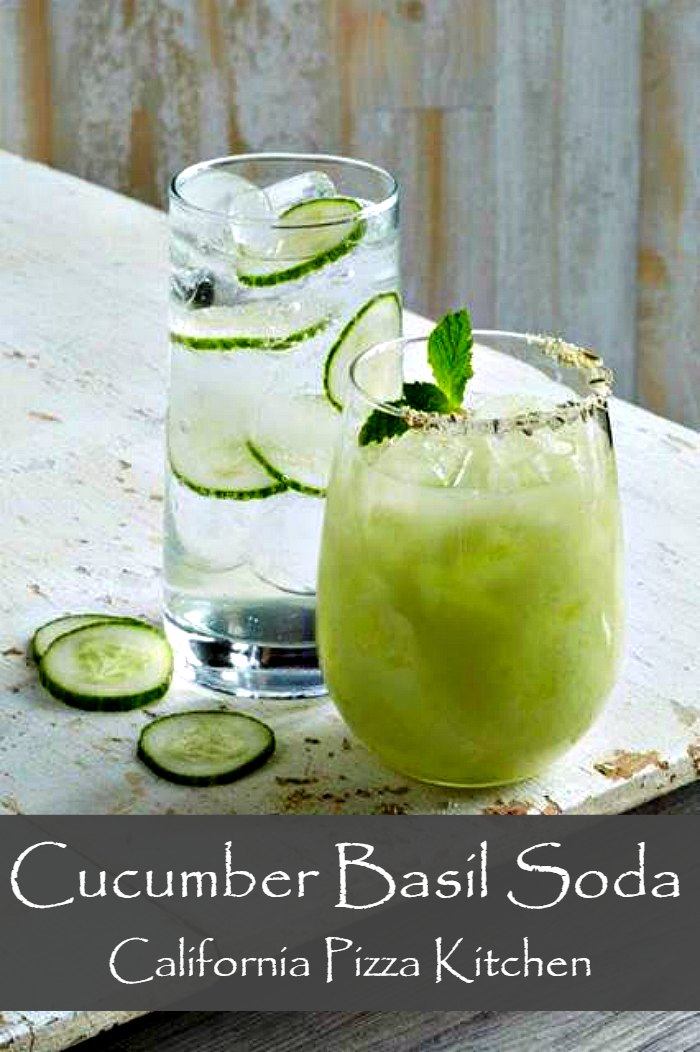 It's no secret I'm a huge California Pizza Kitchen fan.
I LOVE their menu – it's classic with a great twist of fresh and modern. Which means that an adventurous eater like me can get something fun and new (pear and Gorgonzola pizza, anyone?), but my kiddos can enjoy a classic, creamy fettuccine Alfredo.
So I was thrilled to see their tasty new cocktail recipes. The California Pizza Kitchen's vodka-based California Roots Cocktail and non-alcoholic Cucumber Basil Soda are perfect for hot summer days.
I'm such a fan of any cool drinks that are a good alternative to soda, so the cucumber basil soda was a huge hit!
The classic (and non-alcoholic) famous Cucumber-Basil Soda is filled with thinly-sliced cucumbers, fresh basil leaves and sweet homemade syrup.
And remember what I was saying about innovative? The California Roots is definitely that – it's made with fresh avocado and mint, vodka, fresh Agave Sour, a fennel salt rim.
You can learn how to create CPK's newest Next Chapter party-friendly beverages and more amazing seasonal recipes in CPK's latest cookbook Taste of the Seasons. You can buy Taste of the Seasons in all CPK restaurants.
Best of all, the CPK favorites are super easy to make at home. You'll find recipes below, but first a chance for you to win! 
$25 California Pizza Kitchen Gift Card Giveaway
Just enter below for your chance to win a $25 CPK e-gift card and CPK Taste of the Seasons cookbook of your very own!
Contest is open only to residents of the USA, and closes June 15, 2015.
The Parent Spot is not responsible for prize fulfillment.
CPK Cucumber Basil Soda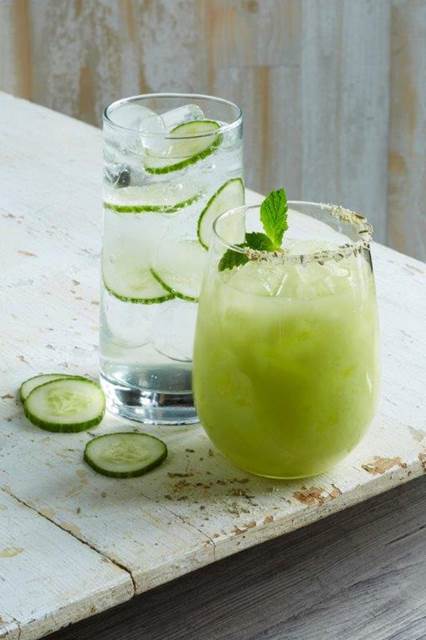 Makes: 12 servings
Ingredients
1 cup granulated sugar
1 cup water
1 medium cucumber, thinly sliced
12 large basil leaves
9 cups of soda water, chilled ice
cucumber slices and fresh basil leaves, for garnish
Directions
In a medium saucepan, combine sugar and water over medium heat. Cook, stirring occasionally, until sugar is dissolved and mixture just comes to a boil, about 5 minutes.
In a small bowl muddle the cucumber and basil leaves with the back of a wooden spoon. Add to the hot syrup. Cover and let steep for 30 minutes. Strain the syrup, pressing the solids through a fine-mesh strainer to release the flavors. Discard solids.
For each serving, combine 3 tablespoons of the syrup with ¾ cup soda water in an ice-filled glass. Stir gently to combine. Garnish with cucumber slices and a basil leaf.
Note: Cucumber-basil syrup can be stored in a tightly sealed container in the refrigerator for up to three days.
California Roots Cocktail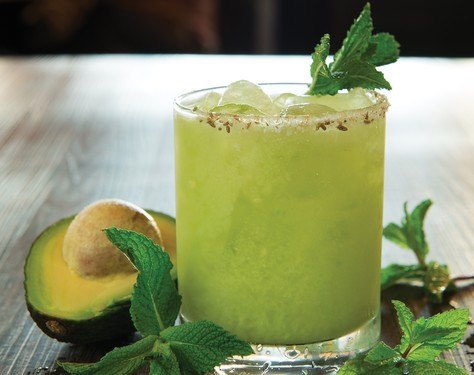 Makes: 1 drink
Ingredients
Lime wedge
Fennel salt
1 ½ ounces vodka
1 ounce fresh agave sour
½ ounce agave nectar
¼ of a ripe avocado, mashed ice
Mint sprig
Directions
In an electric spice grinder (or clean coffee bean grinder), combine 1 tablespoon kosher salt and 1 tablespoon fennel seeds. Blend until fennel seeds are coarsely ground, about 5 seconds. Store at room temperature in an airtight container.
Run the lime wedge around half of the rim of a 6- or 8-ounce old fashioned glass. Spread some fennel salt on a small plate or shallow dish. Dip moistened half of rim in salt. Fill glass with ice. Fill cocktail shaker with ice, add vodka, fresh agave sour, agave nectar and avocado. Cover and shake vigorously, until avocado is completely incorporated with mixture. Strain into prepared glass. Garnish with mint sprig and serve immediately.
ENJOY!
Want to learn more?
You can connect with CPK on the CPK website, Facebook, Twitter, Instagram or Pinterest.
You can even pick up the CPK Pizza Dough Rewards on iTunes or Android, and get a FREE small plate when you register!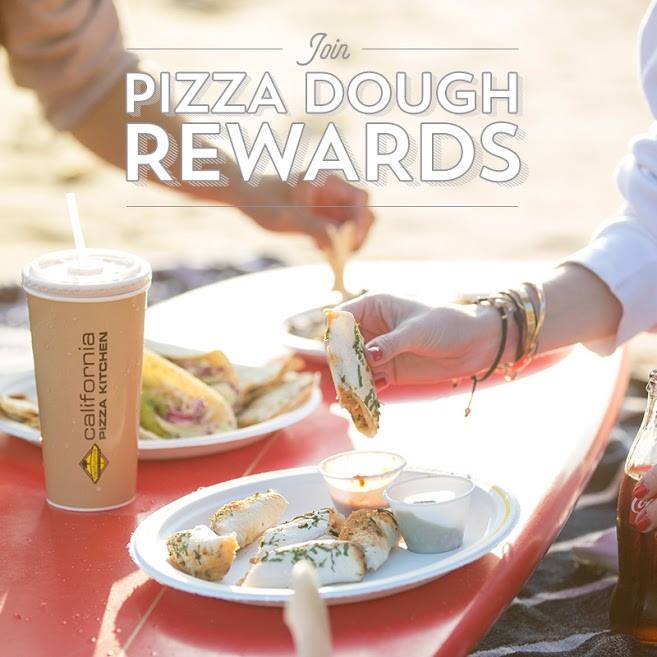 ">