Disclosure: I am part of the PTPA Brand Ambassador Program with Kobo and I received compensation as part of my affiliation with this group. The opinions on this blog are my own.
Are you a book lover like me?
I used to spend a lot of time curled up reading a great book. Then, I had two kids, and a husband, and an aging cat, and somehow life got a lot busier.
Kobo Glo HD Review for Moms
I still make time to read, but it's usually in shorter stretches when I can steal a minute.
Like when I'm relaxing on the grass watching my kiddos play on the local playground. Or during their skating lessons, or after they're in bed.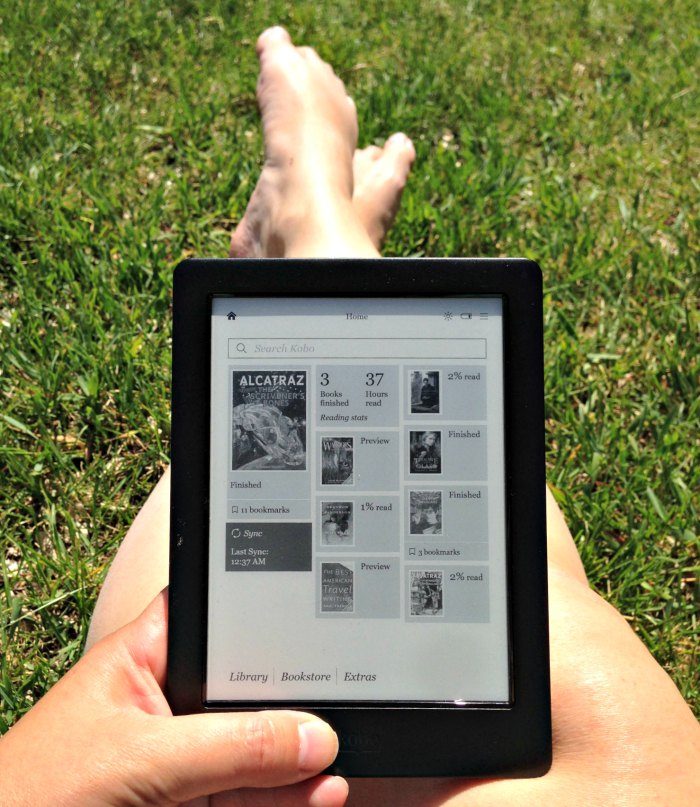 You can usually find me dragging along a (way to heavy!) pile of books anywhere I go.
I have to admit I'm a bit of a traditionalist when it comes to books, and I've resisted getting an e-reader for a long time.
Books are such an important part of my daily self care checklist as a busy mom!
I thought that an e-reader might be harder on my eyes. I hate reading books on my iPhone at night because of the harsh back light. Plus, reading books on my smartphone in bright sunlight is so difficult, because of the screen glare.
I thought that an e-reader might just be one of those gadgets that gathers dust.
That is, until, I got my hands on the new KoboGloHD.
Check out how amazing it looks in bright sunlight. It's so easy easy on the eyes in bright light, and easy to read at night.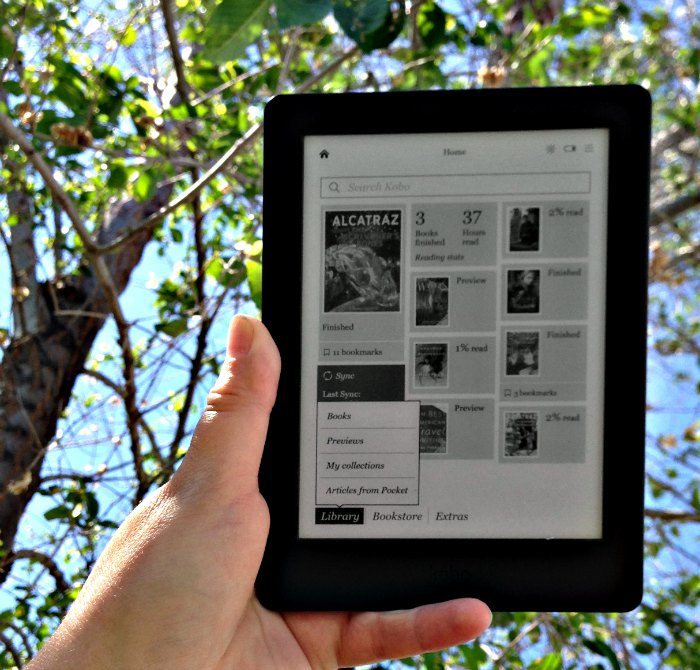 I've been using the KoboGloHD for about a week now, and I'm in love. How come I didn't do this sooner?
It can store up to 3,000 eBooks, and carry my entire library wherever I go. I can read an entire eBook or more on a single charge, and the battery lasts up to to months.
Plus, as long as I'm in range of Wi-Fi (which is pretty much all the time, to be honest) I can access Kobo's 24/7 eBookstore.
Note: you don't need Wi-Fi to read the books you've already downloaded, so you can read anywhere you are!
The KoboGloHD is incredibly light, so it's easy to just throw in my purse and carry with me. MUCH easier than carrying the pile of books I used to tote around!
Want to learn more?
The KoboGloHD has a 6" HD Carta E Ink touchscreen with fully adjustable ComfortLight and the convenience of adjustable fonts, sizes and margins.
Kobo Glo HD Owners can use Kobo Welcome, the first ever free concierge service for tips on getting started, eBook recommendations, great deals and more. Kobo Welcome is exclusive to Kobo Glo HD owners, and is available 9 am to 9 pm local time, seven days a week.
You can connect with Kobo on their website, Facebook, Twitter, Instagram, and Pinterest.
Have you tried the Kobo App?
If you don't have a Kobo yet, try out the Kobo App. It can be used on many devices, making reading easy and accessible, and it's available on iOS, Android, Blackberry 10, Windows 8 or Windows 8 Phone or Desktop Computer.
What's in my Kobo Library?
I do have to admit that it was a chore to pick just a few books to show you today. I. Want All. The. Books.
Now admittedly, I picked Wild after seeing the movie (hello, how awesome is Reece Witherspoon, by the way?). I think the book might just be better than the movie.
Wild (Oprah's Book Club 2.0 Digital Edition) From Lost to Found on the Pacific Crest Trail
Ah – sigh, this next book was a no brainer. I adore great travel writing. This book (The Best American Travel Writing 2014) had me with the first sentence, from the first story, by Elif Batuman "Last September, at a hospital in Eastern Croatia, my father and I visited a collection of some 400 human kidneys. Most had belonged to the victims of some mysterious, fatal kidney disease".
How can you NOT want to find out what happened here? Why on earth were they looking at the kidneys? What was the disease? Have they cured it yet? Who would have a collection of 400 kidneys? I can't wait to find out.
The Best American Travel Writing 2014
Like a lot of other techies, I've had a fascination with Steve Jobs for a long time. I've read all about his vision and supposed genius, and all about his rebellious streak. I picked Becoming Steve Jobs up because it looked like a well-researched and thorough look into HOW Steve Jobs became THE Steve Jobs.

Becoming Steve Jobs The Evolution of a Reckless Upstart into a Visionary Leader
I blame wanting to read The Secret Life of Bees on Oprah. Fan or not, she does have pretty damn good taste in books. Plus, I love bees.
The Secret Life of Bees by Sue Monk Kidd
This is where things start to get really nerdy. I first heard about Nassim Nicholas Taleb when I picked up his book the Black Swan a few years back. It was good enough to make me instantly curious about anything else he's penned.
Here's a little bit from the synopsis for Antifragile "Just as human bones get stronger when subjected to stress and tension, and rumors or riots intensify when someone tries to repress them, many things in life benefit from stress, disorder, volatility, and turmoil. What Taleb has identified and calls "antifragile" is that category of things that not only gain from chaos but need it in order to survive and flourish."
Be forewarned, though, this likely isn't a light read.
Antifragile Things That Gain from Disorder by Nassim Nicholas Taleb
Jared Diamond first caught my eye back in university when I read his classic, The Third Chimpanzee. I've read a few snippets of his work throughout the years, and I'm always impressed with how he manages to make complex, scholarly subjects so easy to relate to and engaging.
Here's what the synopsis has to say about The World Until Yesterday: "The World Until Yesterday provides a mesmerizing firsthand picture of the human past as it had been for millions of years—a past that has mostly vanished—and considers what the differences between that past and our present mean for our lives today."

The World Until Yesterday What Can We Learn from Traditional Societies? by Jared Diamond