Want to find the best Dyson vacuum for pet hair?
Here's our spoiler, the best Dyson for pet hair is the Dyson Ball Animal 2. I've never used a vacuum that is so excellent at picking up pet hair, even if it's ground into the carpet or couch. That said, the Dyson Ball animal has a cord, and it's pretty heavy and bulky to use! Keep reading for more details.
See prices and more for the Dyson Ball Animal 2 on Amazon here now.
As a family of four, we tried the The Dyson Ball Animal 2, and we share how well it worked for pet hair removal (spoiler, like a charm!). The biggest disadvantage we found with this vacuum was that it was heavy and a bit tiring to use and carry around, but it worked like a charm to remove pet hair from carpets and furniture.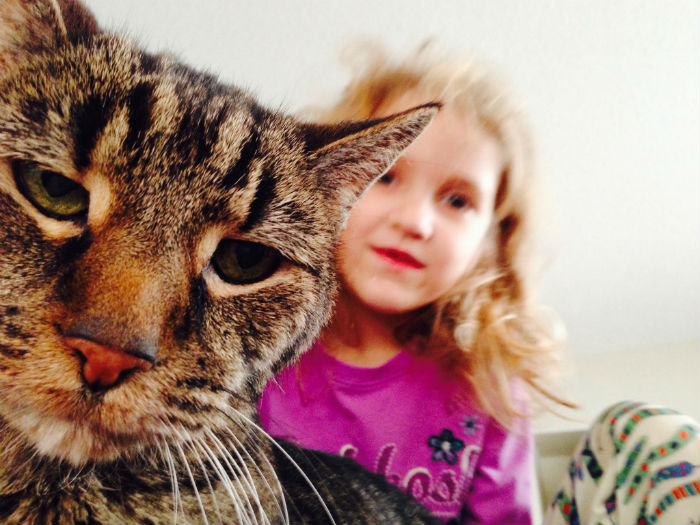 Honestly, the amount of mess, hair and fur my family and pets produce is mind-blowing.
The Best Dyson Vacuum for Pet Hair
Even though we clean pretty regularly, it seems that fur and mess are everywhere. My little girl somehow manages to get her golden hair embedded deep into our couch cushions. To top it off, there's cat fur everywhere. And I mean everywhere.
I even sometimes find cat fur on the toilet seat. Honestly, how does that happen? Is my kitty using the washroom secretly at night while we sleep?
I've been looking for a solution for a while, but no matter how much hubby and I vacuumed and swept, it seemed like we could never remove all of the fur and hair.
Have Pet Fur All Over Your House? Here's our tip: Get a Dyson!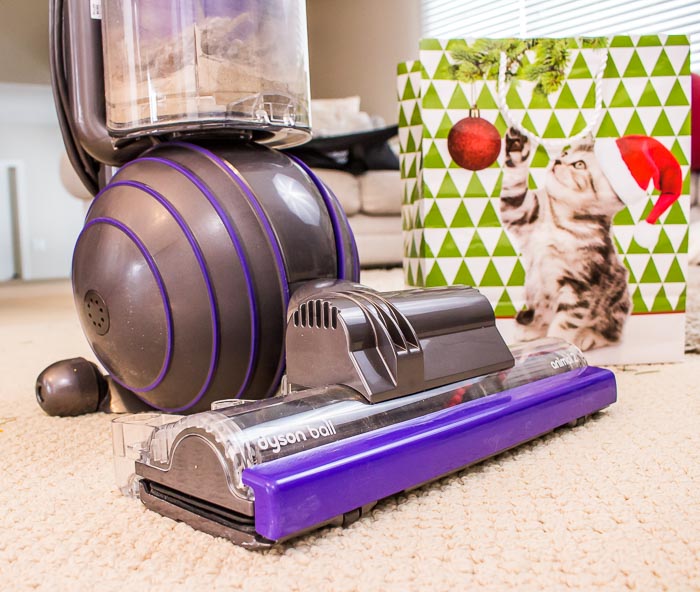 Luckily for me, Dyson reached out a few months ago to try out their new Dyson Ball Animal 2. You can check out our first impressions here.
We'd heard the Ball Animal 2 is the best Dyson vacuum for pet hair, so we jumped at the chance to try it out!
Now that we've been using this Dyson pet vacuum for a couple of months, I can say this: Dyson Ball Animal 2 Vacuum is a pet fur and mess destroying monster.
Click to see prices and reviews on Amazon for the Dyson Ball Animal 2.
Tangle Free Turbine Tool
Of course, pet fur and mess aren't limited just to floors. Wouldn't that be nice! Our pets, and our kids, are more than happy to spread their messes all over our couches as well.
Luckily, there's a tangle free turbine tool attachment that's perfect for these messes.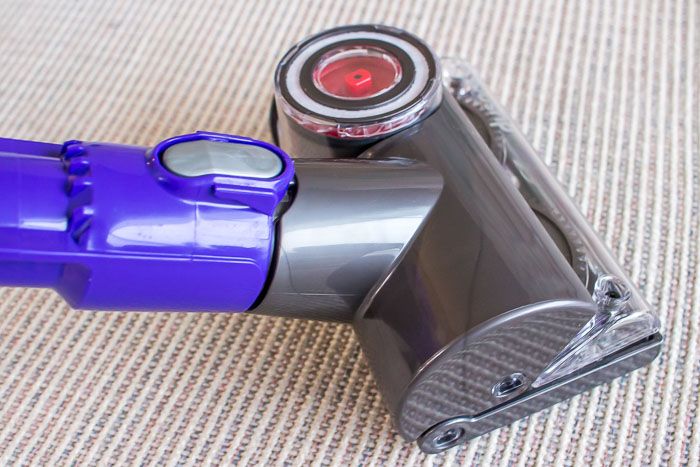 This is a pretty cool tool. Do you know how traditional brush heads just get long hair wrapped around them?
Well, the tangle free turbine tool removes hair without tangling. The heads are positioned so that the brushes reach to the front and sides of the tool. That means that dirt and hair are drawn in from all directions.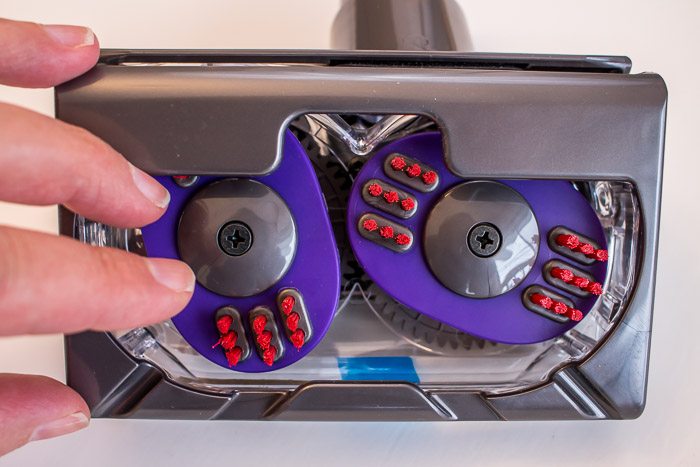 Pretty slick, right? I tried the tangle free turbine tool on our older couch, and I was amazed at how much embedded hair it pulled out. It even managed to get out my little girl's long golden locks that were embedded in the cushions for ages. I'd tried almost everything, from our old vacuum, to lint rollers, to pulling them out by hand, and nothing else had worked.
That's a win for the Dyson for sure!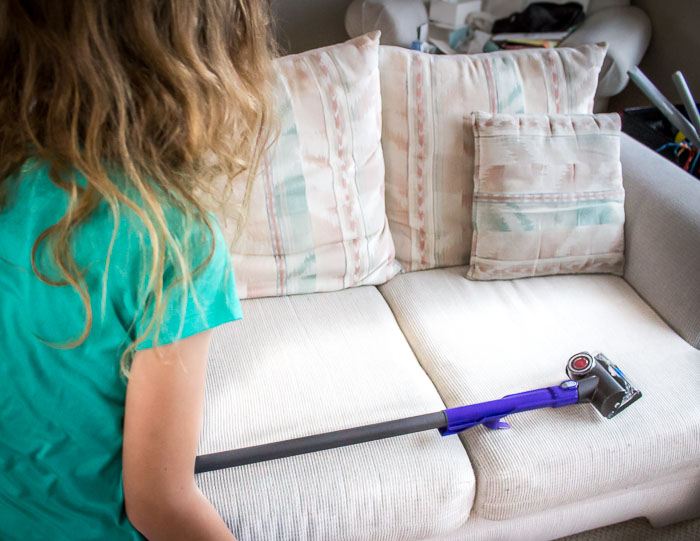 Carpet, lino, hardwood and more!
We have a four level split house, with different types of wood, lino and carpet on each level. It's definitely a challenge to keep clean, especially with a busy family, pet fur, and shoes covered in snow and dirt tromping into the front and back entrance.
Here's my favorite part: I never have to change cleaning heads, when going between lino, carpet or wood floors.
The Dyson Ball Animal 2 has a cleaner head that self adjusts to go from carpet to hard floor and back again. That means that there's no switching out cleaning heads, which saves me and hubby a ton of time and hassle.
Even better, it seems to grab pet hair equally well, whether the surface is carpet, lino or hardwood.
The Dyson Groom tool
If you have a dog, the Dyson groom tool is heaven sent. It would work well with a kitty who allows grooming as well (but good luck finding a kitty that likes to be vacuumed!)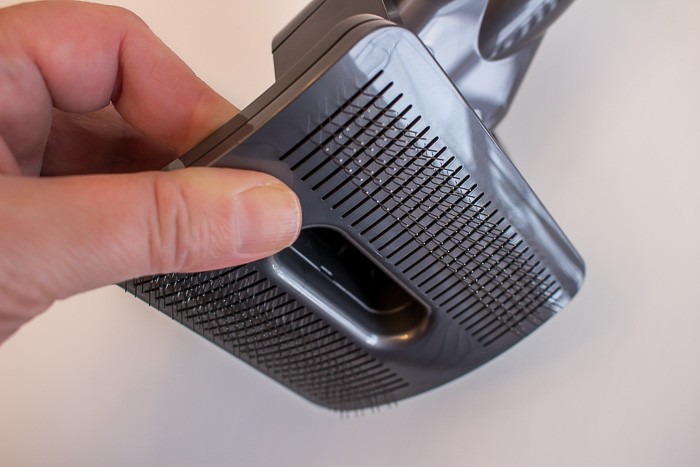 You just add the groom tool attachment, turn on your vacuum, and brush your dog like normal. The tool has wire bristles, and the bristles plus suction pick up loose fur, dander and other allergens.
So how much does the Dyson actually pick up?
I'm in awe of how much this vacuum sucks up. It's seriously impressive.
I set it to work on our living room (about 600 square feet), complete with a shag area rug, an older Berber carpet, and a set of eight stairs. See that canister below? That's how much mess and pet fur the Dyson pet vacuum picked up. And hubby had vacuumed a few days earlier!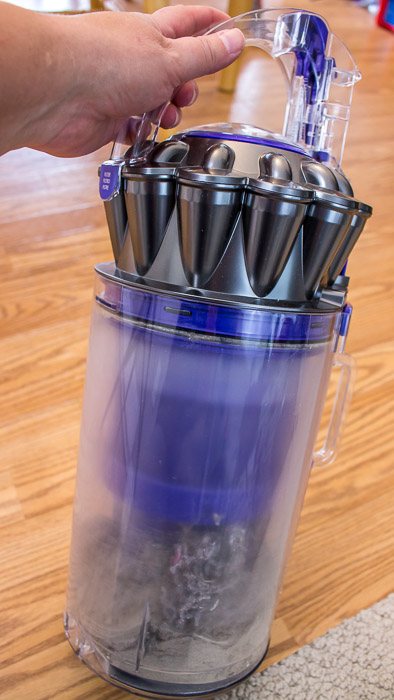 Who would love the Dyson Ball Animal 2 most?
If you have a home with lots of pet fur or family messes, this is the vacuum for you.
It's a fair bit heavier than our cordless Dyson V6 Absolute, and it does take a bit of muscle to push it across our carpet, because the suction's so strong. That said, our 12 year old son was able to manage it pretty easily.
The trade off is that it's at least a bazillion times more powerful than any other vacuum we've owned. This vacuum sucks up so much cat fur that it's almost impossible to tell that we have a kitty in the house.
Dyson Ball Animal 2 attachments
The Animal 2 comes with a full suite of attachments, including the grooming brush for pets, an articulating hard floor tool, our beloved tangle free turbine tool, a stiff handle brush, a stair tool, and a combination tool (not shown).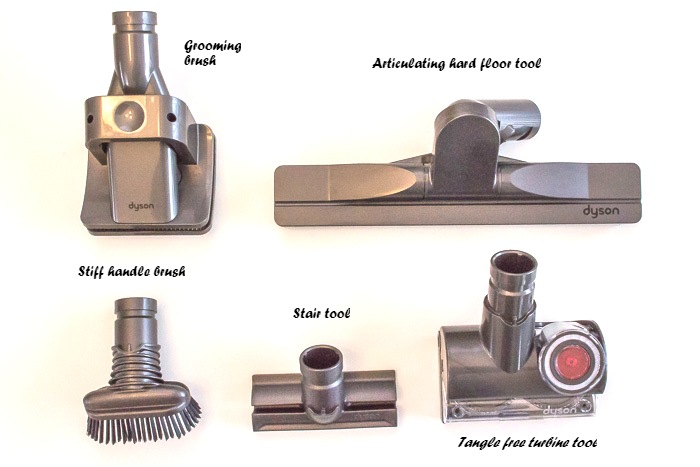 Want to learn more?
Learn more about the Dyson Ball Animal 2 here.
Click to see prices and reviews on Amazon for the Dyson Ball Animal 2.
You can follow Dyson for the latest updates, deals, and news on Facebook, Twitter, and Instagram.