Learning how to choose an electric shaver that's easy to use, comfortable, and that doesn't leave razor burn is a surprisingly important skill.
Shaving is one of those annoying things in life that just doesn't end. Even if you have a light beard, you're still probably shaving every two or three days to keep the stubble in check. Have a heavier beard? Then you're probably shaving every day.
How to Choose an Electric Shaver
Since shaving is such an important part of your routine, it's often surprising how many people really don't know the nuts and bolts of choosing an electric razor.
Choose a shaver that charges quickly and lasts long
An electric shaver that loses its charge in the middle of a shave is annoying and inconvenient. Similarly, a shaver that takes forever to charge is definitely a bother as well.
Choose a shaver will work for a long time on a single charge, and that charges quickly. It's an important part of how to choose an electric shaver!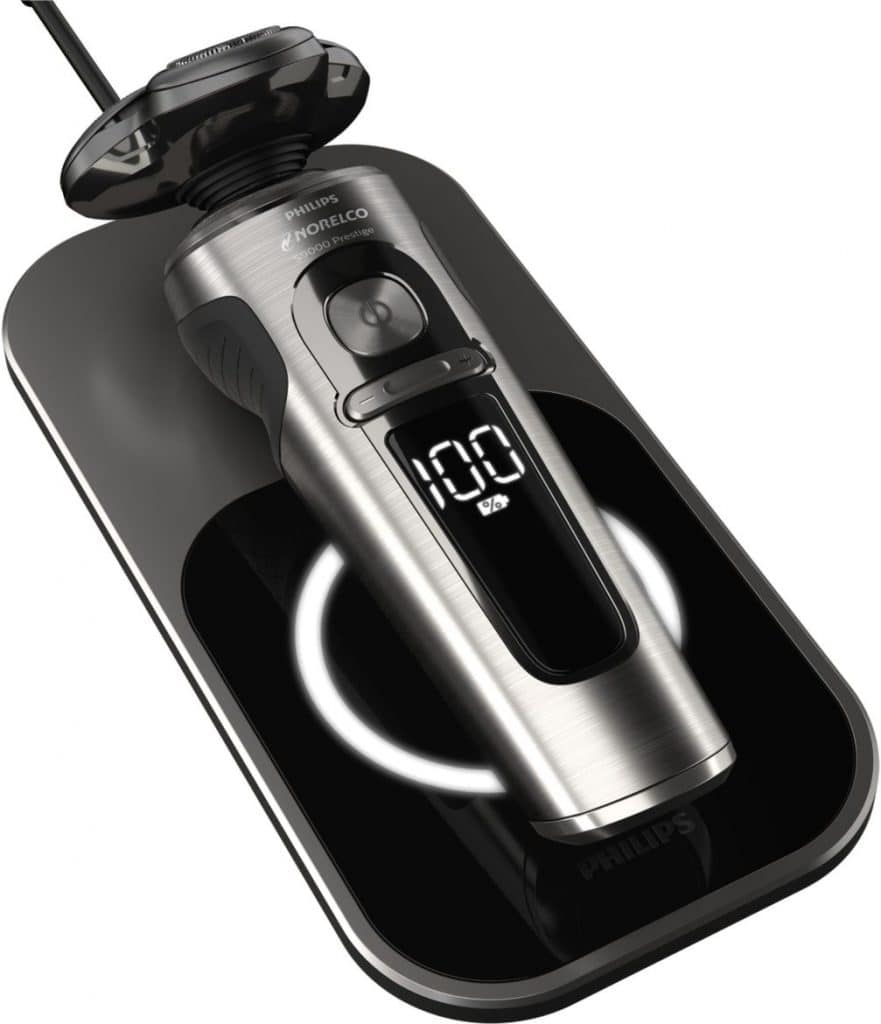 We really love the new Qi-Charge from the Philips Norelco S9000 Prestige Qi-Charge Electric Shaver. It will give up to 60 minutes of cordless shaving per full charge. The high-capacity battery also fully charges in as little as an hour.
Even cooler, the Qi-Charge allows for cordless charging. When you're done shaving, just set the shaver on the Qi-Charge pad, and charging takes care of it self. When the battery is low, there's a handy battery indicator showing it's time to recharge your shaver.
Choose an electric shaver that lets you shave wet or dry
You probably have a preference for either a wet or dry shaver. That said, there are times you'll want the closer, friction-free shave of a wet shaver, or the quicker dry shave.
With a shaver that allows you to shave wet or dry, you can have the best of both worlds. A shaver like the wet and dry S9000 lets you shave dry or use water, foam or gel, that can give you a better glide when shaving and smoother feeling skin.
Make sure the shaver's washable
Having a grotty, dirty shaver in the bathroom is definitely not attractive. Having a shaver that's easy to clean can make that a lot easier to maintain. Choose a shaver like the S9000 with a washable design that simplifies cleanup.
Choose a shaver that will let you shave a longer beard.
Some electric shavers start to pull, or become less effective, when your beard is longer than a few days' growth. A good shaver, like the S9000, have a skin comfort system that will let you get a highly efficient shave on up to a seven-day beard.
Make sure it can handle your beard's density
If you're someone who has a thick, dense growth, or even patches of thicker growth, get a shaver that can handle that. A higher end shaver like the S9000 can effortlessly shave off even a dense beard. The BeardAdapt sensor actually checks hair density 15 times per second, and automatically adapts the shaver to your hair. This is perfect for folks with patches of denser and lighter beard.
Get a shaver that adapts to the contours of your face
Remember those old-style electric shavers that felt like passing a board over your face, and left you with razor burn, and patches of uncut beard? There's no need to put up with that, with new electric razor technology.

The S9000 has ContourDetect heads that can move in 8 directions to follow every contour of your face. That means your shaver will catch hair in hard-to-reach areas like the neck and jawline. The shaving heads are surrounded with SkinComfort rings, which have a special protective coating so the shaver glides smoothly over your skin.
The NanoTech precision blades are strong as well, and strengthened with thousands of nano particles. That means they'll cut your beard with high precision, resulting in an extremely close shave.
Get an electric razor with a built in trimmer
It's a really nice touch if you can use the same electric razor to trim your sideburns, and any other facial hair. It's definitely something people neglect when thinking about how to choose an electric shaver.
The S9000's SmartClick precision trimmer, for example, will let you maintain your moustache and trim your sideburns, without the need for another small appliance.
Want to learn more about the Philips Norelco S9000 Prestige Qi-Charge Electric Shaver?
You can buy the Philips Norelco S9000 Prestige Qi-Charge Electric Shaver at Best Buy here.
The S9000 is the first of its kind with a Qi charging base! It's also the top of the line if you're looking for an electric shaver that meets all of the points above.
The S9000 is Philips' best shaver, as it gives the ultimate in closeness and skin comfort, plus Philips' closest shave, with less redness and burning.
Looking for more buying tips? Check out our guide for how to choose the best wall oven for your family.
Do you have any tips for how to choose an electric shaver? Let us know!