Home
/
Reviews
•
Shop
•
Tips
/ How to Schedule a Blog Post on Multiple Pinterest Boards with Tailwind using Board Lists
How to Schedule a Blog Post on Multiple Pinterest Boards with Tailwind using Board Lists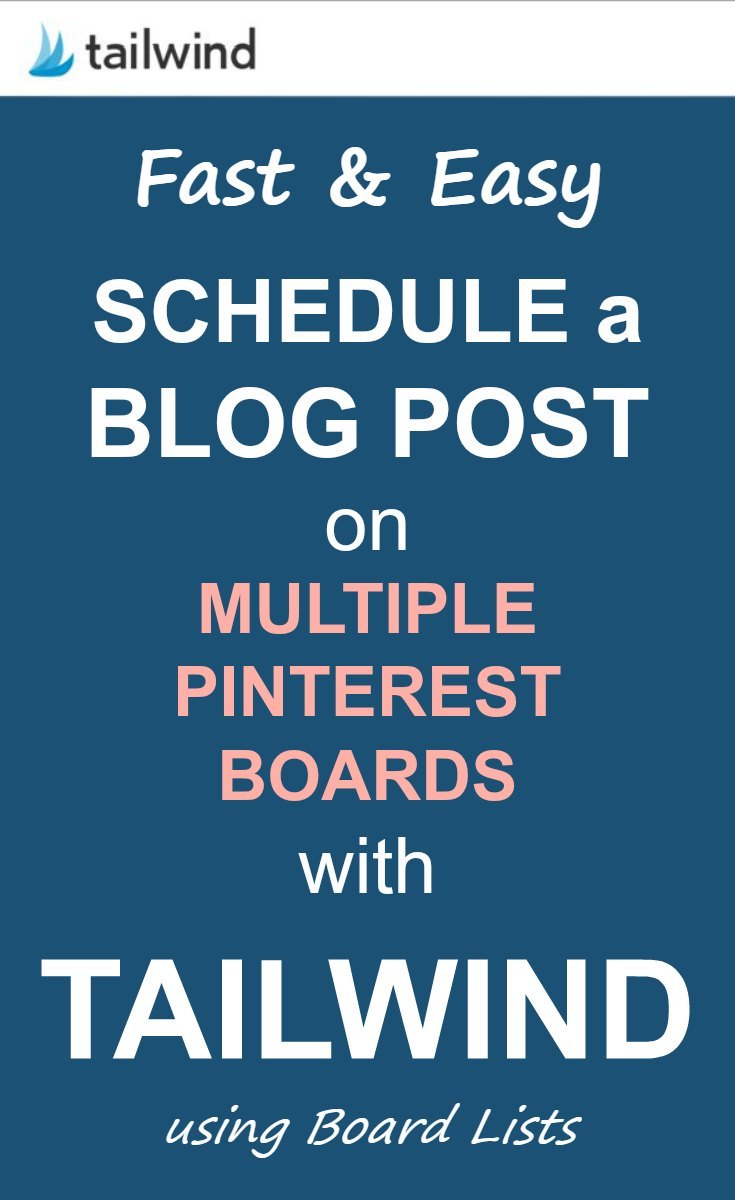 As a blogger, Pinterest brings us a lot of traffic. I've been experimenting with a lot of Pinterest schedulers, and I've been having a bit of trouble finding a scheduler that will let me space out the time between pins of one image to multiple boards.
Click here to get a $15 credit on Tailwind!
For every blog post, I want to pin the the post to multiple Pinterest boards. However, I want to space out the pins over time so that I don't overwhelm my followers by pinning the same pin to say, 20 different boards. I also want to make sure that I pin other pins in between so that my followers don't see me re-pin the same pin over and over without anything else showing.

There are two  main reasons that I chose
Tailwind
 over BoardBooster and ViralTag for scheduling.
Tailwind is an official Pinterest partner. This makes me worry a lot less about being penalized for scheduling pins.
Tailwind honestly does a much better job that the alternatives (BoardBooster and ViralTag) that I've tested.  ViralTag will let you schedule one pin to multiple boards using the Queue, however, I find that it does a horrible job of spacing out the pins. I'm sure that Pinterest doesn't want me pin a single pin over and over without any other pins in between. I end up having to go in and manually change the time. Absolutely no good – I got a scheduler to help me save time.
How to schedule a blog post on multiple boards with Tailwind Pinterest Scheduler.
Install the Tailwind extension for Chrome of Firefox.
Browse to your blog post.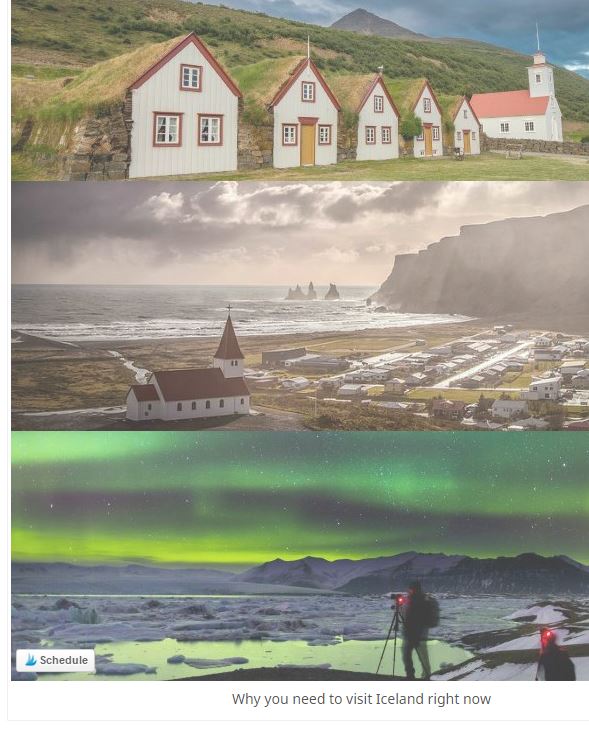 Click on the Tailwind extension button on the image you want to pin (this usually appears on the bottom left of my images). You can also right click on the image and select the Schedule with Tailwind Publisher option. The Tailwind scheduler appears.
Now, you can select the boards that you want to pin to. Place your cursor in the Type a Board Name field, and select the boards that you'd like to Pin to.
IMPORTANT:

If you really want to save time, set up

Board Lists for Tailwind in Pinterest

. See the yellow star before

Food and Travel

and

Tailwind Family Travel

on the image below? That's a board list I set up. Each list contains boards that will AUTOMATICALLY be selected when you choose the Board List.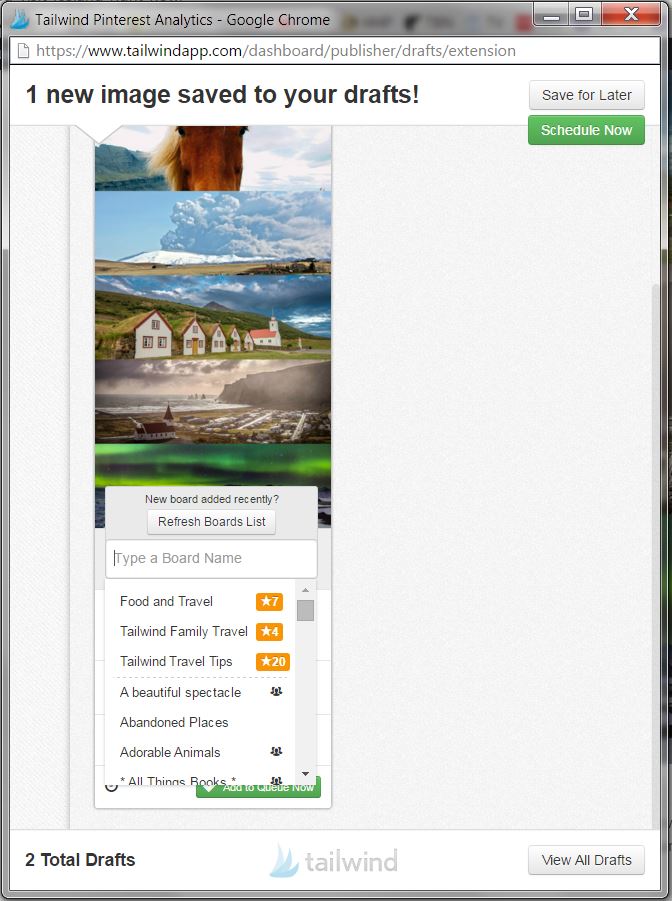 The boards you've selected appear. Now, all you need to do is set the interval for scheduling.  I selected the Board List Tailwind Family Travel, and the four boards it contains are automatically added.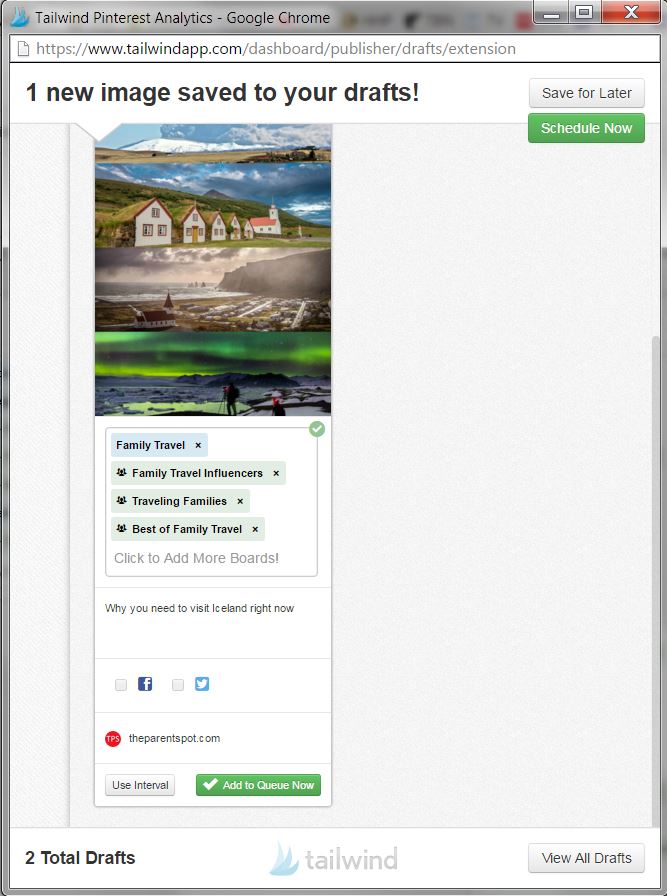 Now, I'm going to set up my pinning interval. Click the Use Interval button.
The Interval Pinning Scheduler appears.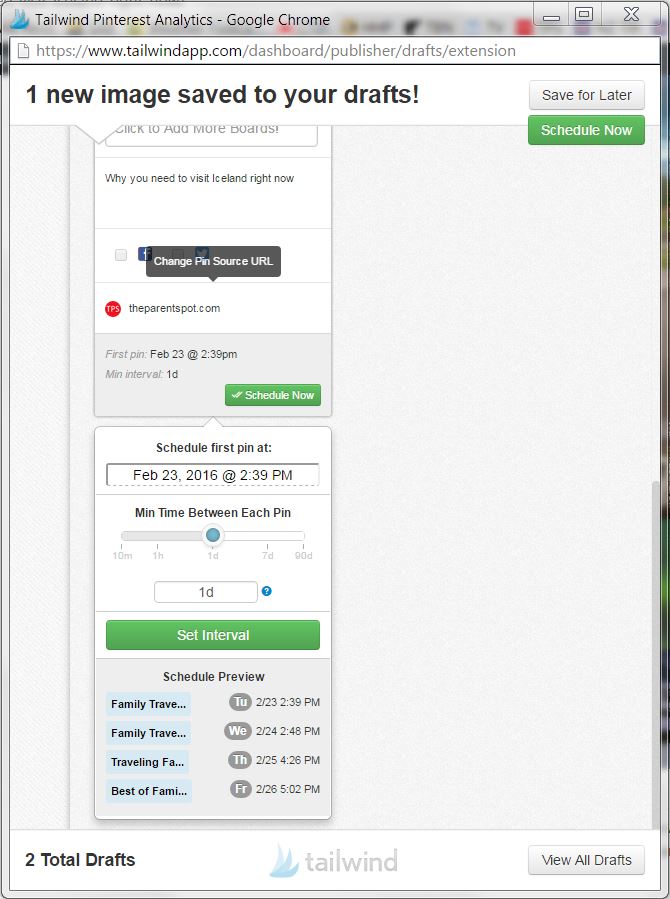 Select the interval by sliding the blue button to adjust the minimum time between each pin. This is the amount of time that passes between each pin. I like to select one day, but you can schedule anything from 10 minutes to 90 days.
Click Set Interval. The next screen shows you when the next pin will be, and what pinning interval you've selected.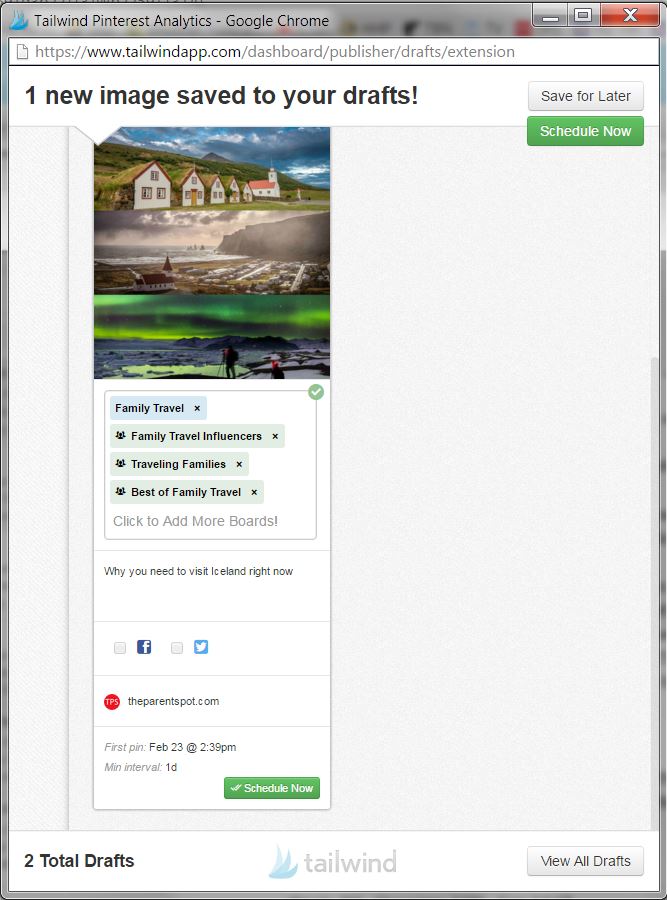 Click Schedule Now.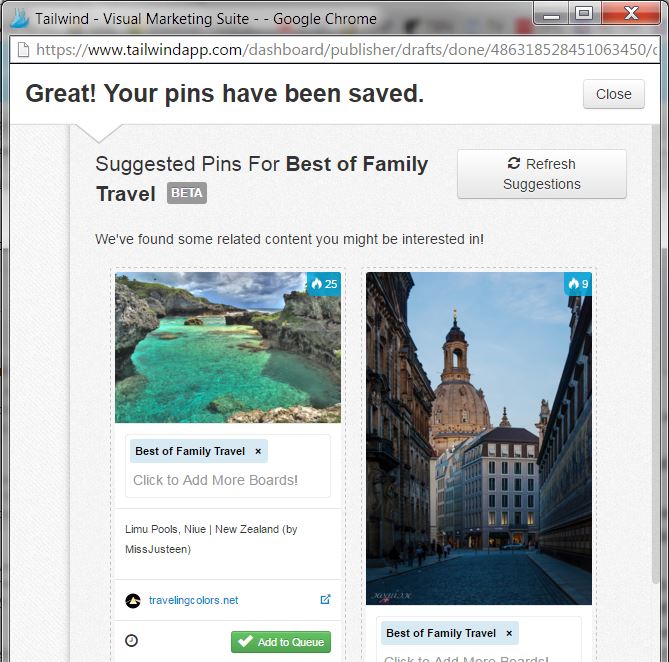 Success! Your Pin is scheduled!