These sour cream apple muffins are the perfect moist, sweet treat for breakfast or a wholesome snack any time.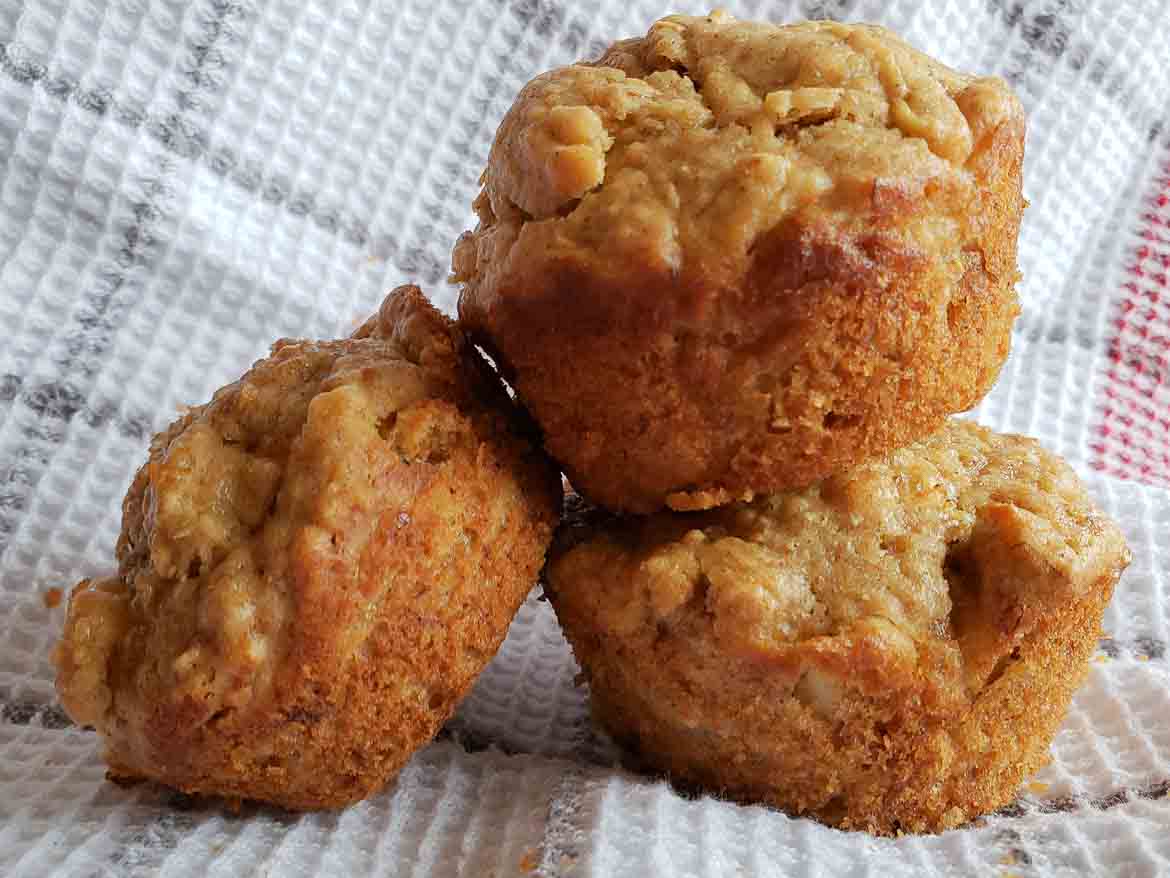 These heavenly apple cinnamon sour cream muffins combine the sweetness of tender apples, the warmth of aromatic spices, and the rich creaminess of sour cream to create a perfectly moist and delectable muffin. So, grab your apron, preheat your oven, and get ready to indulge in muffins that are naturally sweetened with maple syrup or honey.
Sour Cream Apple Muffins Recipe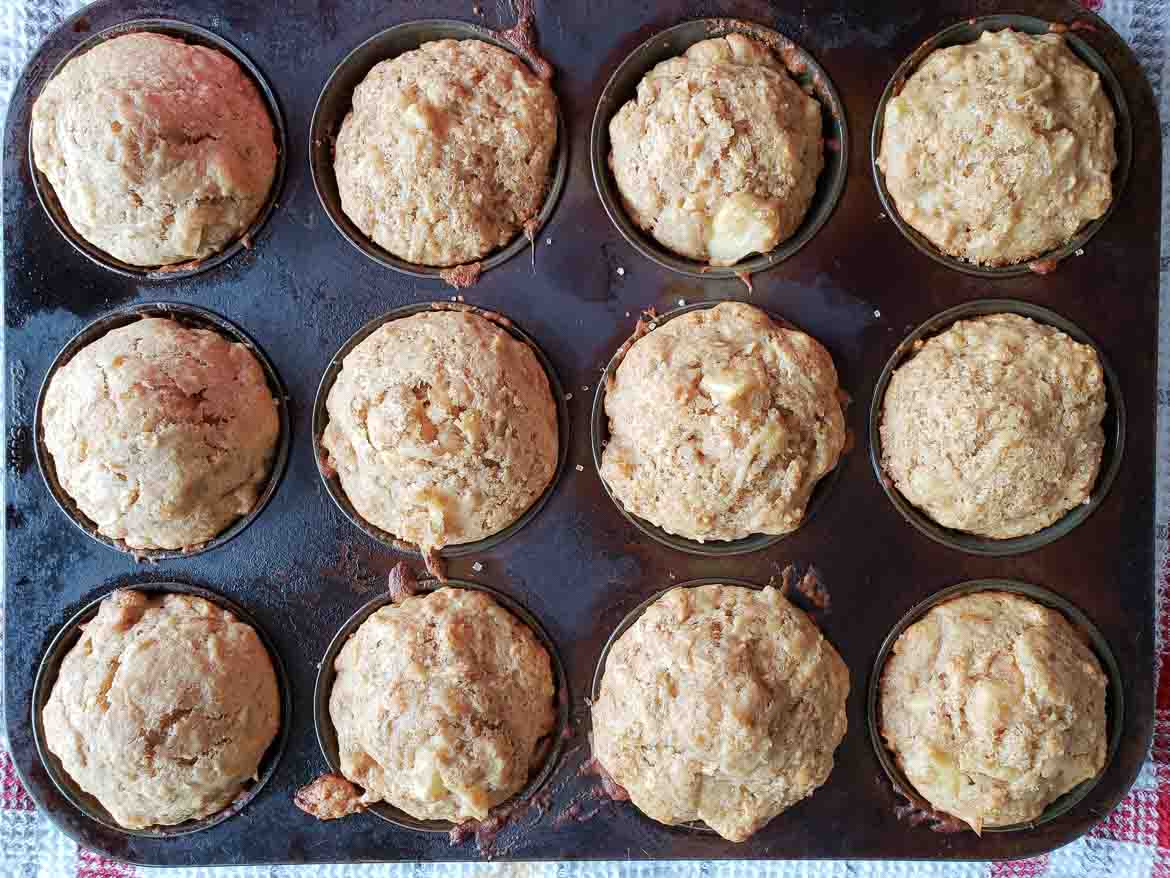 This wholesome recipe features the perfect blend of tangy and sweet flavors that will have you reaching for more with every bite. They have just enough sweetness to be irresistible, and are fluffy and light.
What you'll need
Don't let the long list of ingredients scare you off!
These muffins come together quickly from ingredients that you probably have in your pantry already. You'll need all purpose flour, baking powder, cinnamon, baking soda, salt, finely chopped apple, vanilla, melted butter, maple syrup, eggs, sour cream, and applesauce for this recipe.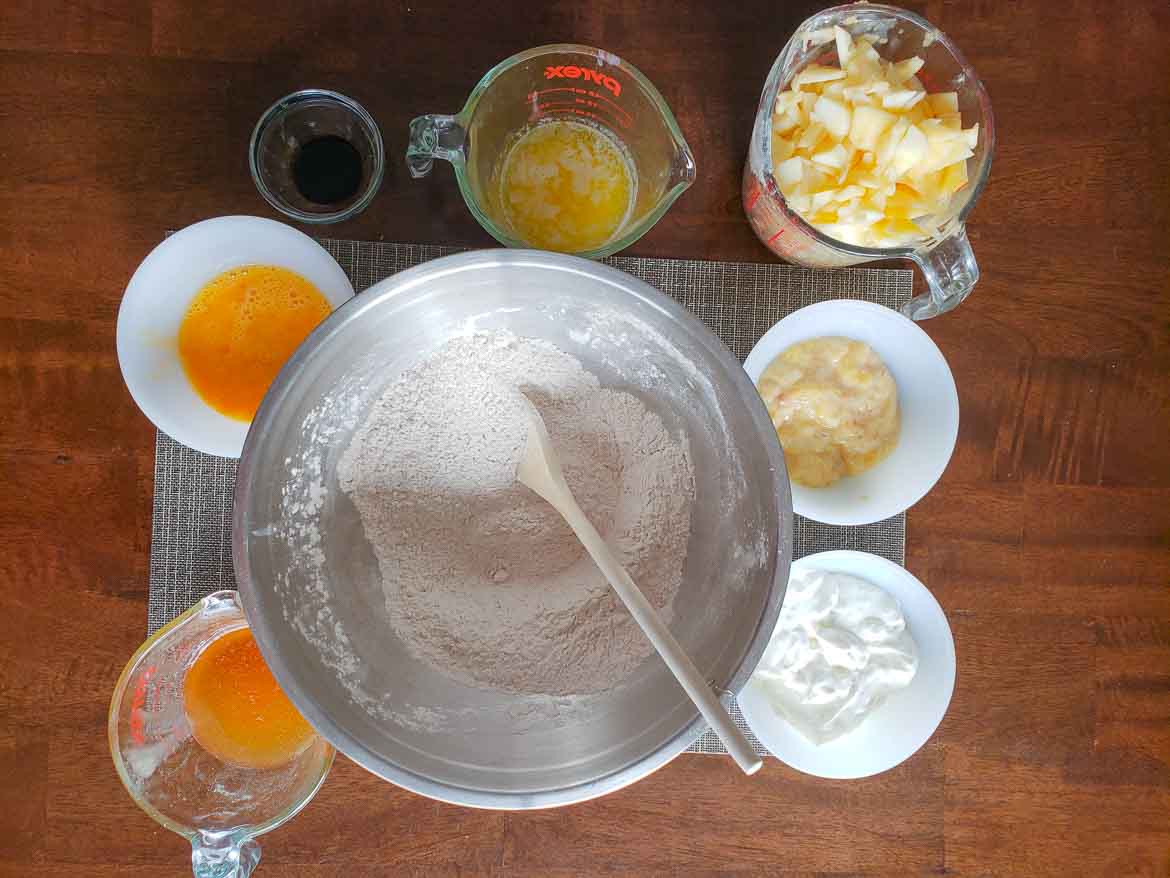 How to make sour cream apple muffins
Making these muffins is as easy as whisk together the dry ingredients and adding them to the wet ingredients, and folding in the finely chopped apples.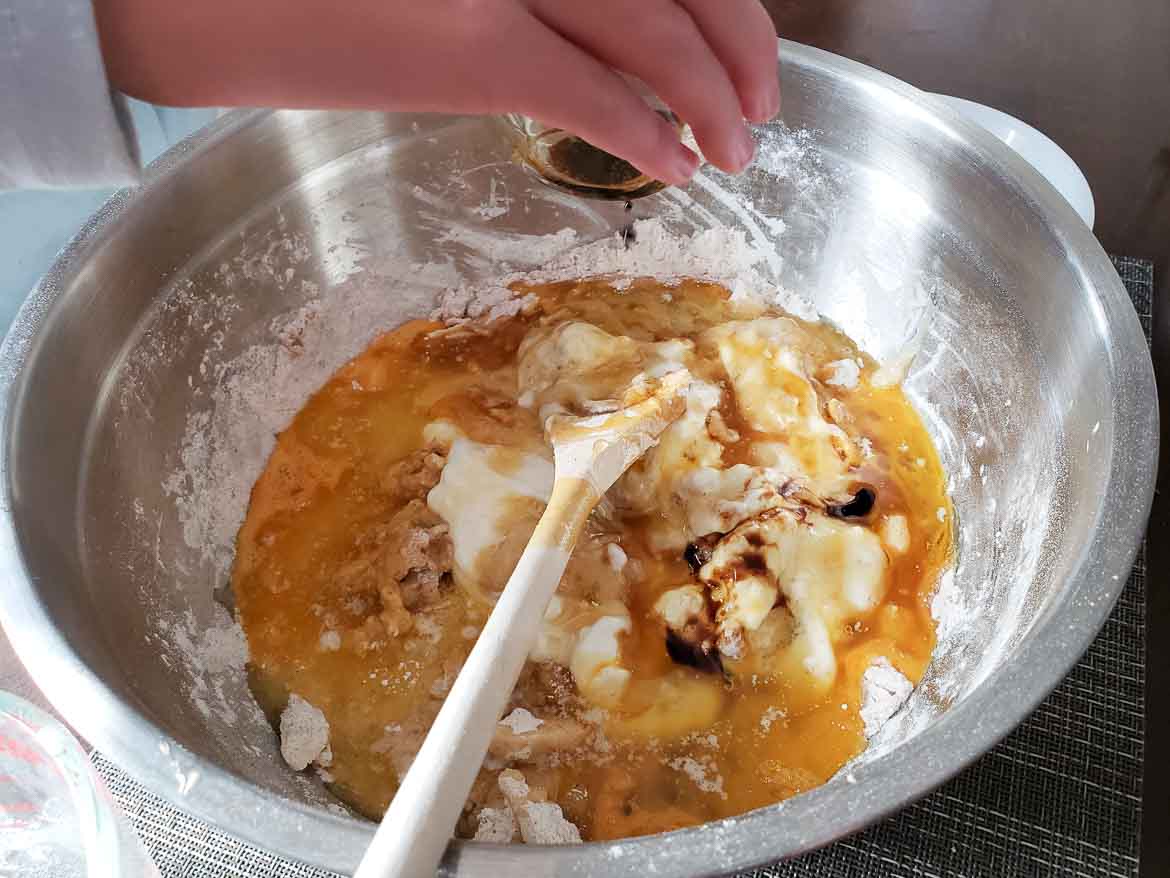 Just fill the muffin tins and bake for 20-25 minutes!
Easy peasy!
Can I make these sour cream muffins vegan or gluten free?
To make a vegan option of sour cream apple muffins, just substitute an equal amount of coconut oil or extra-virgin olive oil for the butter, use the maple syrup instead of honey, vegan sour cream, and use a vegan egg substitute.
To make these sour cream muffins gluten free, use gluten free flour like Bob's Red Mill gluten free 1-to-1 flour, and verify sour cream and other ingredients are also gluten free.
Can I freeze these muffins?
Yes, these muffins freeze well.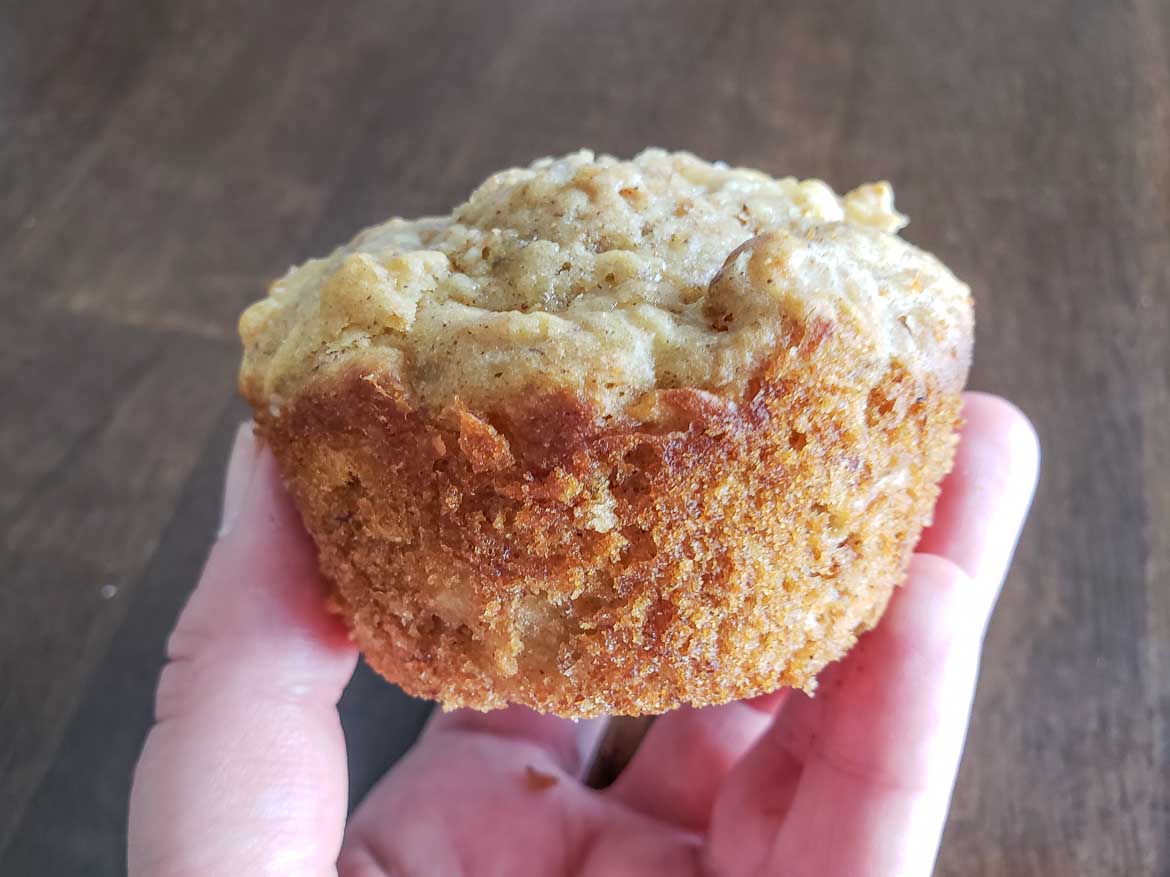 Variations
Looking for a different taste? Try out some of these variations. There are (almost) endless possibilities for these versatile sour cream muffins!
Apple cranberry muffins with sour cream
Add 3/4 cup dried cranberries to the batter for a fruity twist.
Apple streusel muffins with sour cream
Top each muffin with a streusel mixture made from 1/2 cup flour, 1/4 cup brown sugar, 1/4 cup cold butter, and 1/2 tsp cinnamon before baking.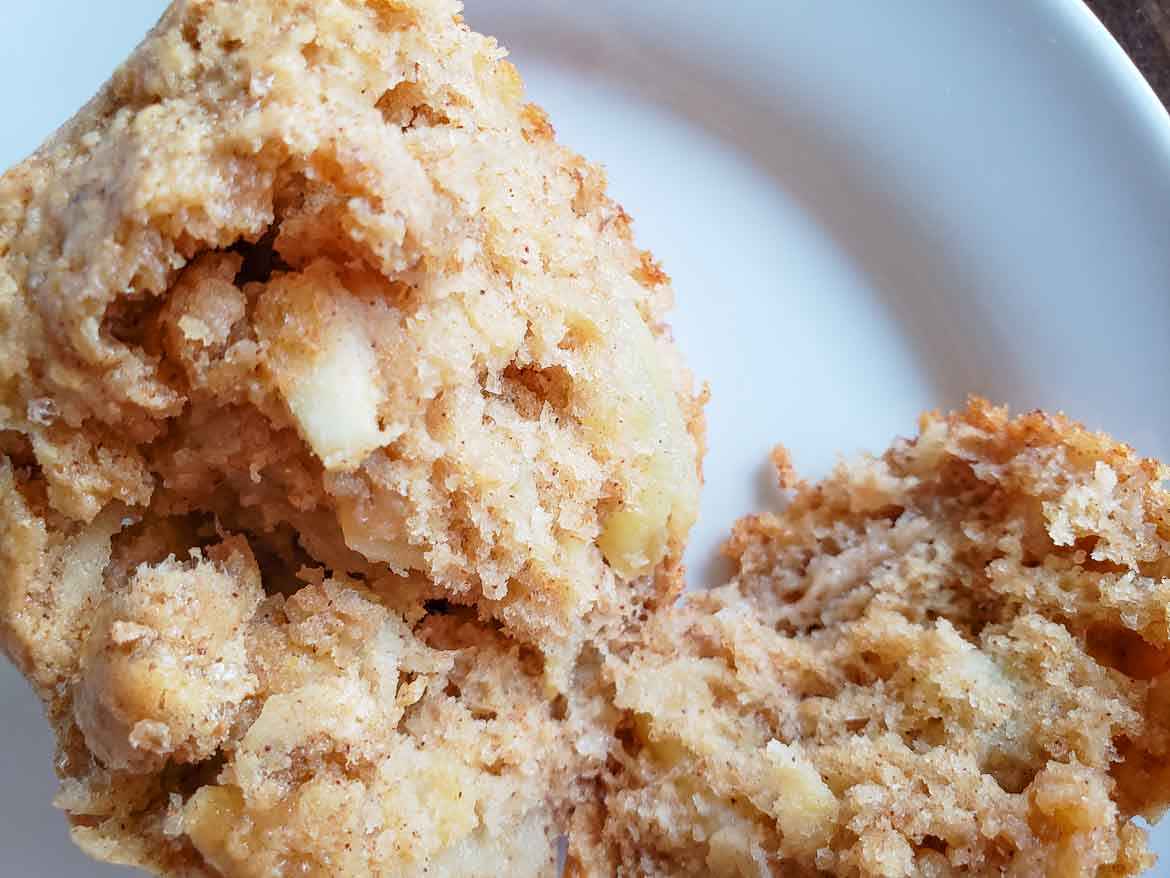 Apple sour cream coffee cake muffins
Layer the batter with a cinnamon sugar mixture (1/4 cup granulated sugar and 1 tsp cinnamon) and repeat, finishing with a cinnamon sugar topping.
Apple oatmeal sour cream muffins
Replace 1/2 cup of all-purpose flour with 1/2 cup of rolled oats for added texture.
Banana muffins with sour cream and applesauce
Swap 1 cup of the chopped apples for 1 cup mashed bananas (about 2 ripe bananas) and retain the applesauce.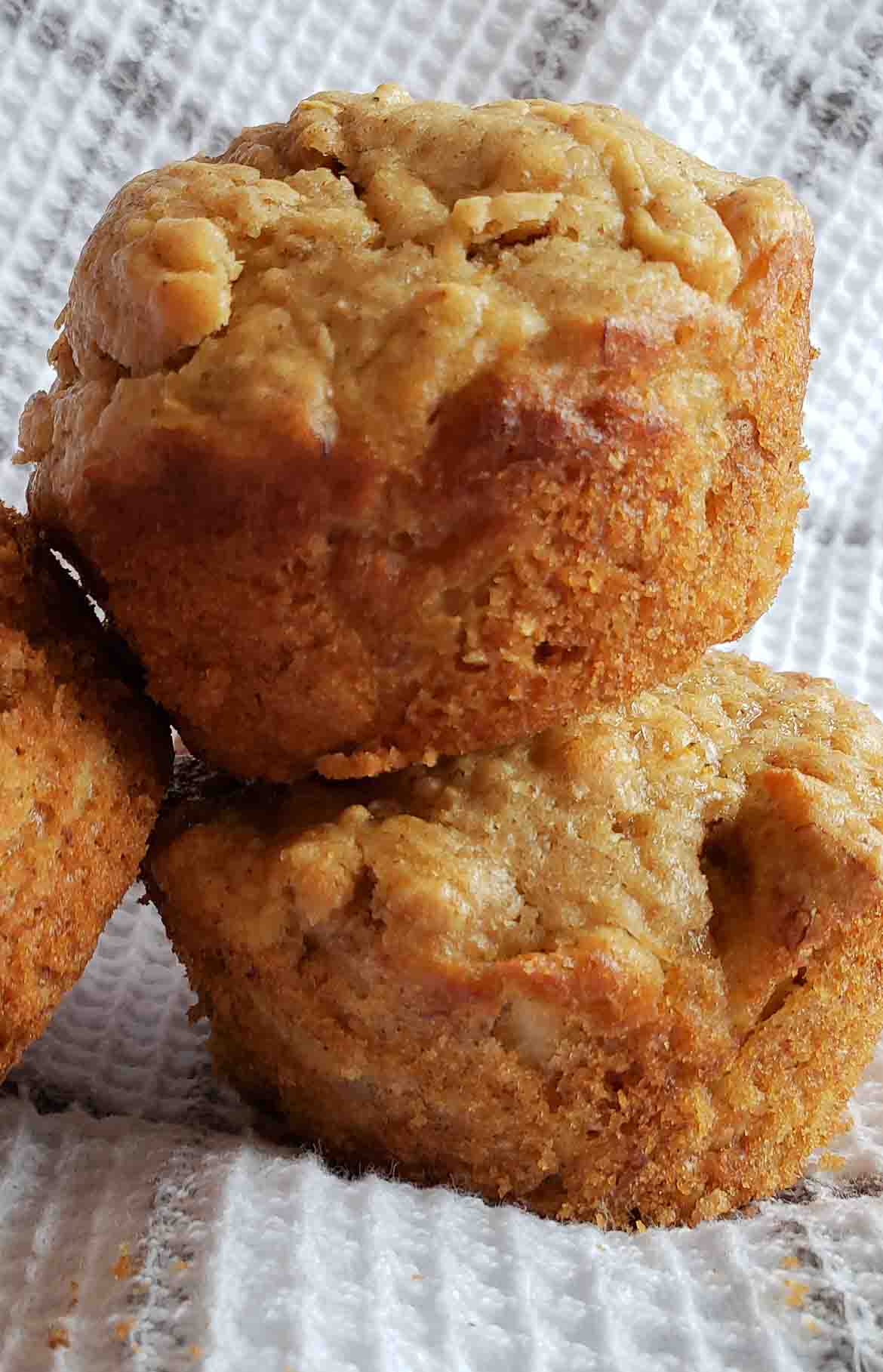 Sour cream applesauce muffins
Omit 1 cup of chopped apples and increase the applesauce to 1 1/3 cups for a smoother texture.
Love sweet treats? You might enjoy these tasty options:
Did you make this muffin recipe? Let me know how you like these muffins in the comments. I love hearing from you.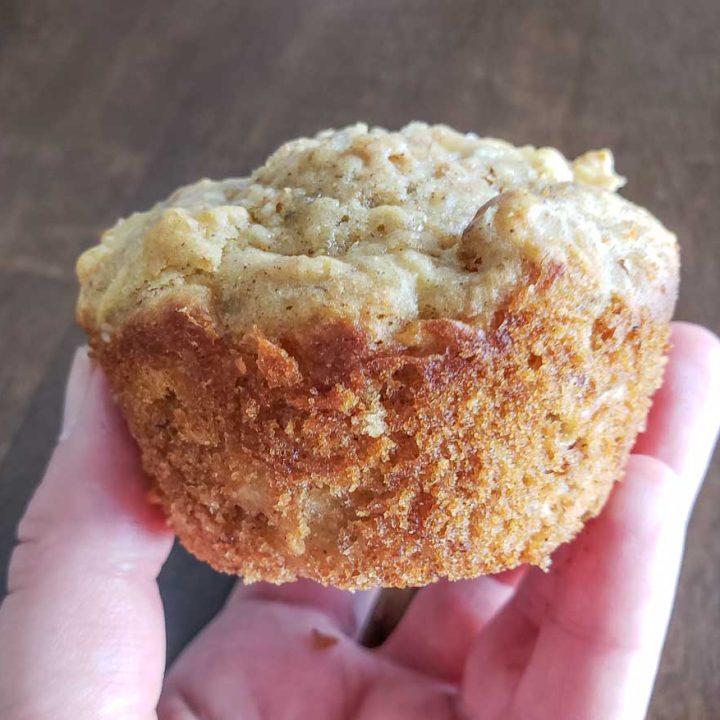 Sour Cream Apple Muffins
Incredible, wholesome sour cream apple muffins made with maple syrup and sour cream! No one will suspect that these delectable cinnamon apple muffins are good for you, too!
Ingredients
1 3/4 cups all purpose flour
1 1/2 teaspoons baking powder
1 teaspoon ground cinnamon
1/2 teaspoon baking soda
1/2 teaspoon salt
2 cups finely chopped apple
1/3 cup melted butter
1/2 cup maple syrup or honey
2 eggs
2/3 cup sour cream
1/3 cup applesauce
1 teaspoon vanilla
Instructions
Preheat oven to 375°F (190°C) and grease a 12-cup muffin tin or line with paper liners.
In a large mixing bowl, whisk together the all-purpose flour, baking powder, cinnamon, baking soda, and salt until well combined.
In a medium-sized mixing bowl, combine the melted butter, maple syrup, eggs, sour cream, vanilla, and applesauce. Mix the wet ingredients until smooth.
Gradually pour the wet ingredients into the dry ingredients, stirring gently until just combined. Be careful not to overmix, as it can result in tougher muffins.
Gently fold in the finely chopped apples until evenly distributed throughout the batter.
Divide the batter evenly among the prepared muffin cups, filling each about two-thirds full.
Bake the muffins for 20-25 minutes, or until a toothpick inserted into the center of a muffin comes out clean. The tops should be golden brown and slightly domed.
Remove the muffin tin from the oven and allow the muffins to cool in the tin for about 5 minutes. Then, transfer the muffins to a wire rack to cool completely.
Serve the sour cream apple muffins warm or at room temperature. Store any leftovers in an airtight container at room temperature for up to 3 days, or in the refrigerator for up to a week. Enjoy!
Nutrition Information:
Yield:

12
Serving Size:

1
Amount Per Serving:
Calories:

204
Total Fat:

9g
Saturated Fat:

5g
Trans Fat:

0g
Unsaturated Fat:

3g
Cholesterol:

52mg
Sodium:

260mg
Carbohydrates:

29g
Fiber:

1g
Sugar:

13g
Protein:

3g
All information and tools presented and written within this site are intended for informational purposes only. I am not a certified nutritionist and any nutritional information should only be used as a general guideline.