With summer just around the corner, you know our love of all things fresh is kicking into high gear. For us, nothing screams summer more than fresh berries. I would argue that homemade pizza, whether it's made in your very own wood fired oven in the backyard or even over the grill, has become a North American summer staple as well.
We thought it was high time to combine them to give you the best summer dessert you could ask for – a very berry strawberry pizza recipe!
This delicious strawberry pizza recipe with sugar cookie crust (we made it with other berries as well, but it's easy to make with purely strawberries), is just the ticket for enjoying with friends and family while congregating on the patio or heading out on a picnic.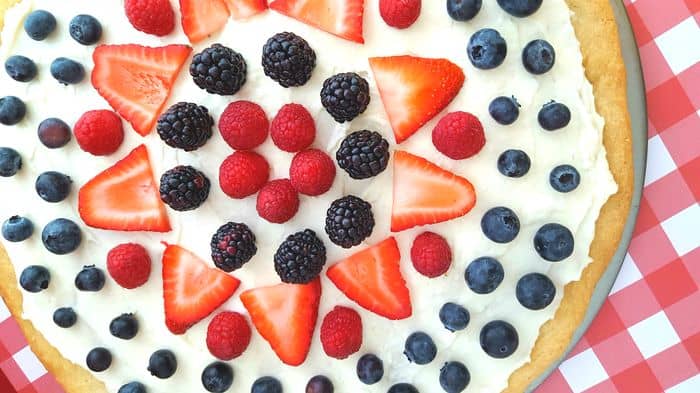 The best part about this berry pizza recipe? We actually grow strawberries, raspberries, blueberries and yes, even blackberries, in our own backyard so we often have all these in abundance. The good news for you is that as the weather warms up, they're easier than ever to find in the supermarkets or the farmer's market for a good price.
Strawberry Pizza Recipe with Raspberries and Blueberries and a Sugar Cookie Crust
This easy to make strawberry pizza recipe with sugar cookie crust requires only a short prep time and minimal ingredients but is sure to be a big hit with the entire family. Serve it cool for the best results. Just remember that the crust has to cool before you do the cream cheese frosting otherwise things could get interesting.
While we made this pizza with plenty of berries, you could just use one type to make a raspberry pizza or pure blueberry pizza, or just a pure strawberry fruit pizza.
Tip! This recipe uses refrigerated sugar cookie dough to speed up prep time however you can use your own favorite sugar cookie recipe or this sugar cookie recipe. Let us know in the comments which your favorite sugar cookie base is!
Yields: 12 servings
Prep Time: 15 minutes
Chill Time: 1 hour
Ingredients for Strawberry Pizza
1 – 8 oz. package of cream cheese (1 cup)
1 – 16.5 oz package of refrigerated sugar cookie dough
¼ cup sugar
½ teaspoon vanilla extract
2.5 cups of your favorite fruits (sliced strawberries, blueberries, raspberries and blackberries shown)
Directions to make Strawberry Pizza
Preheat oven to 375 degrees F.
Cover a pizza pan with aluminum foil, spray with cooking spray and set aside. (A cookie sheet will work too.)
Take the sugar cookie dough our of the refrigerator and form into a round ball. Put center of the pizza pan and press the dough out to the edges until it's an even layer all over the pan.
Bake the sugar cookie crust for 13 minutes or until edges are a golden brown.
Let the dough to cool for half an hour.
Once cooled, invert the cookie dough onto a large plate or platter and remove the foil. Once the foil is removed, turn the crust over on the plate or platter.
To make the frosting, combine cream cheese, sugar and vanilla in a mixer. Beat until well blended, then spread onto crust in a thin even layer.
Top the pizza with your favorite combination of fruit or berries, and refrigerate for 1 hour.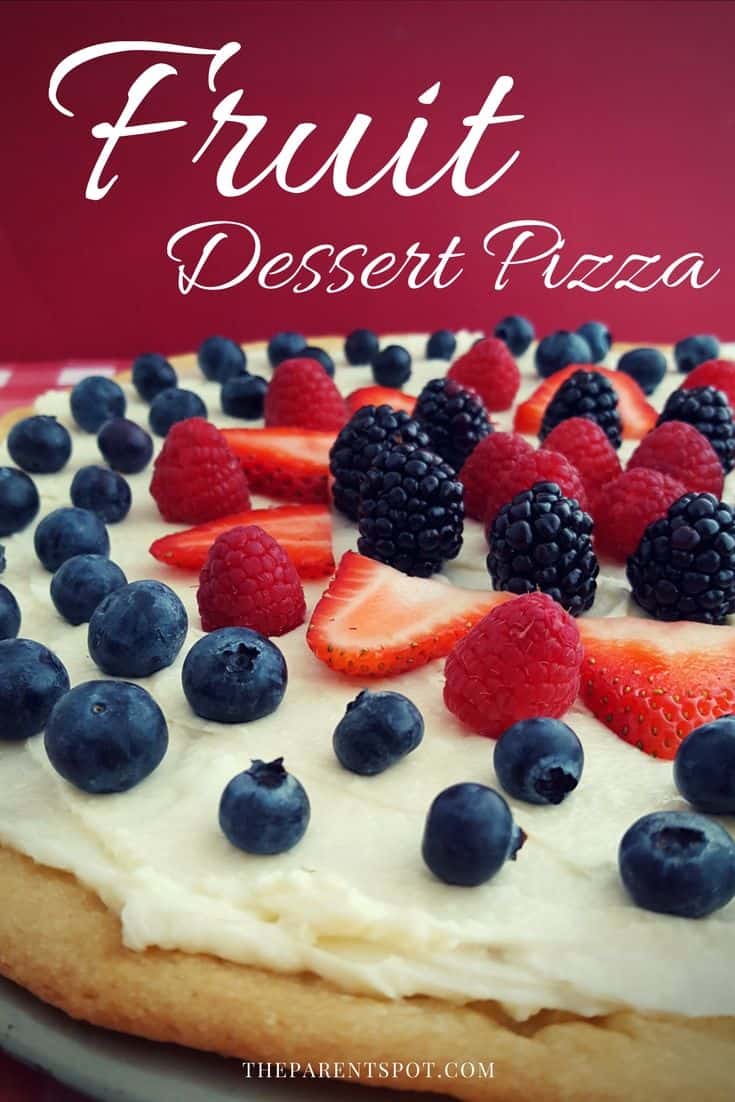 You did it!
That's it! Grab a knife or pizza roller and cut your strawberry pizza into slices, wedges or even squares. Whether you enjoy it with a fork or grab it with your hands and eat it like a slice of pizza, I guarantee it's going to be a huge summer time hit.
LOOKING FOR ANOTHER DELICIOUS DESSERT RECIPE?
Try these!