We're like a lot of families.
Busy. On the run. Juggling about 30 things at once.
2019 update! We've used this touchscreen, keyless deadbolt for close to five years now, and it works perfectly.
We try to simplify wherever we can. We group errands so we're not always running out. We take turns doing the shopping, and try to get rid of all the extra clutter so there's no unnecessary stuff to clean, dust and fix.
 Yale Real Living Key Free Deadbolt Review
In the spirit of trying to simplify, we decided to ditch our old-fashioned deadbolt lock in favor of a shiny, new space-age keyless touchpad entry lock, the satin nickel Yale Key Free Touchscreen Deadbolt
 (Model# YRD240-NR-619).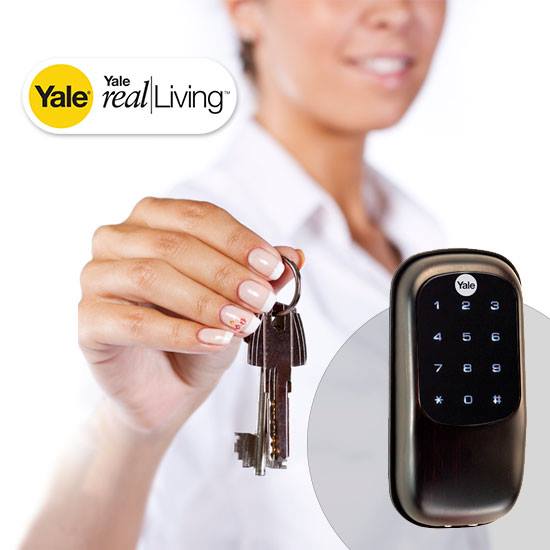 I love that this means one less key to carry. It also means that we'll NEVER get locked out of the house again.
This thing is cool. You use the touch keypad to enter a PIN (a series of four to eight numbers that you choose) that will let you in. No keys needed. At all.
You can set different codes for different family members, allowing you to track the time and date they enter. This may come in VERY handy if you have a teenager who likes to try to sneak in late.
It also allows you to set up temporary codes for tradesmen or visiting friends and relatives.
With the optional Z-Wave or Zigbee radio module installed you can even lock and unlock the door remotely and get a text sent to you every time the door is accessed.
How does it work?
To enter from the outside, you pass your hand over the screen to wake it up and then you enter your 4 to 8 digit PIN on the keypad. When you leave, just swipe your hand across the keypad and the door will automatically lock. Inside, you just turn the lock manually like any other deadbolt.
What happens if the battery goes dead?
This one's pretty ingenious. You take a 9V battery (the little square ones) and press it against the bottom of the lock. That'll give the lock enough juice to let you enter your PIN. But don't worry, the deadbolt gives you a low battery warning so you should have time to change the batteries before it goes dead.
How hard was it to install?
Pretty easy, actually. Depending on your existing setup all you need is a Phillips screwdriver and five minutes.
If your existing holes don't quite match up you'll need to make sure that you have a drill bit that's capable of cutting a hole to the correct size for the lock to fit and perhaps a chisel to fit the strike plate correctly.
Check out our hideously ugly brass deadbolt we wanted to replace.
First step was to unpack the deadbolt. The parts were pretty simple and self-explanatory:
the interior thumbturn and battery compartment
the exterior keypad
the deadbolt
the striker plate (this goes on the side of the door)
4 AA batteries
all the screws needed for assembly
Then, we got down to the installation.
Unfortunately, since we have an older door, we had to enlarge the hole where our old deadbolt was installed.
If you have an older door you might need to do this as well since the Yale deadbolt uses the newer 2 1/8″ opening rather than the old 1.5″ opening. If you door is older make sure you have a 2 1/8″ hole saw kit and a little patience.
We cut a 1.5″ piece of wood and placed it into the opening so we could keep the drill bit centered while we widened the opening. Another option is predrilling a 2 1/8″ hole into a larger piece of wood and clamping it to the door to use as a guide.
Either way, the result is the same, an opening that will easily accommodate your new Yale deadbolt.
Once the hole was the correct size it was just a matter of a minute installing the two screws that attach the touchscreen to the mounting plate and then a few more screws holding the battery compartment and the inside thumbturn to the mounting plate. If you're purchasing a new door chances are that it is already the correct size and the whole operation will only take you a few minutes in total.
We also had to round out the striker plate however that only took a few moments with an exacto knife.
And voila, the final product!
First, the exterior. Pardon the paint – our complete exterior is scheduled for a repaint in the next few weeks.
Note that the handle does not come included with the deadbolt set we used!
Next, the interior view:
We reviewed the Yale Key Free Deadbolt Model# YRD240-NR-619, however they also offer deadbolts with a touchpad and key as well as deadbolts with built in door handles.
But How Easy Is It To Use?
It took us about a minute to set up a master PIN code and a second, separate code for visiting family. Instructions are easy to follow as it uses voice prompts to guide you. You can enter up to 25 different codes with the standard model and up to 250 with the additional Z-wave and Zigby wireless module.
With the additional Z-Wave or Zigby wireless module, we can also access the lock settings via your cellphone or computer remotely however we don't have the corresponding receiver to go with it yet. That's next on the list.
Yale has a quick video on how to set a master PIN code here:
Final Thoughts and Hands-On Review
The keypad looks great and we've been updating our locks to a satin nickel finish so it goes nicely with our new decor. The touchscreen seems responsive and the voice prompts are easy to follow.
Our kids are in love with it and they've already memorized their pins. They've been taking turns running in and out locking it and unlocking it for the past few days and we love that it's one less key for us to deal with.
It's also made it easy for visiting family to come and go without having to give them their own key and as soon as they're gone we can get rid of any unused codes. We also plan to set up an emergency code and will keep it in case a house emergency ever occurs and we need someone to get inside for whatever reason.
Installation was a bit cumbersome but only because we had to enlarge the hole. If our existing door had the newer, more common size the install would have only taken a few minutes and would have been a breeze.
In all, we're quite pleased with our new lock and are anxious to get the Z-Wave receiver so we can access the door remotely as well.
Touchscreen –Tri-lingual in English, Spanish, French
Adjustable Volume Level
25 Users Stand-alone without Wireless
250 Users with Wireless
Add/Delete Individual Users
One year battery life
Low Battery Warning
For use on all standard doors
Certified ANSI/BHMA A156.36, Grade2
Deadbolt: Motorized tapered bolt helps align door during locking
Voice-guided programming feature so you never have to search for an instruction manual.
Weather resistant durable touchscreen
Interference alarms for tamper and wrong code attempts.
The touchscreen is illuminated, making it easy to operate at night.
Pairs with a wireless home automation system like @ZWaveAlliance allowing you to check and control your lock remotely
Interference alarms for tamper and wrong code attempts
Stores up to 250 unique user entry codes when paired with a wireless system
Three finishes to choose from: polished brass, oil rubbed bronze permanent and satin nickel. We chose the satin nickel finish.
You can find out more about the Yale deadbolts on their website, Twitter , Facebook,  and Youtube.
Disclosure: We received a Yale Keyless Deadbolt
 to review for this post.