Looking for an innovative, powerful way to clean your indoor air? We test the Filtrete Smart Air Purifier, and tell you exactly what we think, based on our personal experience.
Our family's dealt with bad indoor air quality from wildfires for a few years now. Each summer, without fail, smoke blows in from nearby fires. For me, that means headaches and irritated sinuses. The smoke even starts to bring down my energy levels.
For my daughter, that means dry coughs at night as she's sleeping.
On top of that, we have an adorable orange cat, who leaves cat fur and dander in every spot conceivable. We have friends and extended family with cat allergies, we want to keep our home's air clean, so they're comfortable when they visit.
For our family, a good quality air purifier is a must.
When we got a chance to try out the new Filtrete Smart Air Purifier I jumped at the chance to check it out.
Filtrete says its new smart purifier helps reduce dust, pet dander and other airborne allergens with a three-in-one technology that includes advanced filtration, smart sensing capabilities, and even scheduling options.
See the Filtrete Smart Air Purifier on Amazon.
About the Filtrete Smart Air Purifier
I'm going to tell you all about my family's personal experience using the Filtrete Smart Air Purifier so that you can decide if it is right for your own family.
First, a little about it, before our Filtrete Smart Air Purifier review:
True HEPA filtration
High-efficiency filter that captures up to 99% of airborne particles, including dust, pet dander, and pollen
Removes odors and smoke
Connects to smartphone app for real-time air quality monitoring and control
Adjustable settings, including fan speed and purification intensity
Energy-efficient with low-power motor and LED display
Sleep mode for quiet, efficient operation
Coverage area of up to 310 square feet
3 fan speeds
Filter replacement indicator
Auto shut-off
LED display shows current air quality and filter life
2-year limited warranty
There are two sizes of the smart air purifiers from Filtrete: 1) for rooms up to 150 sq. ft., and 2) for rooms up to 310 sq. ft.
We tested the larger, 310 sq. ft model.
Filtrete Smart Air Purifier Review
Straight out of the box, my first impression was that it has a sleek, modern design.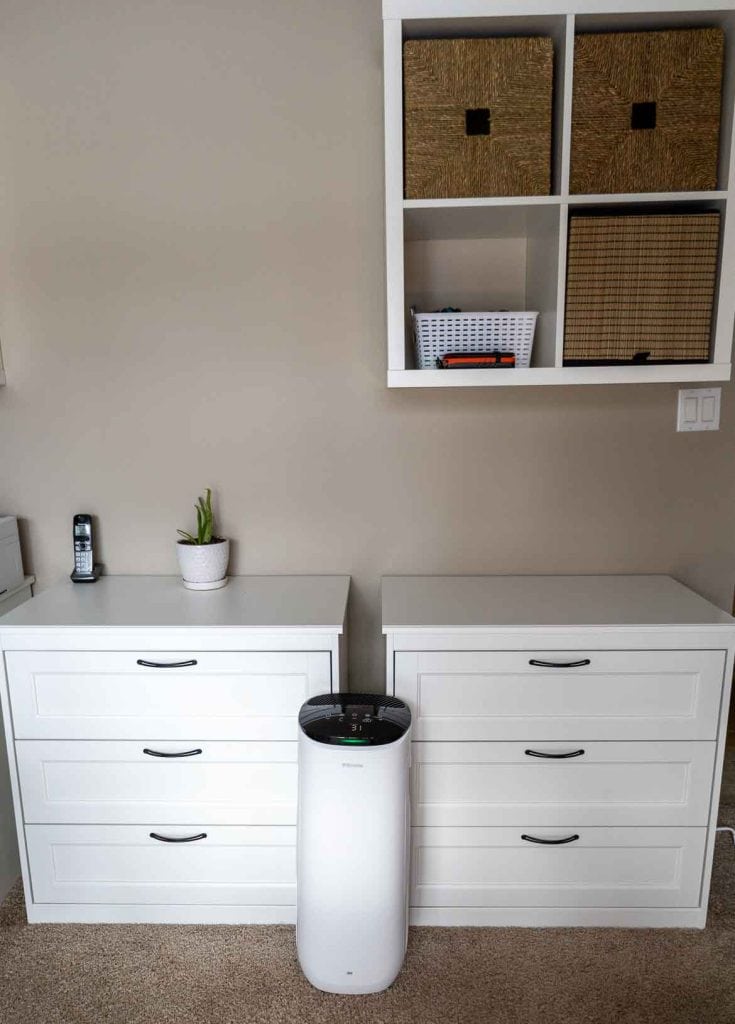 It's a tower model, meaning that it has a smaller footprint than our other air purifier, so it takes up less space on the floor.
Before I used the Filtrete the first time, Ineeded to remove the protective plastic bag from the HEPA air filter.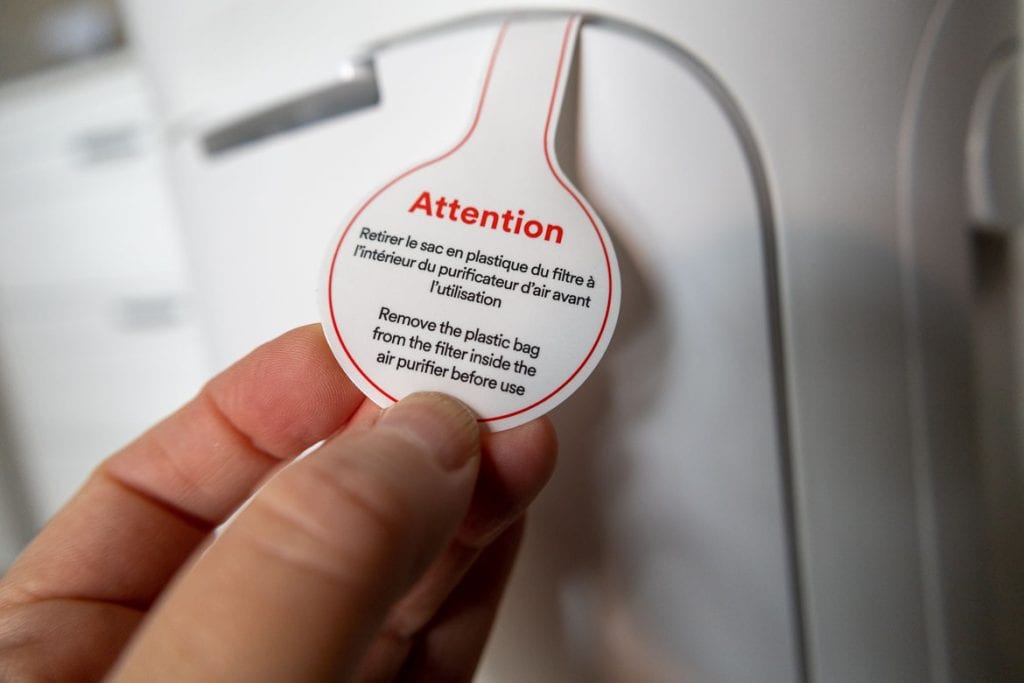 Luckily, it's an easy job. I opened the back door, and took out the filter, and removed the bag.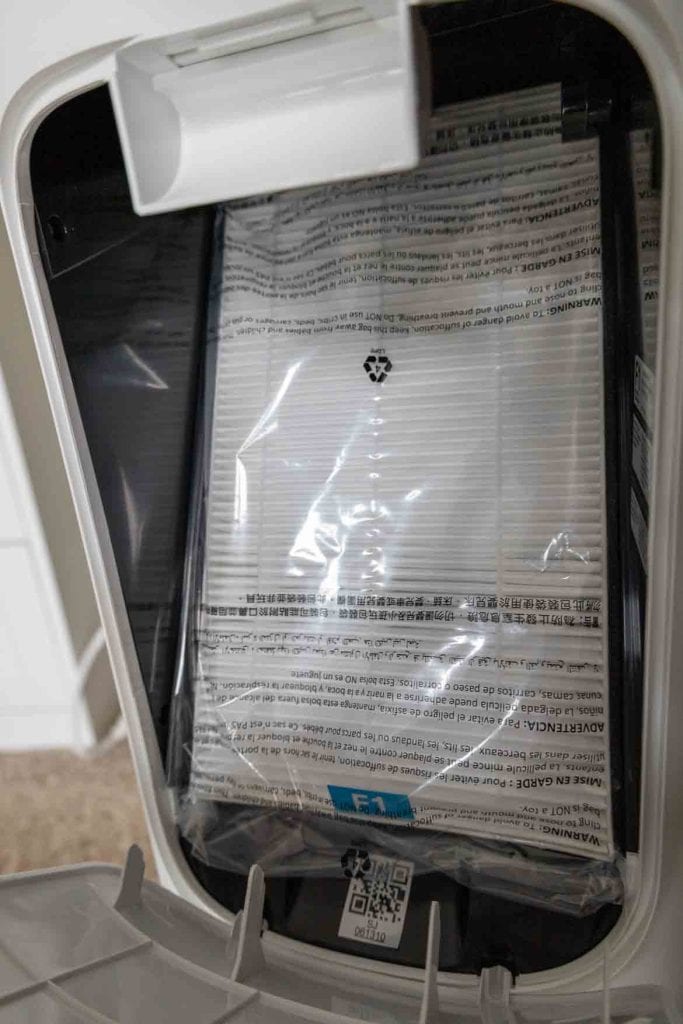 After that, I just popped the filter back in, on a slight angle. It slid right into place.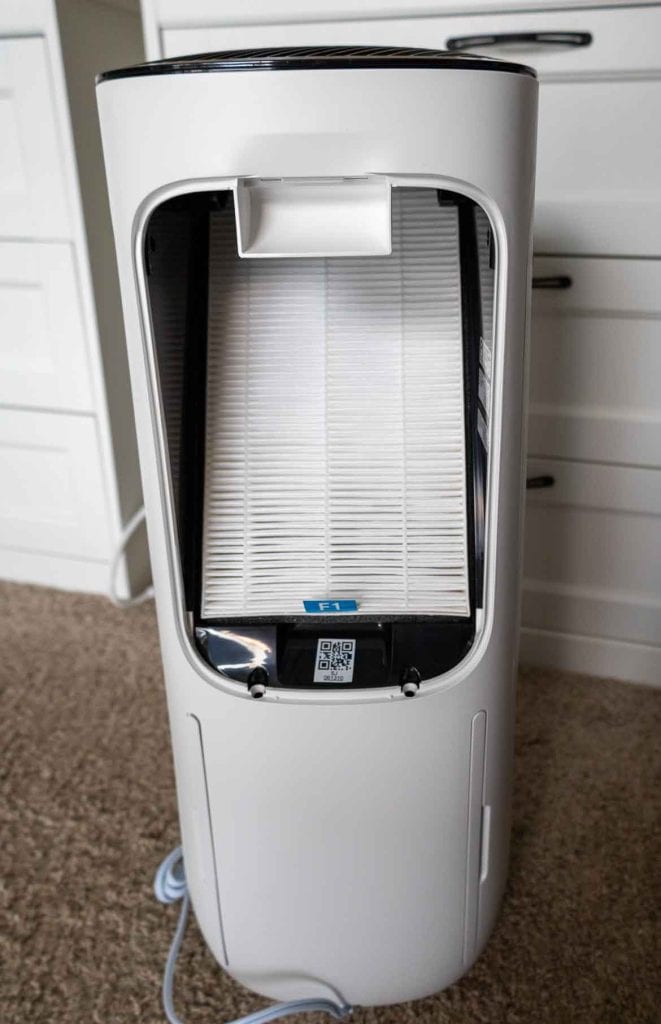 There are also 2 pre-filters, used to remove large particles in the air, and extend the life of your HEPA filter.
Tip! The pre-filters are washable. To clean, just pull the two pre-filters out and them under tap water. You only need to do this if the pre-filters get dirty after use – you don't need to rinse them before the first use.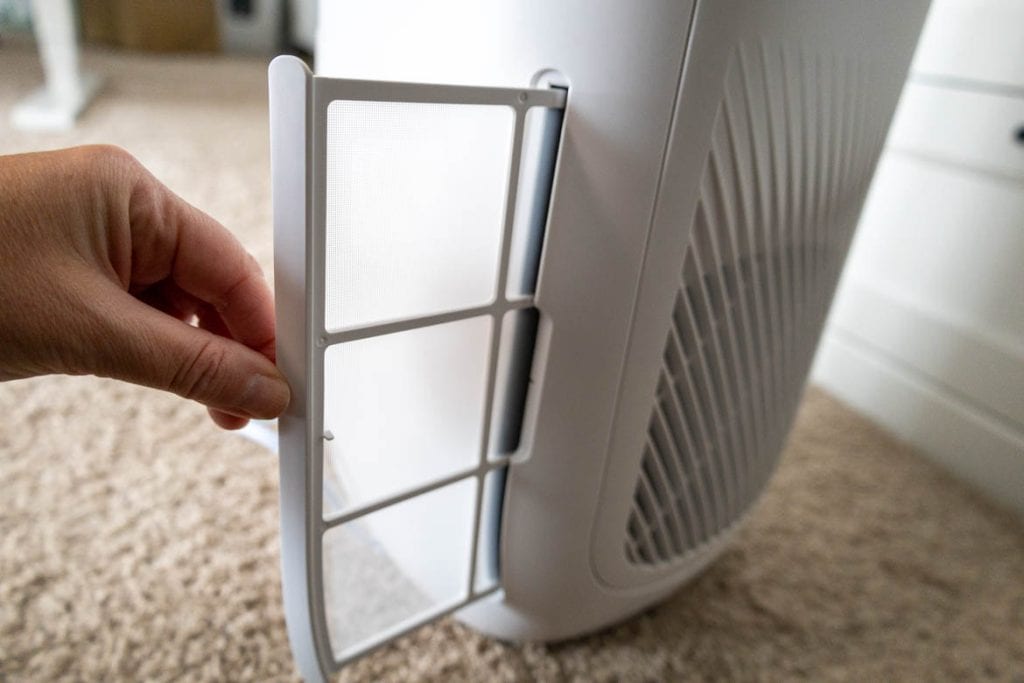 After the HEPA filter's installed, it was just a matter of plugging in the purifier.
Everything worked out of the box.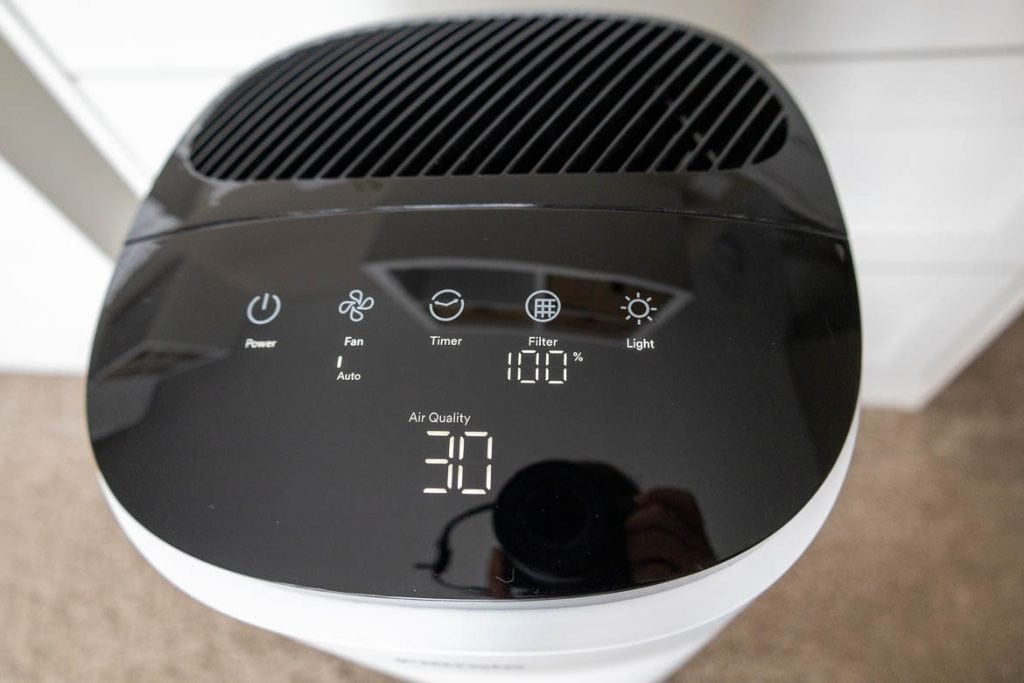 I especially love the filter readout, which tells you (as a percentage) how much life is left in your filter.
One thing that's missing in our old air purifier is a display that tells us the air quality.
The Filtrete has an air quality monitor that you can see both on the display, and on the app.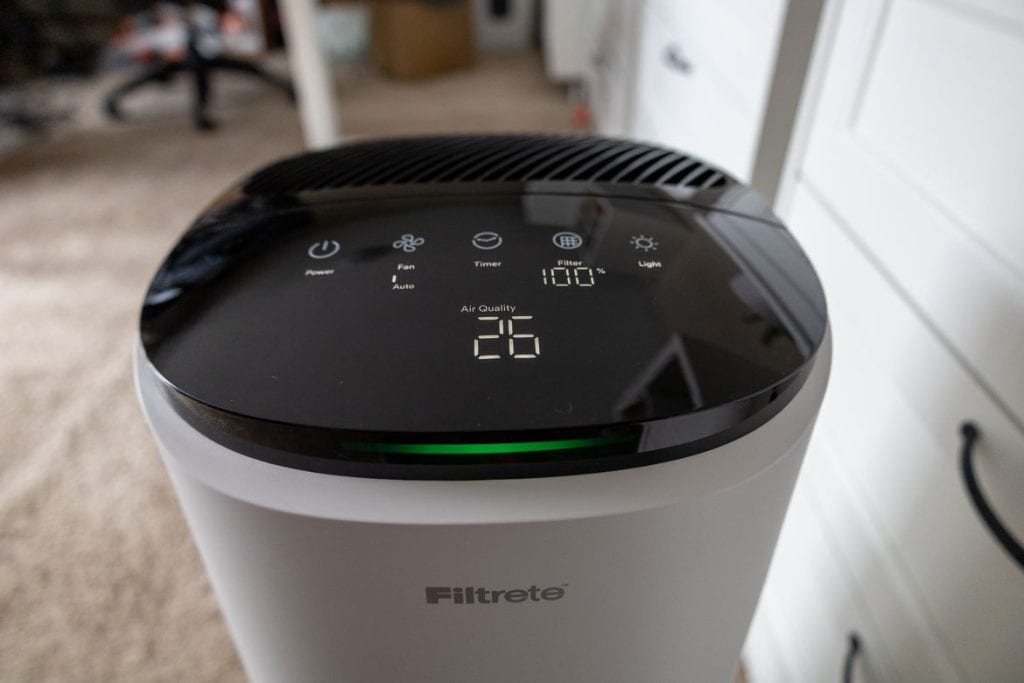 Filtrete Air Purifier App
One of the most interesting features of the Filtrete we tested is that you can use WiFi to remotely monitor your filter and control the device from anywhere using a smart device.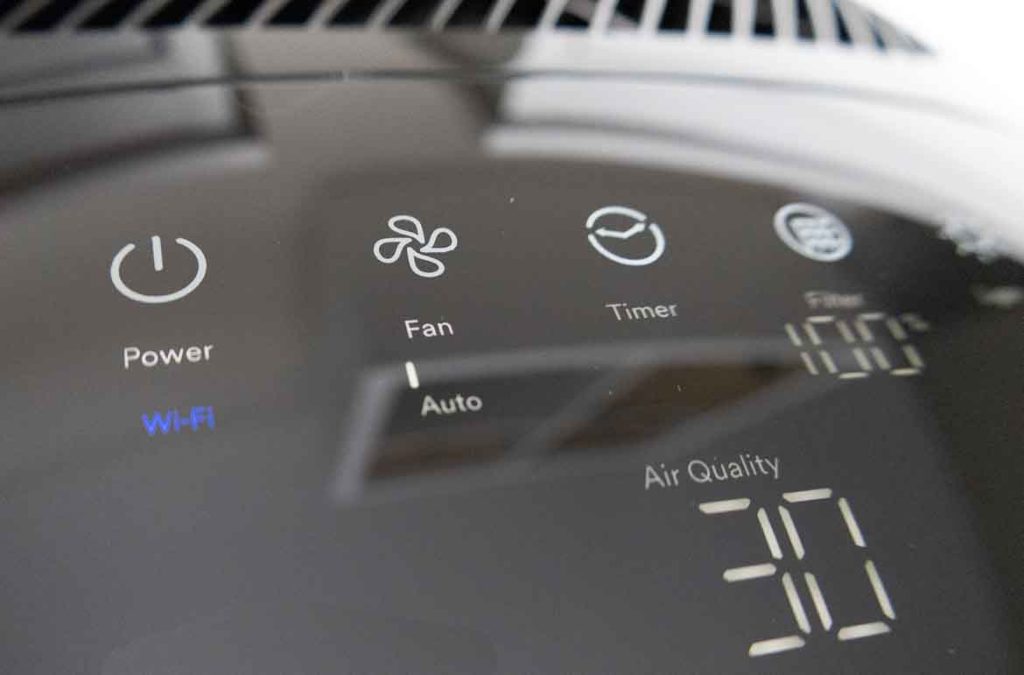 You can adjust settings, including the fan speed.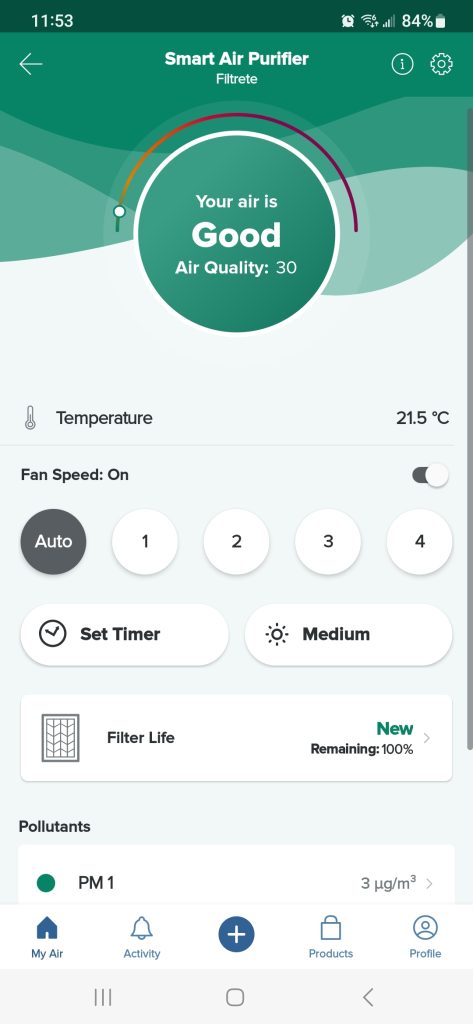 Testing the Filtrete Smart Air Purifer
I decided to test the Filtrete air purifier with a real life particulates.
I lit a candle, and then snuffed it out next to the air purifier.
The smoke from the candle was quickly pulled into the air purifier.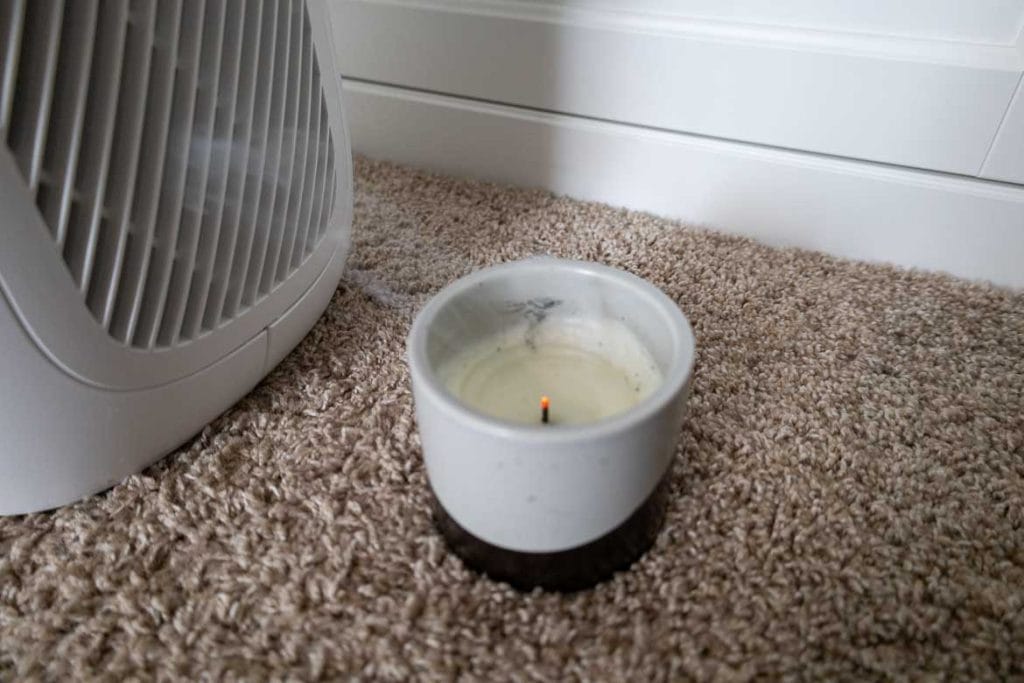 For the first few seconds the Air Quality monitor began to climb quickly.
The Air Quality topped out at a whopping 490!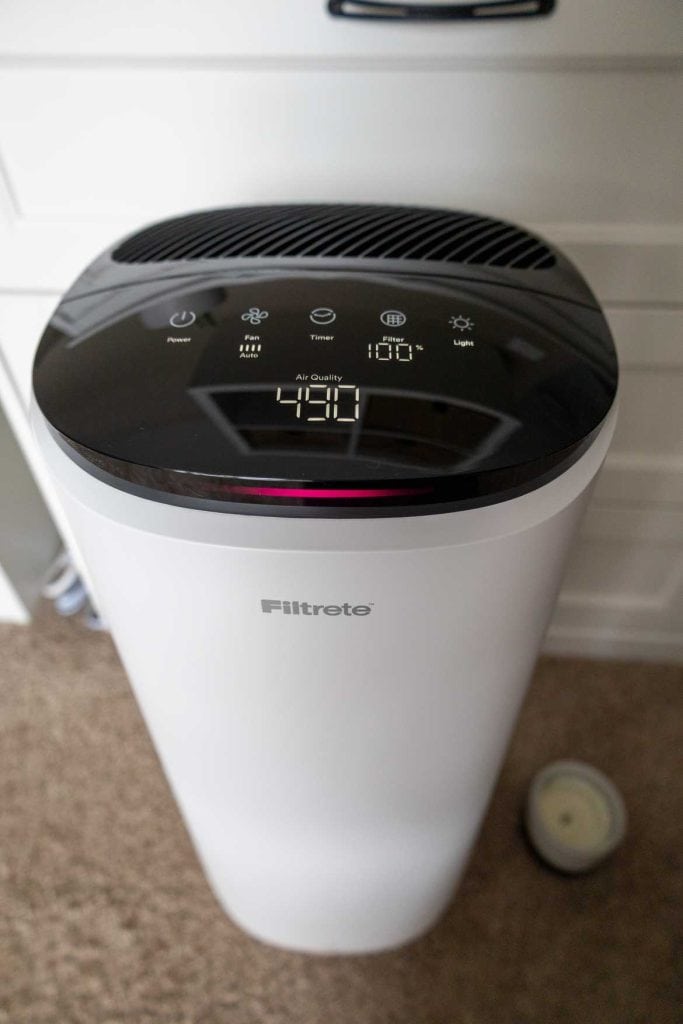 However, as the air purifier filtered the smoke out of the air, the Air Quality improved quickly.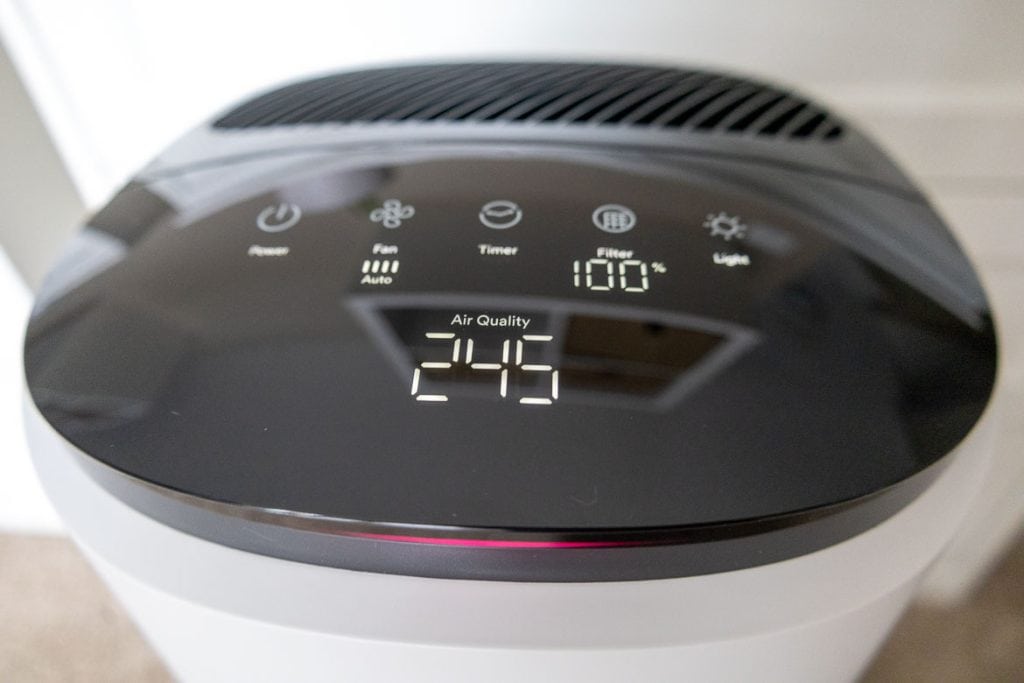 Air Quality was back to excellent within a couple of minutes, with an Air Quality of 26.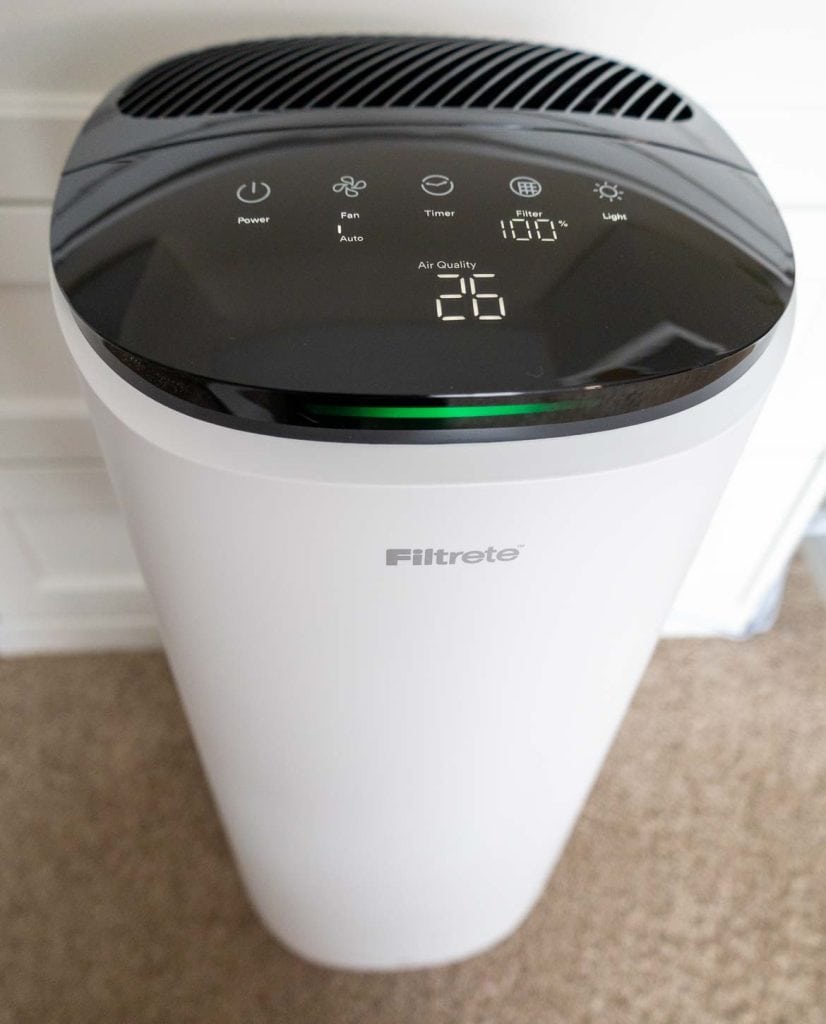 Why use a smart air purifier?
Improving indoor air quality: A smart air purifier can help to remove allergens, pollutants, and other contaminants from the air, improving air quality.
Reducing allergy and asthma symptoms: By removing allergens and other irritants from the air, a smart air purifier may help to reduce allergy and asthma symptoms, such as sneezing, coughing, and difficulty breathing (source).
Eliminating odors: A smart air purifier can help to eliminate odors in a home, such as those caused by pets, cooking, or tobacco smoke. This can help to create a fresher, more pleasant living environment.
Improving sleep: A smart air purifier can help to create a cleaner, more comfortable sleeping environment by removing allergens and other contaminants from the air. This can help people sleep more soundly and wake up feeling rested.
Protecting against respiratory infections: A smart air purifier may help to reduce the risk of respiratory infections by removing bacteria, viruses, or mold from the air (source). This can be especially beneficial for people with compromised immune systems or those who are prone to respiratory problems.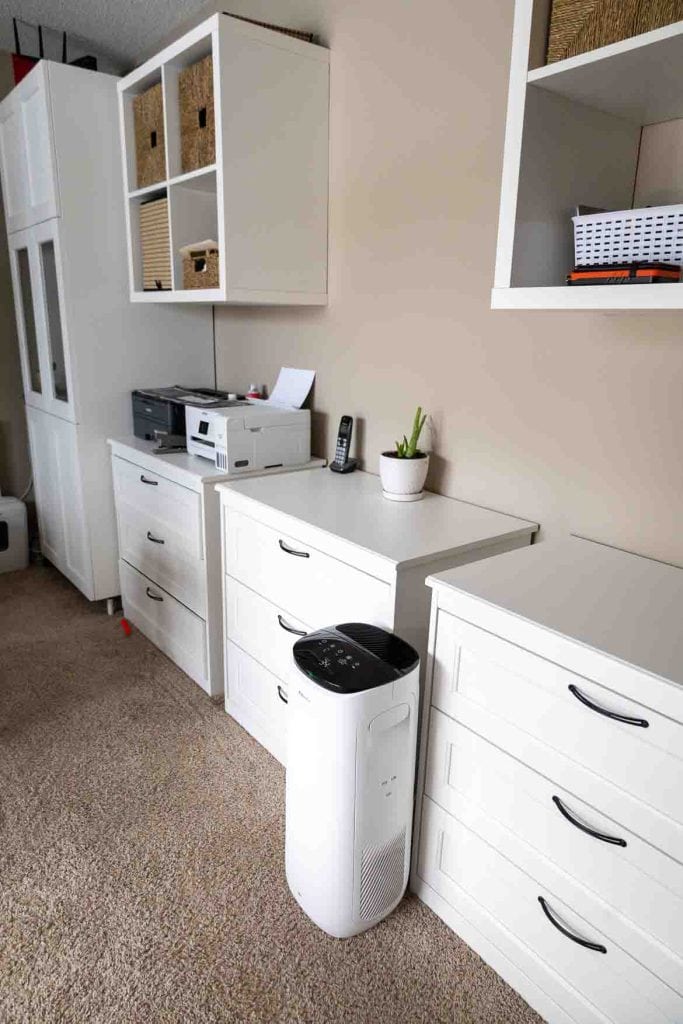 What we liked
I was a big fan of the app, which let me see our indoor air quality, even while away from home. Plus, the app let me boost the air purifier speed when I was away from home, ensuring clean, fresh, air when we arrived home.
This one's a little more personal, but the sleek, modern style worked well with our house. I also liked the tower style, because it takes up less space than our other, wider, air purifier.
What we didn't like
So far, there's nothing that stands out as a real negative.
It performed well in our test to remove smoke from the air, and it's quiet, and does its job.
I wish it was a little cheaper, but the price is in line with other models of the same size.
Overall, it's a positive Filtrete Smart Air Purifier review from us.
The bottom line: Did we like the Filtrete Smart Air Purifier?
Overall, I'm was happy with the Filtrete Smart Air Purifier. It did a great job of cleaning the air and making it easier to breathe, and I loved being able to control it with my phone.
If you're in the market for an air purifier, I would definitely recommend checking out the Filtrete Smart Air Purifier.
We've had the Filtrete for a couple of months now, and I'll update this post as time goes on, to let you know how it holds up over time.
Buy the Filtrete Smart Air Purifier on Amazon.
Do you use an air purifier? Let me know in the comments below!
You might like these articles: