It's all about reducing the amount of plastic we use over here, so we've spent some time searching for the best glass electric kettles.
We use our favorite from this list, the Hamilton Beech kettle (more details below) almost every day. It's fantastic for heating up water for coffee, and for soda replacement beverages like tea.
One of the things that we're trying to do is to make our home and kitchen a more health-friendly place to live. Part of this is adding products that we think are better for our health and well-being.
Given all of the news about the potential dangers of BPA, we've decided to take some simple steps to reduce our exposure to plastics. One easy change to make was to switch out our old plastic kettle for the best glass electric kettle no plastic at all.
The Best Glass Electric Kettles Compared
Here are the best glass electric kettles that we found.
Hamilton Beach 40865 Glass Electric Kettle
Let's start with our favorite. After checking out the reviews we bought the Hamilton Beach 40865 Glass Electric Kettle.
We like the size (1.7 L), and the fact that the bottom is made of metal, and the boiling container is glass only, with a metal bottom. There's plastic in the handle and cover, but we lift up the cover to pour, so our water never comes in contact with the plastic lid.
We've been using this kettle for a while, and overall we love it. It gets top points for looks. As it boils, there's a cool blue light that comes on, and it looks modern and clean on our counter.
We have hard water, so we do find that there's a bit of a buildup of calcium after about a dozen uses, but that it cleans off quickly with a paste of baking soda and water or using CLR.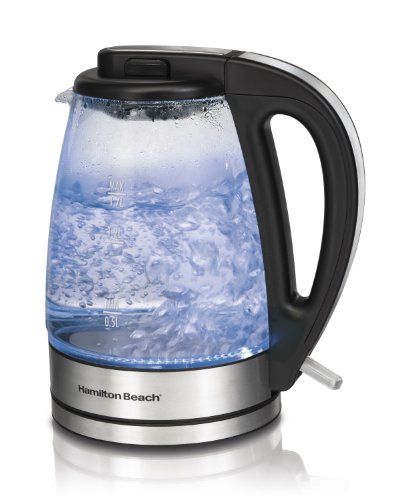 Capresso 259 H2O Plus Glass Water Kettle, Polished Chrome
This is a good looking kettle, and was a strong contender, but a lot of reviews mentioned a strong plastic smell from the lid. Since we're trying to get away from plastic, that alone put this out of the running as one of the best glass electric kettles.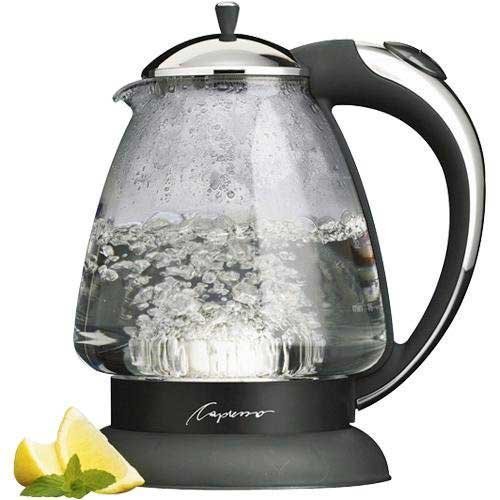 Oster BVSTKT7098-000 7-Cup Illuminating Glass Kettle, 1.7-Liter
Again, this is a nice looking kettle, with the same blue illumination of the Hamilton Beach 40865 glass kettle that we purchased. It gets a 4 1/2 star rating with over 160 reviews on Amazon, which is pretty good. When we bought our kettle, this one was about $20 more than the Hamilton Beach model, which had more reviews, so the Oster lost out pretty much on price alone.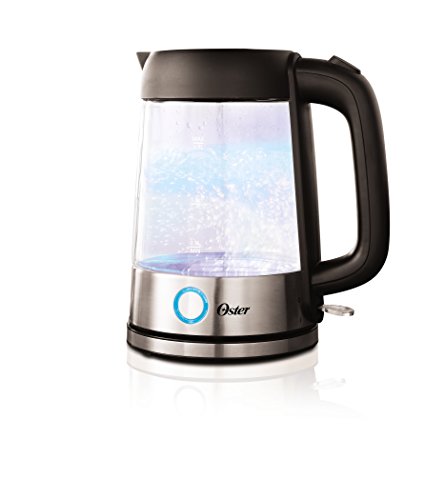 Ovente KG83B Glass Electric Kettle, 1.5-L, Black
The Ovente KG83B glass electric kettle is a nice looking unit, and was priced similar to the Hamilton Beach glass electric tea kettle that we bought.
The Ovente has over 2,500 Amazon reviews, but the average review is only 4.0, while the Hamilton Beach model was at about 4.5. Since the prices of the Ovente and Hamilton Beach glass electric kettle were similar, we went with the Hamilton Beach since the reviews were higher.
We also liked the look of the Hamilton Beach more, as the black base was smaller, and more of the kettle seemed to be made of glass. The Ovente is also only 1,100 Watts, so it has less power, and may take longer to heat up water.