Trollhunters Rock Candy Recipe #StreamTeam
/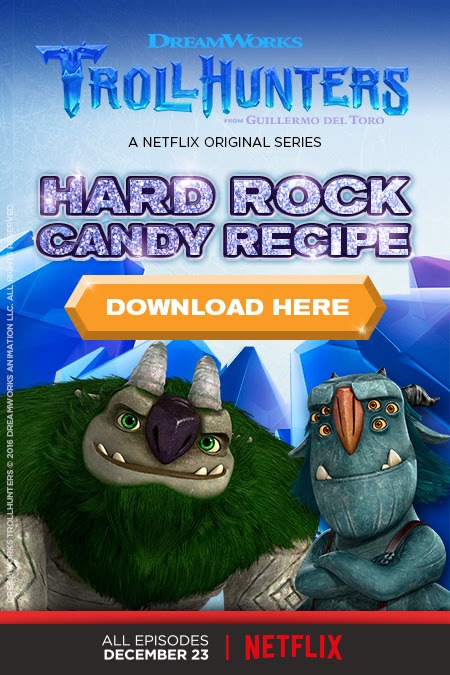 So, what's inspired this tasty Trollhunters rock candy recipe?
This holiday season, Netflix is introducing DreamWorks Trollhunters, from renowned director Guillermo del Toro. Mark your calendars, as it starts December 23rd, 2016, and has 13 full hours to keep your kids (and you!) occupied this holiday season.
To celebrate, we're sharing this tasty Trollhunters rock candy recipie. It's tasty, pretty easy to make (you'll just need cinnamon oil), and a great treat!
To get a printable PDF copy click here!
What you'll need
1 cup confectioners sugar
3 3/4 cups white sugar
1 1/2 cups light corn syrup
1 cup water
2 teaspoons cinnamon oil. You can find cinnamon oil on Amazon here
1 teaspoon liquid food coloring (your choice of color)
How to make the Trollhunters rock candy recipe
Roll the edges of two 16 inch square pieces of heavy aluminum foil. Sprinkle the foil very generously with confectioner's sugar
In a large, heavy saucepan, combine white sugar, corn syrup, and water.
Heat over medium-high, stirring constantly until sugar dissolves.
When sugar dissolves, stop stirring, and boil until a candy thermometer reads 300 to 310 degrees F (149 to 154 degrees Celsius). Remove from heat.
Stir in the cinnamon oil and food coloring. Pour onto the prepared foil, and allow to cool and harden. Crack into pieces, and store in an airtight container.
Tip! Parchment paper can be used for easier cleanup and removal from the pan.
Want a printable PDF copy? Click here!
As for us, we're looking forward to checking out Trollhunters this holiday season!
What's it about? When the world of humans and trolls collide and an ordinary teenager is beckoned to save them both, parents and children will find themselves cheering on an unlikely yet lovable hero.
My kiddos will LOVE this on holiday break! Guillermo Del Toro's animated fantasy series Trollhunters Dec 23 on @Netflix_CA #StreamTeam #spon pic.twitter.com/VWO1c5cDxw

— TheParentSpot (@ParentSpot) December 12, 2016