Doing some last minute pumpkin carving? We can help you out!
We've tracked down over 700 pumpkin carving stencils, including advanced pumpkin carving patterns, with designs ranging from goofy to ghoulish. All of the jack o lantern stencils here are free and printable.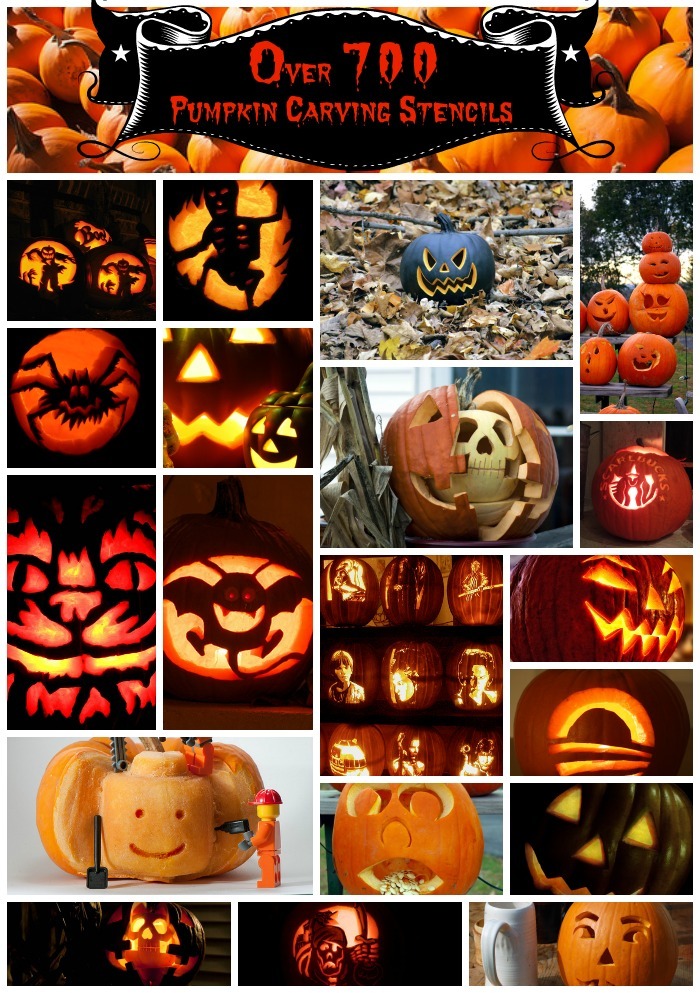 Free Pumpkin Carving Stencils and Patterns for Halloween 2023
10 Free Printable Pop Culture Pumpkin Stencils Cute stencils of pop culture icons, including Justin Bieber, Lady Gaga, Katy Perry, Taylor Swift and Robert Pattinson.
46 Pumpkin Templates From Reader's Digest, these are mostly simple designs that are easy for novice carvers or children.
180 Free Traditional Stencils This is the mother load of traditional pumpkin patterns, ranging from Yoda to T-Rex to goblins and owls and much more. Even better these pumpkin carving stencils are free. You'll find some good scary pumpkin stencils here as well.
40 Nick Jr. Pumpkin Stencils This is a cute mix, with PAW Patrol, Blaze and Shimmer and Shine and a lot more included. Even better, these are easy pumpkin patterns that even the most artistically challenged (ahem… like me) will love.
14 Disney Pumpkin Stencils This collection of stencils has some of our favorite Disney characters, including Winnie the Poo, Mickey Mouse and even Wreck-It-Ralph.
42 Pumpkin stencil patterns from Martha Stewart. Their templates include an owl, witch, raven, bat, vulture, and a cat template that we really like. Unfortunately, the stencils are in an annoying slideshow you'll need to click through, but there are some excellent free pumpkin stencils.
49 Geeky Pumpkin Stencils from Popsugar. This hilarious group contains free pumpkin patterns to help you carve out Star Wars, Dr. Who, Star Trek, Angry Birds, Pokemon, Hello Kitty, Mario and Gangnam Style.
50 free, printable pumpkin carving patterns and stencils at Fantasy Pumpkins. The web page is a bit retro 1990's (that's not necessarily a bad thing), but the patterns are good. While some of these look like they'd take an entire day to carve out, the selection is great.
20 Random Stencils from Creative Dad. This list of Halloween pumpkin stencils includes fun ones from Tinkerbell, to Colonel Sanders to Gary Coleman.
100 Free Stencils from StonyKins. These patterns range from Bettie Page to AC/DC, and most of these jack o lantern patterns are decidedly geared to adult tastes.
59 Pumpkin Stencils This is a nice large list, with everything from Aliens to the Smurfs to typical Halloween stencil designs.
9 Simple Stencils Probably be more appealing to beginning carvers or small children.
1 Constellation pumpkin stencil by Martha Stewart. We included this because we just thought it was so unusual. We've never seen a constellation Halloween pumpkin stencil before.
25 Halloween Stencils A cute collection, with a few nice ones, including a cat and witch sitting on branch.
16 Halloween Stencils A nice little collection of basic Halloween pumpkin carving stencils.
12 Themed Stencils These stencils range from clowns to haunted houses to Uncle Sam to awareness ribbons, with a few traditional Halloween stencils thrown in.
100 'Un-Halloween' Pumpkin Stencils These are definitely not your average stencils, with themes ranging form animals to fantasy and celebrities like Arnold Schwartzenegger.
67 Cat Stencils  From cute to creepy, these are great for the cat lover.
8 Military Themed Stencils – Includes stencils for the Air Force, Army and Navy, and others. Like all the others on this list, these are printable pumpkin carving stencils and free of charge.
14 Pop Culture Stencils This is definitely an eclectic little collection with everything from Kurt from Glee to Mickey Mouse and Assassin's Creed represented.
12 Midwest Theme Stencils From lighthouses to barns and silo, these are definitely true to the Midwestern theme. Canadians take note, there's even a maple leaf symbol if you're feeling patriotic.
Do you have any free printable pumpkin carving stencils to add to this list? Let us know!
Photos courtesy Flickr Kenny Louie Rennett Stowe Nick Taylor Jason OX4 Dayna a4gpa Alex G. r reeves LadyDragonflyCC Michael Myers rick