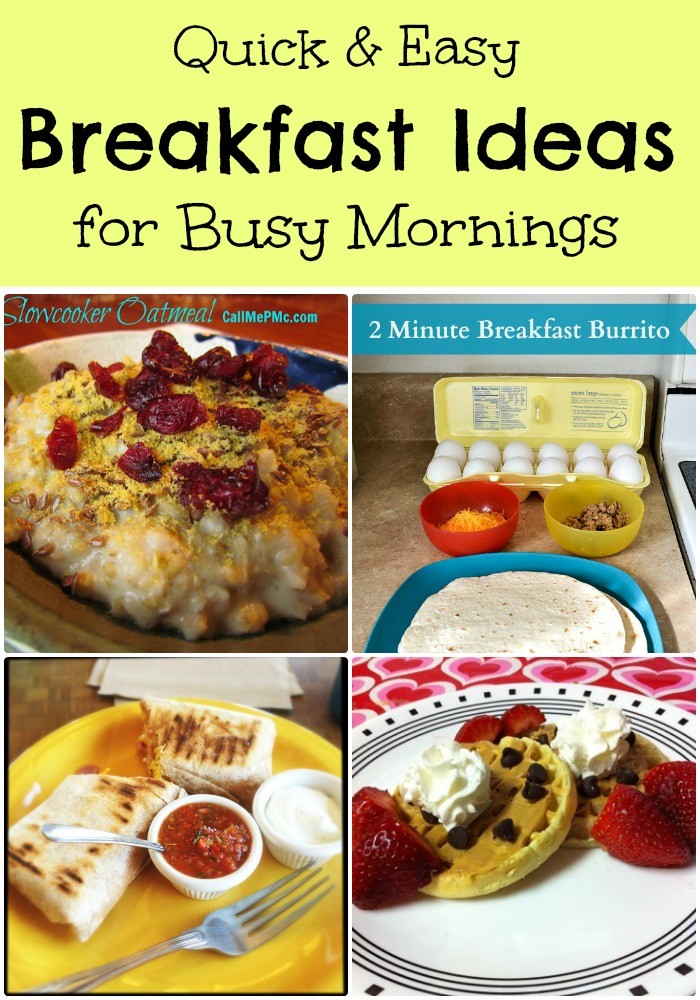 You're tired and you don't want to make anything for breakfast, but you know that breakfast is the most important meal of the day. What do you do to get your morning started off right (and warm)? Try one of these quick and easy breakfast ideas for busy mornings, of course! Many can even be made the night before.
Peanut Butter and Banana Waffles
Make waffles the night before and freeze them, or use frozen waffles. Heat them for 3 minutes in the toaster, and then smear peanut butter on them. Just one tablespoon of peanut butter counts as a serving of protein, and studies have shown that people who eat protein for breakfast have lower weights and better health. They also have better digestive health. Top that with 2 teaspoons of raisins and half a sliced banana. Serve it with hot coffee or warmed milk for a breakfast that's healthy, filling, and so easy to make. Check out this great recipe for peanut butter and chocolate chip waffles from The Springmount 6Pack.
Maple and Fruit Oatmeal
Many places are getting paid money for this filling breakfast, but you can save some by making it at home. All you need to do is heat up instant oats, plain, and top them with 1 teaspoon of butter, 2 teaspoons of maple syrup, 2 teaspoons of cranberries, and ¼ of a sliced apple. For extra crunch, toss in a few almonds, stir well, and enjoy! It's really that simple to make and it fills you up until your next meal. You will get one serving of fruit and one serving of grains with this meal.
Check out this Healthy Slowcooker Oatmeal from Call Me PMc for some inspiration.
Quick breakfast burritos
It's a piece of cake to quickly whip up a morning burrito with eggs and whatever savory filling you have on hand.
Check out this 2 Minute Egg & Sausage Breakfast Burrito from Flour on my Face for some inspiration.
Melted Veggie Breakfast Burrito
A quick veggie burrito is a great way to get a little protein for energy all day long. Use a whole grain tortilla to get that one serving of grains on for breakfast.
Easy Veggie Breakfast Burrito Recipe
A simple, no fuss veggie breakfast burrito
Prep time 5 minutes
Cook time 10 minutes
Serves 1
Ingredients
1 tsp butter
1 flour tortilla
1/8 cut freshly grated cheddar cheese
8 tbsp diced veggies (tomatoes, peppers, onions, or anything you like)
Directions
Heat 1 teaspoon of butter in a frying pan.
Place tomatoes (or any other veggies you enjoy) on the tortilla and freshly grated American cheese on top of that.
Roll it up and place it with the open flap down, cook over medium heat for three minutes, then roll to the other side and do the same.
Notes
This is great served with diced and cooked potatoes. You can make those the night before by dicing one red potato and baking it for 20 minutes at 350 degrees. Refrigerate after it cools. In the morning, toss it in the frying pan with Italian seasonings and 2 teaspoons of olive oil and serve alongside your tortilla.