Who knew turmeric hot cocoa could be so good? If you're looking for a new way to spice up your life, turmeric hot chocolate is the answer!
Not only does it taste amazing, but turmeric hot cocoa has plenty of benefits. Rich in antioxidants, turmeric hot cocoa helps with digestion and is also an anti-inflammatory (source). So grab your favorite mug and get ready to experience all the turmeric hot chocolate benefits firsthand; you won't regret it!
I love that this hot drink comes together in only five minutes. It's so easy!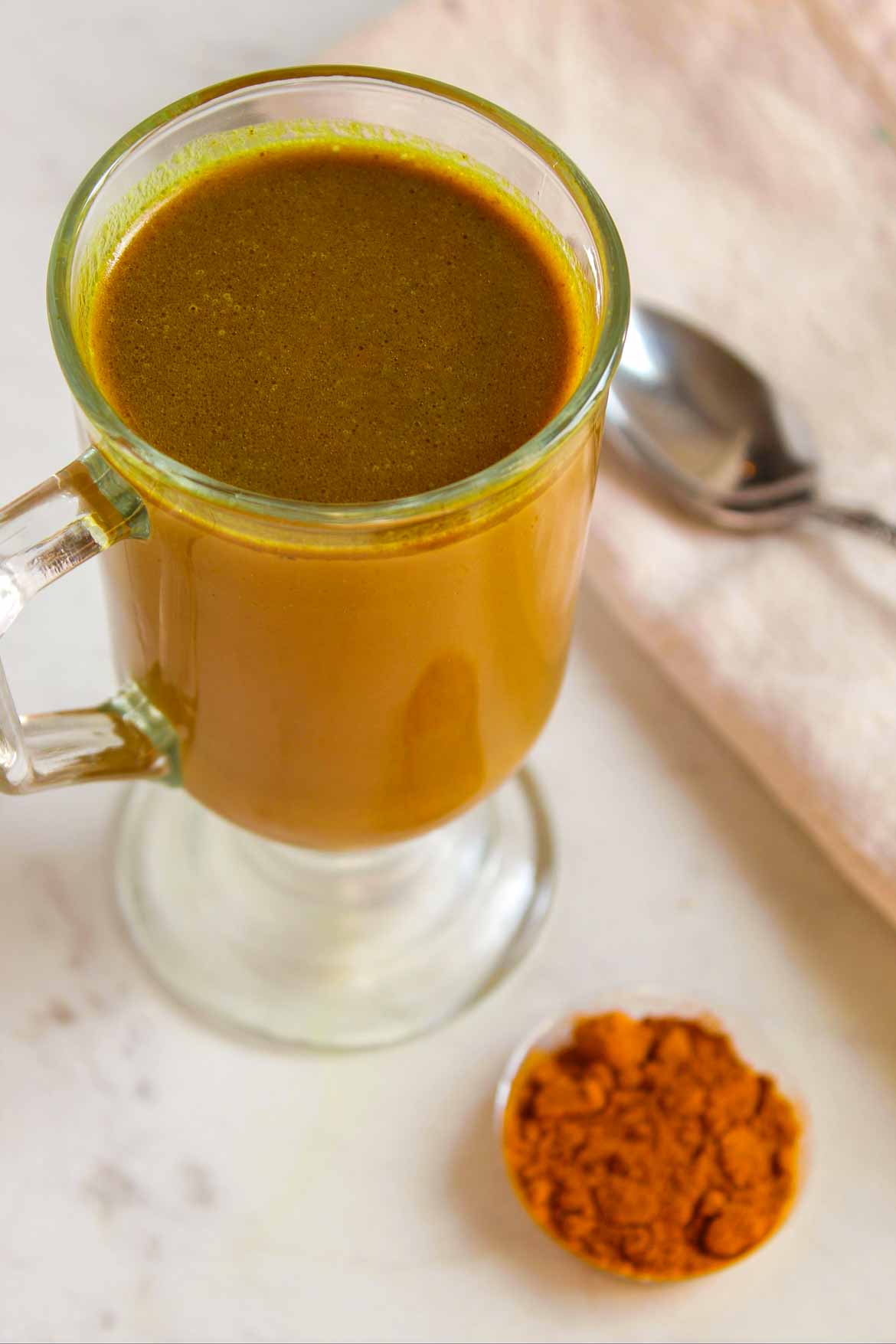 Why add black pepper to your turmeric hot chocolate?
An active compound called curcumin makes up about five percent of turmeric.
If you add just a little black pepper, the bioavailability of curcumin shoots up by 2,000 percent (source). Even just a 1/20th of a teaspoon can significantly boost curcumin levels.
Why add a healthy oil to turmeric hot cocoa?
Well, healthy oils are delicious, first of all, and our body needs healthy oils!
Secondly, adding a source of fat (such as coconut oil or butter) increases the bioavailability of turmeric, meaning that more of the goodness of curcumin is directly be absorbed into the blood stream and bypass the liver (source).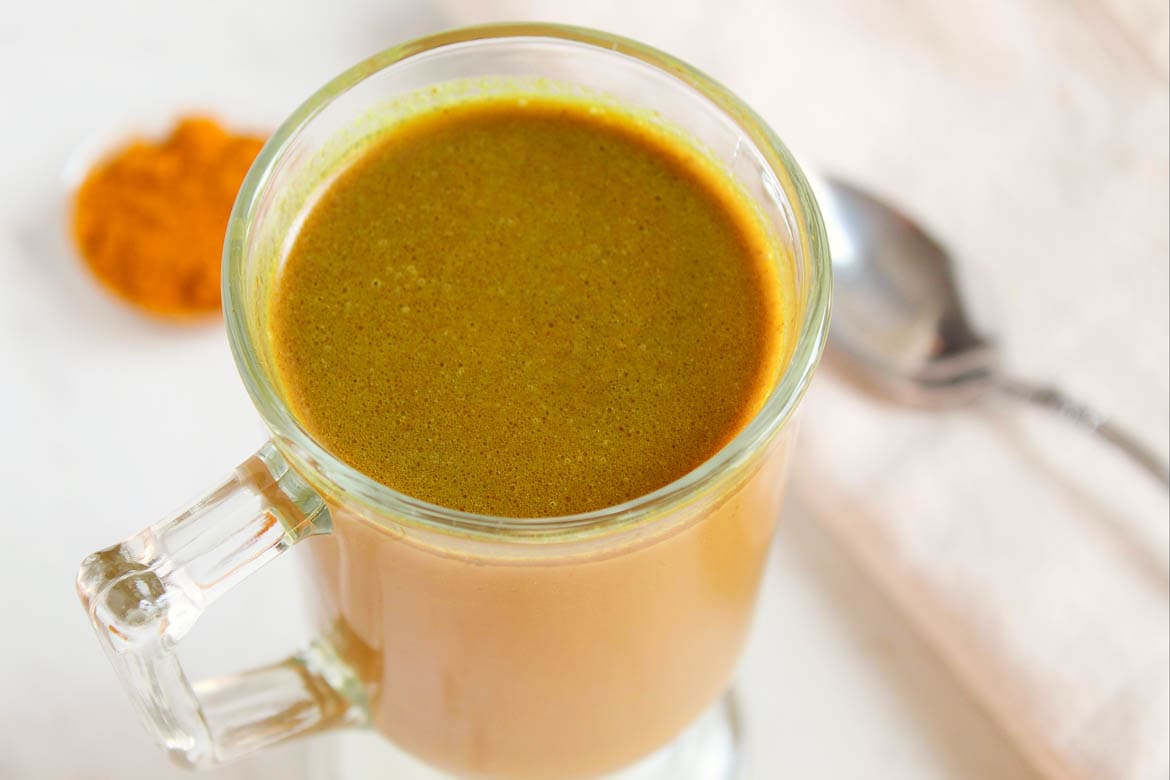 Turmeric hot chocolate benefits
It's the curcumin in turmeric that gives it so many of its health benefits for digestion, and anti-inflammatory properties.
Turmeric Hot Cocoa
There truly isn't anything quite like hot chocolate – it's the perfect companion for a lazy Sunday morning, a cold day, or a heartfelt conversation with someone close. It's warm, comfortable, and oh so delightful!
This anti inflammatory hot chocolate is extra special, with it's burst of bright yellow turmeric that adds extra color.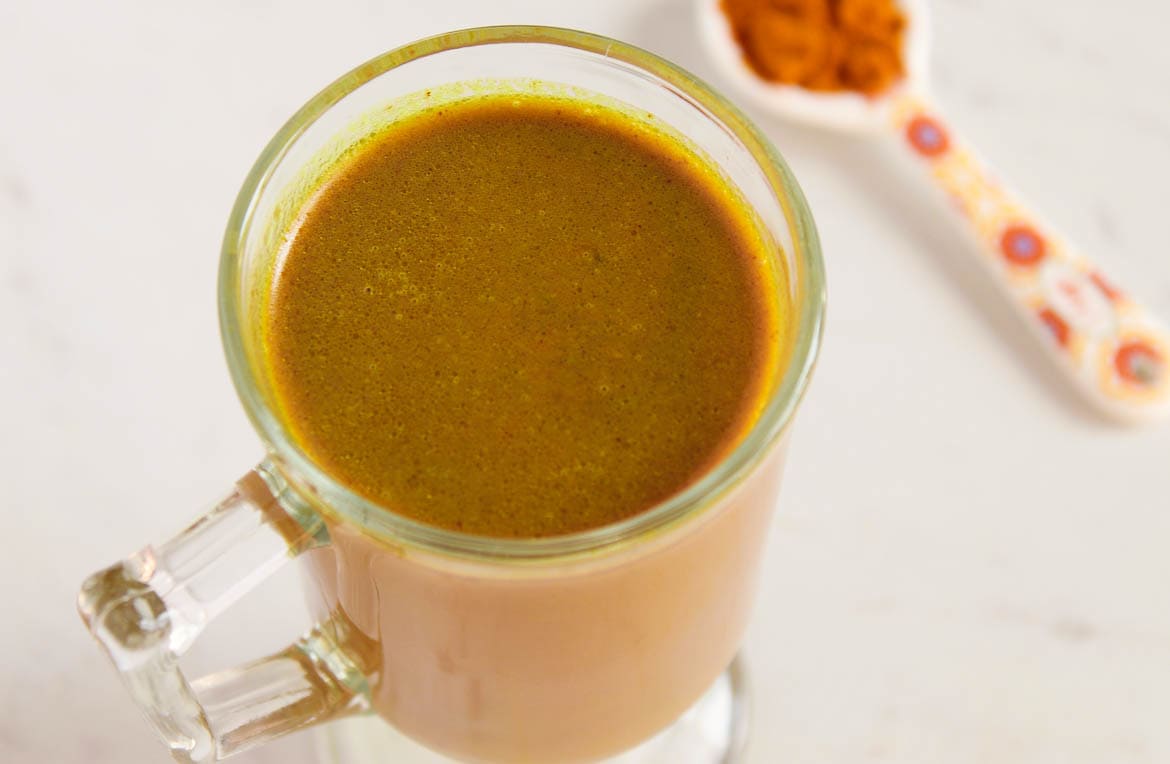 Whether you decide to make your hot chocolate traditional or spike it up with something extra special, one thing is for sure – you have comfort in mind. But that's not all hot chocolate is good for – it also helps keep your kitchen stocked up on marshmallows and whip cream!
What you'll need
The ingredients for this homemade hot cocoa are so simple:
milk
unsweetened cocoa powder
ground turmeric
coconut oil
black pepper
honey
You can also add a pinch of optional cayenne pepper if you're feeling spicy!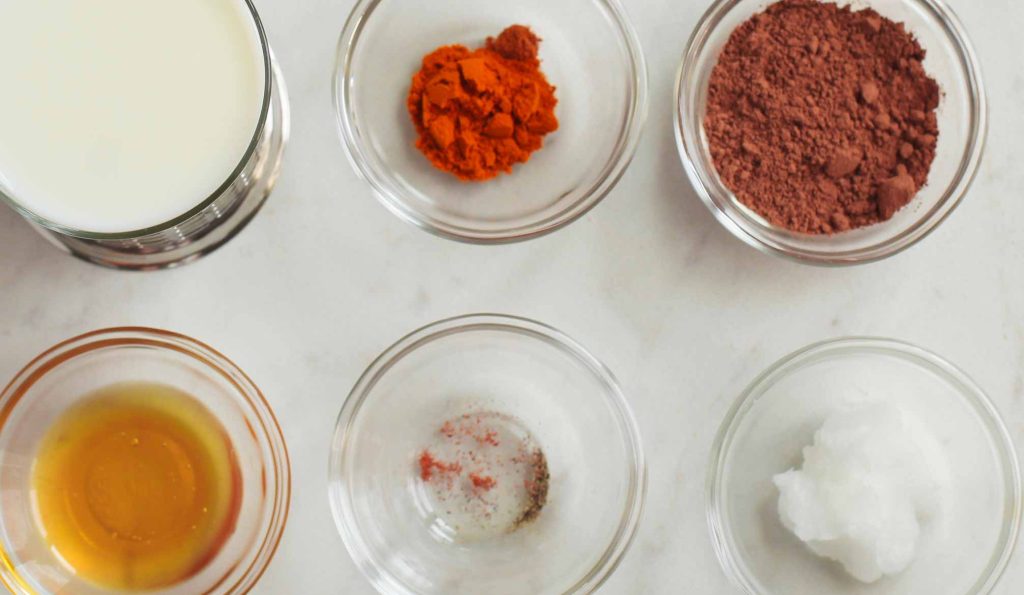 Substitutions
Want to make your hot cocoa just a little bit different? Try these substitutions!
Do you love butter as much as the wonderful Julia Child did? Then substitute the coconut oil with butter.
As a Canadian, I have a personal, serious relationship with maple syrup, so I substitute the honey with maple syrup. Feel free to add your favorite sweetener to taste.
Lactose intolerant, vegan, or just not a milk fan? Substitute milk with oat milk, or other milk you'd prefer.
Alternatives
Want to make turmeric infused dark hot chocolate? Just skip the milk and add water instead. You'll have an intense, dark chocolate brew of turmeric dark hot cocoa.
Love ginger? Add a 1/2 teaspoon of finely grated fresh ginger (or a 1/8 teaspoon of powdered ginger) to make a spicy turmeric ginger chocolate.
How to make this Turmeric hot cocoa drink
This drink is so easy! To make, just add milk, cocoa powder, turmeric and coconut oil to a saucepan.
Then, add a pinch of black pepper (or the optional cayenne pepper). Finally, add honey or another sweetener you prefer, and serve!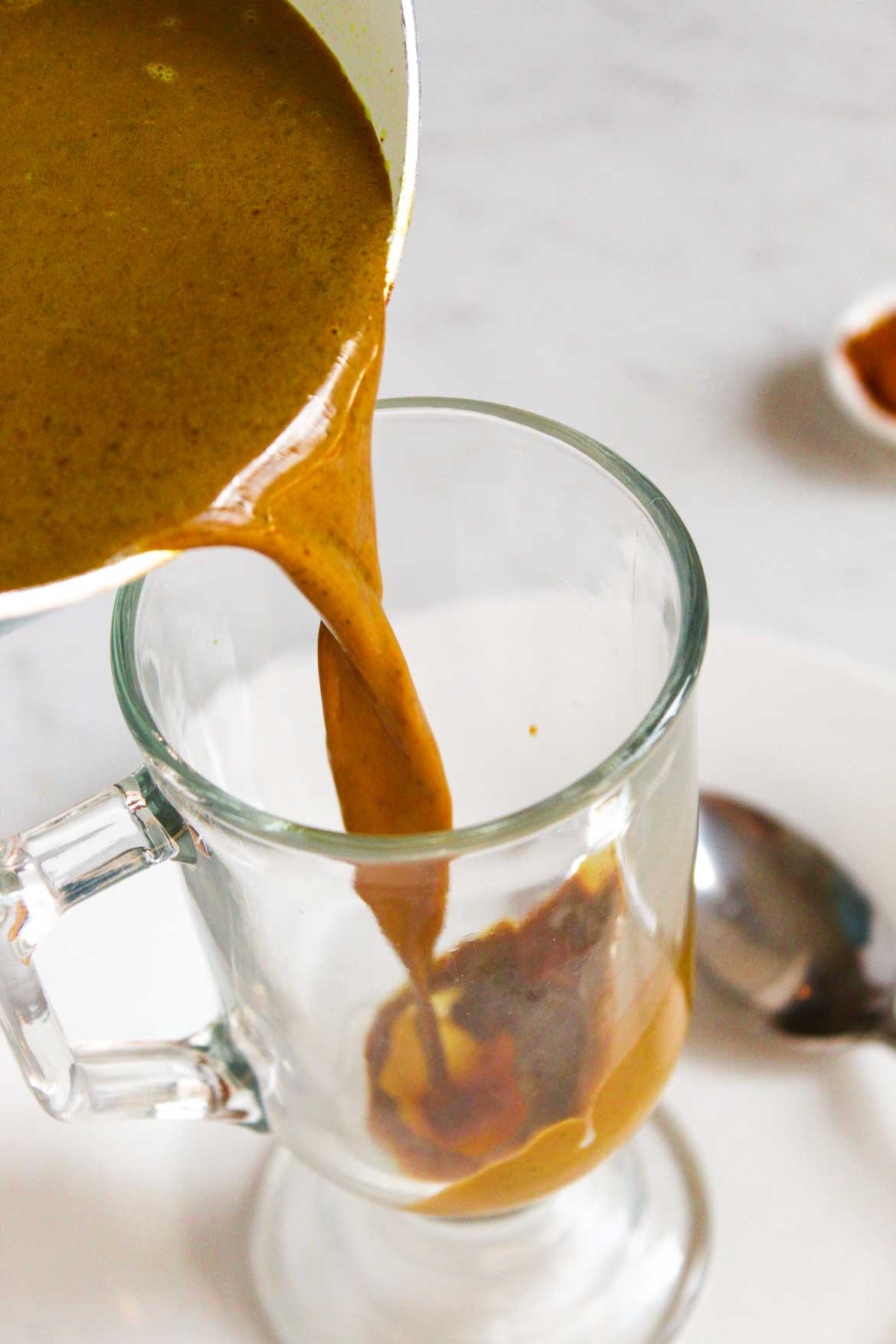 I hope you enjoy this recipe for turmeric hot cocoa! Why not try it out and let me know what you think?
Turmeric is a wonderful spice with many health benefits, so adding it to your hot chocolate is a great way to get all of those benefits while enjoying a delicious treat. If you're looking for more recipes that incorporate chocolate, be sure to check out the rest of my blog recipes for more ideas.
Did you try this turmeric hot cocoa recipe? Let me know in the comments below!
Looking for something even easier?
This Elements Truffles Turmeric Infused Dark Hot Chocolate is as rich, creamy and indulgent as it sounds.
Coffee lover? Try this Four Sigmatic Golden latte in single servings.
Try our other recipes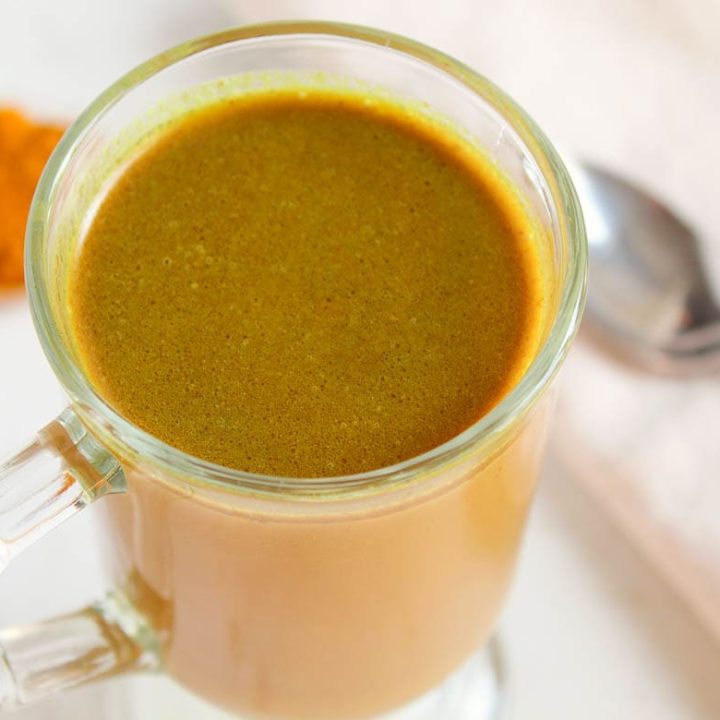 Turmeric Hot Cocoa
This anti inflammatory turmeric hot chocolate is extra special, with a burst of bright yellow for extra color and health benefits.
Ingredients
1 cup milk (you can substitute oat, soy, or any other milk)
1 ½ tablespoons unsweetened cocoa powder
1 teaspoon ground turmeric
2 teaspoons coconut oil (you can substitute butter)
2 teaspoons honey (you can substitute with maple syrup or another sweetener)
1/16 teaspoon black pepper
Optional: Pinch of cayenne pepper
Instructions
Pour milk in a small saucepan.
Add cocoa powder, turmeric and coconut oil, stir, and bring to boil.
Turn off the heat.
Stir in a pinch of black pepper and (optional) cayenne pepper.
Add honey or other sweetener.
Nutrition Information:
Yield:

1
Serving Size:

1
Amount Per Serving:
Calories:

286
Total Fat:

15g
Saturated Fat:

11g
Trans Fat:

0g
Unsaturated Fat:

2g
Cholesterol:

20mg
Sodium:

116mg
Carbohydrates:

30g
Fiber:

2g
Sugar:

24g
Protein:

10g
All information and tools presented and written within this site are intended for informational purposes only. I am not a certified nutritionist and any nutritional information should only be used as a general guideline.