This post is sponsored by Name Bubbles, but all opinions are our own.
Looking for easy holiday organization tips? We can help!
Tired of holiday stress and clutter? I get it.
The holidays are often equal parts fun, excitement, annoyance, stress, and disorganization in our household. It doesn't mean that I don't love the holidays most of the time, but I could really just use a little help staying on top of things.
So, this year, I decided to give myself the gift of getting organized ahead of time for the holiday period.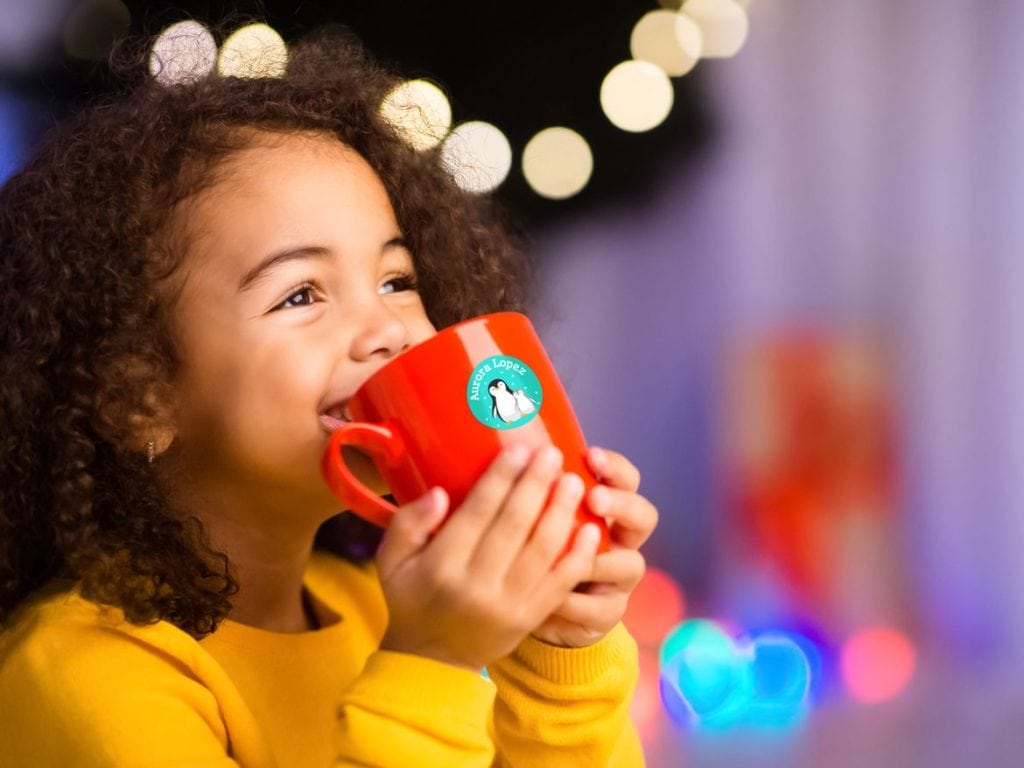 Easy Holiday Organization Tips
Here are my favorite easy holiday organization tips.
Labels
Labels are an absolute sanity saver for me in the holiday season. It's just so easy to find exactly what I'm looking for when my supplies are clearly labeled and organized.
I like to make labeling extra easy by ordering our labels with Name Bubbles, a mom-owned business that has manufactured custom labels in the USA for more than a decade.
They have labels for almost any situation, from clothing labels to school labels for lunchboxes, water bottle and more, to write on labels and customized name stickers.
They even have permanent iron-on labels for face masks! Such a smart idea!
For organizing my decorations and gift wrapping supplies, I'm a fan of the write-on labels.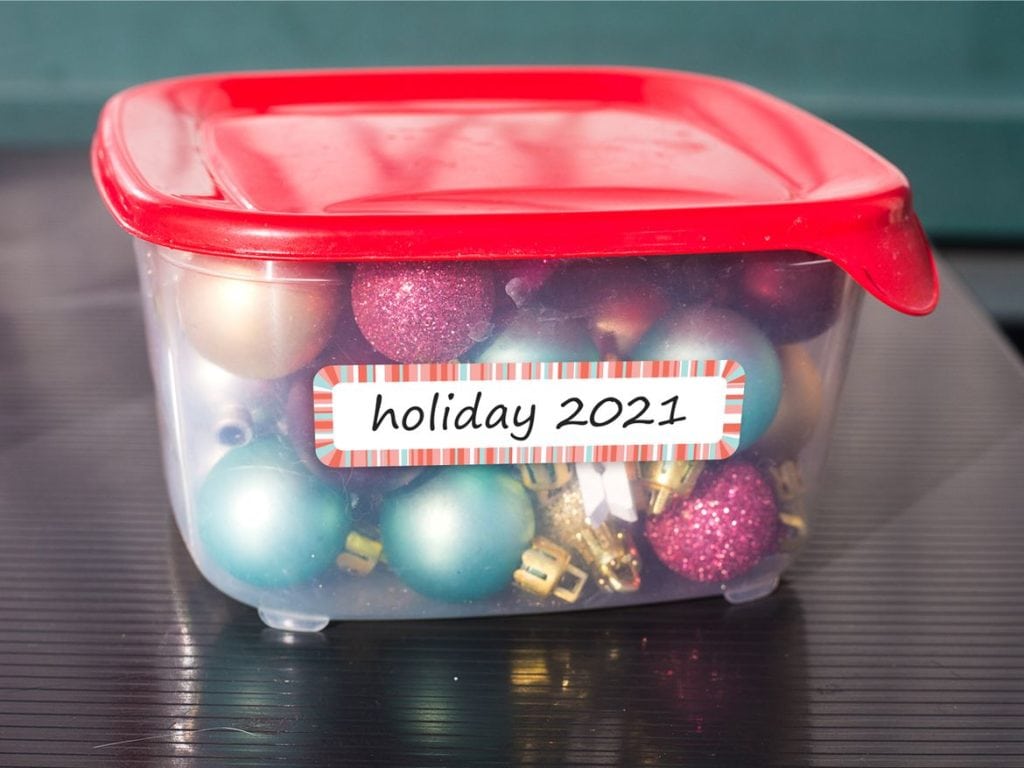 Looking for a deal on must-have labels for this holiday season?
You can save 20% sitewide at Name Bubbles with code HOLIDAY20 from now until December 31, 2021. It's a great deal if you need a little help organizing Holiday gifts, wrapping paper, decorations, or even baking supplies this holiday season!
See Name Bubbles helpful options here.
Clear storage containers
I love storage containers. Especially, clear, neatly labeled storage containers.
Pictures of those perfectly organized pantries and holiday supplies on Pinterest are an instant stress reliever for me.
Now, I'm nowhere near as organized as those Pinterest perfect photos. Even so, using labels and clear bins to organize my holiday decorations, pantry, and more is a great help for me.
I love to use clear bins wherever possible, since they make finding what's inside so easy and fast, and they're easy to keep organized with Name Bubbles labels.
Inventory what you have
Dig out all of your holiday items, and do an inventory, either on paper, or just in your head. Inventory everything from gifts you may have bought earlier in the year, Christmas cards and wrapping paper, gift bags, and decorations.
Declutter
Decluttering is one of my favorite ways to reduce. Extra stuff in my holiday supplies just takes up space in my house, and increases my mental workload. I get rid of anything that's damaged, or that I'll realistically never use. So much better!
Labels are so helpful for decluttering. I use Name Bubbles write-on labels to create boxes labeled for items to sell and to give away. These stay on a shelf in the garage, so decluttering is always easy.
Organize your time and deadlines
Create a master list of deadlines for gift purchases, gift wrapping, baking and so on. Write it all down, and set alarms, or calendar reminders to keep everyone on track.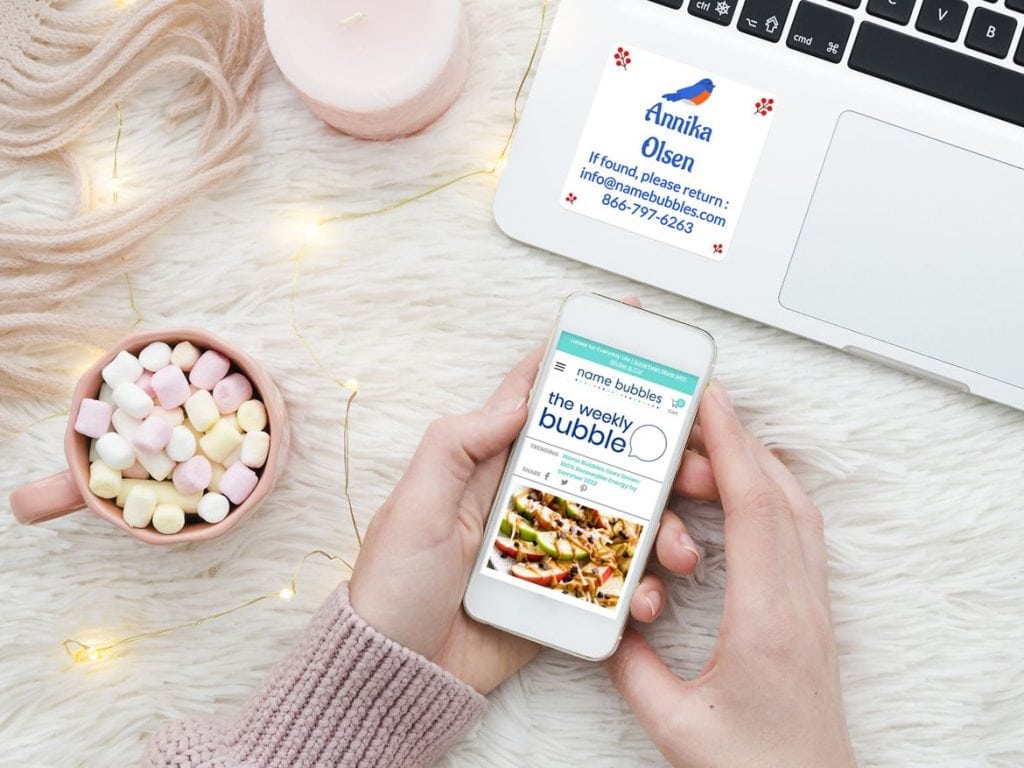 Prioritize
There are a million and one things to do every holiday season, so once you've created a list of deadlines, prioritize the most important. Letting some deadlines slip is OK, but forgetting to buy the kids' Christmas present is a sure disaster.
Delegate tasks
Delegating tasks is one of the most effective ways to trim your holiday to-do list. It becomes obvious pretty quickly that one person can't do everything all alone, and stay happy and stress free.
Hate gift wrapping? Farm it out to one of the kids, or your spouse, or simply use gift bags and tissue paper for wrapping. Check out our gift wrapping tips to make it easier.
Keep track of what you and your family loved this holiday season
Get a pretty notebook at the dollar store, and get everyone to jot down the things they loved this holiday season. It makes a wonderful keepsake, and it'll help you remember everyone's favorite foods, gifts, and activities next year. Store it with your holiday decorations for safekeeping.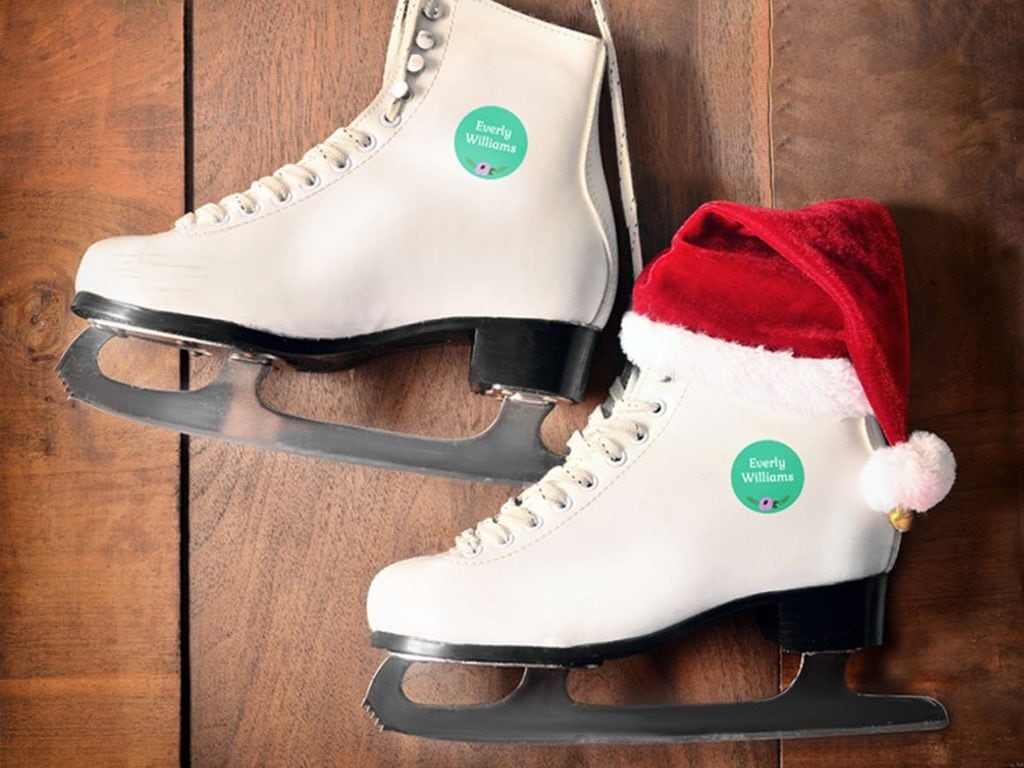 Create a gift wrapping station
A gift wrapping station can make holiday gift giving so much easier. Your wrapping station can be an entire desk in a spare room or basement, or just a collection of paper, gift bags, cards, tape and scissors where you tend to wrap presents.
We wrap our presents on our bed, which gives us privacy when wrapping the kids' presents, so our gift wrapping gear is all stored in our bedroom closet.
Looking for some cute, personalized labels to make your gifts extra special? Check out Name Bubbles budget friendly holiday label packs here for under $15!
Plan your menus ahead of time for holiday meals
Menu planning can save a lot of time, and it's an especially powerful technique for saving time, and reducing hassle, over the holiday period.
Shop ahead of time, and make dishes ahead of time whenever you can as well. Designate one person in your family to be the official runner to pick up anything you may have forgotten on cooking day.
While you're at it, organize your holiday treats with write-on labels. Name Bubbles labels are dishwasher safe and microwaveable, so they're perfect for keeping your pantry organized.
See prices for Name Bubbles labels now.
Do you have any holiday organization tips? Let us know in the comments below!