Looking for a great Actifry french fries recipe? This is it!
I adore crispy, perfectly golden french fries. Unfortunately, traditionally made fries are loaded with salt, oil and plenty of calories.
These ActiFry french fries are low in oil, calories and salt, plus they taste perfectly delicious. They're golden and crunchy on the inside, with flavorful, hot potato goodness on the inside.
The ingredients for this recipe are incredibly simple: Russet potatoes, vegetable oil, and salt. I love to serve them with a simple dip of ketchup.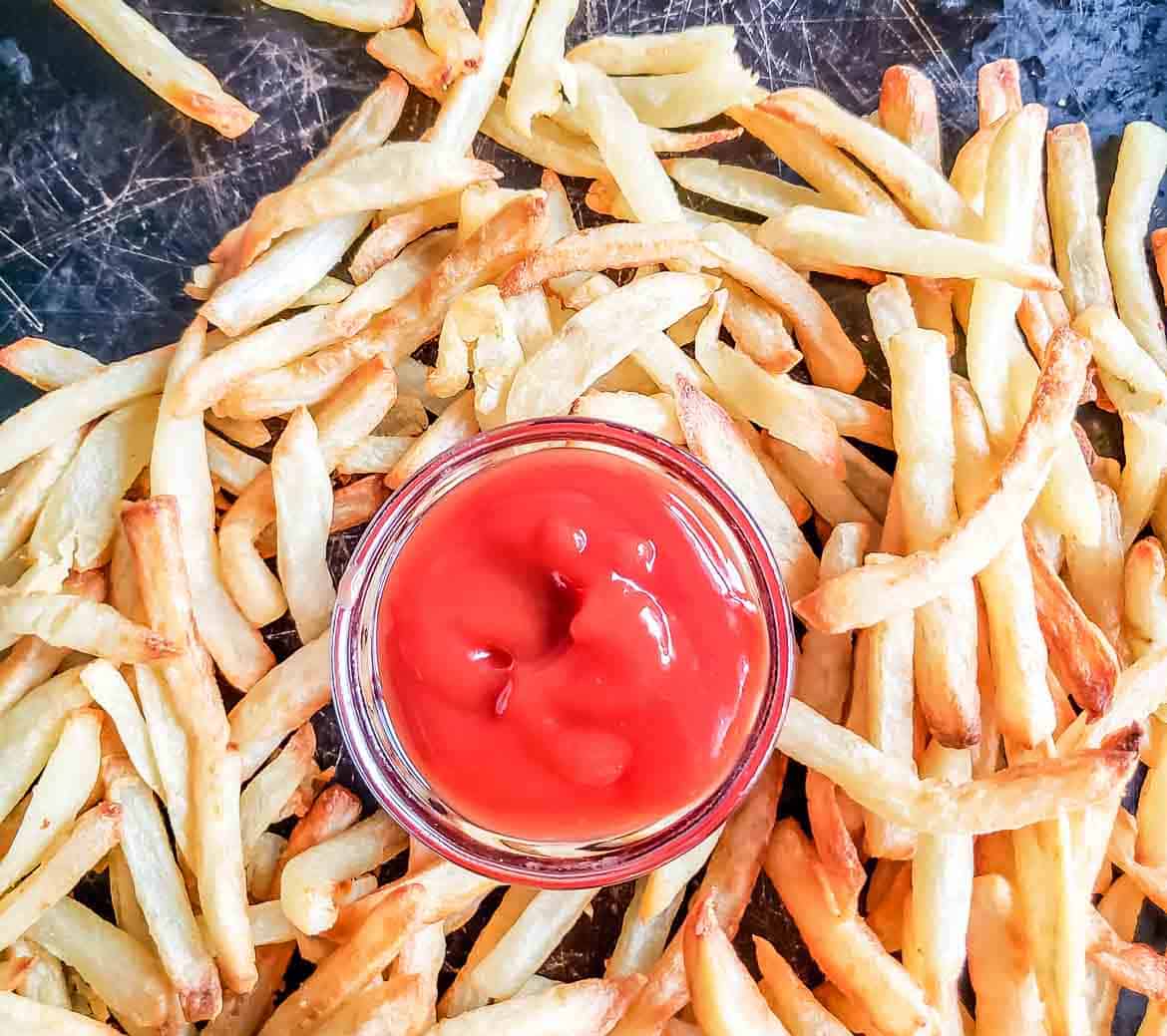 Using the ActiFry
We have the ActiFry 2.2 pound version. Surprisingly, it's still a pretty good size at 19.1 x 11.8 x 15.6 inches and about 11 pounds. It has a 2.2-pound food capacity, which is about four servings for a side dish like french fries.
Since it's a low oil fryer, the recipe only uses one scoop of oil (about 1 tablespoon!).
See the ActiFry prices on Amazon.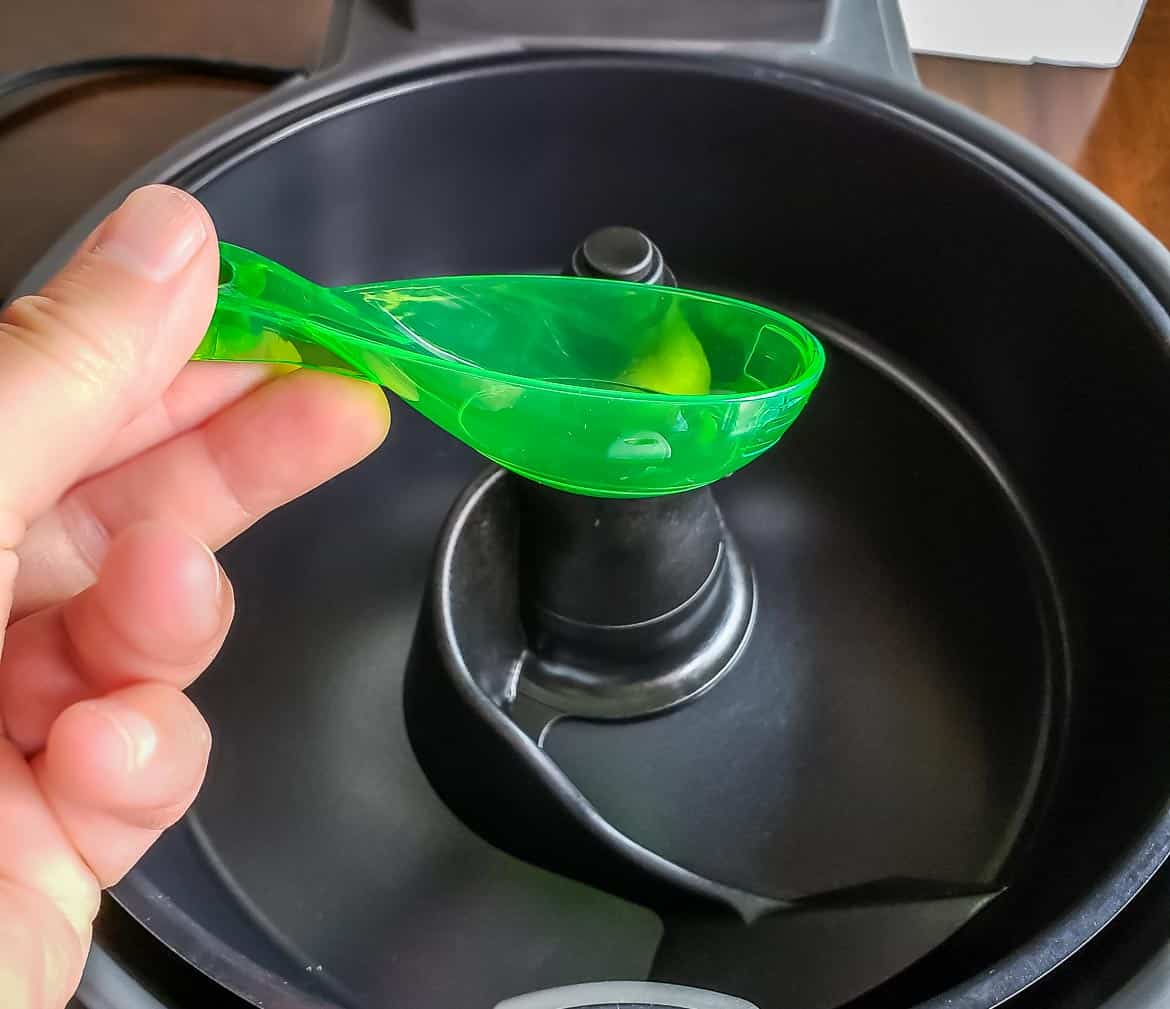 The ActiFry cooks by blowing heated air over the potatoes in the cooking basket, as a center paddle turns to make all sides crispy.
For our family of four (which now includes one hungry teenager), we find that the ActiFry 2.2 pound version just doesn't make quite enough for a main course. This recipe serves four as a side, but we find that for us, we need to make this recipe twice to have enough for an indulgent supper, even when we serve the fries up with a topping of canned veggie chili and cheese.
When you take out the paddle to make recipes like air fryer zucchini (which you can't stir because it would crumble to mush), you really only cook enough food to cover the bottom of the pan. At best, any recipes made without the paddle are a snack for one, or maybe two.
I think and ActiFry would be a fantastic appliance for a single, health conscious person. It cooks quickly, and uses so much less fat than regular frying.
See the ActiFry prices on Amazon.
The Best ActiFry French Fries Recipe
Here it is: our easy to make ActiFry french fries recipe for crispy, low fat fries.
Ingredients
1 3/4 (900 g) Russet potatoes (you can also substitute frozen fries!)
vegetable oil like canola, sunflower, or corn oil
1/2 tsp oil
Instructions
Peel potatoes and slice into julienne strips of 2/3 of an inch (13 mm) maximum. For extra fiber and a more rustic taste, leave the peel on!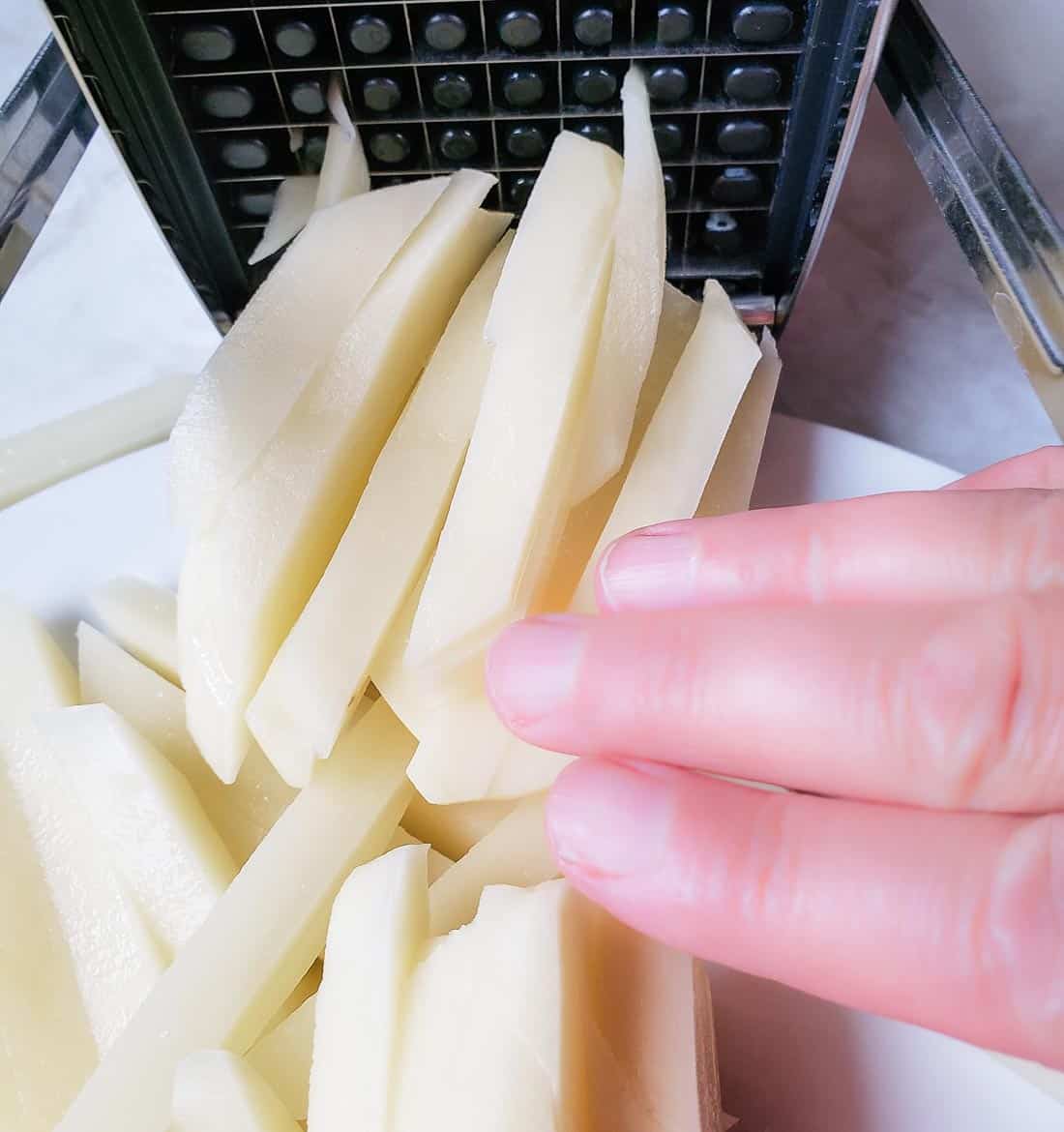 Rinse thoroughly to in cool water and drain.
Next, dry the potatoes thoroughly with a dry, clean cloth dish towel or paper towel.
This step is important to make sure your fries are crispy.
Put the fries in the ActiFry pan, and drizzle with 1 ActiFry scoop of oil.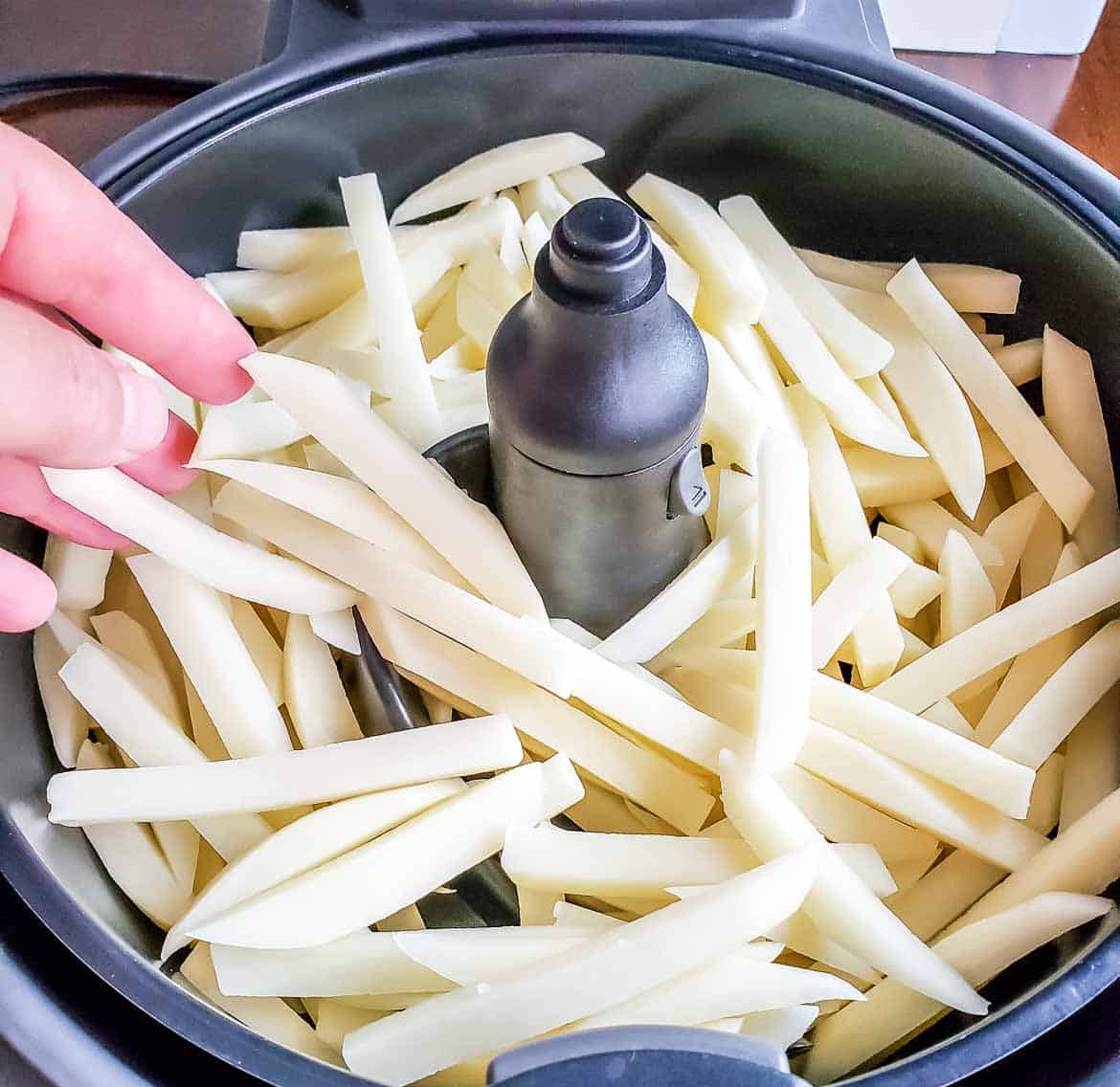 Cook for 30 to 40 minutes. The fries should be golden, crisp, and thoroughly cooked.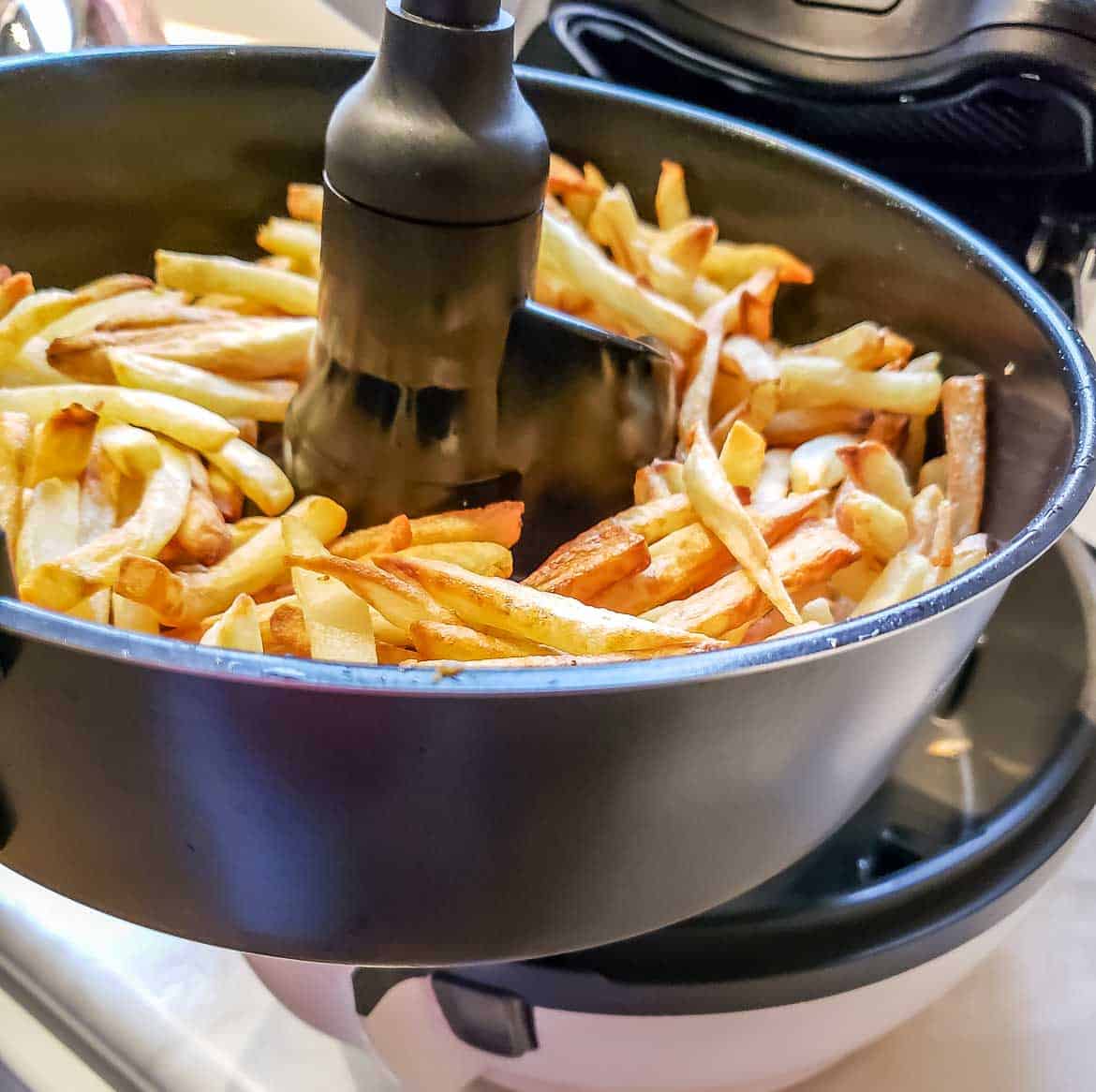 Season fries with salt. Important! Wait until the fries are cooked before adding salt.
This Actifry french fries recipe makes 4 servings.
Enjoy!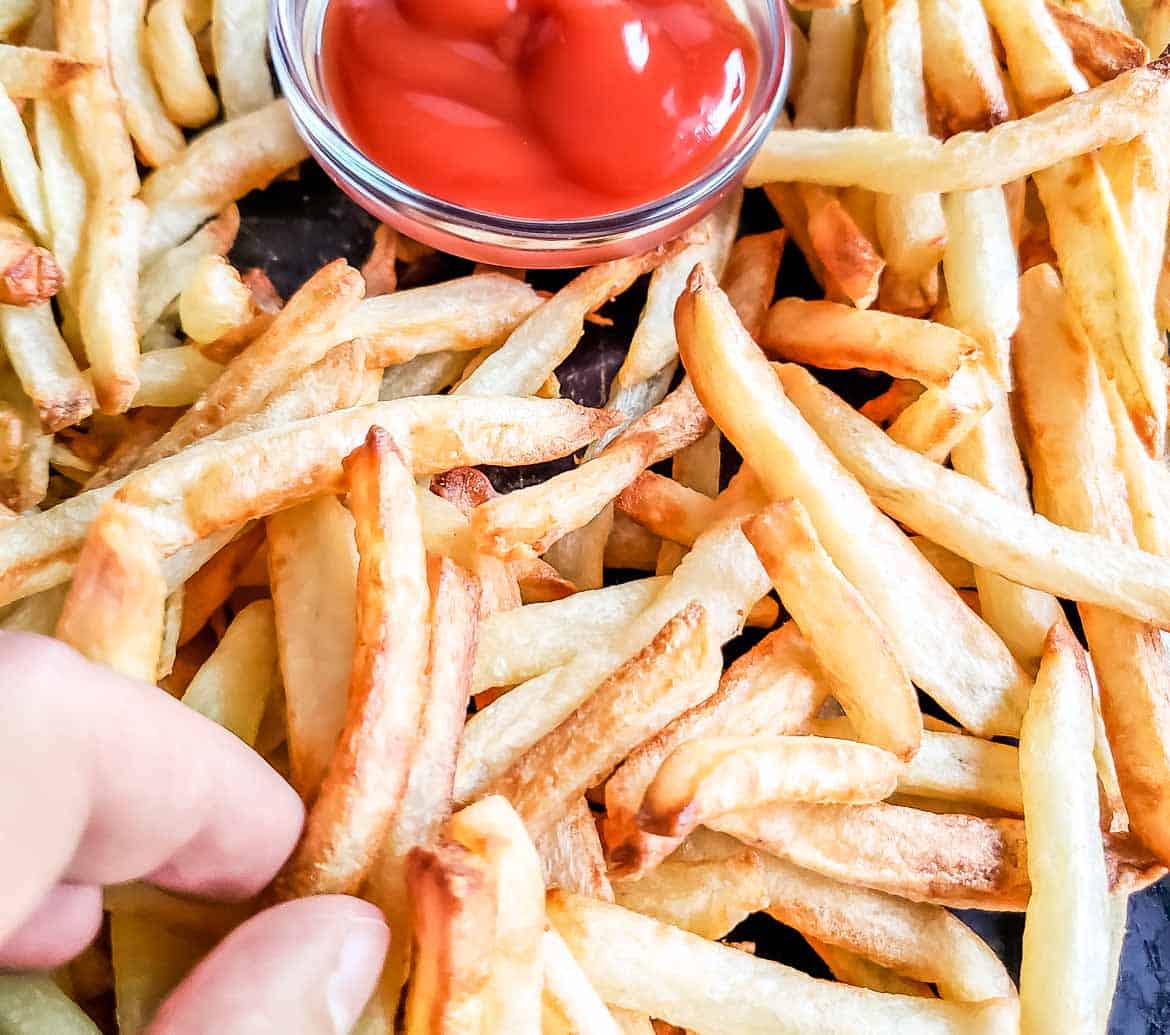 Want more great ActiFry recipes?
Check out our delicious air fryer fried pickles recipe or the Skinny ActiFry Cookbook packed with great ActiFry low fat recipes.
Get The Skinny ActiFry Cookbook on Amazon.