Are you ready for back to school? I can't believe it's time for the kids to hit the books already!
This year, I'm staying ahead of the after school snack chaos with this fun after school snack station. No more rushing around to get a snack ready for the kiddos when they come home. With this little Mom hack, they can just grab whatever snacks they love most and enjoy!
With the kids taken care of, this mom now has more time for fun things in life, like lunch with the girls, a self care day (check out our self care checklist), or just a much needed rest on a comfy mattress.
Anything that makes Mom life a little easier is a win in my book!
Love snacks, and looking for some more snack inspiration? Check out our spicy bread and butter pickles, popular taco dip, homemade chunky salsa for canning, or our vegetarian keto snack recipes!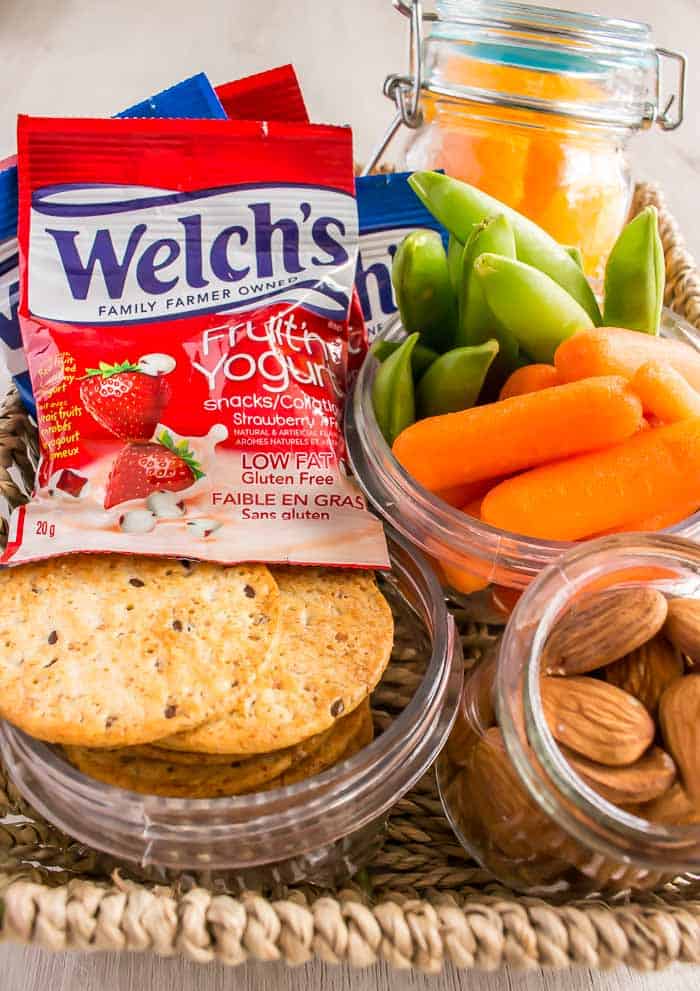 What's a snack station, you ask? They're dedicated spaces to make and enjoy snack creations for kids' lunches, after school, or just anytime your family wants a delicious snack.
We've made our snack station simple, with a single basket packed full of goodness. This way, it's easy to restock, and the kids aren't overwhelmed with too many choices.
How to Create A Back To School Snack Station
This snack basket is easy to create, and simple to customize with the snacks that your kids love most.
Tip! We keep our snack station in the fridge, but you could easily create one that lives on your counter.
The items we always include are an easy sweet snack, a protein source, veggies, and a grain. I love to include multiple food groups, plus give our kids foods that they love and that are fun to eat and enjoy.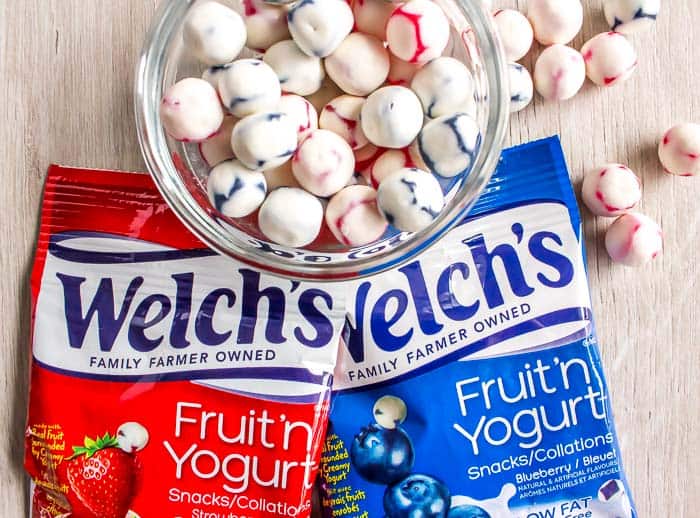 How to create your snack station
Here's what you'll need to create your snack station. These are simple supplies that most of us have on hand already.
Medium sized basket that will fit on your fridge shelf
Small glass jars. I used two and six ounce jars. I love the little snap lid mason jars, and picked them up for about a dollar each at our local dollar store.
Small bowls for serving
Spoons and forks for serving foods like hummus or yogurt (optional)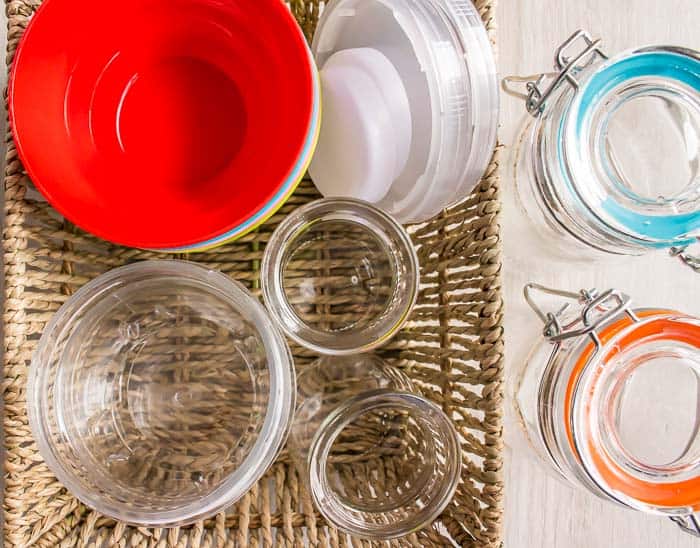 What should you include in your snack station?
Now it's time to fill up those cute containers! We stock ours with a mix of snacks we know our kids love, and a few new additions to try to expand their palate.
One of our tried and true items is Welch's Fruit 'n Yogurt Snacks.
They're such a fun addition, and made with real fruit, which is wonderful. It's weird that so many fruit snacks you can buy don't even have fruit in them, isn't it? It's annoying as a Mom! I love that at Welch's, they put the fruit center stage.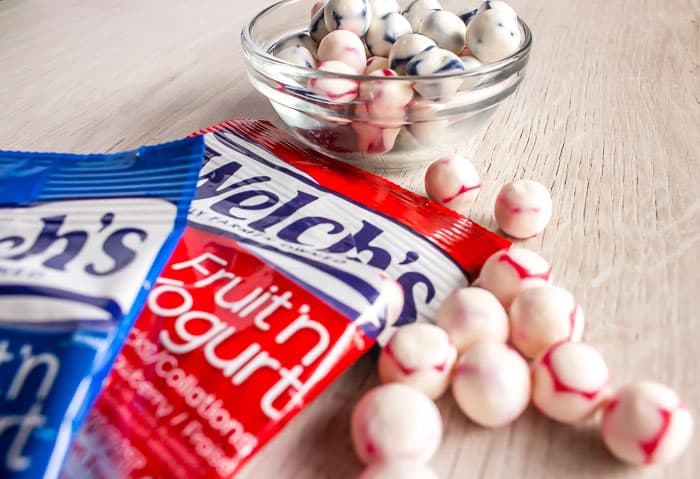 Here are some ideas to get you started:
Our favorites
A fruity, sweet snack like homemade fruit leather, or Welch's Fruit 'n Yogurt Snacks
Nuts
Snap peas
Proteins:
Hummus
Yogurt
Cheese sticks
Hard boiled eggs
Fresh
Carrots
Cherry tomatoes
Grapes
Oranges
Berries
Apples
Grains
Mini muffins
Whole grain crackers
Cookies
Drinks
Milk
Juice
Fruit infused water
Water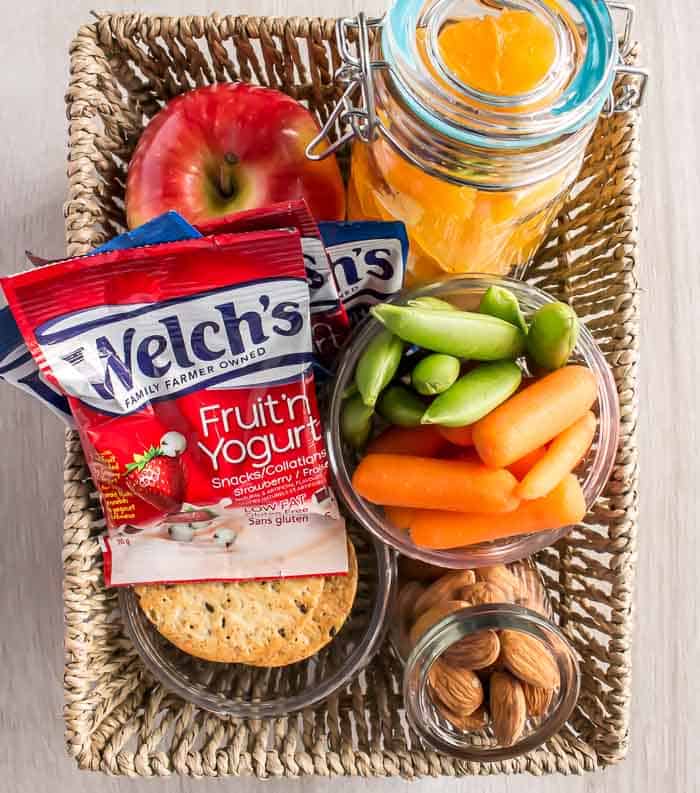 Tips for a snack station your kids will love
Keep snacks in clear containers so kids can see what's inside
Make sure the lids are easy to open and close
Have a balance of items, including proteins, carbs and healthy fats
Let kids choose what they want, and try hard not to comment on their choices. The process of choosing is a lot of the fun of the box, and gives kids some independence they crave.
Have fun with the ingredients! We love to include ingredients for make your own mini pizzas: shredded cheese, tomato sauce, and tiny naan bread or crackers for crust. The kids even love these cold!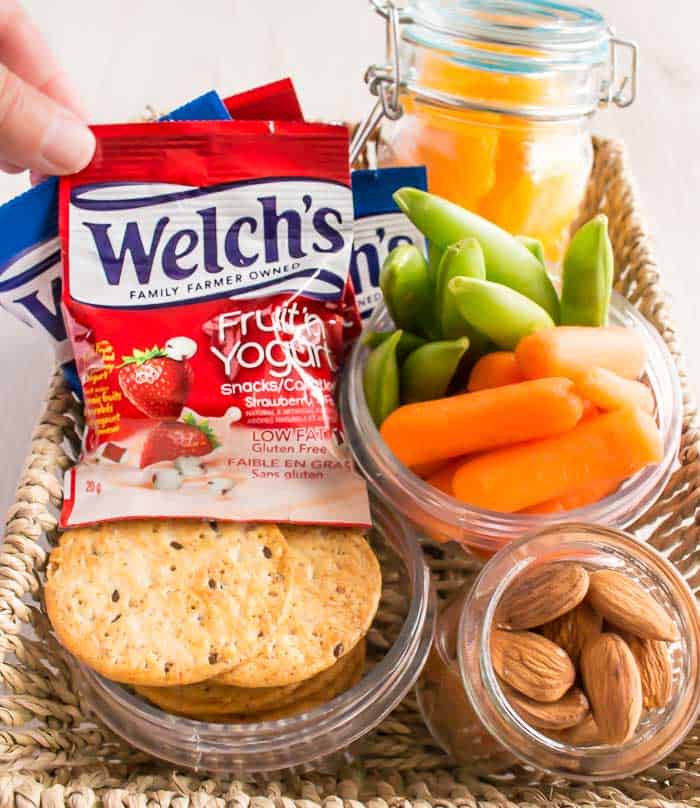 Enjoy! A stocked snack box really relives the pressure during the week for us busy parents. Grab a cup of tea and relax. You've earned it!