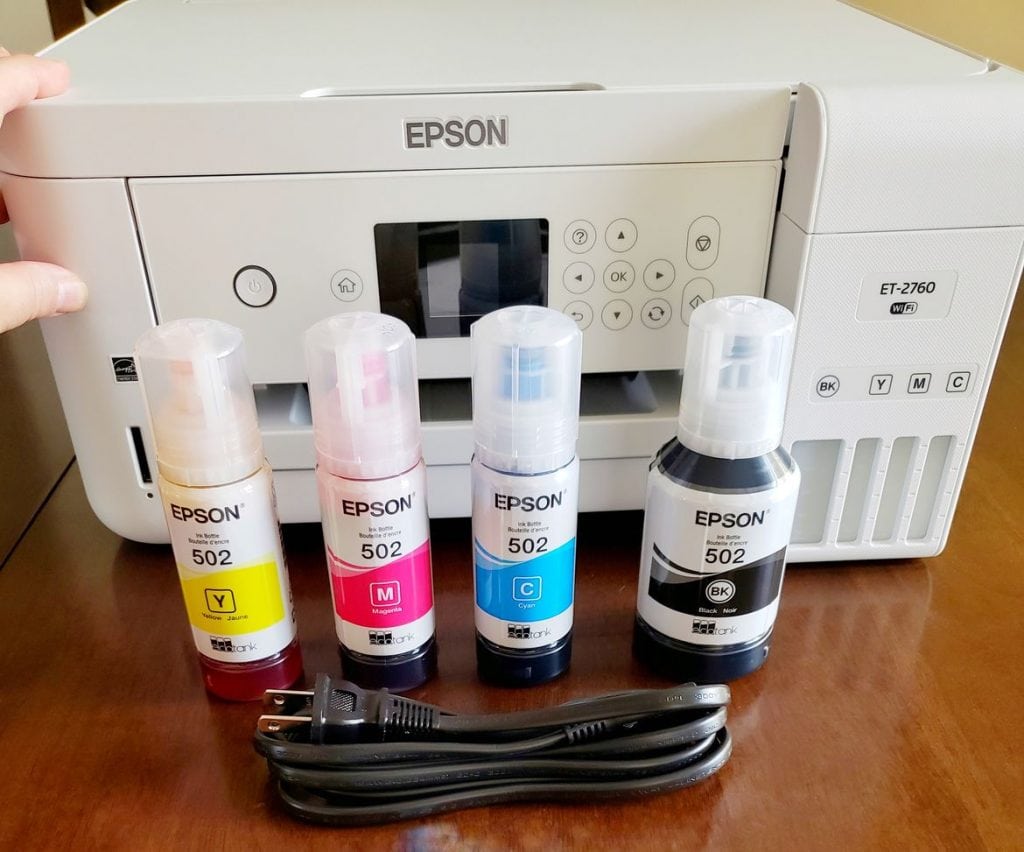 In this article, we look at ink tank printer pros and cons, and review the Epson EcoTank ET-2760 All-in-One Supertank Printer.
We've been looking at buying a new printer for the last few months. Our old printer was acting up, and I was incredibly sick of changing the expensive ink cartridges.
This time, I wanted something different than a cartridge printer.
Sure, cartridge printers can be cheap to buy up front, but that comes with a huge delayed cost of cartridge replacement. Our last cartridge printer seemed to need a cartridge change every month, just with light household use. Eventually, I started using non-recommended off-brand cartridges to save money. Unfortunately, my print level indicator stopped working, and my ink jets kept clogging. Not good.
Luckily, in the last few years home ink tank printers have come on the market. These printers come with refillable ink tanks instead of the costly replacement cartridge system.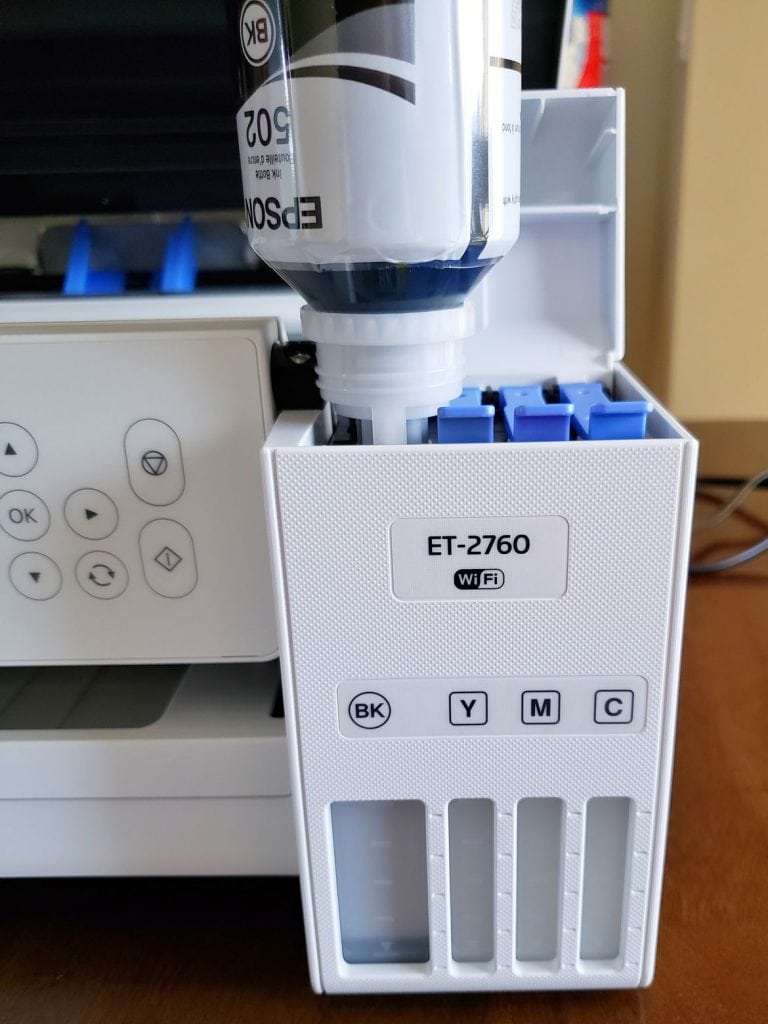 Ink tank printer pros
Ink tank printers have a ton of advantages.
More pages printed between refills. Ink tank printers can print many more pages thank cartridge printers before a refill is needed. It depends on the printer, of course, but an ink tank printer commonly can print 7,000 pages in color, and 5,000 in color. Conventional cartridges are usually only good for 300 to 1000 pages. In my experience with our last two printers, it's been a lot less than that.
Lower ink costs. The cost of print cartridges and ink tank refill bottles is roughly similar. However, with print cartridges printing for only hundreds of pages, and ink tanks good for thousands, ink tank printers are much more affordable per page.
Less mess. When changing ink cartridges, I inevitably ended up with ink on my fingers. Ink tank refills are easy, and mess free.
Ready for more ink tank printer pros and cons?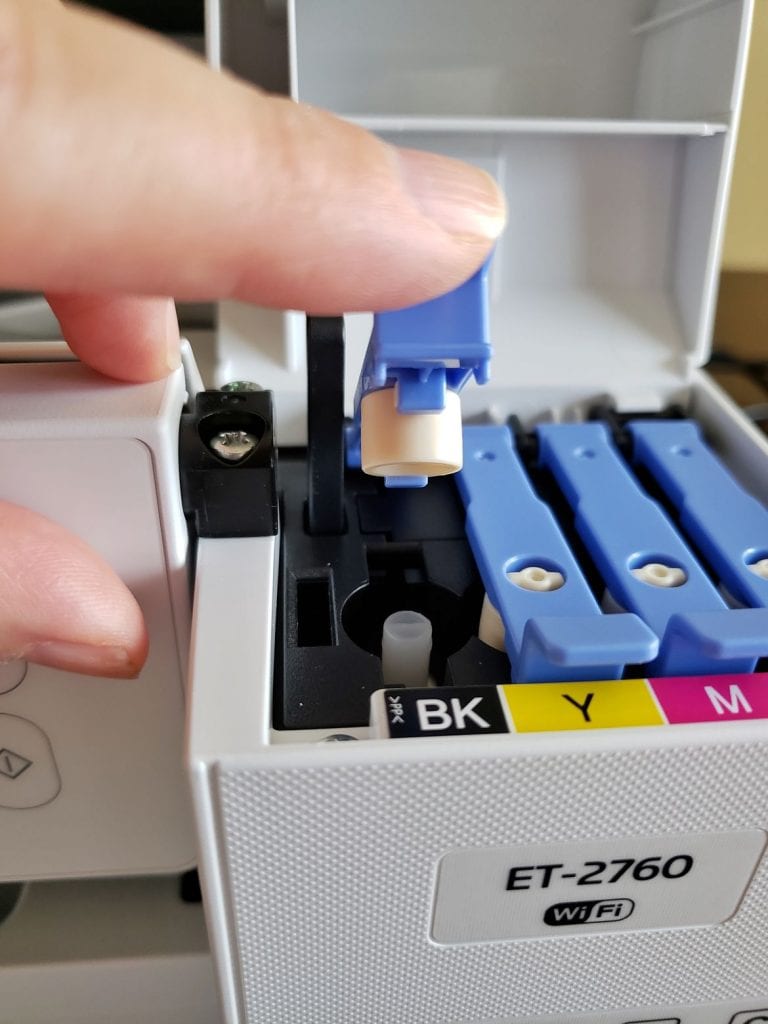 Disadvantages of an ink tank printer
The only thing to be aware of is that you'll need to print fairly regularly (probably at least monthly, but check the user guide to be sure) to make sure the printer doesn't dry out. If it's not used regularly, it's possible that the print heads could dry out or clog.
If you print extremely rarely, a laser printer may work better for you.
Ink tank printers may cost more at the outset, but they usually end up costing less in the long run.
Epson EcoTank ET-2760 Ink tank printer Review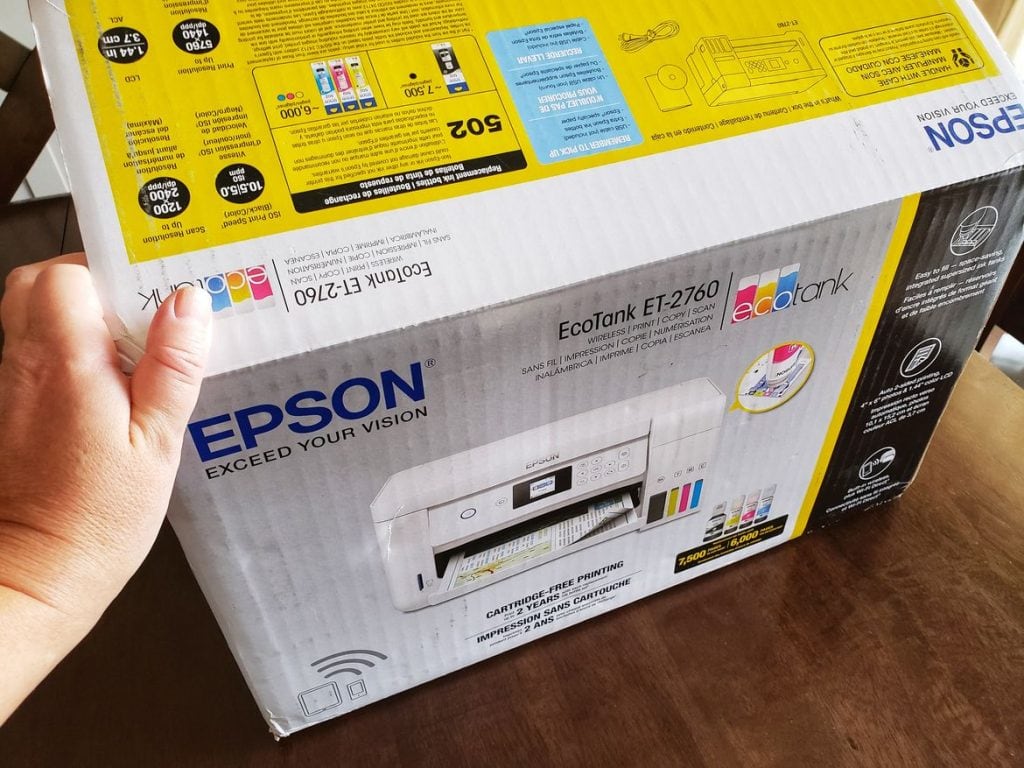 Finally, a printer without ink cartridges that prints months without refills!
My search for an ink tank printer that's an all-in-one that's perfect from home and home office use led me to the Epson EcoTank ET-2760 All-in-One Supertank Printer.
I was looking for a printer that would do double duty both as a home office printer and a printer for around the home projects. Our 12 year old loves creating art on her computer and printing off pictures, and cards and notes for her friends. I'm always printing off to-do lists, weekly meal plans, or recipes, like this homemade chunky salsa, one bowl chocolate cupcakes, or easy cold taco dip.
We didn't necessarily need a printer for home photo printing, as we have a little canon photo printer. Besides that, photo reprints are incredibly cheap, and we can pick them up in an hour from our local store.
We chose the EcoTank ET-2760 because it came with an ink tank, and because it fit
The ET-2760 is the perfect gift for working from home. Featuring easy-to-fill supersized ink tanks, the ET-2760 has up to two years' worth of ink in-box1. This means you're refilling ink less often, giving you more time to do the things you love. Easily print meeting notes from the home office, holiday recipes from the kitchen or greeting cards from the living room.
Does the Epson Ink tank printer come with ink?
Yes! It comes with a full size black, as well as full size cyan, magenta, and yellow inks.
Charging the printer heads and so on does take a little bit of the ink when you first set up the printer.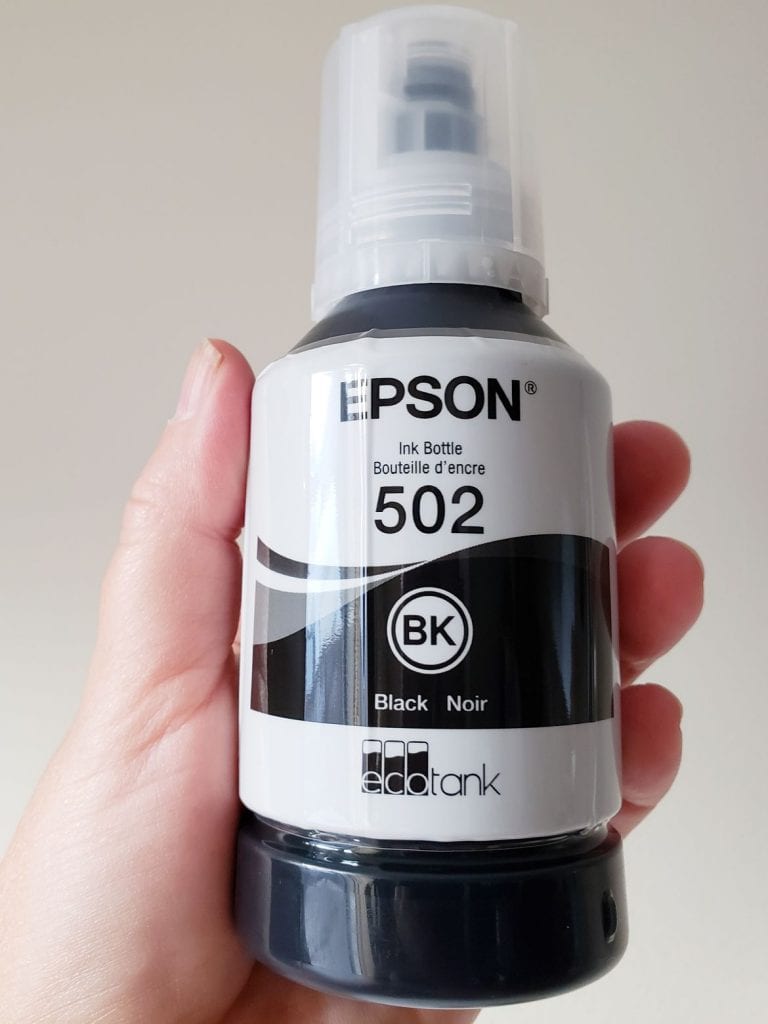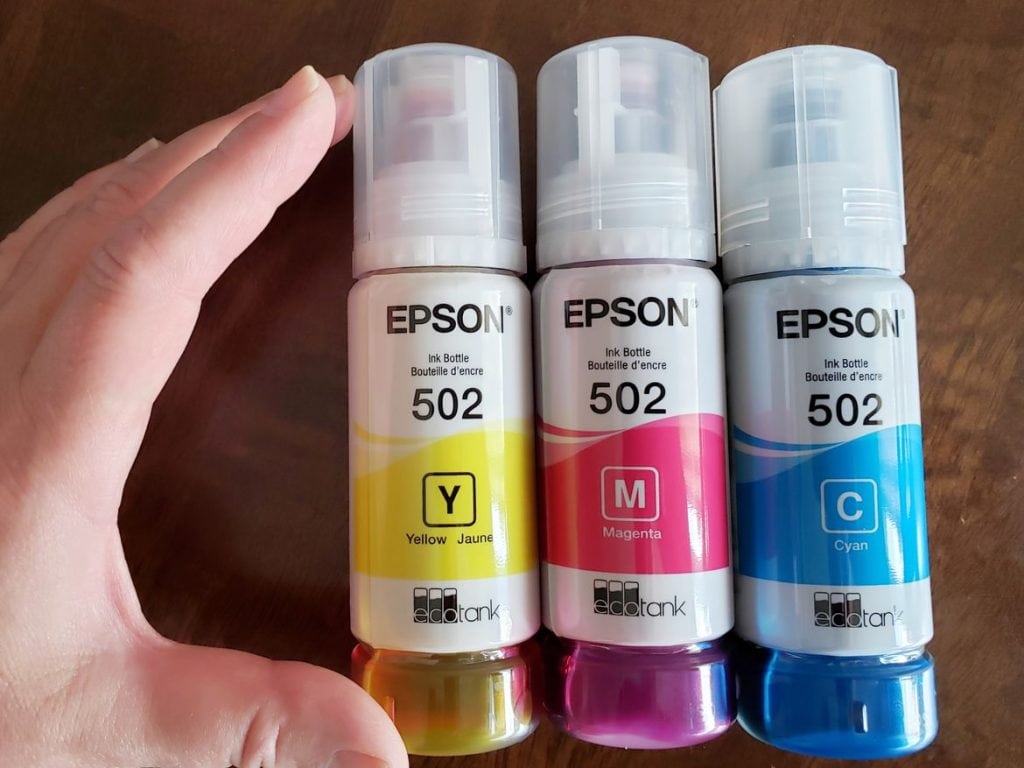 Is the Epson EcoTank worth it?
If you're going to print regularly and a lot, the Epson EcoTank is a slam dunk. It's perfect whether you print 500 pages a month, or only five.
For us, it's a slam dunk.
Is an ink tank printer good for home use?
I think an ink tank printer like the Epson EcoTank is perfect for use around our home.
I am so thrilled that I don't have to hassle with replacement cartridges! Plus, the EcoTank ET-2760 can print out all of my daughter's color art work with no hassle, and I use it all the time for printing out recipes to test.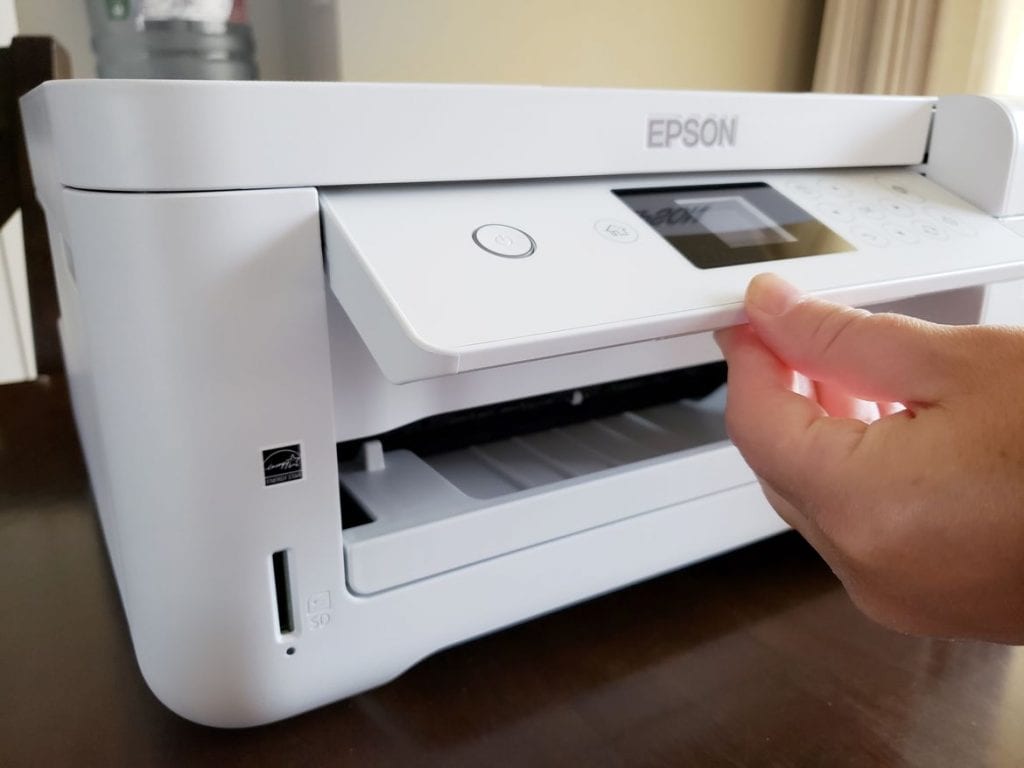 About the EcoTank ET-2760
Want to learn more about the EcoTank ET-2760? Check it out on Amazon here.
wireless
all-in-one print, copy, and scan
2 sided printing
voice-activated printing (Amazon Alexa and Google Assistant). This is a cool feature on the Google home mini, for sure!
supersized ink tanks
includes up to 2 years of ink with the included ink set
1.44″ color display
print speed of 10.5 pages per minute
5.0 pages per minute in color
print from mobile devices using AirPrint
Epson, says you can save up to 90 percent with low-cost replacement ink in bottles. Replacement ink bottle sets include enough ink to print up to 7,500 pages in black, and 6,000 pages in color. That's equivalent to replacing about 80 individual cartridges!