It's time for a Talking Anya app review!
It's no secret that we're tech lovers here at The Parent Spot.
We're great fans of innovated apps (see our PlantSnap review), and solid tech, like this Dynamic Mounting TV mount or TP-link Archer C9 router (both of which we're still using years later!).
And our kiddos are no exception.
That's why our kindergarten kid was thrilled to try out a new app this week: Talking Anya Dress-up & Pet Puppies from Sprite Kids.
Now, our little kindergartner is a bit of a tomboy. She'll occasionally wear a dress, but only if it's insanely hot and the dress is the coolest option. And dolls? Forget about it. She's in there with her brother in the Lego while the dolls get left on the floor.
So, despite her love of all that is tech, I wasn't sure she'd love a dress up app.
Boy, I was wrong. My sweet little tomboy had a blast with Talking Anya. She loved trying new outfits on Anya for every season, and seemed to especially love how Anya chatted with her.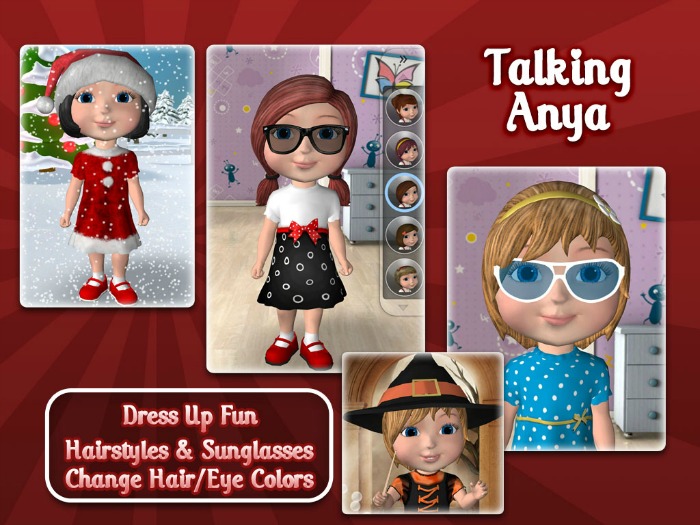 You can change Anya's hair style, dresses, the color of her eyes and even her hair. Anya can be dressed up as a  a fairy, bee, princess, lady bug, Cinderella, Santa and Rudolph (very cute), and even comes with winter wear. 
She sings and dances, which really delighted my daughter!
You can purchase five different pet puppies for Anya to play with.  We would have loved to have a puppy to play with in the free version, but unfortunately it's a paid add on. 
My daughter's favorite part of playing with Anya was being able to tickle her, and have Anya laugh and sing to her. She also loved to dress her up in cute new outfits. Check out some of her creations at the end of this post.
Talking Anya Dressup & Pet Puppies is a FREE Universal App for the iPhone and iPad.
You can download Talking Anya Dress Up & Pet Puppies on the  iTunes App Store:
You can find out more about Talking Anya on the Talking Anya Facebook page.
Our verdict
Overall, Talking Anya is sweet app, with cute animation, that's perfect for young girls.
The free version is a cute introduction to Anya, and well worth a download. Too amuse your little one for longer, you'll likely need to dip into the paid add ons.