This kitchen essentials list has everything you'll need to stock your home kitchen, with appliances, utensils, and even fridge essentials.
Whenever we move, I'm always astounded by how many boxes come out of our kitchen. Even the basic, must have kitchen items fill up multiple cupboards, so it's easy to have a couple of hundred items on your kitchen essentials list.
In this article, we share the kitchen essentials that you'll need to make tasty, wholesome meals. Items on this list range from cost effective to higher end, like appliances, so you should find something for your kitchen, no matter your budget.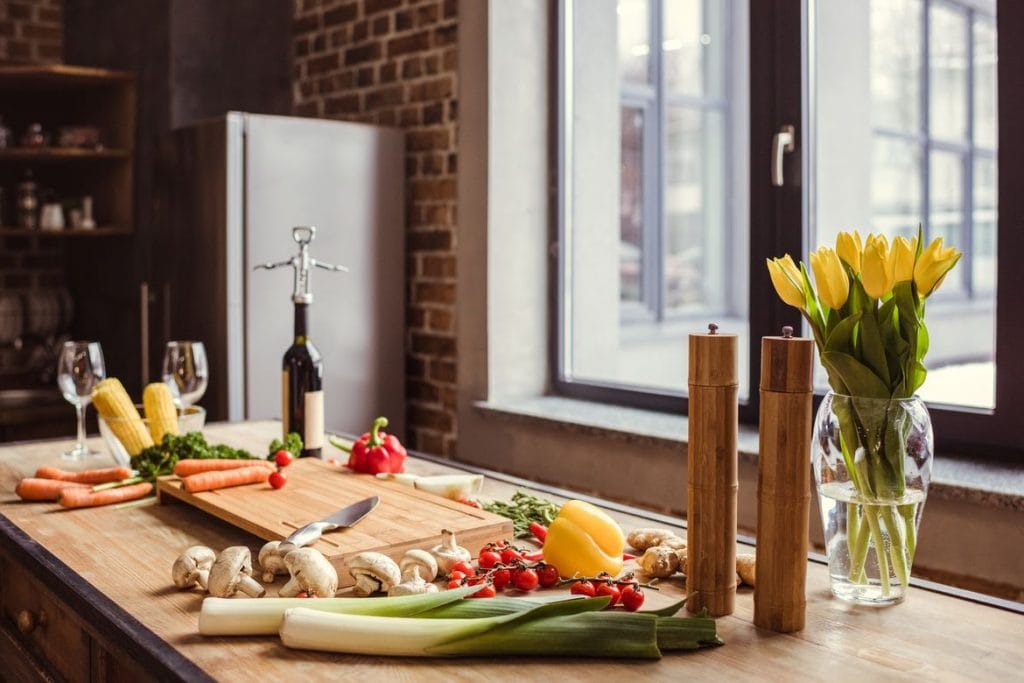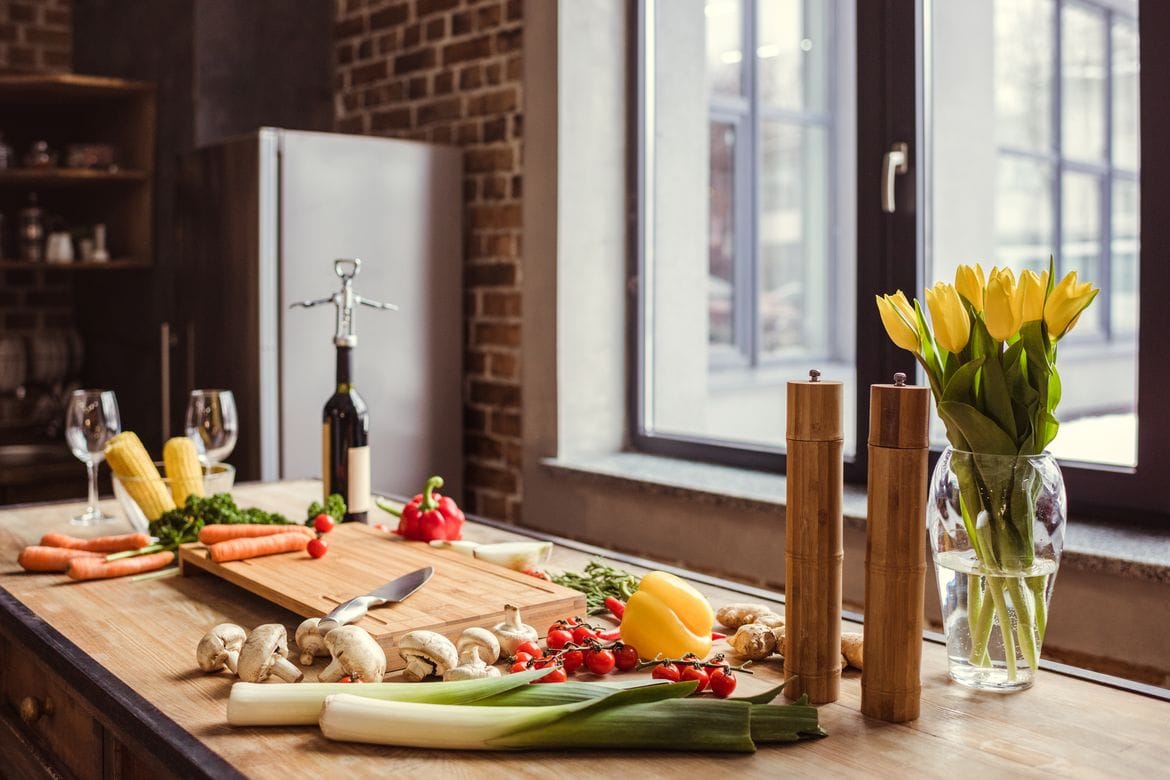 Kitchen Essentials Checklist
There's a lot to consider when outfitting your kitchen, from equipment to supplies to tools. Whether you're starting your first kitchen, upgrading your existing home, or moving into a new home, these kitchen essentials will help get you started. After all, good cooks work best with good equipment.
Basic Kitchen Utensils List
One of the most affordable places to start in your kitchen is with essential kitchen utensils. The most basic utensils, like measuring cups and spoons, are necessary for even the simplest recipes.
A more extensively stocked set of utensils, with items like a garlic press, will help you become more efficient in the kitchen, and make more complex recipes.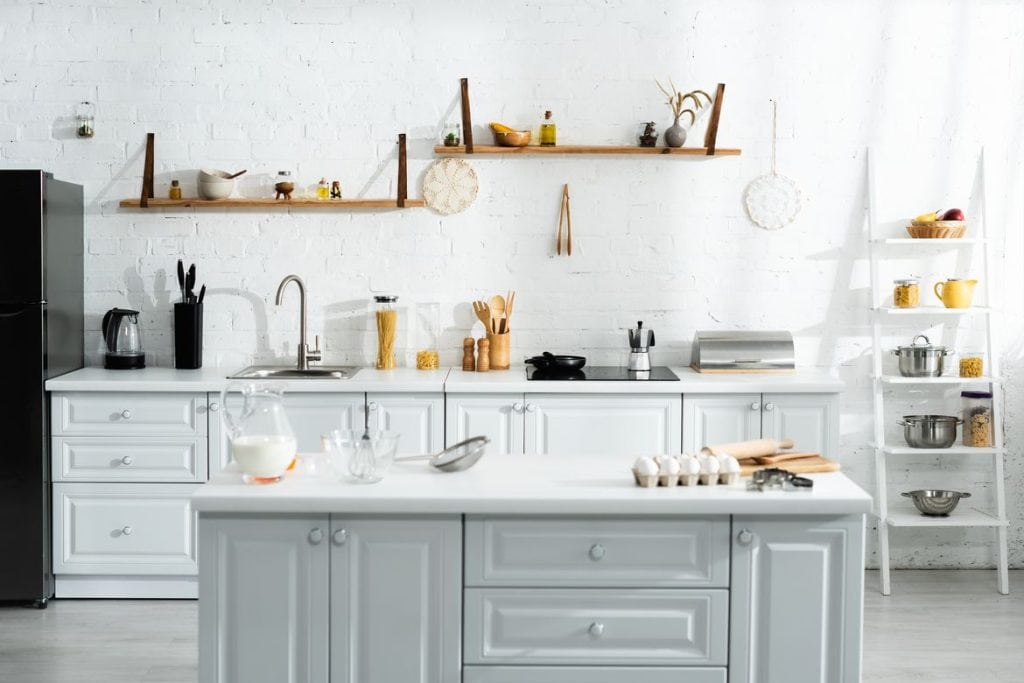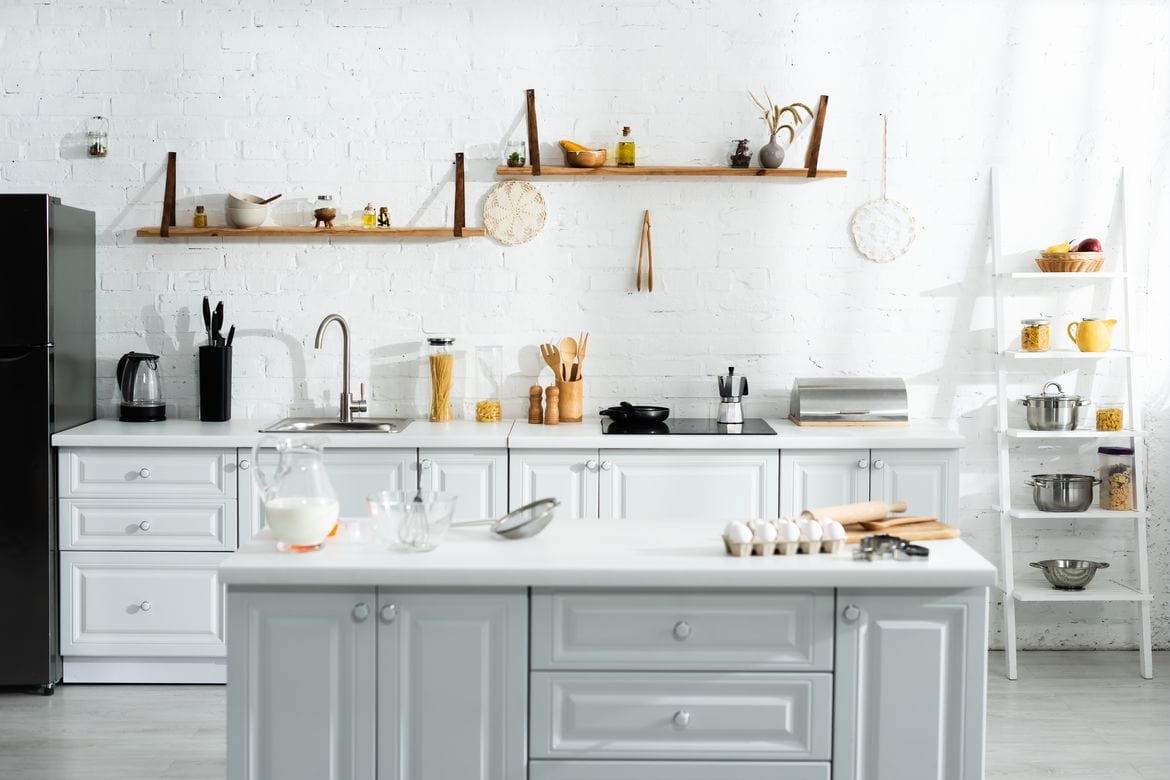 Must have cooking utensils
These cooking utensils form the core of any good kitchen essentials list.
measuring spoons
measuring cups
wooden spoons
spatula
whisk
ladle
peeler
grater
tongs
colander
cutting board
can opener
salad spinner
corkscrew
bottle opener
Eating essentials
dishware like plates, bowls, and saucers
cups
wine glasses
coffee mugs
silverware, including knives, forks and spoons
ice cube trays
Once you've picked up the must-haves for your kitchen, you can move on to items that are nice to have items. Of course, for some cooks, these might be necessary kitchen gear, but for others they may be luxuries.
zester
slotted spoon
fish flipper
pizza cutter
chip clips
Kitchen Essentials – Knives
Quality knives are the core of a functional kitchen. Whether you're a fan of quality Japanese knives or low cost knives, keeping these basics on hand, and well sharpened will make your kitchen time a pleasure.
chef's knife
paring knives
bread knife
knife sharpener
kitchen shears
vegetable peeler
carving knife (or electric)
steak knives
Kitchen Tools and Equipment List
Many of these kitchen tools also fall into essential kitchen utensils. Having them on hand will make cooking and baking much easier and more enjoyable.
parchment paper
aluminum foil (tin foil)
wax paper
plastic wrap
plastic zipper bags
drying rack
meat thermometer
rolling pin
kitchen scale
sieve or flour sifter
oven mitts
resealable containers
tea towels
serving platter
Essential Kitchen Appliances
Essential Large Appliances
Large appliances are often one of the biggest financial investments you'll make in your kitchen. A used stove can cost as little as a few hundred dollars, while a top of the line stove can cost thousands.
fridge
stove (stovetop and oven)
dishwasher
freezer
Essential Small Appliances
Small appliances can be incredibly useful for making great food, including everything from air fryer fries to air fryer pickles.
stick blender
hand mixer
stand mixer
air fryer
coffee maker
microwave
blender
toaster
kettle
griddle
instant pot

juicer
There are almost as many small appliances as your imagination can conjure. Here are some of the most popular:
food processor
rice cooker
Keurig
electric grill
breakfast station
toaster oven
griddle
food chopper
waffle maker
egg cooker
pasta maker
Kitchen Cleaning Essentials
Keeping a kitchen clean can feel like and endless task with a busy family. This list of kitchen cleaning items will get you started.
dishrag
sponge
dish soap
drying rack and tray
dishwasher tablets
plastic scrubber
broom
dustpan
cleaning gloves
mop
garbage can
vacuum
magic eraser
cleaning fluid
window cleaner
paper towel
Kitchen Cookware Essentials
frying pan
saucepan
pots
baking sheet
pizza pan or pizza stone
bread loaf pan
cake pans
casserole dishes
cooling / wire rack
Dutch oven
roasting pan
Fridge Essentials List
A well stocked fridge is full of things you'll need to make great meals. Here's a list of fridge basics to get you started
Fruits and veggies
onions
celery
garlic
ginger
peppers
lettuce
kale
fresh herbs
zucchini
apples
lemons
oranges
Condiments
mayonnaise
mustard
ketchup
soy sauce
Sriracha sauce
hot sauce
relish
tartar sauce
jam
syrup
Dairy and Alternatives
milk
eggs
butter
cheese
yogurt
Freezer
ice cream
ice cubes
fruit
vegetables
meat
Do you have anything to add to this list of kitchen essentials? Are there kitchen tools and equipment that you can't live without? Let us know in the comments below!