Sure, Rice Krispies are  snap-crackle-pop fun, but we've upped the fun a few notches by making this edible game of jelly bean Rice Krispie tic tac toe with decorated Rice Krispie treats.
How much fun is this!
Plus, it's as easy to make as it is fun! This is a guaranteed win with the kids (and adults!) alike in your family. You can even modify the colors for different holidays, like red and green for Christmas, orange and black for Halloween, or pink and white for Valentine's Day.
An Jelly Bean Tic Tac Toe Edible Game made from Decorated Rice Krispie Treats 
Honestly, as much fun as this game is to play, I love the fact that it's even easier to make. Just whip up a batch of Rice Krispie treats and decorate!
What you'll need (the ingredients)
Directions
Grease a small 8 x 8 dish with butter or a non stick cooking spray.
In a large microwave safe bowl, mix marshmallows and butter. Microwave on high for a minute, or until the marshmallows get puffy.
Now mix in the Rice Krispies cereal.
Scoop into the pan, press down, and cool.
When cool, slice into squares.
Now, you're ready to  make your decorated rice crispy treats!
Melt candy melts in two small microwave safe bowls on half power for about two minutes. Stir every 30 seconds until melted.
Scoop the melted chocolates into two separate decorating bag and cut a small tip off each end.
Cut the Rice Krispies into squares and draw a tic tac toe board onto each one with melted chocolate.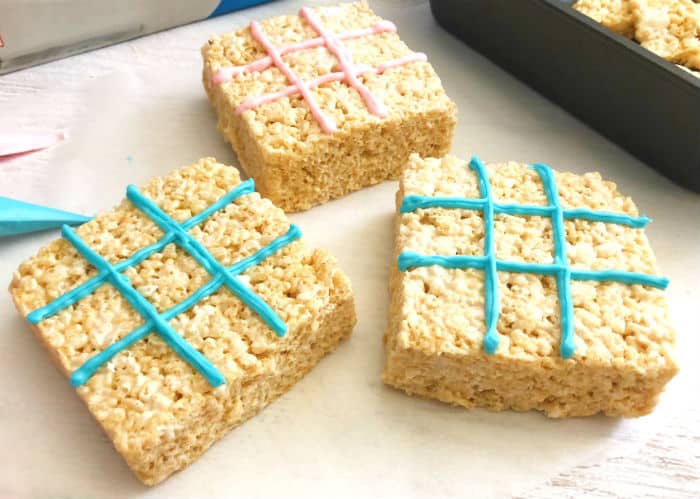 Let the chocolate harden!
Now, you're ready to play tic tac toe with your jelly beans!