I have to admit I was a little skeptical when I first made fudgy black bean brownies.
Beans? In brownies? It seems like an odd combination. But, I loved the idea of having a healthier, gluten free, vegan option for brownies. And I'm happy to say that I was pleasantly surprised!
These are lovely, fudgy, deeply chocolaty brownies. They do taste a little bit different than traditional brownies, but don't let that turn you off. Different can be good!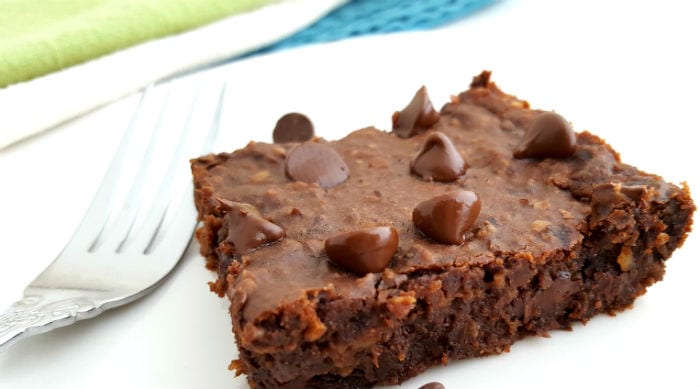 I highly recommend eating these when they're still warm and while that delicious chocolate aroma fills your house. Heaven!
One of my favorite times is when the kids are home from school, and we're all gathered around the kitchen table, digging into a pan of chocolate brownie goodness. We serve these up slightly warm with iced cold almond milk. Yum
Want to try them for yourselves? Here's the recipe!
Fudgy Black Bean Brownie Recipe with Double Chocolate
This recipe makes eight brownies.
This recipe is vegan, and can be gluten free if you choose oats made in a facility without gluten.
Time: 5 minutes preparation, 15 minutes baking time. Total: 20 minutes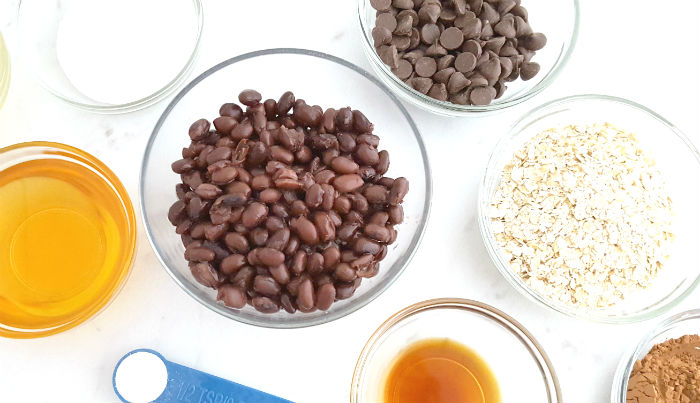 Here's what you'll need:
Ingredients
1 15 oz. can black beans. Be sure to rinse these well, and drain excess water!
½ cup quick oats. Use oats made in a gluten free facility to make these gluten free. We like these GF Harvest Gluten Free Organic Rolled Oats.  Click here to see GF Harvest oats on Amazon
1/3 cup agave (can substitute maple syrup)
¼ cup vegetable oil or coconut oil
1/2 cup vegan chocolate chips. We like these Navitas Organics Cacao Nibs
2 tablespoons cocoa powder
2 teaspoons vanilla extract
½ teaspoon baking powder
¼ teaspoon salt
1/4 of a cup of vegan chocolate chips for topping
Directions
These are pretty simple to make, and should only take about five minutes from top to tails.  You'll need an 8 x 8 inch pan.
 Preheat your oven to 350 degrees Fahrenheit. Grease an 8 x 8 inch pan.
 Put all ingredients except for the vegan chocolate chips in a food processor and blend well. Remove the blade, turn off the food processor and stir in 1/2 cup chocolate chips with a spoon. Tip! You can use a blender in stead of a food processor, but the texture isn't as good.
Pour the ingredients into your greased 8 x 8 inch pan.
Top with 1/3 cup chocolate chips.
Bake in preheated oven for 15-18 minutes. If the brownies seem to be a little mushy and undercooked after 18 minutes of cooking, put them in the fridge for two hours to let them firm up.
Let the brownies to cool for a minimum of 10 minutes before cutting. If you cut them too soon, they'll be mushy and not hold together well.
If you don't eat all of these in one sitting – actually, I can't imagine not downing all of this chocolate fudgy goodness in one sitting. It's kind of like the phrase leftover wine. How does that even happen?
At any rate, if you somehow manage not to inhale all of these straight out of the oven, you can store leftovers in the refrigerator.