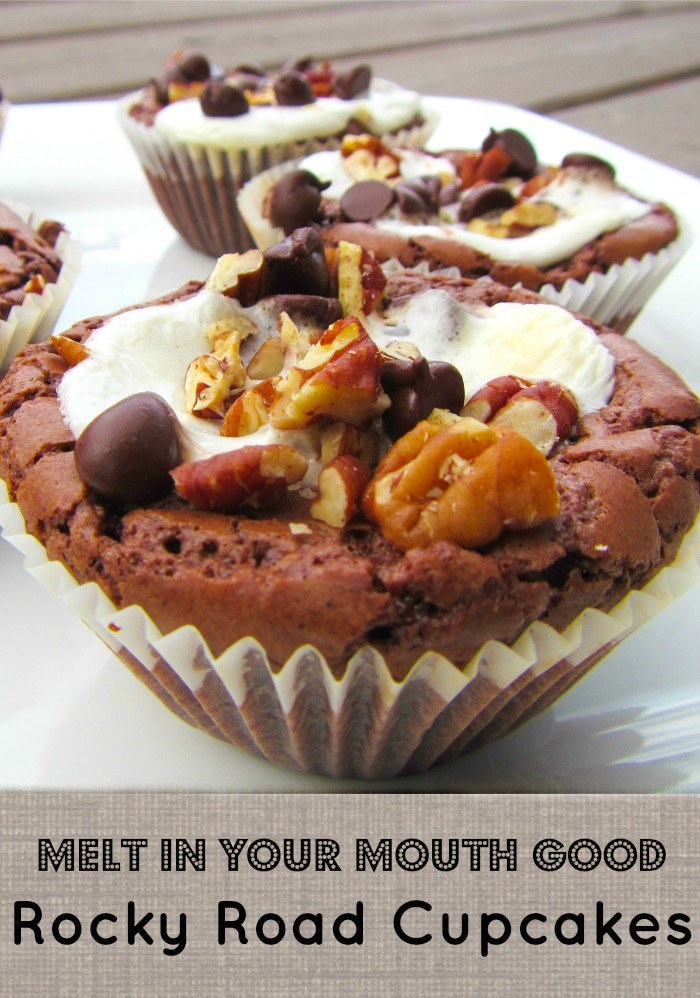 These are one of my kids' (and my!) favorite recipes.
Rich, gooey, and with a little bit of crunchy goodness, these are more like little brownies than cupcakes.
These are the goodies we bring to new neighbors if we really want to make friends fast :).
We love these served warm, while the marshmallows and chocolate chips are a little bit melted.
Melt in Your Mouth Rocky Road Cupcakes Recipe
Gooey, rich chocolate cupcake goodness topped with browned marshmallows and lightly pecans.
Ingredients
1 1/2 cups semi sweet chocolate chips
1/2 cup unsalted butter
2/3 cup all-purpose flour
1/4 teaspoon baking powder
3 large eggs
3/4 cup sugar
1/4 teaspoon salt
1 cup chopped pecans
1/2 cup mini marshmallows
We love Jet-Puffed Stacker Marshmallows For S'Mores, because YUM! Buy them on Amazon here.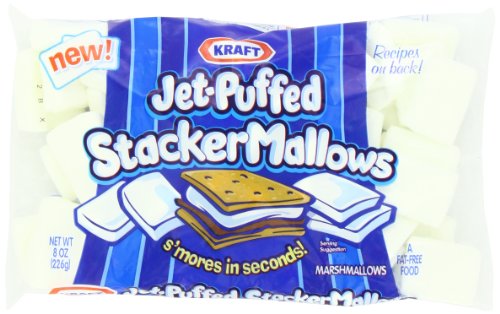 Directions
Preheat the oven to 350 degrees.
Grease cupcake tins and line with paper liners.
Cut butter into 1/4 inch pieces.
In the top of a double boiler, melt 1 cup of chocolate chips with the butter. Stir often until smooth and melted together.
Remove chocolate and butter mixture from the heat and let cool to room temperature.
Whisk the flour and baking powder together in a small bowl.
In a large bowl, beat the eggs, sugar and salt until the mixture is very pale and thick. This is easiest if you use an electric mixer on high for 3 minutes.
Gently fold the lukewarm chocolate over the egg and sugar mixture.
Add the flour, 1/4 cup chocolate chips and 1/2 cup chopped pecans and fold gently.
Spoon batter into the lined cups.
Sprinkle the tops with the remaining walnuts and chocolate chips.
Bake 15 to 18 minutes, until almost done.
Sprinkle tops with marshmallows and cook for 5 more minutes.
Let cupcakes cool.
These are delicious served still slightly warm with ice cream.
Notes
Tip: If your marshmallows aren't turning golden, lightly broil for about a minute when cupcakes are done. But be careful, and watch constantly, as the topping can turn from golden deliciousness to a fiery inferno of charcoal in about 20 seconds flat! I recommend grabbing a seat in front of the oven and watching them brown.
We love Jet-Puffed Stacker Marshmallows For S'Mores, because YUM! Buy them on Amazon here.