These oven roasted radishes are crispy, easy and perfectly creamy inside. This is such a simple recipe, with only five ingredients.
I'm so thrilled to share this recipe – it's one of my favorite veggie recipes. Even better, this crispy roasted radishes recipe is so easy to make, and we always get a great great reaction when we serve them to our friends and family!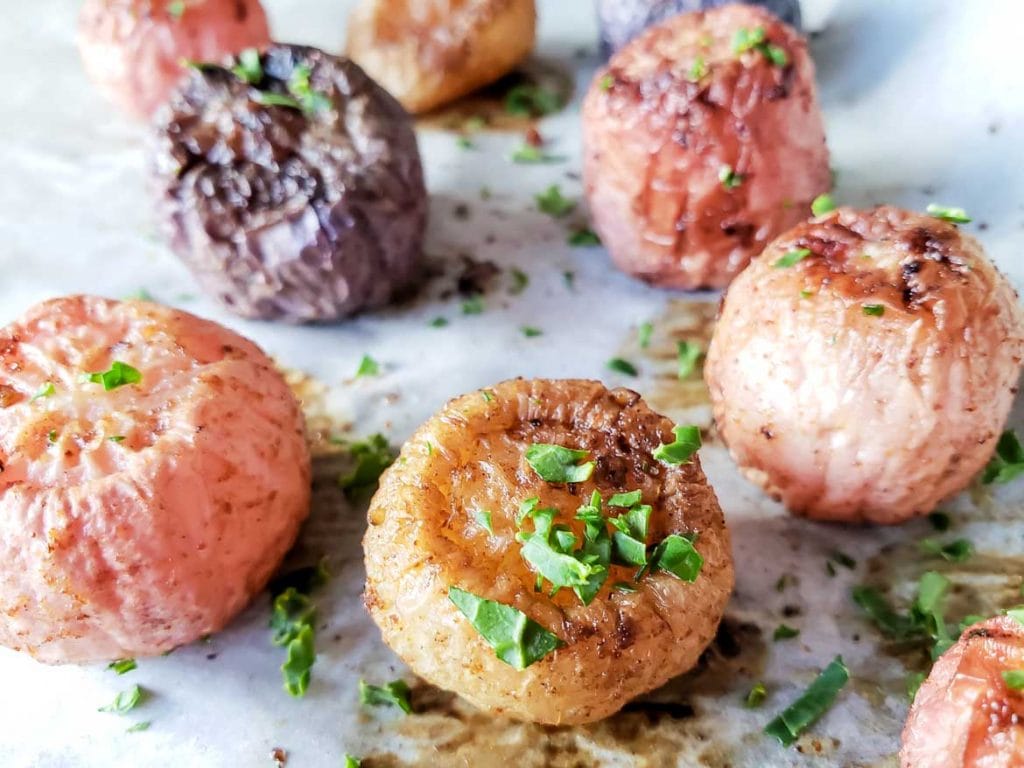 Can you freeze roasted radishes?
Yes, you can freeze roasted radishes. Just pop them in the oven on a cookie sheet for 20 minutes at 350 Fahrenheit to reheat, and serve. They won't be quite as good as freshly roasted radishes, as they'll lose a little color, and dry out a tiny bit, but they'll still be good, and they'll save you some time! You can microwave to reheat if you're in a hurry, but microwaving won't give you the delicious crispy outside you get in the oven.
Do roasted radishes taste like potatoes?
Yes, and no. The first time I tried roasted radishes, I was surprised at how creamy, sweet and delicious they were! Roasting radishes mellows the spiciness and makes them mellower and sweeter – much like how roasting garlic makes it sweeter and mellower.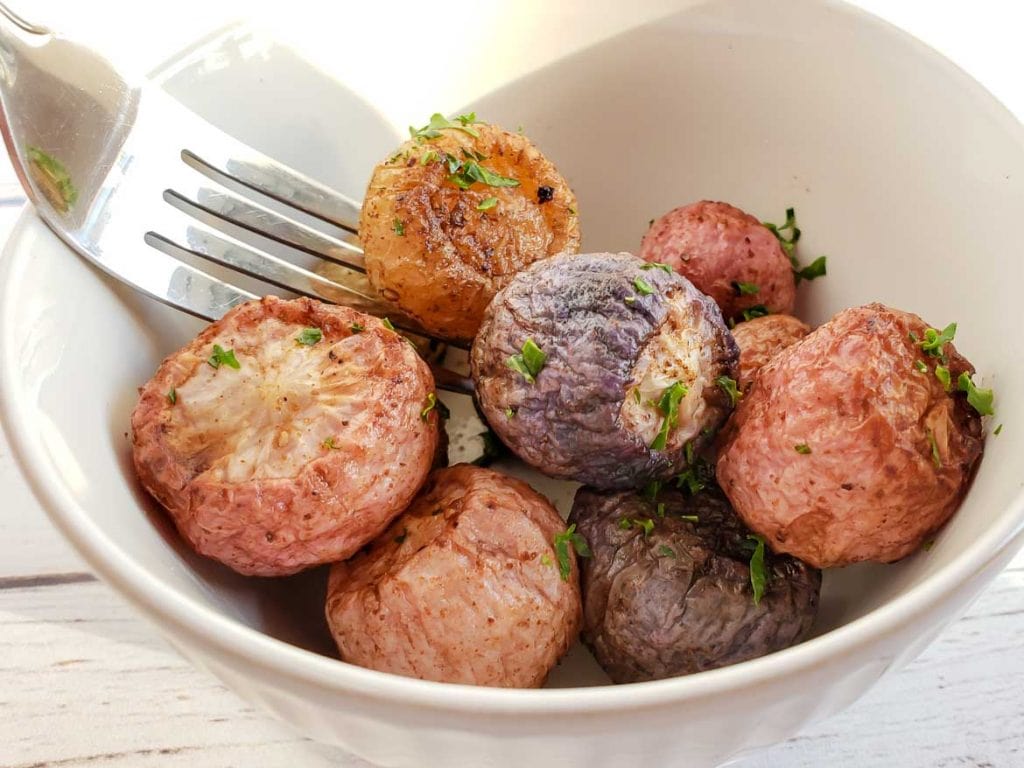 Radishes do mellow when they're roasted, but they definitely keep their distinctive radish flavor. They're a wonderful alternative to roasted potatoes, but keep in mind that they're definitely spicier and more flavorful. Roasted radishes are one of my favorite vegetarian keto snack recipes!
Garlic roasted radishes variation
These radishes are wonderful as is, but my favorite variation is to add fresh garlic. To make garlic roasted radishes, simply add two freshly cropped garlic cloves to radishes before roasting. So good!
Other roasted radish variations
While garlic radishes are delicious, these other variation are wonderful as well.
Rosemary roasted radishes – You can use either fresh rosemary, or dried rosemary, to make roasted radishes extra special. For rosemary roasted radishes with fresh rosemary, add two tablespoons chopped fresh rosemary to radishes before roasting. If you're using dried rosemary, add 1 teaspoon dried rosemary before roasting.
Roasted radishes with onions – Sweet, perfectly caramelized onions are a delicious accompaniment. Chop one onion into rings, and add to radishes before roasting.
What does cooked radish taste like?
The cooking process really mellows out these radishes. They still have the distinctive radish taste, but they're sweeter, creamier, and the flavor is much more mellow.
Do you peel radishes before cooking?
We don't peel the radishes before cooking. During roasting the radish skins become perfectly crispy on the outside, and creamy sweet on the inside.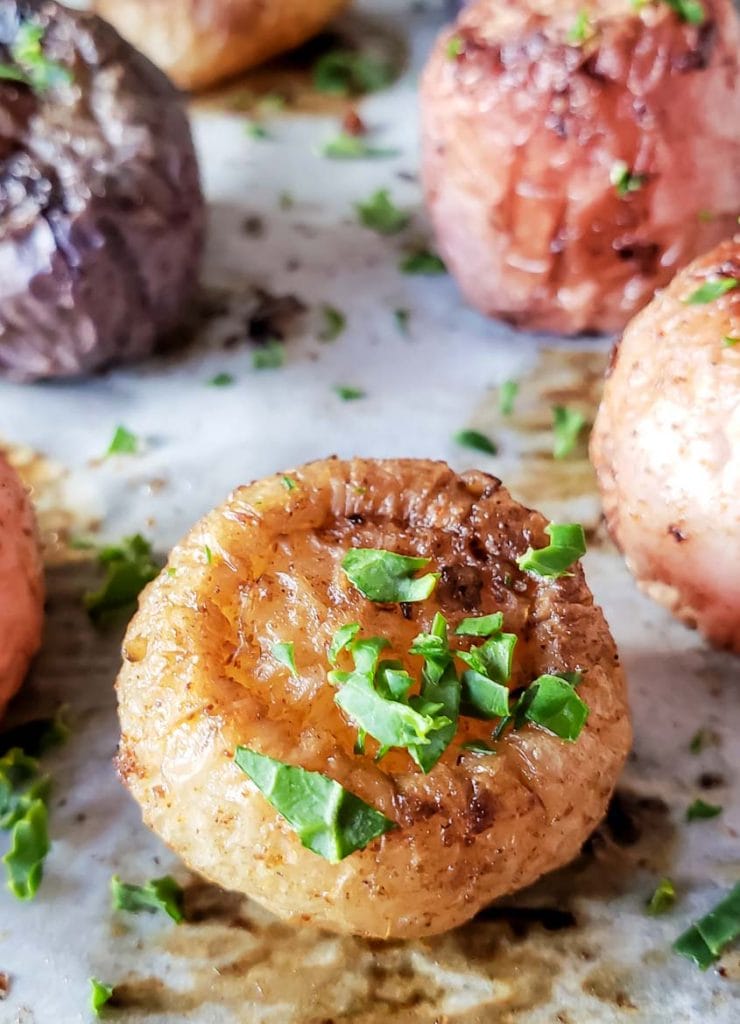 What goes good with radishes?
We love these roasted radishes alone, just as a sweet, crispy snack!
Wondering what to serve with roasted radishes?
They also go well with roasted chicken, or even as a fun substitute for roasted potatoes along side a roast beef. I love making these as an interesting, and unique, side dish at Thanksgiving or for Christmas dinner.
Oven Roasted Radish Recipe
We used multi-color radishes for this recipe. The red, purple, pink and white rainbow radishes add a fun burst of color, especially the roasted red radishes! You can use any color radish, however.
Shopping List
Here's what you'll need to make this easy roasted radish recipe. There are only five easy ingredients: one pound radishes, olive oil, paprika, and salt and pepper.
How to make oven roasted radishes
This is such a simple recipe!
The trick to getting the absolute best taste from this recipe is to choose the freshest, tastiest radishes. I love to make these when we have garden fresh radishes, or radishes that we've gotten in our organic vegetable delivery. So good!
To make this recipe, wash the radishes, and cut the tops and ends off.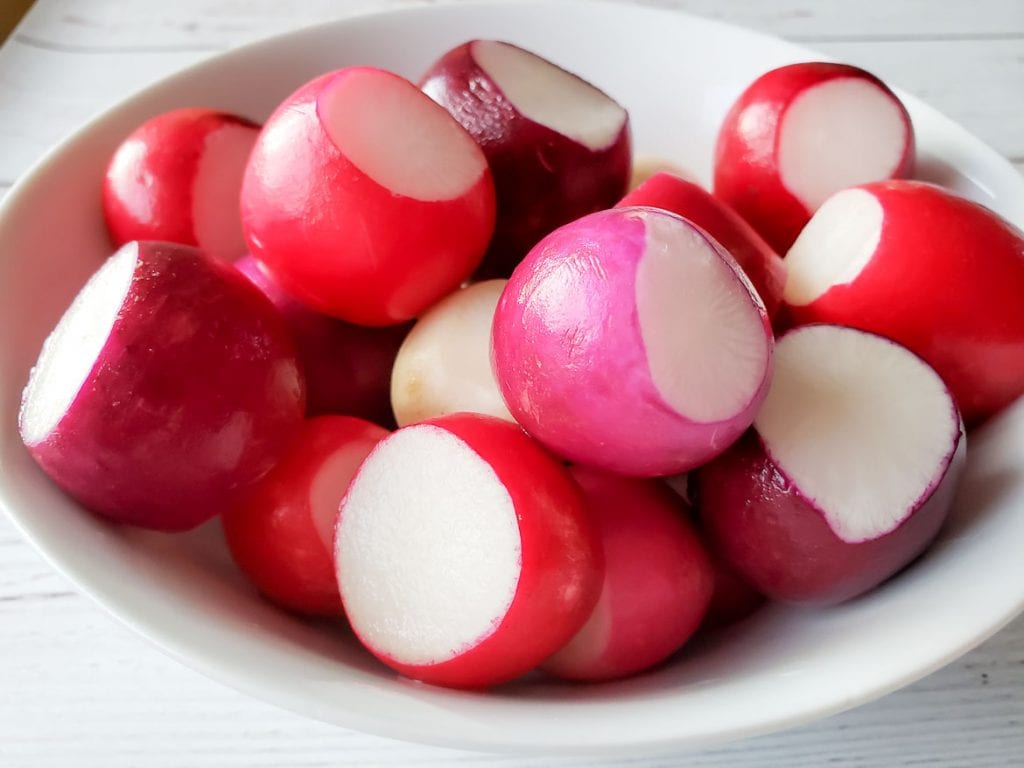 Place in a small bowl, and drizzle with olive oil, paprika, and salt and pepper.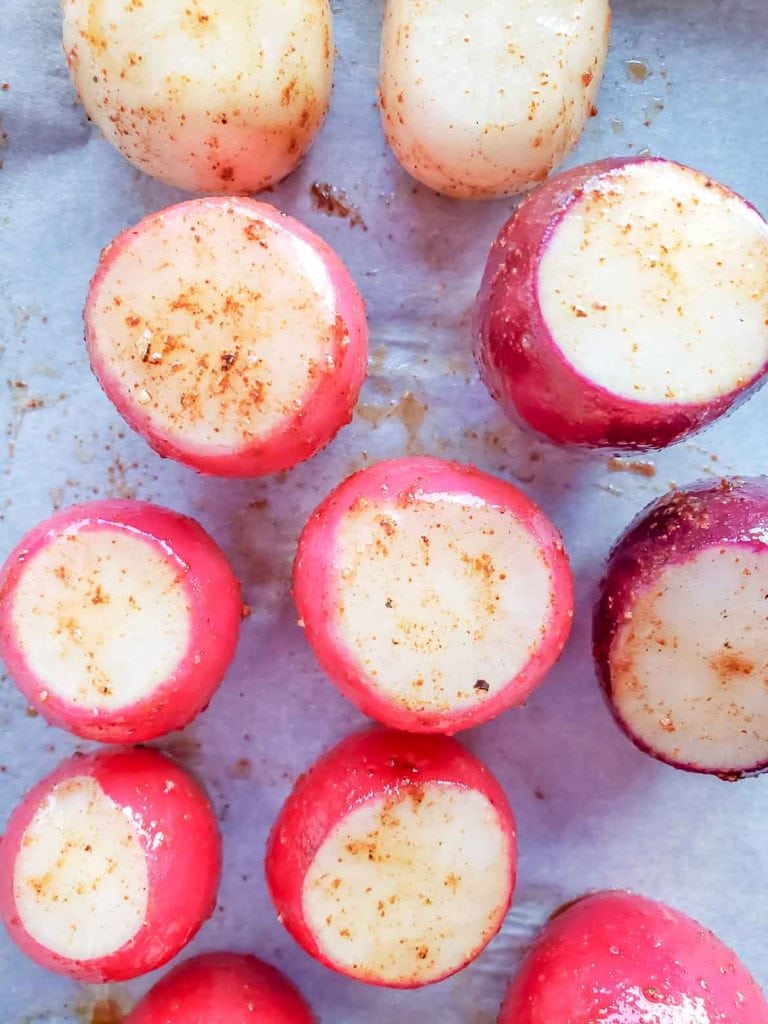 Stir to cover radishes.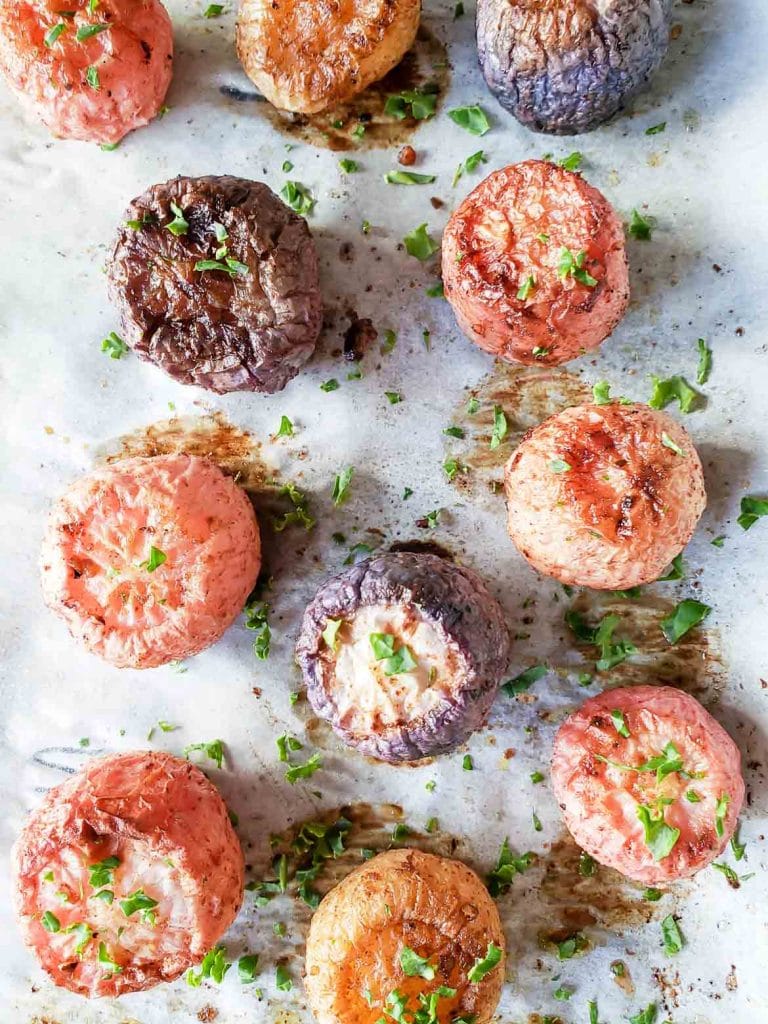 Spread out on baking sheet covered in parchment paper.
Place in 350 degree Fahrenheit oven.
Bake for 30 to 40 minutes, or until perfectly golden, and roasted. Turn once at 15 minutes.
Enjoy!
Yield: 4 servings
Crispy Oven Roasted Radishes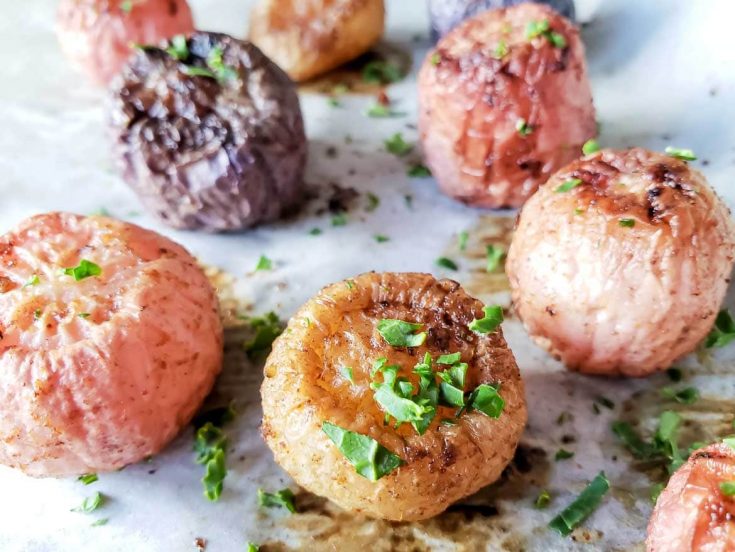 These crispy oven roasted radishes are so easy, with only five ingredients!
Ingredients
1 pound radishes
1/2 tablespoon extra virgin olive oil
1/3 teaspoon paprika
1/4 teaspoon salt
1/8 teaspoon pepper
Instructions
Heat oven to 350 degree Fahrenheit.
Wash the radishes, and cut the tops and ends off. Pat dry.
In a small bowl, drizzle radishes with olive oil, paprika, and salt and pepper.
Stir to cover radishes in oil and spices.
Spread on a baking sheet covered in parchment paper.
Bake for 30 to 40 minutes, or until perfectly golden, and roasted. The radishes are done when they're soft enough that a fork goes in easily.
Enjoy!
Notes
Optional: Garnish with chopped chives or chopped parsley.
Nutrition Information:
Yield:
4
Serving Size:
1
Amount Per Serving:
Calories:

34
Total Fat:

2g
Saturated Fat:

0g
Trans Fat:

0g
Unsaturated Fat:

2g
Cholesterol:

0mg
Sodium:

177mg
Carbohydrates:

4g
Fiber:

2g
Sugar:

2g
Protein:

1g
All information and tools presented and written within this site are intended for informational purposes only. I am not a certified nutritionist and any nutritional information should only be used as a general guideline.