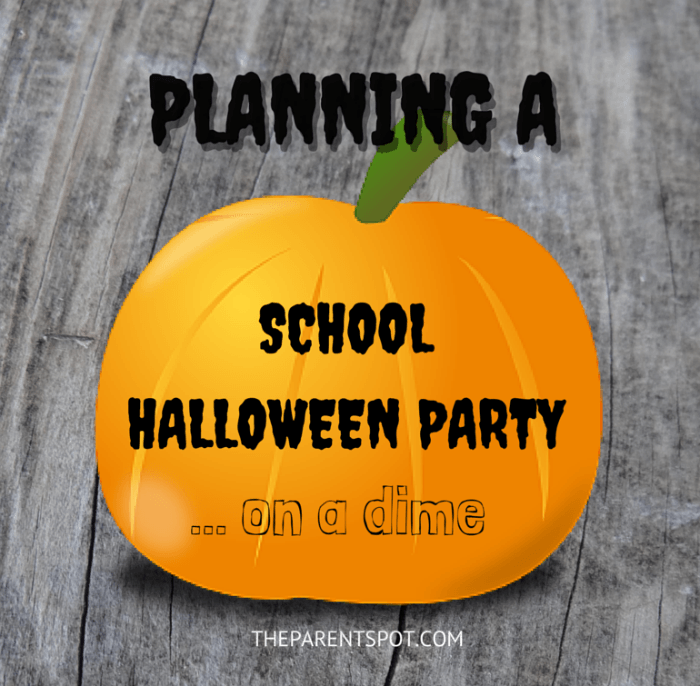 Check out our helpful and simple ways to throw a school Halloween party on a budget. These tips are perfect if you've been asked to plan your child's school Halloween party, or if you're a teacher or teacher's assistant, but you don't want to spend a fortune.
How to Throw a School Halloween Party on a Budget
First, let's start with the basics, and get organized first.
Make a List of Budget Halloween Party Supplies
Before you start any shopping, make a list of items you will need.
Then, divide this list into the following categories: Items that can be donated, Items that I will buy, Items that can be sent by parents, items that the teacher will supply, and items that other volunteers will bring.
Enlist Help for Getting the Supplies
After you have divided the items, ask other parents who can volunteer and pitch in, then divide the list you have made among them. They may have other ideas, too, so be prepared to rework the list!
As the teacher what items he or she has or can supply, and ask a local church or youth group if they can collect items for the class.
Finally, send out a note to all parents asking they each send a bag of candy, some snacks, or pitch in with paper plates, cups, etc. Even if each child brought in one item, the party could be a huge success without stressing anyone out. This is one of the easiest ways to have a school Halloween party on a budget!
Find Halloween Supplies at Thrift Shops and Garage Sales
When it comes to really saving some cash on parties, there is no better place to check than thrift shops and garage sales.
For a Halloween party, it doesn't matter if that candelabra is a little crooked, because it is 50 cents and it will make a creepy centerpiece.
Just go to the Dollar Store and buy some black candles to go in it and you've got a scary look for less than $6. That old wedding dress you found at the Goodwill store could be stuffed to make a horrifying ghost, or is can be shredded to make a table cloth for the food table.
Use your imagination and see the fun in the cracked, broken, and just down-right ugly- these things make the spookiest decorations.
Find Halloween Party supplies at home
Those skulls on your front stoop can be replaced after the party, so snatch them up and bring them along to make a scary display on the food table.
If you decorate for Halloween, take some of the things you can easily move to the classroom and use them there. Then, simply take them home with you after the party is over.
Make affordable Halloween treat bags
But a $1 package of brown lunch bags at the grocery store and have kids decorate their own candy bags with construction paper, glue, stickers, and crayons the teacher already has. Afterward, fill the bags with the candy the parents sent. This project can cost as little as $1 for 25 kids.
Plan Halloween party games
Halloween party games are a great way to take up time, entertain kids, and save money!
Cut out a pumpkin from a $1 orange poser board and tape it to a wall in the classroom. Then, cut out eyes, a nose, and a mouth for the pumpkin, which can be made from construction paper the teacher already has. Have kids take turns pinning the face on the pumpkin while blindfolded.
Tip! Pumpkin carving is a lot of fun, but it's messy, and can be a bit dangerous for kids with sharp knives in the mix. You'll need lots of adult supervision, and it's helpful to use pumpkin stencils if you're going to go the traditional pumpkin carving route.
Another great game is the find the bones. You can purchase a bag of fake bones for less than $5 at most retail outlets. Hide them around the room and place an "X" on one of the bones so that whomever fins it gets a prize.
Throw the Halloween the party after lunch
If you pan the party to take place after lunch, kids will be full and you won't have to plan for much food.
Snacks are a great way to end the school day, so offer chips, cupcakes, and other small snack items to hold the kids over as the party goes on and before they head home.
Do you have any tips to help throw a school Halloween party on a budget? Let us know!