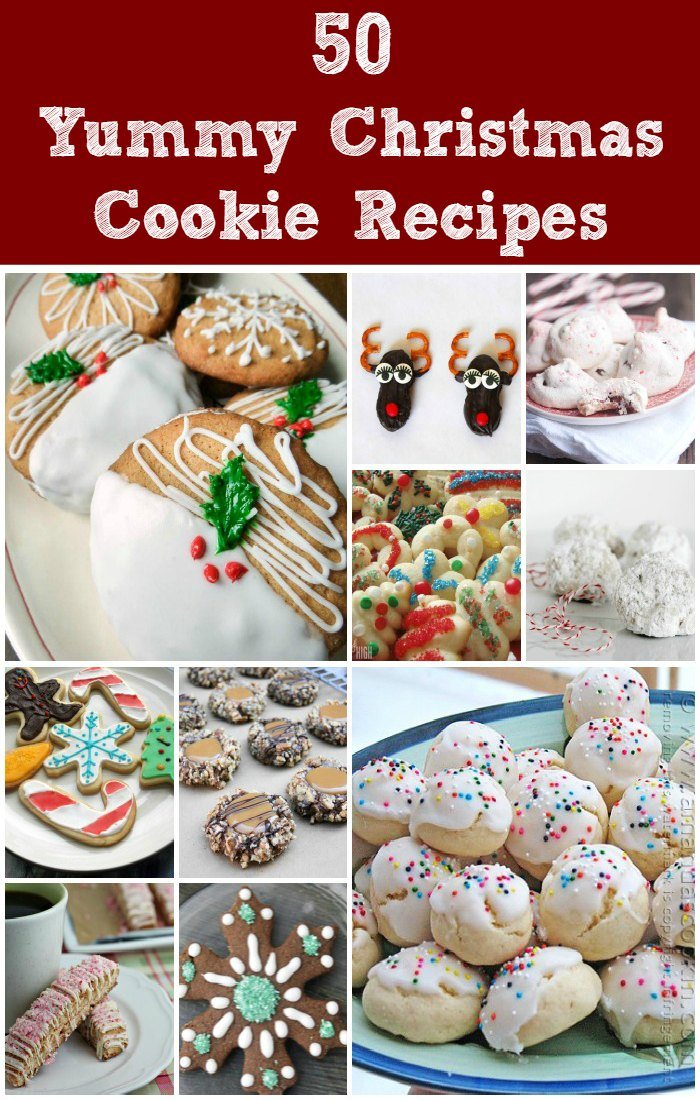 It's beginning to look a lot like Christmas!
Do you have your apron ready? It's time to start baking lots and lots of Christmas cookies!
I've compiled a list of 50 yummy Christmas cookie recipes in Blogland for you to get started.
Do you have your own favorite recipe? If so, share in the comments!
Happy Baking!
1. Peppermint M&M Loaded Chocolate Chip Cookies
2. Gingerbread Magic Cookies
3. Easy No Bake Reindeer Cookies with Pretzel Antlers
4. Dipped Oreo Reindeer Cookies
5. Holiday Ginger Cookies
6. Pecan Tassies
7. Mint Chocolate Chip Cookies
8. White Chocolate Peanut Butter Snowman Cookies
9. Peanut Butter Jelly Thumbprint Cookies
10. Holiday Spritz Cookies
11. Linzer Sandwich Cookies
12. Butterscotch Sandwich Cookies
13. Cinnadoodles
14. Santa Hat Peppermint Sugar Cookies
15. Cardamom Walnut Cookies
16. Martha Stewart's Gingerbread Cookies
17. Gluten Free Gingersnaps
18. White Chocolate Peppermint Oreo Pudding Cookies
19. Chocolate Crinkle Cookies
20. Christmas Tree Sugar Cookies
21. Melted Snowman Cookies
22. Chocolate Dipped Sugar Cookies
23. Chocolate Snow Cookies
24. Red Velvet Cookies
25. Peppermint Biscotti
26. White Chocolate Cranberry Oatmeal Cookies
27. Gingerbread Men
28. Eggnog Logs
29. Candy Cane Meringue Cookies
30. Christmas Stars
31. Pecan Snowball Cookies
32. Chocolate Peanut Butter Cracker Cookies
33. Bacon Chocolate Chip Cookies
34. The Best Soft Sugar Cookie Recipe Ever
35.Chocolate Peppermint Kiss Thumbprint Cookies
36. Thumbprint Cookies with Icing and Sprinkles
37. Five Ingredient Strawberry Jam Thumbprint Cookies
38. Nutter Butter Christmas Treats
39. Soft & Chewy Date Filled Sugar Cookies
40. Insanely Delicious Turtle Cookies
41. 4 Ingredient Peppermint Cookies
42. Peanut Butter Pretzel Reindeer Cookies
43. Gingerbread Man Cookies
44. Egg Nog Sandwich Cookies
45. White Chocolate Chunk Cranberry Cookies
46. Mexican Hot Chocolate Sandwich Cookies
47. Cake Batter Christmas Coookies
48. Peppermint Chocolate Sandwich Cookies
49. Sugar Cookies With Royal Icing
50. Frosted Holiday Reindeer Cookies
Check out this classic Betty Crocker's Cooky Book on .
It's rated a 5/5 with 476 customer reviews, and it has more than 450 tried and tested recipes.