Is your dishwasher not drying? Do you open the dishwasher to find your clean dishes covered in water?
It's so annoying! This happens to us all the time. I usually end up taking out a tea towel and dabbing them dry, but we found a few helpful ideas so this happens less often in our house.
Dishwasher Not Drying? Helpful Tips below!
There are a few solutions that can help if your dishes are a soggy mess after running through the dishwasher.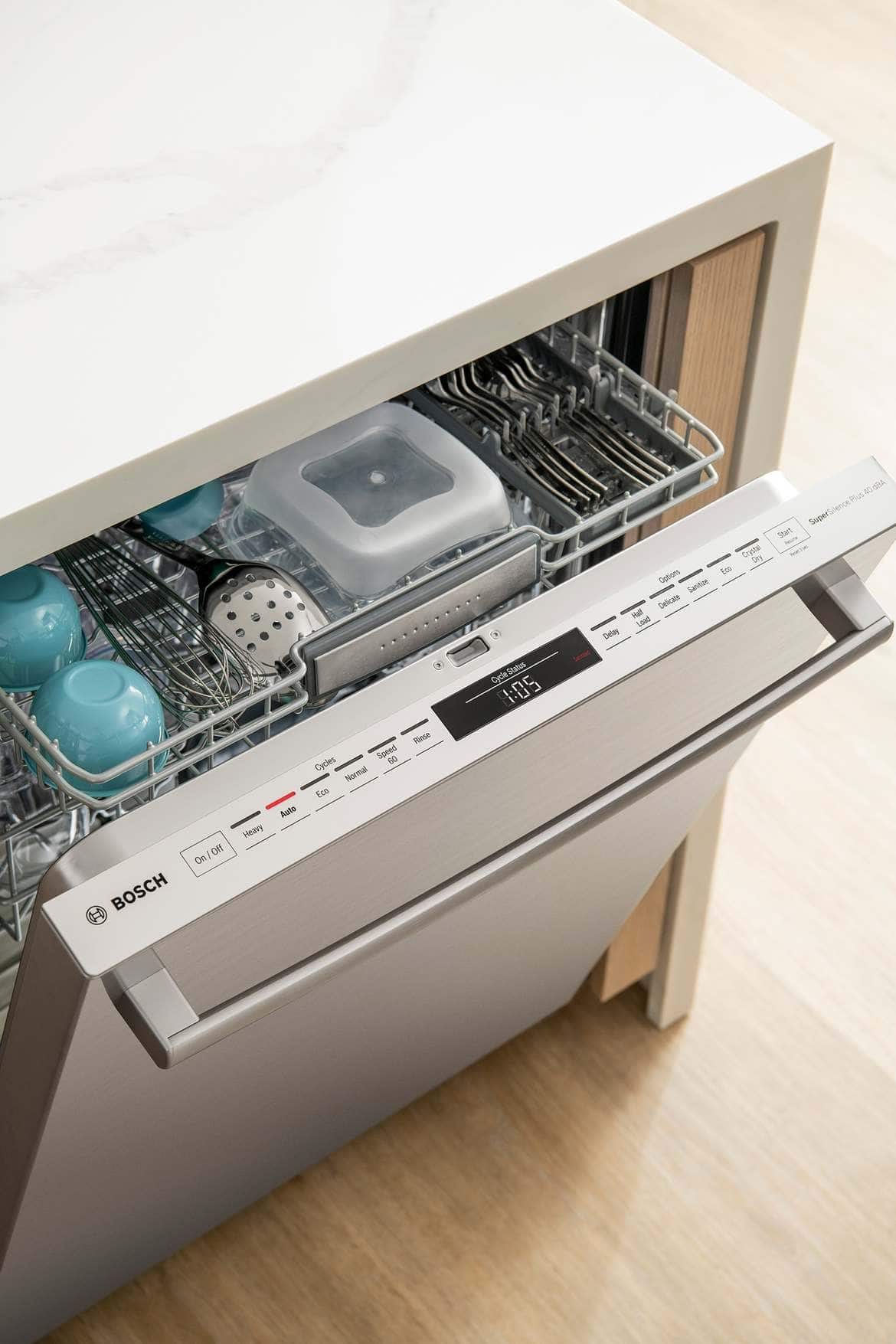 Buy a dishwasher that's meant for drying
If your dishes are still wet in the dishwasher, it may be time for an upgrade. Today, dishwashers can do pretty much everything short of loading and unloading themselves, but that's probably coming. So, it's no surprise that a good dishwasher like the Bosch 800 Series is built to prevent opening the dishwasher to find dishes still wet.
The new Bosch 800 Series dishwasher delivers a sparkling clean and dry with advanced PrecisionWash technology and patented CrystalDry ™ technology. CrystalDry™ tech, which is available only in 800 Series), gives the ultimate clean and the ultimate dry, including plastics.
In fact, Bosch says that the patented CrystalDry™ technology delivers 60% better drying results.*
Patented CrystalDry technology transforms moisture into heat up to 176 Fahrenheit for the ultimate dry, even for plastics. This tech makes it one of the best dishwashers for drying dishes.
While drying dishes well is important to me, having a quiet dishwasher is also crucial, and the Bosch 800 Series wins here. It runs at an extremely quiet 42 dBA, which is close to the dBA level of quiet library sounds. When you look under the hood, it' has 18 unique sound-reducing technologies, including multiple insulation layers, grindless food filtration, and a sound absorbing base.
*Based on aggregate average drying performance of Bosch Dishwashers with CrystalDry on combined household load including plastics, glass, steel, and porcelain as compared to Bosch Dishwashers with PureDry. Drying performance may vary by dish type.
That said, even with a good dishwasher, these dishwasher drying tips can help keep your dishes drier.
Don't Overload the Dishwasher
Yes, we know you have a lot of dishes after a dinner with family. But if your cram all of them inside the dishwasher, you will not get done with the washing faster. On the contrary: the plates and cutlery may not get properly cleaned. Plus, they will not be properly dried, because water is trapped between them.
Instead of this, load the dishwasher with fewer plates and repeat the washing cycle for the remaining ones. Overall, you will finish the task in a shorter time.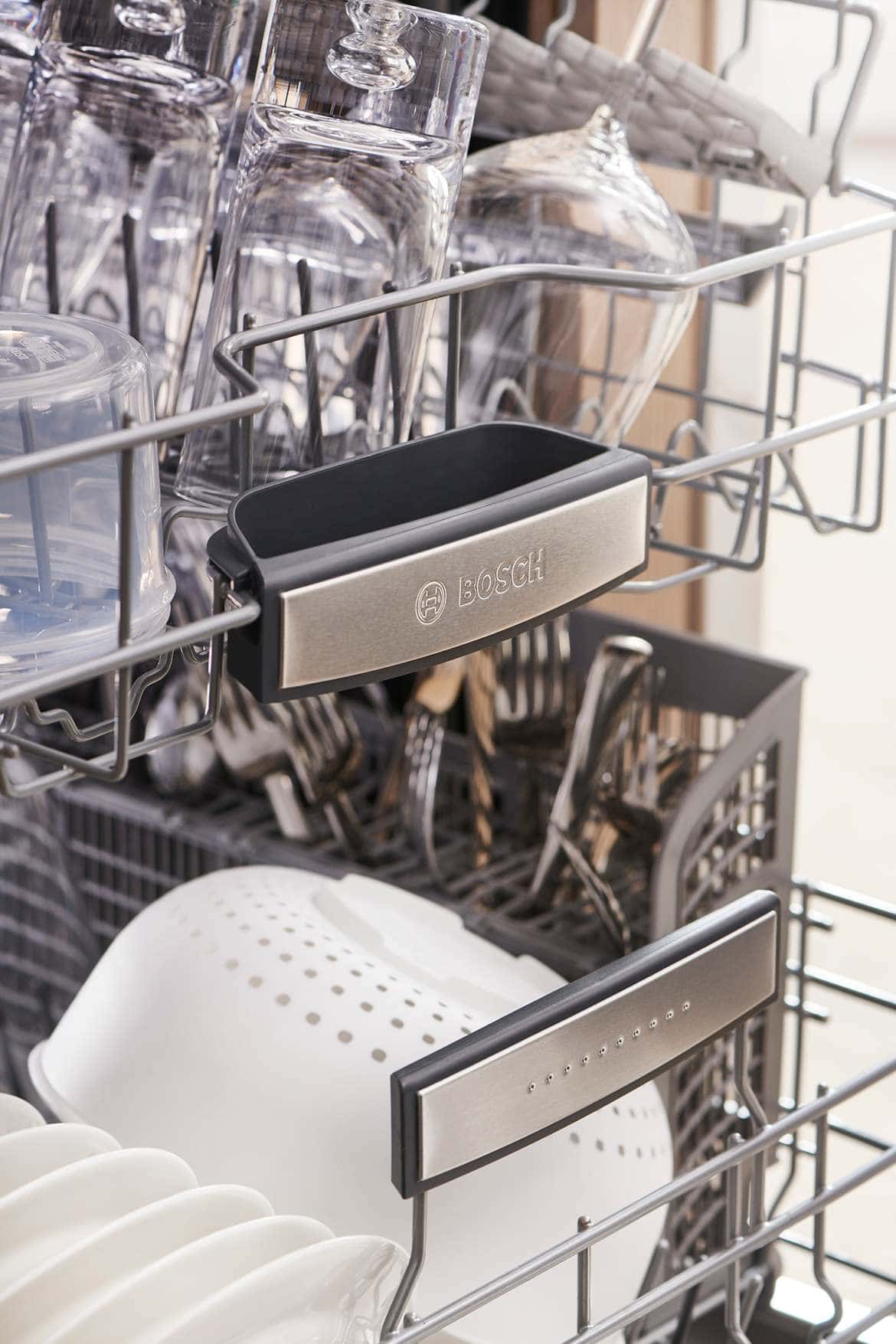 Check the Drying Settings
Each dishwasher has a specific menu, with various washing and drying options. You should always refer to the user's manual. This will help you select the adequate setting for the type and quantity of dishes you want to wash and dry.
Opt for Heating
Many dishwashers allow you to set a higher temperature for the drying cycle. Heat, as you know, favors the evaporation of water. The only precaution in this case refers to the type of dishes you put in the dishwasher. Some fine china and crystal items should not be exposed to high temperatures.
Check the Fan
Your dishwasher will dry your dishes faster if you take care to keep the fan vents always clean. Over time, they can get clogged with detergent and other types of debris. Proper cleaning and maintenance of the dishwasher will not only speed up drying, but it will also prolong the useful life of the appliance.
Make Sure the Thermostat Works Properly
The thermostat is a device that regulates the temperature of water and air inside the dishwasher. If it does not work properly, you will notice that the interior of the dishwasher is still cool after a washing cycle. This malfunction also impacts the drying function of the machine. If this is the case, call a technician to fix your dishwasher.
Empty the Dishwasher from Bottom to Top
A simple tip for getting really dry dishes: empty the dishwasher in the right order. Start with the bottom rack. The reason for this is simple. Water tends to pool in concave surfaces, like the bottom of wine glasses and coffee mugs, which are placed on the top rack, upside down. If you remove these first, the pooling water will spill over the rest of the dishes underneath them.
Extra tip: when the washing cycle is complete, open the door of the dishwasher slightly, and leave it like that for about one minute. This will allow moisture and steam to get out of the machine, instead of condensing on the dishes.
More about the Bosch 800 Series dishwasher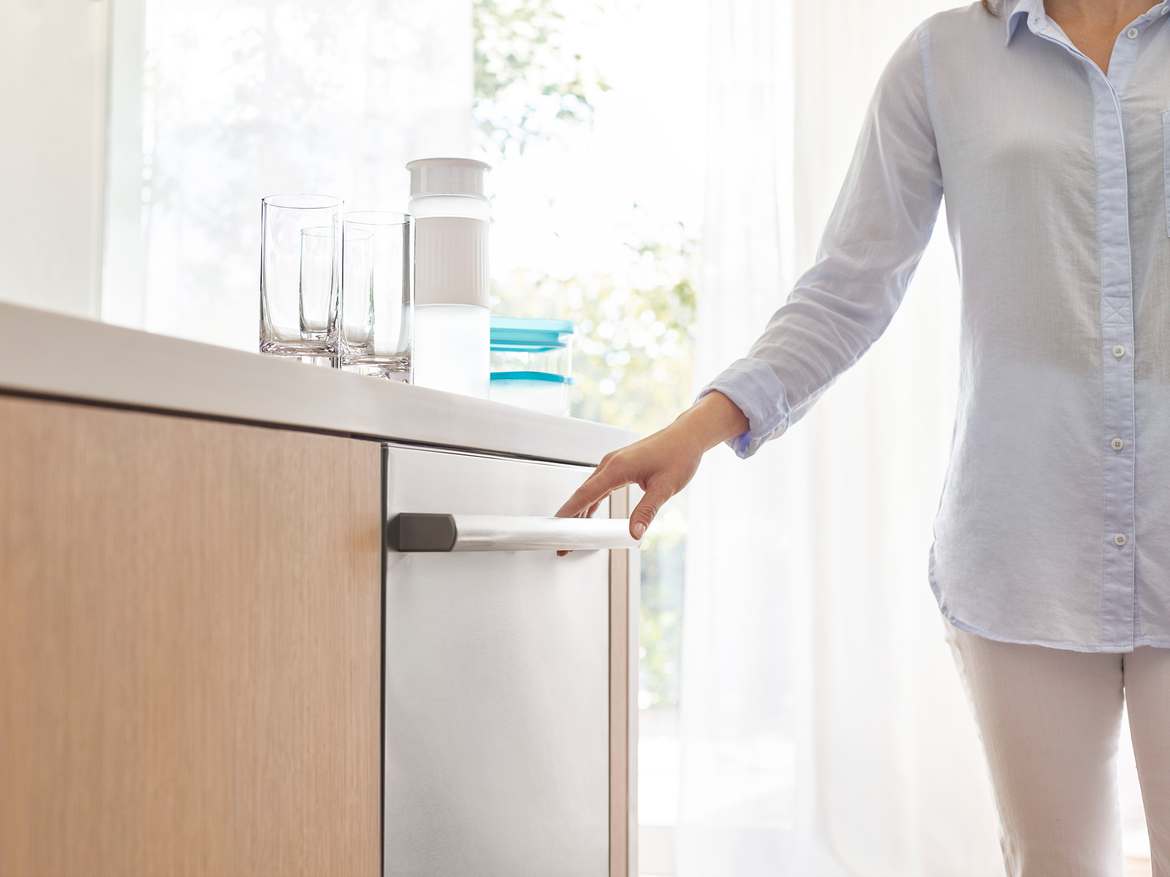 With PrecisionWash, intelligent sensors continually scan and check the progress of dishes throughout the cycle, and powerful spray arms target every item of every load, for the ultimate clean.
Large interior provides the loading flexibility to easily accommodate 16 place settings, and Bosch's largest 3rd rack- the MyWay rack provides additional loading space for cereal bowls and large utensils
Rackmatic® adjustable upper rack easily adjusts to 9 different positions, to allow taller items like stemware to fit in the middle rack while leaving room for bulky items below. The flip tines make loading wide bowls easy and ball bearing wheels provide a smooth glide.
Every Bosch dishwasher is ENERGY STAR qualified and meets or exceeds federal guidelines, for year-round energy savings.
Sanitize Option reduces 99.9% of bacteria.
You can get the the Bosch 800 Series dishwasher at Best Buy today.
Looking for more great home tips? Lean how to choose the best electric wall oven, why you may want to consider an outdoor TV for your patio, and how to get relief if you're overwhelmed by laundry.