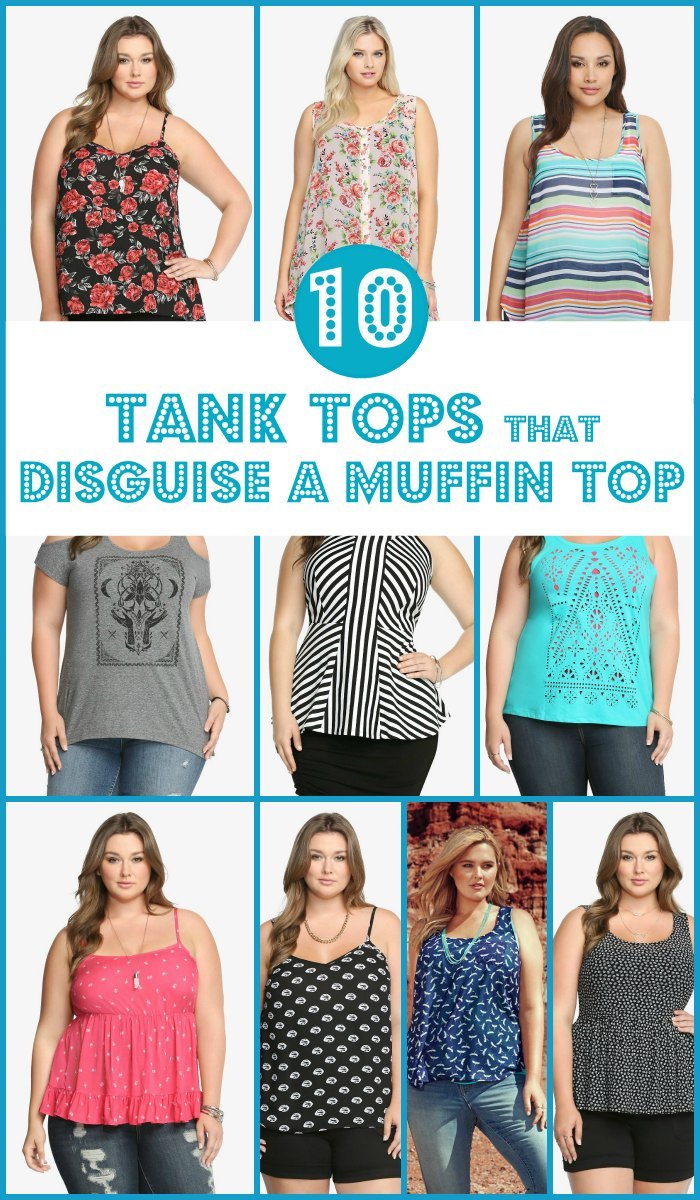 I'm loving the new focus I'm seeing on fashion for plus and average sized women.
I've been shopping for summer separates, and I'm finding that most tanks are cut tight to the body. As a women who loves life (and pasta) more than celery, those tight tanks show off all the parts I like to hide, especially around the middle.
So, I went searching for cute sleeveless summer shirts that were more flattering. I found a lot at Torrid, one of my favorites for on-trend fashion for women size 12 to 28. Their tanks are cute, fashionable, AND the clothes are made to flatter.
All of these tanks are cut loosely around the tummy to avoid showing bulges and bumps. Plus, they're cute, so you'll look stylish and stay cool.
Oh, and so you know, if no-one's told you today, you're perfect as you are – muffin top, stretch marks, all included! This is a place where I celebrate women, of all sizes and shapes. I'm just a little more comfortable in clothes that hide my middle, so I thought I'd share them with you.
Here are my ten cute summer tank tops to perfectly disguise a muffin top.
Palm Tree Print Babydoll Tank Top
This Palm Tree Print Babydoll Tank Top is one of my favorites. It has a playful white palm tree print and an easy-flowing babydoll cut for lots of movement across your middle.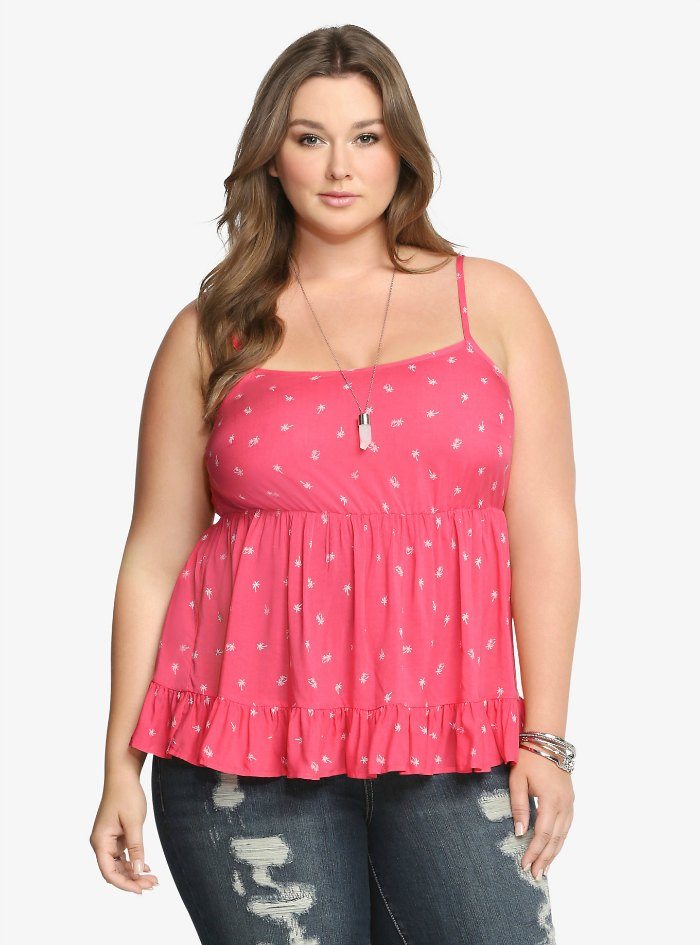 Dragonfly Chiffon Tank Top
This Dragonfly Chiffon Tank Top is loose, flowing and made of navy  navy chiffon with a single front pocket.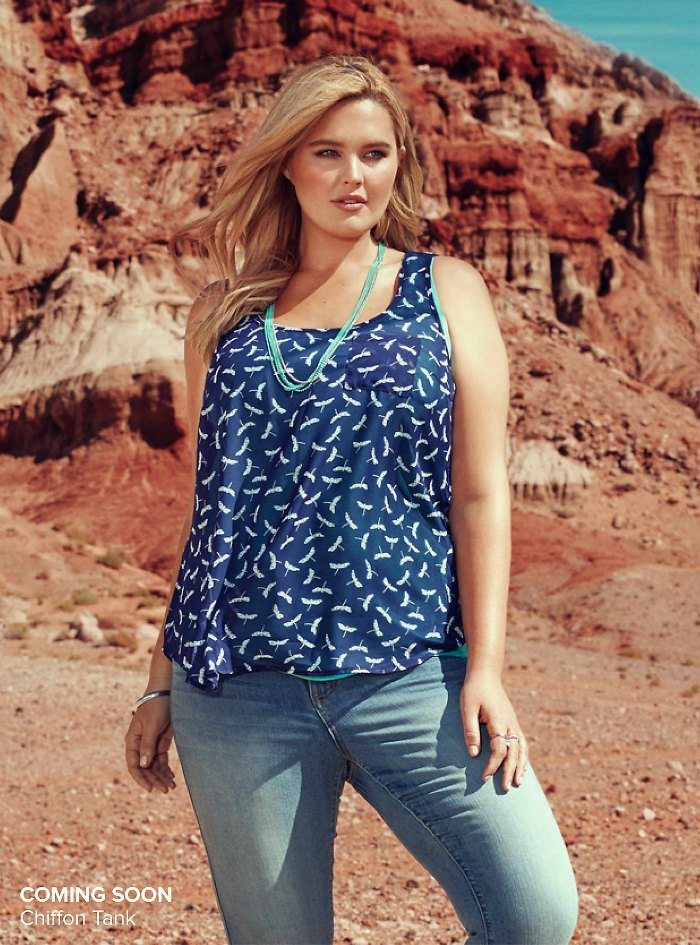 Striped Chiffon Tank Top
This striped chiffon top would be perfect for either the beach or a casual day at work. It has a flattering scoop neckline, and flowing middle.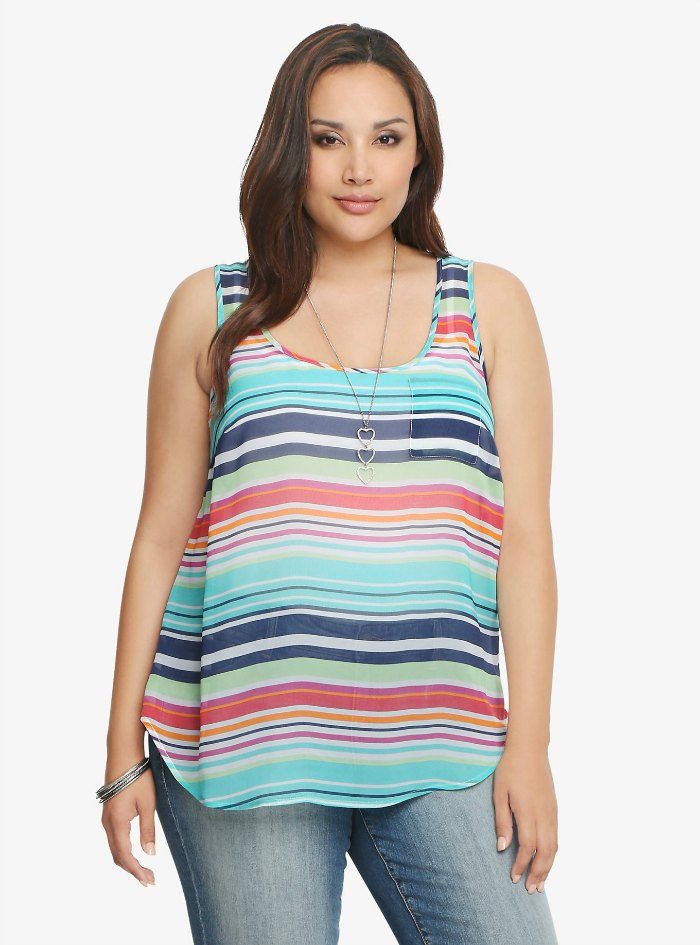 Laser Cut Geometric Tank Top
Made of soft, comfy cotton, this tank is cut lower on the back (it's a hi-lo cut). With a loose fit around the waist, it's a flattering cut.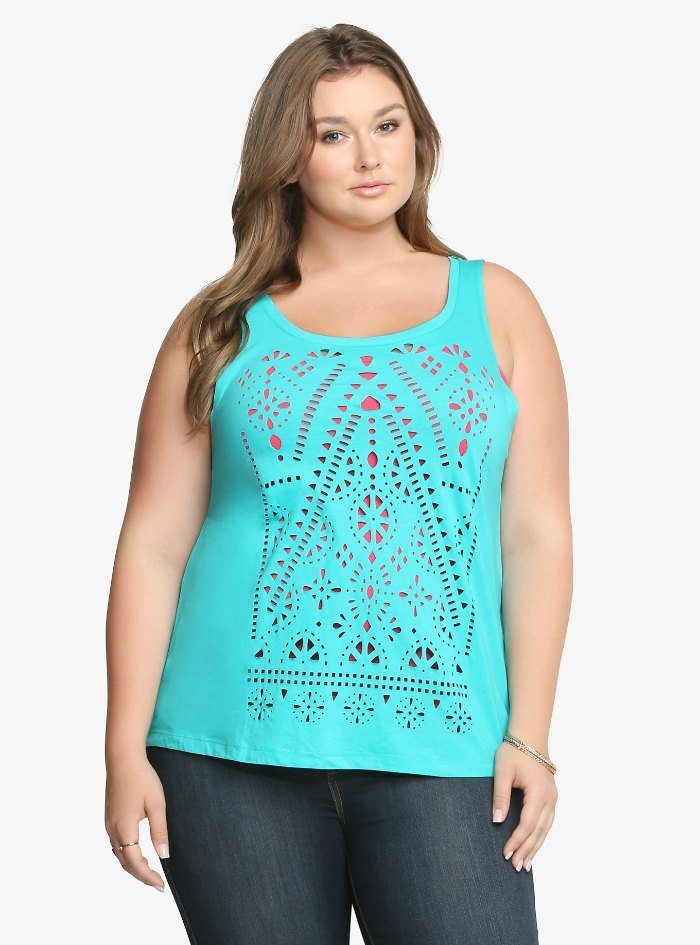 Floral Hi-Lo Tank Top
This is perfect for summer's hottest days, with a lightweight, semi-sheer georgette. The loose, flowing cut and hi-lo hem (longer in back) are flattering to larger figures.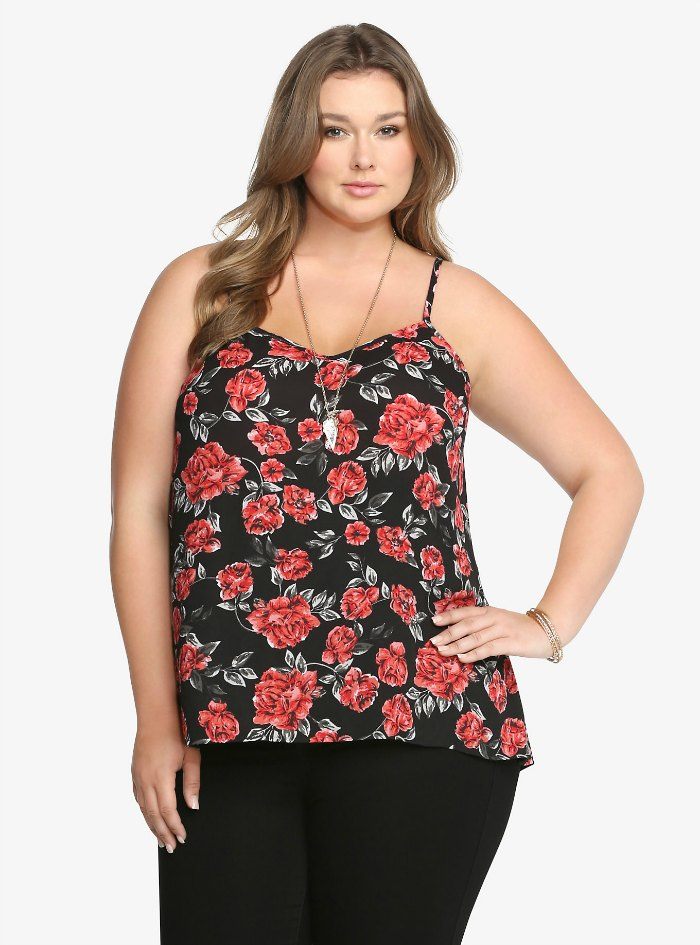 Skull Mesh Peplum Tank Top
Look closely – this tank has a small, edgy skull print with a flattering peplum cut. The sweetheart neck adds length to the neckline and the peplum cut hides your midsection.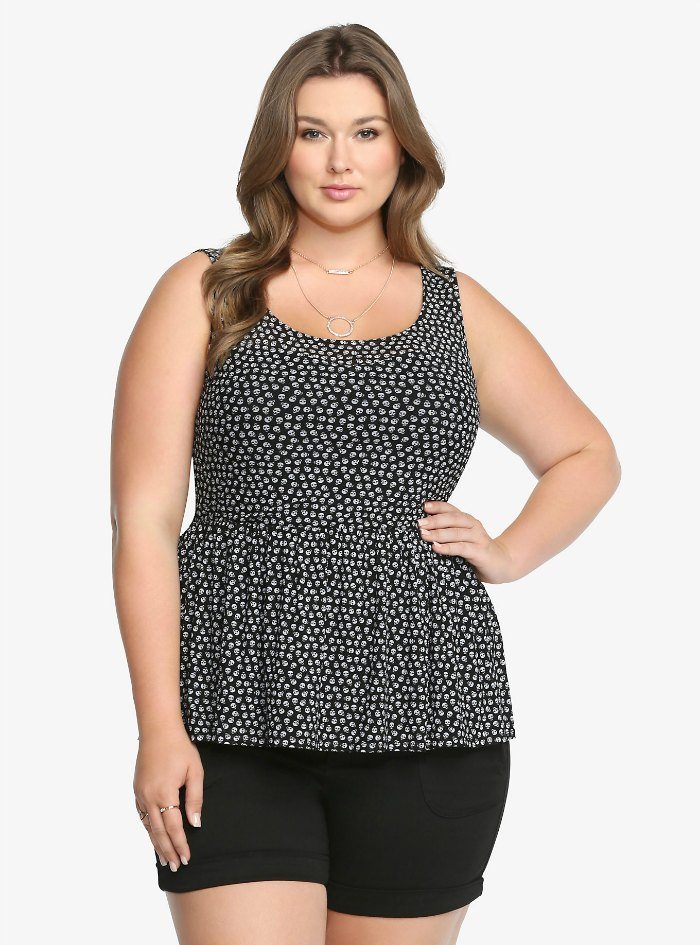 Lips Print Georgette Hi-Lo Tank Top
With a flirty white lip print, this tank is made of a lightweight, semi-sheer georgette. The hi-low (higher in front, lower in back) hem and flowing fabric are flattering for the stomach area.

Striped V Neck Peplum Tank Top Torrid
With a fitted bodice, and a flattering peplum cut, this tank is perfect for a stylish summer evening.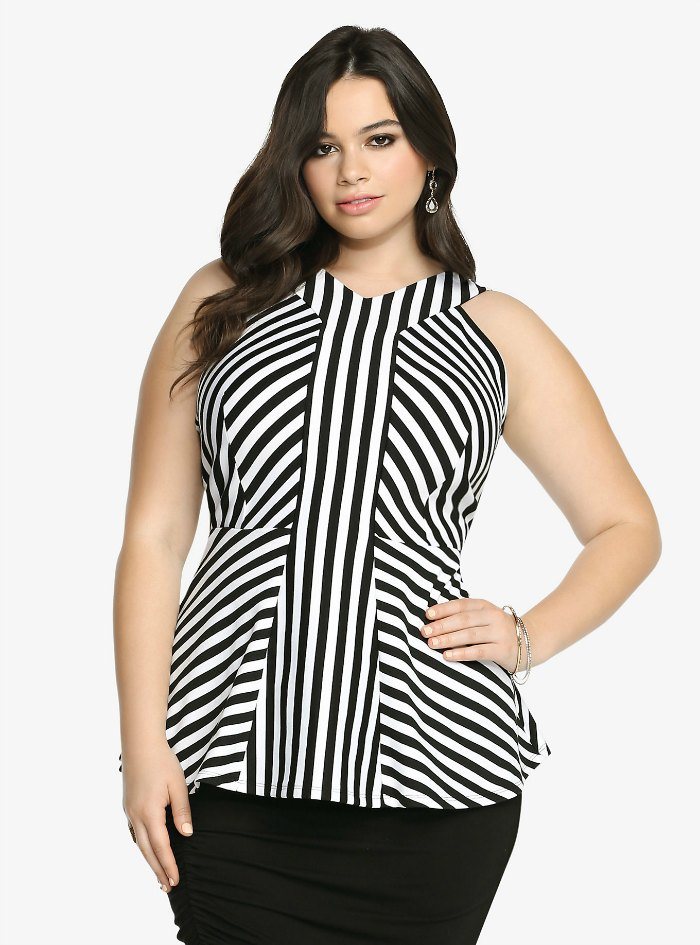 Floral Hi-Lo Tank Top
With an extreme hi-lo hem and loose cut, this is one of the most stomach-flattering tanks we've found.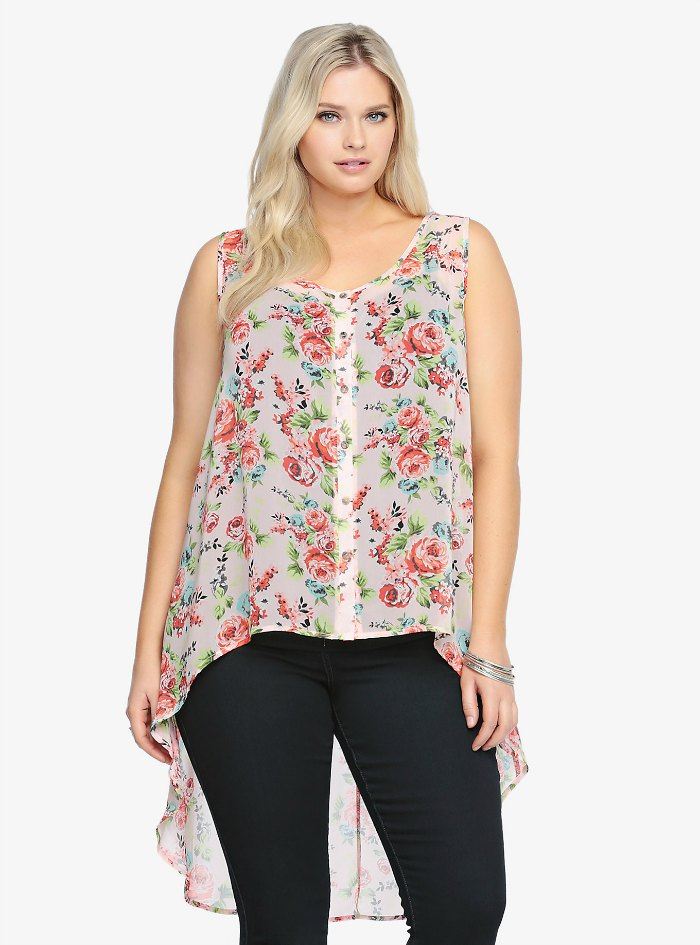 Tarot Card Cold-Shoulder Tank Top
I love the casually sexy peekaboo shoulders on this shirt. With soft cotton in a flattering high in front/low in back (hi-low) hem, it's comfortable, flattering and sexy.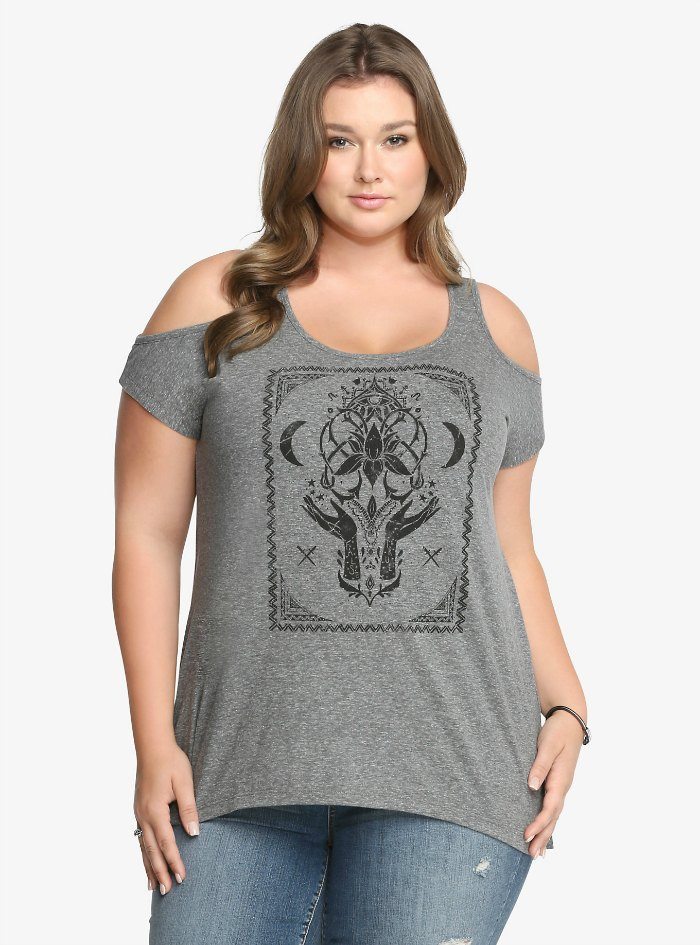 You can find all these cute tank tops that hide a muffin top at the Torrid store.