Looking for some easy kitchen wall décor ideas?
A kitchen can be one of the more challenging rooms in a house to decorate.
Most kitchens are used every day, with clutter from dishes, meals, and lunch kits strewn around. Kitchen appliances like dishwashers, ovens, and fridges aren't always the most aesthetically pleasing, either. Creating a feature wall in the kitchen can go a long way toward beautifying the room.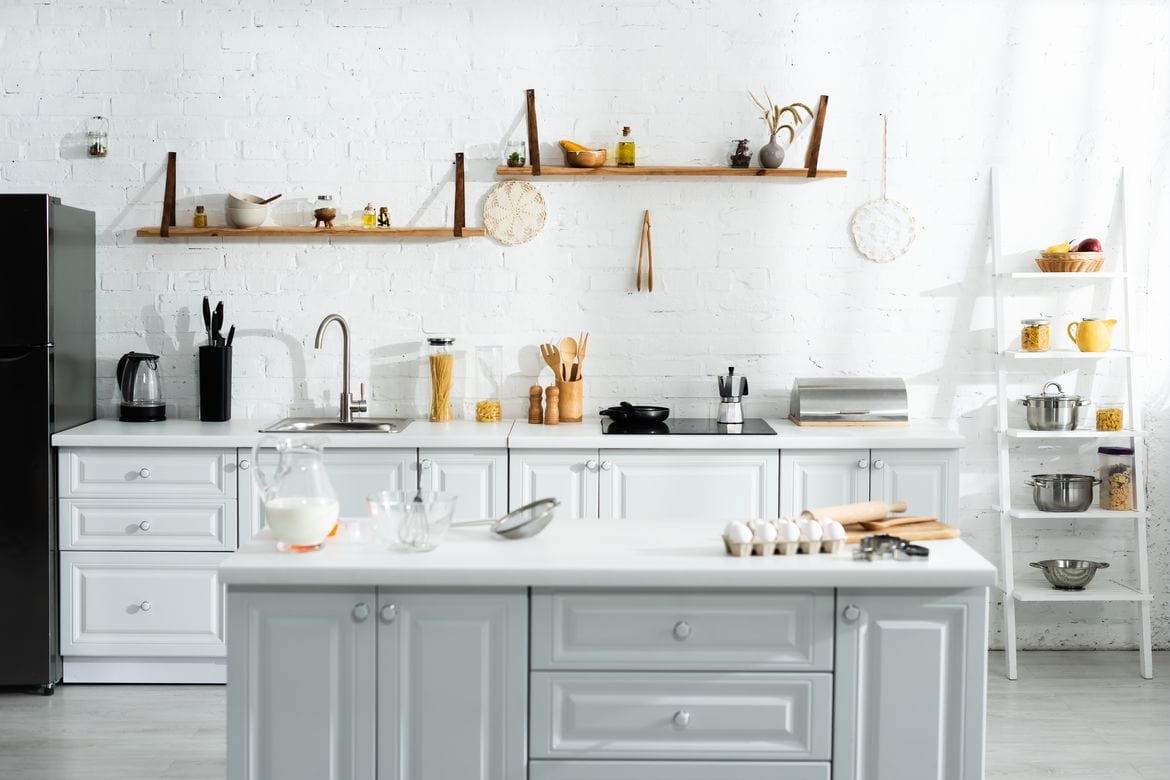 Kitchen Wall Decor Ideas
When I moved into our house, one of my first questions was "how can I decorate my kitchen?" It's a smaller kitchen, with older appliances, and I was looking for a way to glam my kitchen walls, especially, without costing a fortune.
I was really stuck, so I did a lot of research to figure out what would work to make my kitchen wall look better.
These are some of my favorite kitchen wall ideas.
Wallpaper
This isn't your grandmother's wallpaper. There are hundreds of interesting and attractive room's wallpaper out there today. You can get everything from amazing photo prints to metallic patterns.
Plants
Just look at how gorgeous the plants look in the kitchen of one of my favorite YouTube channels, Pick Up Limes.
Plants make for a natural, organic look that fits perfectly with most kitchen styles, including elegant modern or farmhouse designs.
Shelving
If there never seems to be enough room in your kitchen, shelving is the perfect way to decorate.
Shelves can double as a place to store your kitchen items, and look good at the same time.
Large piece of art
A large piece of art, whether it's a painting, print, or something else can make a huge impact in your kitchen.
A large statement piece can look especially amazing in a larger, modern space.
Paint a mural
This one's perfect for those with artistic abilities. I'm definitely not sure enough of my artistic side to try to pull off painting a mural on my kitchen wall, but if you are, then give this a try.
A custom painted mural can make your kitchen one of a kind.
Photos
There are plenty of ways to display your photos, from having them printed on canvas, and hanging them like a painting, to displaying them on a monitor, to creating a gallery wall with individual, framed photos.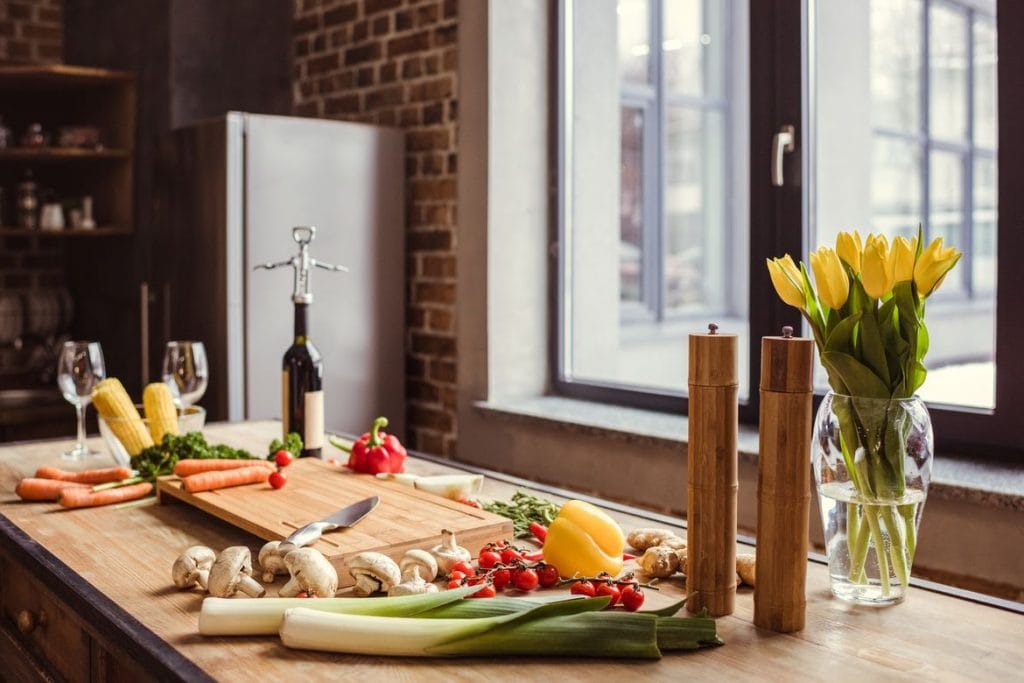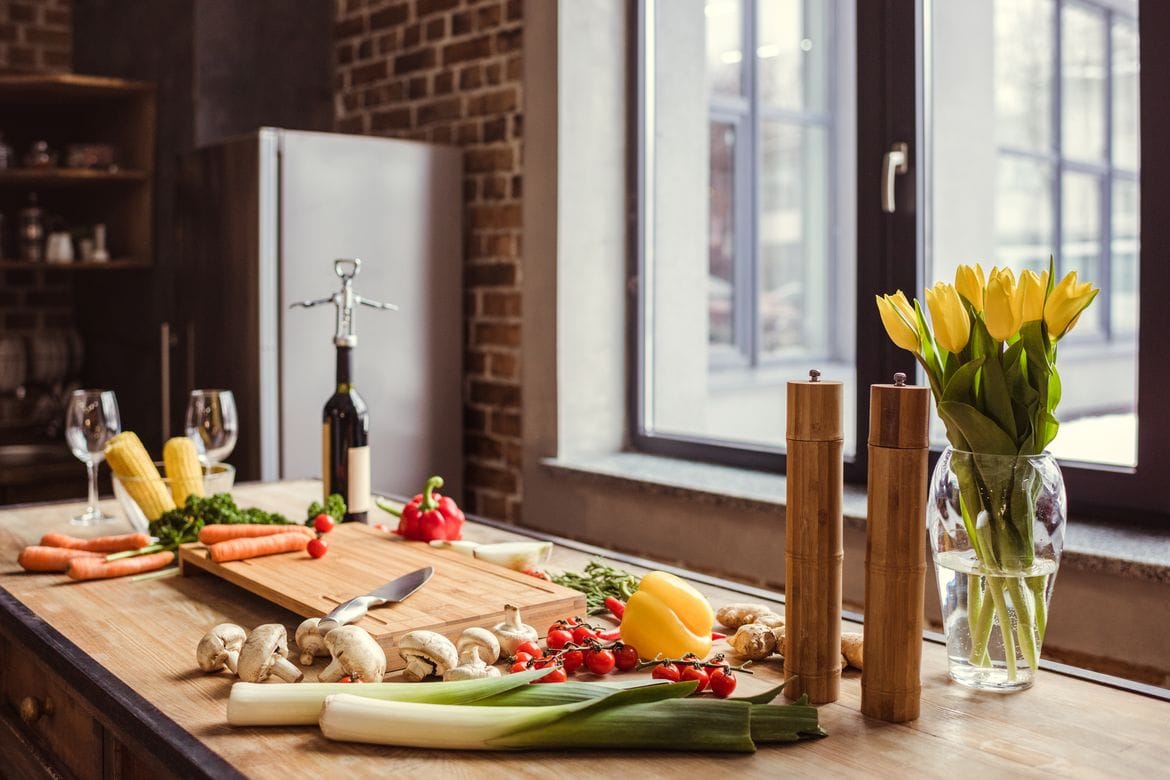 Gallery wall
If finding a single, large piece of art is intimidating, or just doesn't work in your kitchen, then consider creating a gallery wall. A gallery wall is especially good for showcasing a collection of smaller items or pieces of art.
A gallery wall is one of my favorite farmhouse kitchen wall decor ideas, since it's perfect for showing off farmhouse items, like wrought iron, galvanized metal trays, mason jars, and more.
Carpet or fabric
An interesting piece of fabric or a small carpet can be a fantastic way to create a color theme in any kitchen.
Large wall calendar
A large wall calendar can be both functional and attractive in a kitchen, and it's a great way to keep on top of your schedule.
Plates
Hanging plates is perfect for a kitchen wall decoration. It's a lovely way to show off plates that are too pretty to use every day, and hanging plates is a logical choice in a kitchen.
A large chalkboard
A large whiteboard or chalkboard can be a fun place in your kitchen to showcase your artistic talents, and it can be a helpful way to keep your family organized.

Decor that doesn't work well in a kitchen
I'm not a big fan of mirrors in a kitchen.
In my kitchen, mirrors tend to get covered in splashes from whipping cream and baking. If I want to keep kitchen mirrors clean, I need to wipe them off every few days. If you're a less messy cook, mirrors may work in our kitchen.
Fragile items like crystal and glass can also be a no-no in the kitchen, if you have a busy family with younger kids, or pets.
Did you like this article? Check out our other kitchen tips:
Do you have any ideas for a bare kitchen wall? Share your thoughts below in the comments; we'd love to hear them!