Looking for a flattering fuller bust bikini top? It can be a challenge!
Since I'm on the busty side, I know the challenges of looking for a swimsuit that keeps the girls contained and in place when jumping off the high diving board.
It's hard to find a suit that offers enough coverage that's still flattering and stylish. So, I did some serious research and found some beautiful swimsuits made for real women, not models, with all our gorgeous curves.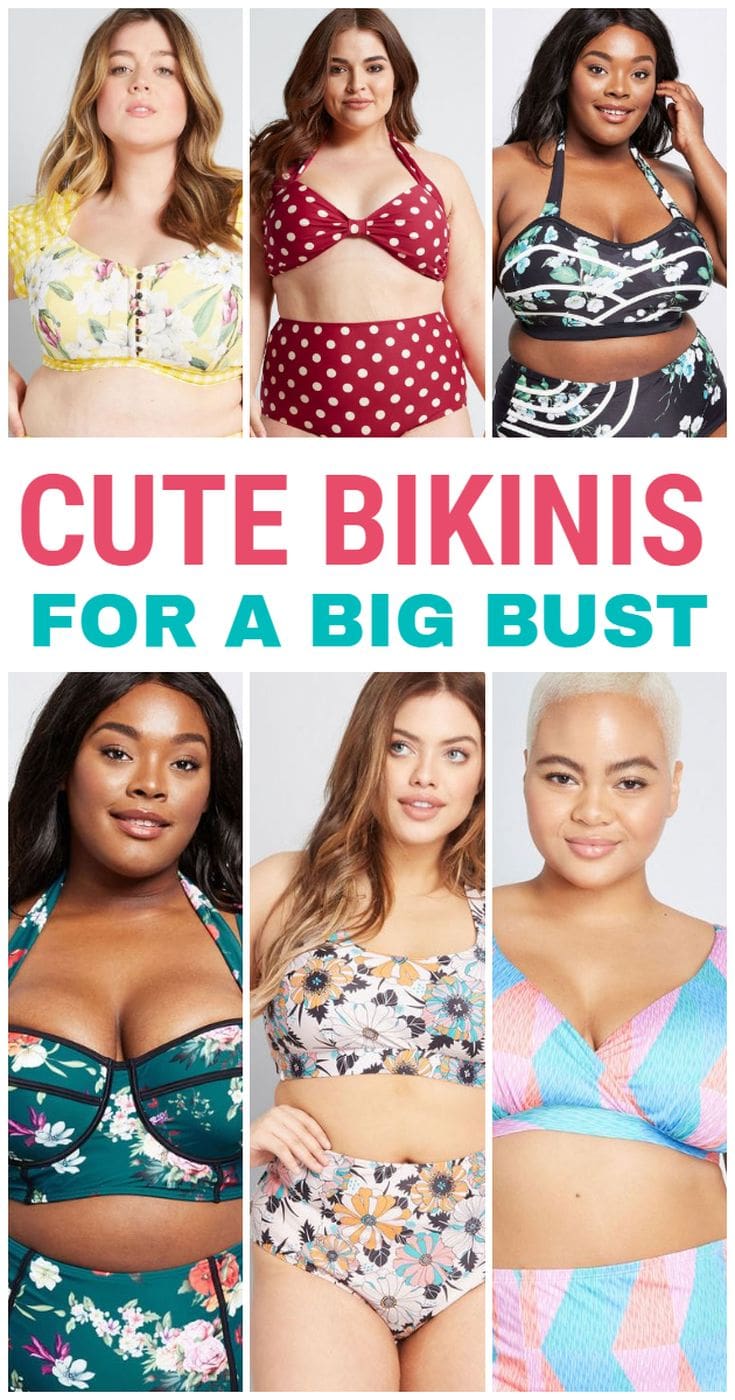 You'll find some great bikinis and tankinis in the mix, as well as some alternatives to halter ties. There's also a fantastic selection of plus size bikinis for a big bust.
Oh – If you're in mood to check out some pretty summer dresses, check out one of my earlier collections of pretty summer dresses for big-busted women!
We even have a couple of discounts that can save you some money:
Fuller bust bikini tops that you'll love
Check them out: flattering fuller bust bikini tops (and bottoms) for big busted women.
What I really love about all these two piece swimsuits is that the top and bottom are sold separately! That's perfect for women like me who are a little bigger on the top than the bottom. If you love beach activities, getting a rash guard bathing suit is what you need so that you can continue to look stylish and also enjoy your time at the beach.
I love this 50's inspired two piece that's flattering to larger busts. It also comes in black, white, and lavender as well as Plus sizes.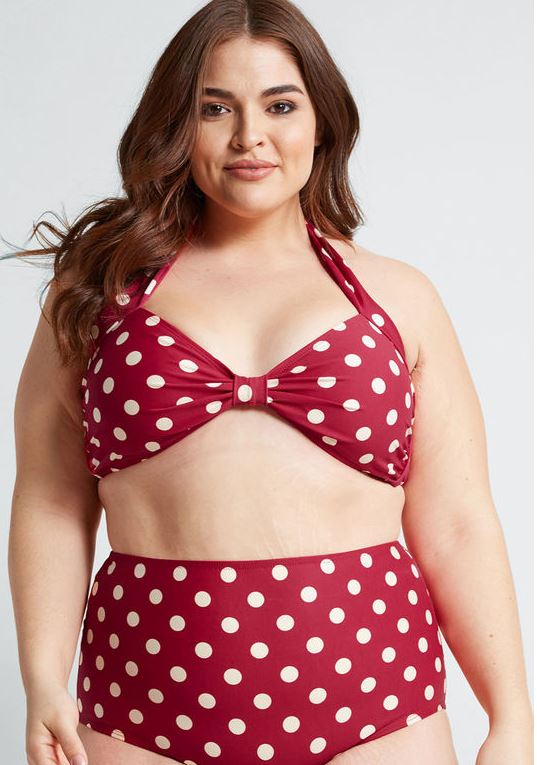 This retro top has cap sleeves, sewn-in bust cups, functional buttons, all in a cheery yellow.
See the Sissone Bikini Top on Modcloth here.
Get the matching high waisted Sissone bottom.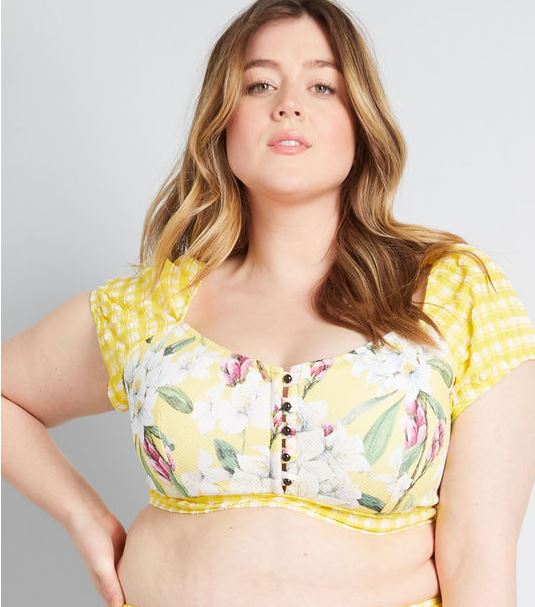 This halter bikini top is one of my favorite pieces at Modcloth. A halter top is always a win for big busted women like me.
It has s cute vintage twist with cherry blossoms against a white background, and comes with removeable padded bust cups.
See the Geena bikini prices and more here.
Get the matching Geena bottom.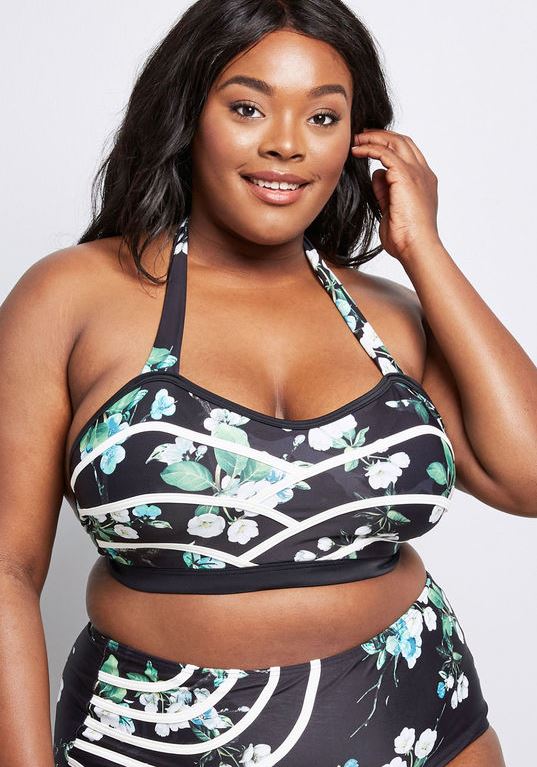 This is a sporty, floral choice with full coverage. The padding is removable, and it comes with a lace up back.
Sizing ranges from small to 3 XL.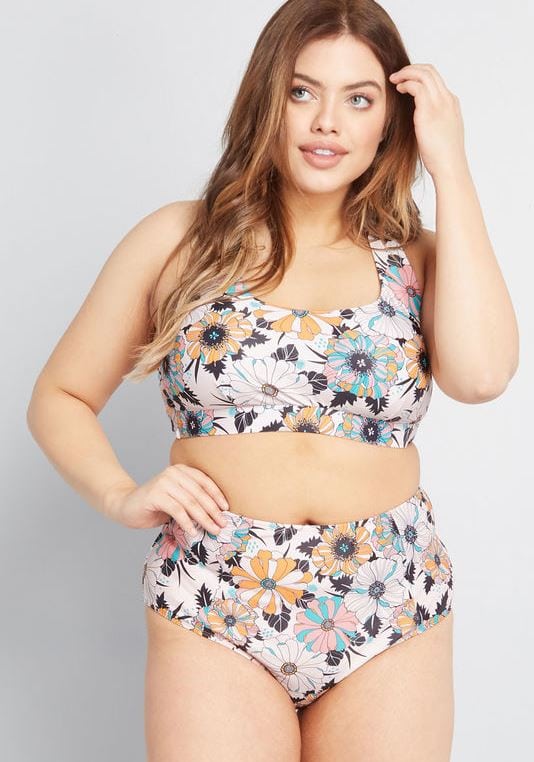 This bustier bikini offers adjustable straps with the extra support of a halter.
There's supportive underwire, and removable padded bust cups.
See Pippa Bikini Top prices and more.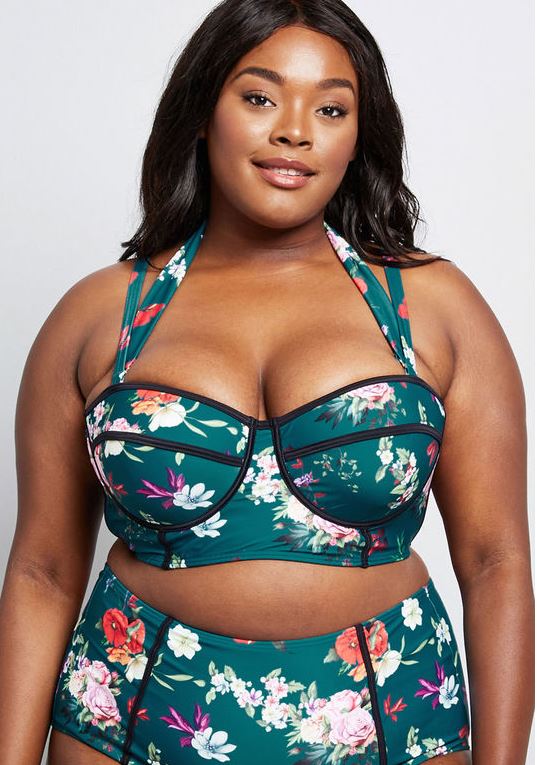 The design of this bikini top from our ModCloth namesake label was inspired by Madison, the athletic and stylish niece of our Senior Swim Buyer. Flaunting blue, coral, lavender, and teal triangles with soft squiggles, padded bust cups, and a sporty surplice silhouette, this lovely black swimwear is a dream for both active days on the beach and simply chillin' poolside.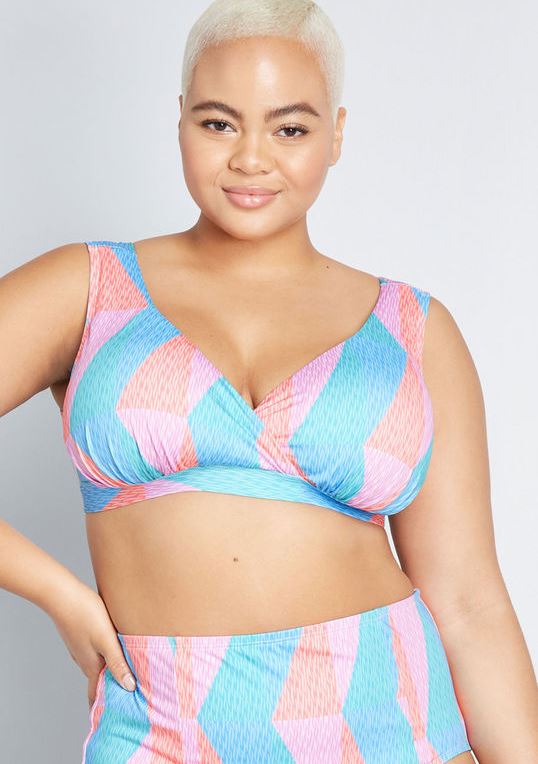 This retro bikini top from our ModCloth namesake label was inspired by Sissone, the aunt of our Accessories Buyer who hails from France and loves a vintage-inspired swimsuit. Cap sleeves, sewn-in bust cups, functional buttons, and bright orange gingham imbue this textured top with a romantic vibe that's adored from Miami to Marseille.
Sizing goes all the way up to 4x.
See prices and more on Modcloth.